Hiroshige's Ojisan Encyclopedia
Smiling, Working and Traveling -Various Ojisan by Utagawa Hiroshige
Utagawa Hiroshige (1797-1858) is one of the most famous ukiyo-e artists who created many masterpieces of landscapes. When you look closely, you often find charming figures inhabiting these landscapes. These middle-aged men ("Ojisan" in Japanese) are the focus of this exhibition. They smile innocently, work hard, enjoy fine foods, and sometimes panic. The more attention you pay to Hiroshige's Ojisan, the more you realize that they have their own personalities and charms.
By experiencing Hiroshige's masterpieces paying close attention to these Ojisan, they will leave you a fresh impression. This exhibition introduces you to a new charm of Hiroshige's work through masterpieces such as "Fifty-three Stations of the Tōkaidō Road (Hoeidō Edition)" to those that are rarely exhibited.
※This exhibition is inspired by the concept of "Ojisan Encyclopedia" and "Ojisan Encyclopedia Returns" held at Hiroshige Museum of Art Ena, newly composed with the collections of Ota Memorial Museum of Art.
1 Discovering a new Charm of Hiroshige' work through Ojisan
In the works of Utagawa Hiroshige, various Ojisan (middle-aged men) with their own personality often appear. They are usually depicted as supporting characters of the landscape. However, if you look closely, you can see that their faces, expressions, and clothing are carefully articulated. Such detail allows us to understand their status and occupation, and sometimes even imagine the drama that each character is going through. As you pay attention to these Ojisan, you will enjoy the masterpieces you already know with more depth and color.
2 Ojisan everywhere! 150 Works from Masterpieces to Rarities by Hiroshige
The main characters in the 150 works on display during the period of this exhibition are all Ojisan. The exhibition introduces of Hiroshige's masterpieces such as "Fifty-three Stations of the Tōkaidō Road (Hoeidō Edition)" and "Sixty-nine Stations of Kisokaidō Road," as well as works that are rarely exhibited, all united under the theme of Ojisan!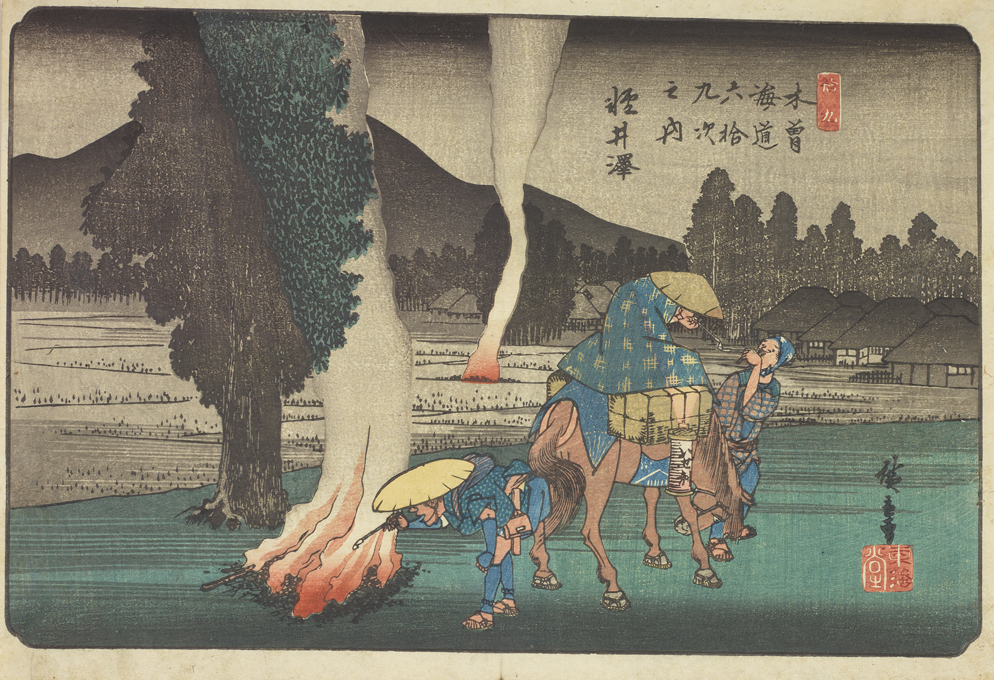 3 Hokusai, Kuniyoshi and Kiyochika -Ojisan Depicted by Popular Ukiyo-e Artists
Hiroshige was not the only artist who depicted various Ojisan. In this exhibition, we introduce Ojisan drawn by various ukiyo-e masters, such as Katsushika Hokusai, Keisai Eisen, Utagawa Kuniyoshi and Kobayashi Kiyochika. Please enjoy the differences in style and personality given to the Ojisan by each artist.
Admission
Calendar
China in Ukiyo-e
Discovering the Unexpected Relationship between Ukiyo-e and Chinese Culture
Ukiyo-e depicted a large number of Chinese people, including the heroes of "Three Kingdoms" and "Water Margin," hermits, and ancient Chinese women. In addition, some of the Japanese flower-and-bird paintings are accompanied by Chinese poems, which shows how familiar the people of the Edo period were with Chinese culture. On the other hand, works that replaced the hermits with women or parodied the exploits of the great masters were also popular.
During the Edo period, Japan was closed to the outside world for a long period of time, but classical Chinese literature and folklore were well-established in education, and people were curious about the latest Chinese culture. Ukiyo-e artists also worked on all kinds of themes from China, and even created many other works based on them.
This exhibition introduces ukiyo-e from the Edo and Meiji periods that show the influence of Chinese culture in three parts. In the first part, we will look at works from the 18th century, when samurai warriors were also involved in the production of ukiyo-e. The second part will focus on works in the 19th century, which reflect the tastes of citizens, and in the third part, works depicted in the form of parodies will be featured. Throughout the exhibition, visitors will be able to discover the unexpected connections between ukiyo-e and China.
"Three Kingdoms" and "Water Margin" Boom Began from the Edo Period.
Even today, the Chinese stories "Three Kingdoms" and "Water Margin" are popular in video games and manga, but it was actually in the Edo period that these stories were translated and adapted.
The stories were also depicted in ukiyo-e. Especially, Utagawa Kuniyoshi played an important role in expanding the world of these stories. He created the popular series "One Hundred and Eight Heroes from the Water Margin" with 74 prints, and the series "Popular History of the Three Kingdoms" series which depicts heroes on large paper.
A Great Arrangement in Ukiyo-e Style – Heroes Swapped Gender!?
Rearranging various subjects is one of the characteristics of ukiyo-e. For example, the figures of heroes were sometimes depicted as humorous caricatures, or sometimes in the figures of townswomen, so that people enjoy the gap between the hero and the character. These works of parody show how people of the time were familiar with Chinese themes.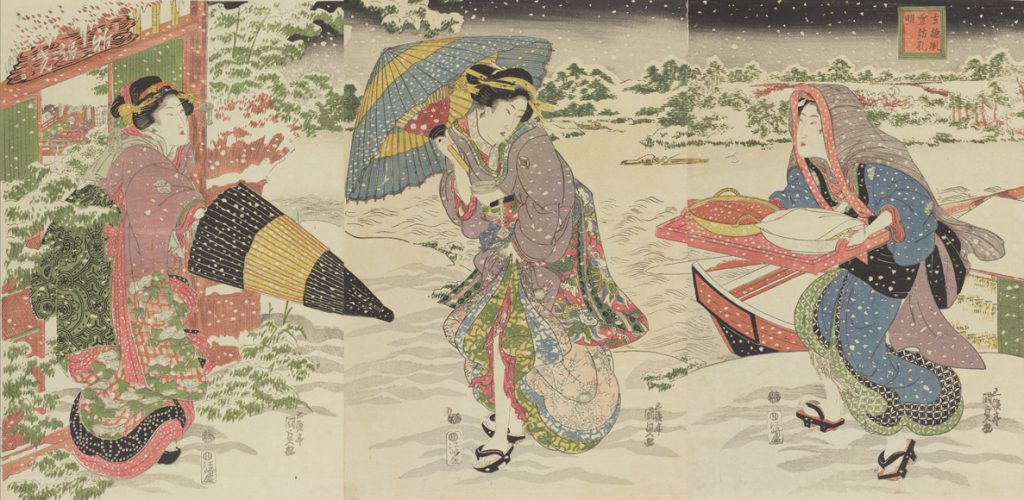 "China" Depicted by Hokusai, Hiroshige and Kuniyoshi
Many works by leading ukiyo-e artists of each era will also be introduced. These include Harunobu, who transferred Chinese subjects into Japanese scenes; Hokusai, who painted all kinds of subjects of Chinese origin; Kuniyoshi, who represented the heroes from "Water Margin" as characters popular with the Edo people; Hiroshige, who added Chinese poetry to his "kachō-ga (bird-and-flower pictures); and Yoshitoshi, who drew classical Chinese subjects in the Meiji era. We hope that you will enjoy the transition in the way Chinese culture was incorporated in each of works.
Admission
Calendar
Darkness and Light -Kiyochika, Yasuji and Ryuson
In 1876, Kobayashi Kiyochika (1847-1915) depicted an unprecedented view of Tokyo by incorporating Western techniques such as oil painting, lithography, and photography into ukiyo-e woodblock prints. Kiyochika's "Kōsenga" (light-ray paintings), which beautifully captured changes in light and shadow, such as gas lamps shining in the dark at night and the sky at sunset with brilliant red, became very popular. Ukiyo-e artists such as Inoue Yasuji (1864-89) and Ogura Ryūson (date of birth and death unknown) followed after Kiyochika. Although the popularity of ray painting lasted only five years, it developed new possibilities for woodblock prints, and it should be regarded as the forerunner of the genre of "shin-hanga" (new prints) in the Taisho and Showa eras that have been the focus of much attention in recent years. This exhibition introduces 200 works by Kobayashi Kiyochika and Inoue Yasuji, as well as Ogura Ryūson, whose works have rarely been introduced to the public. Please enjoy the colors of darkness and light which are only possible through the use of woodblock prints. All exhibits will be changed between the first and second exhibition terms.
Highlight of the exhibition
1 200 works that tell the whole story of the "Kōsenga" (light-ray paintings) of Kiyochika, Yasuji and Ryūson will be exhibited.※The exhibits will be changed between the first term and the second term.
2 A rare opportunity to focus on Inoue Yasuji, an ukiyo-e artist who died very young, and Ogura Ryūson, a mysterious artist.
3 Comparative display of rare types of works, such as "suri-chigai" (different print editions) which used the same wood blocks but changed colors substantially, and "nisu-biki" (varnishing), which coats the print with varnish.
Introduction of the Artists
Kobayashi Kiyochika(1847~1915)
Kobayashi Kiyochika is one of the representative ukiyo-e artists in the Meiji era. He was known to have learned photography and oil painting, and his unique style of painting expressively captured light and shadow is called "Kōsen-ga" (light-ray paintings), which became extremely popular. As a side note, Kiyochika quit producing Kōsen-ga after 1881, and developed a different style of picture, such as old-style landscapes, historical pictures and war pictures.
Inoue Yasuji(1864~89)
Inoue Yasuji was a pupil of Kobayashi Kiyochika. He produced large-sized Kōsen-ga pictures that faithfully followed the painting style of Kiyochika. Around 1884, he changed his art name to Inoue Tankei and started producing large-sized triptych landscape pictures, but he died young at the age of 26.
Ogura Ryūson(Years of birth and death unknown)
Although he produced Kōsenga pictures around 1880 to 1881 following Kiyochika, only 9 of his works have been found. He is an unidentified and mysterious artist whose background is completely unknown. Ryūson's representative work "View of Yushima" is characteristic for its mysterious atmosphere of two men quietly looking at the moon.
Admission
Calendar
Transportation in Ukiyo-e – Cars, Ships and Railways
Discover the Transportation in the Edo Period through Ukiyo-e
Transportation is an essential part of our daily lives. In the Edo period, there were various transport systems by manpower, horses, and boats. Edo was a city of water, surrounded by Edo Bay and Sumida River, with many waterways running horizontally and vertically. Boats were an essential means of transportation for the people of Edo and shipping business between Edo and other cities flourished. On land, highways such as the Tokaido Road were developed for business transportation and became popular among the common people as a route for traveling long-distance. The various use of transportation is vividly depicted by ukiyo-e artists such as Utagawa Hiroshige and Katsushika Hokusai.
This year also commemorates the 150th anniversary of the introduction of railroads. Ukiyo-e in the Meiji era (1868-1912) actively depicted steam locomotives and railroads, which were new encounters to the people. The railroad system along with horse-drawn carriages, rickshaws and other new forms of transportations were symbols of civilization.
While transportation logistics using the internet has developed in recent years due to COVID-19, this exhibition focuses on the various means of transportation in the Edo period, as a driving force of modernization.
The Reality of the Lives in Edo uncovered through Transportion
Let's take a look at Edo depicted by artists such as Utagawa Hiroshige and Katsushika Hokusai from the perspective of transport. On one hand, ukiyo-e depicts various figures who are "transporting" something of their own. We notice people serving food at restaurants, selling goods on the street, and carrying luggage on a trip. On the other hand, ukiyo-e also depicts a wide range of vehicles as means of transportation. Ferry boats for crossing rivers and ships used as taxis to visit pleasure quarters took advantage of the topography of Edo with many waterfront areas. People and horses carried luggage for travelers in relays between inns, and couriers delivered documents from Edo to Osaka in only a few days. In a time when there were no cars or trains, there was a more extensive transportation system.
By paying close attention to the various forms of transportation in ukiyo-e, we can understand how the people of Edo lived.
150th Anniversary of the Birth of the Railroads- Various Vehicles in Ukiyo-e are on Display
In October 1872, the railroad connecting Shimbashi and Yokohama opened. October 2022 marks the 150th anniversary. Since about two years before the actual inauguration of the railroad system, ukiyo-e artists started to actively depict steam locomotives and railroads with imagination. The large number of ukiyo-e published reveals the enthusiasm for the new infrastructure. This exhibition features not only the railroad system, but also the wide variety of transportation in ukiyo-e such as horse-drawn carriages, rickshaws, boats, balloons, and other vehicles.
Admission
Calendar
Animals in Ukiyo-e
Cute! Funny! A Little Weird? -Enjoy the Rich Variety of Expressions of Animals!
Various animals appear in ukiyo-e. In addition to pets such as cats and dogs, and domestic animals such as horses and cows, those believed to be good omens, such as cranes and turtles, imported from overseas, such as elephants and leopards, and even catfish, based on the superstition that catfish cause earthquakes, are depicted in ukiyo-e.   
Moreover, ukiyo-e artists used their imagination to create anthropomorphic creatures that do not exist in this world, such as Torakoishi.   
Ukiyo-e is indeed a treasure trove of animal representations. This exhibition introduces approximately 160 works, offering visitors the opportunity to enjoy the rich variety of animals in ukiyo-e. This summer, how about visiting the museum and enjoying the cute and a little bit strange ukiyo-e animals?
Ukiyo-e Reveals the Deep Relationship Between the People of Edo and Animals
Ukiyo-e portrays people doting on their pets as we do today. On the other hand, ukiyo-e also shows us aspects of the lives of people and animals that are no longer seen today, such as a dog snatching fish from a fishmonger, and a traveler on a horse. Ukiyo-e also depicts various scenes of everyday life, such as horned owls, which were drawn because they were thought to prevent smallpox, and dogs that were said to have visited Ise Shrine in place of their owners. Here we would like to introduce the activities of animals that sometimes exceed the imagination of modern people.
Legendary Spiritual Beasts and Strange Creatures
Imaginary creatures appear in legends and tales, such as dragons believed to have the spiritual power to bring rain, white elephants believed to be the vehicles of Fugen Bosatsu (Samantabhadra), and haunted foxes and cats, also played an important role in ukiyo-e. But that's not all. Ukiyo-e also features strange creatures such as Torakoishi, which is a combination of a tiger and a stone, and mysterious creatures that are combinations of all the signs of the Chinese zodiac. Experience the aesthetic sense of the people of Edo, who enjoyed not only pictures of traditional animals, but also delightful works created with the free imagination of the artists.
Dancing, Working, and Dressing Up – Active Anthropomorphic Animals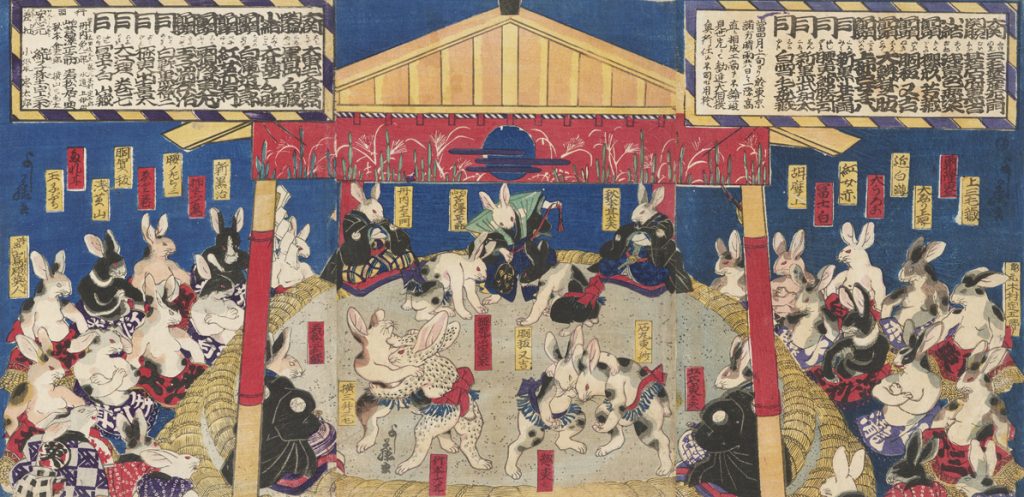 From the Masters to Minor Artists – Animal Pictures by 40 Artists
The highlights of this exhibition include masterpieces by famous ukiyo-e artists, such as "Tiger in the Rain," a representative work of Hokusai's later years, and Hiroshige's "One Hundred Famous Views of Edo: Asakusa Ricefields and Torinomachi Festival", one of the most popular ukiyo-e drawn cats. Moreover, the number of ukiyo-e artists introduced in this exhibition reaches 40. Visitors can enjoy not only famous works, but also the works of unknown animal picture masters such as Utagawa Yoshifuji, who specialized in cute anthropomorphic animals, and Utagawa Yoshikazu, the creator of "Torakoishi", who displayed an outstanding sense of humor.
---
Admission
Calendar
From the Genpei War to the Kamakura Period -Kiyomori, Yoshitsune and Yoritomo
Tracing the Rise and Fall of Samurai Warriors through Ukiyo-e
The Jishō-Juei Rebellion (1180-85) that at the end of the Heian period known as the "Genpei War" was a monumental battle between the warriors led by Minamoto no Yoritomo and the the Taira clan. Even after Yoritomo had conquered the Taira clan and established the Kamakura shogunate, a period of power struggles continued between Yoritomo's successors and the influential court nobles, especially the Hōjō clan.   
Stories of the survival wars of samurai families became popularized as military chronicles such as "The Tale of the Heike" and "Azuma Kagami". They were widely known as subjects of novels and kabuki plays in the Edo period, and were depicted in numerous ukiyo-e works as popular subjects.   
Recently, the time period has been recapturing popular attention, through animation and TV dramas. This exhibition will focus on this time period, to tell the story of the rise and fall of samurai warriors through ukiyo-e.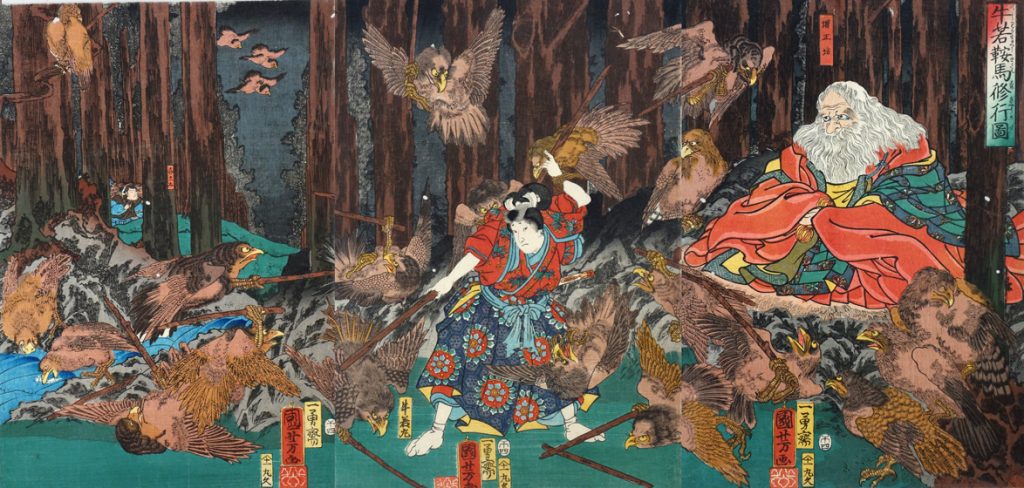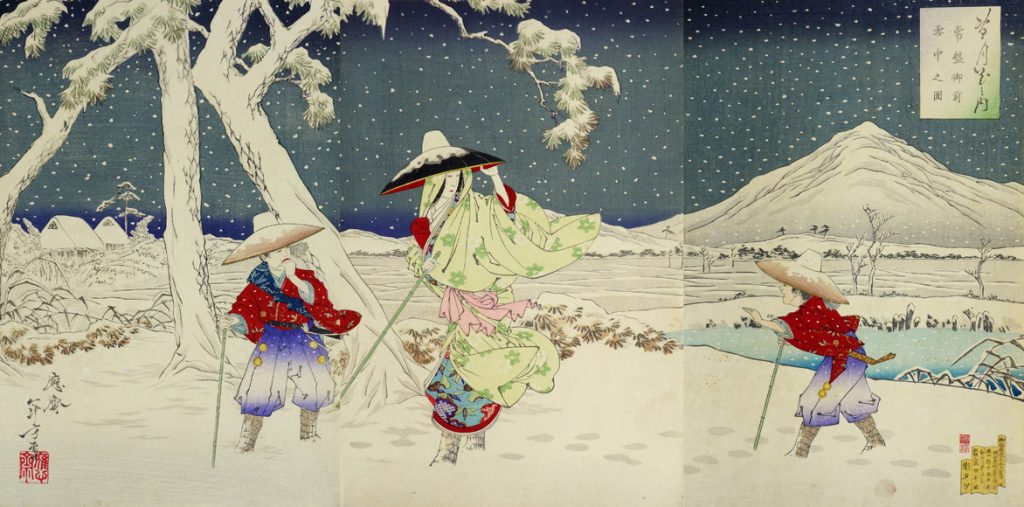 Episodes of Glory and Tragedy that Fascinated People in Edo
The Taira clan established by Taira no Kiyomori, despite its brief era of glory, continued to fall and finally perished at Dannoura. Minamoto no Yoshitsune who destroyed the Taira clan with his genius military strategy, had to die an unwilling death as he provoked his elder brother Yoritomo's antipathy. Many prominent vassals who supported the early times of the Kamakura shogunate with good faith perished in the struggle for power. The lives of those who lived during such turbulent times were often filled with spectacular victories and tragedies at the same time. These dramatic narratives, such as those of Yoshitsune, were featured in novels, kabuki plays, and ukiyo-e, and captivated the attention of the people during the Edo period.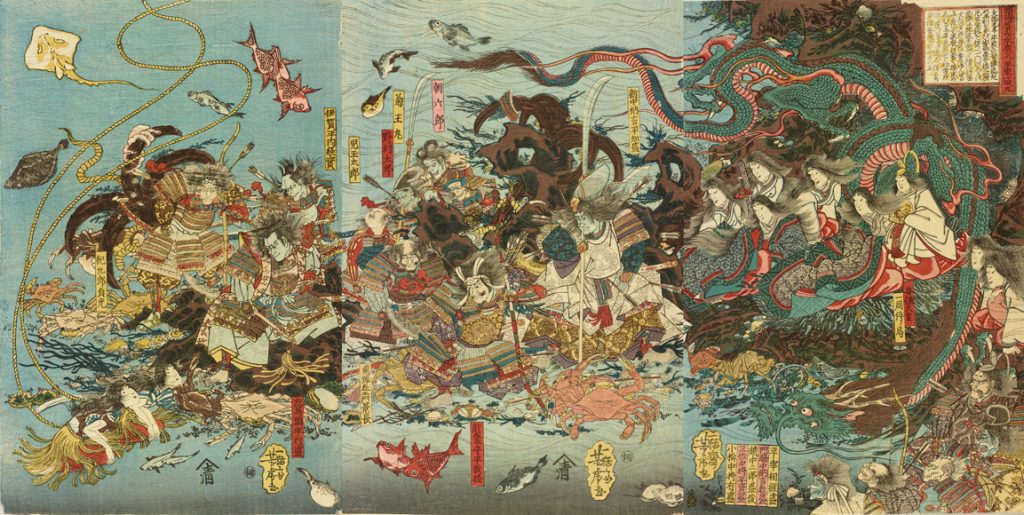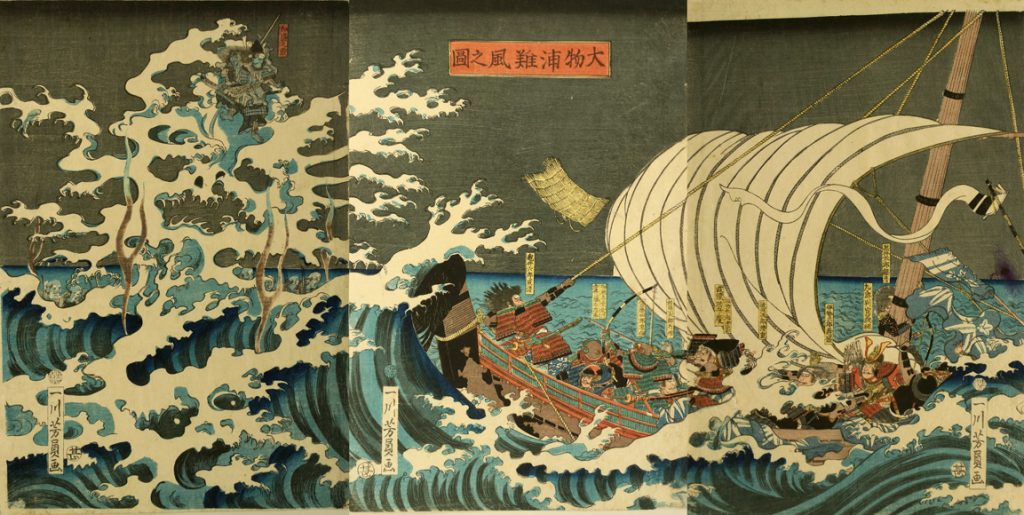 Kuniyoshi, Yoshitoshi and Hiroshige – Heroes Portrayed by Ukiyo-e Artists
Utagawa Kuniyoshi, a leading artist of musha-e, drew many warriors of the Genpei period. He depicted various stories from this time period with a familiar yet powerful style. This fascination was carried on by his pupils, especially Tsukioka Yoshitoshi, who continued to depict the subject with sophisticated style through the Meiji period.  
This section exhibits various works, including the grandeur musha-e and caricatures by Utagawa Hiroshige, the master of landscape pictures, to demonstrate the rich and unique styles of ukiyo-e artists.
Highlight of the Exhibition
Tsukioka Yoshitoshi "Mirror of Famous Commanders of Great Japan: Commander Minamoto no Yoritomo"
Spreading their wings, a flock of cranes is taking off into the sky. Minamoto no Yoritomo and his attendants look up at them. In August 1187, two years after Yoshitsune and his followers defeated the Taira clan in the Battle of Dannoura, Yoritomo held a Hōjō-e at Tsurugaoka Hachiman-gū Shrine in Kamakura. Hōjō-e is a ceremony that releases captured creatures, based on the Buddhist precept against killing. This picture is thought to depict the legend that a thousand cranes were released at the ceremony.  
Yoritomo seems satisfied as he watches the cranes, the symbol of good fortune, fly away. The scene may imply Yoritomo's feeling of grand accomplishment when he finally achieved great power, as he defeated his old enemy, the Taira clan.   
Two years later, in 1189, Yoritomo eliminated his younger brother Yoshitsune who had developed a hostile relationship with him and Fujiwara no Yasuhira, who had sheltered Yoshitsune. In 1192, Yoritomo became a Shogun and established a new age of samurai.
Admission
Calendar
Hokusai and His Rivals
Katsushika Hokusai is a worldly famous ukiyo-e artist. He achieved great fame with his landscape pictures, including "Thirty-six views of Mt. Fuji" and works in various other genres. Naturally, however, Hokusai was not the only ukiyo-e artist active during the time. A large number of ukiyo-e artists competed with Hokusai, and influenced each other's works. This exhibition will not only focus on Hokusai's works, but put them in conversation with the works by more than 15 artists who were contemporaneous with Hokusai or succeeded him.
Introducing the interactions between Hokusai and his rivals
The numerous exhibitions of Katsushika Hokusai held at various museums, mostly focused on his works exclusively. Utagawa Hiroshige, who also excelled at landscape pictures, is the only other artist whose works have been presented in comparison. This exhibition will not only present works by Utagawa Hiroshige, but also those by many other artists such as Tōshūsai Sharaku, Keisai Eisen, and Utagawa Kuniyoshi, who were active in the same period, to introduce Hokusai's relationship and interactions with such ukiyo-e artists who worked during his time.
An extensive exhibition with a wide variety of genres
Hokusai's rivalry with numerous artists is an indication of how he was active in so many different genres. We will put Hokusai's late masterpiece, "Thirty-six Views of Mt. Fuji" and a wide range of other works, including pictures of kabuki actors, warriors, landscapes, and beautiful women, in dialogue with works by other artists on display.
Discovering works by succeeding artists who learned from Hokusai
Hokusai not only had a huge impact on the works of rivaling artists of his generation but also on the artists of the following generation. His influence extended beyond his direct pupils, to the artists who belonged to different schools. This exhibition introduces works by artists of the generation after Hokusai, who learned through imitating his works.
---
Admission
Calendar
Red -The History of Ukiyo-e from the Perspective of Color
Gorgeous Red Color in the Spotlight
Although ukiyo-e works are full of rich colors, red is the most important paint to make the whole work gorgeous and add tension to the piece. The exhibition will explore the beauty of red that fascinated people in the Edo and Meiji Era, by carefully selecting about 60 ukiyo-e paintings with impressive vivid red.
History of Ukiyo-e Made by Red
Red is the most common color used in terms for ukiyo-e production, such as "Beni-e" (hand-painted red pictures), "Benizuri-e" (prints with red and a few other colors), "Aka-e" (red pictures), and "Benigirai" (red-avoiding pictures). The changes in the use of red paints show the development of ukiyo-e techniques. We will introduce a new way of looking at ukiyo-e that you can enjoy by paying attention to red.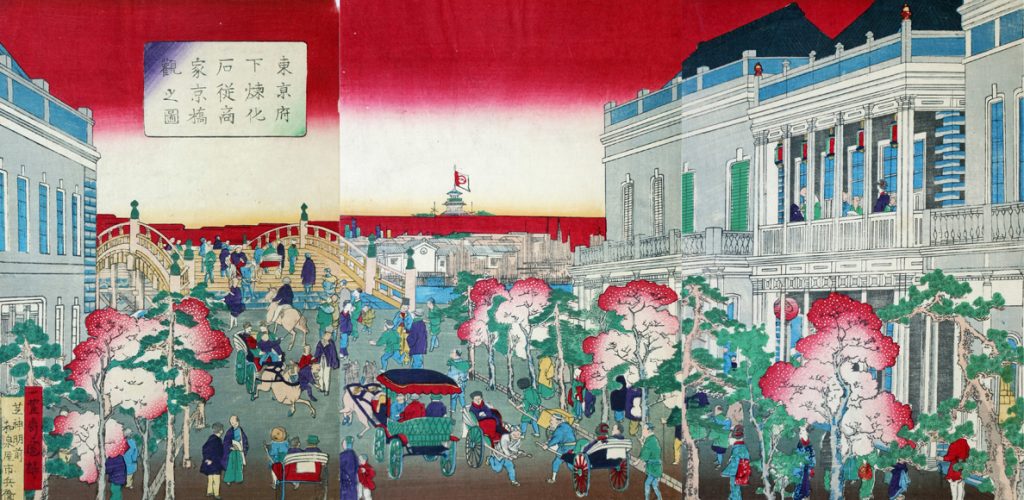 Sharaku, Hiroshige and Yoshitoshi – Their Techniques of Using "Red"
Shades of red have varied over 200 years of ukiyo-e history. Although it was a pale color during Harunobu and Sharaku's time, it became darker in Hiroshige and Kunisada's time, and it became vivid and loud in the Meiji period when Yoshitoshi was active. We will introduce how red was used by popular ukiyo-e artists.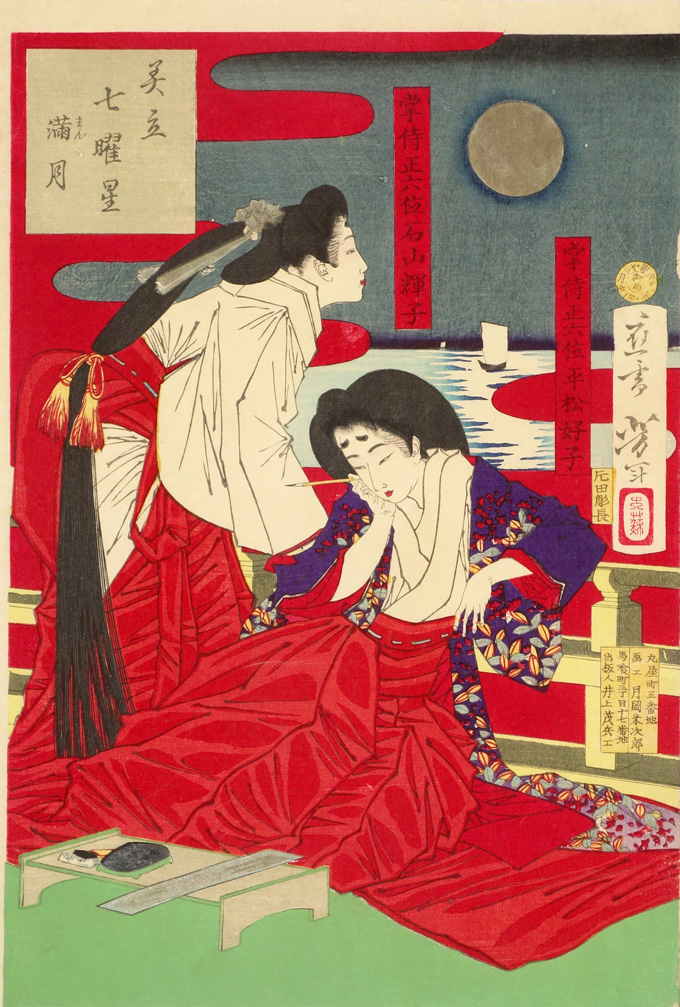 ---
Admission
Calendar
The Mind of Belief -Religion, Superstition, and Rumor
A Variety of Ukiyo-e Works with the Keyword "Believe"
During the Edo period (1603-1868), a variety of folk beliefs were popular among the common people. From large temples such as Senso-ji to Inari shrines in the town, many temples and shrines often held fairs and events, which attracted a large number of people. The interest of the common people was not limited to the city of Edo, but also extended to the suburbs, such as Benzaiten in Enoshima and Ōyama-sekison Shrine in the vicinity, and Mt. Fuji and the Ise Shrine in the distance. People went out of Edo not only for worshipping, but also to have fun.
One of the characteristics of the folk beliefs of Edo is that their trends changed rapidly. For example, in 1849, three folk beliefs became a big boom but were fleeting. Ukiyo-e, which depicted the latest world affairs of the time, played the role of spreading these trends to people like SNS today. We will introduce a variety of ukiyo-e works with the keyword "believe", including "namazu-e (catfish pictures)" which are based on the superstition that catfish cause earthquakes, and works depicting the rather suspicious news of mermaids.
Making a Buzz with Ukiyo-e! Fashionable Deities
One example that symbolizes the changeable beliefs of the people of Edo is the phenomenon of faddish deities. In particular, Otake-nyorai, which was unveiled at Ekō-in Temple in 1849, became very popular. At the same time, other two deities were also popular in Edo, and attracted many pilgrims. At the time, many ukiyo-e artists such as Utagawa Kuniyoshi drew these popular gods in ukiyo-e, and played a role in spreading this trend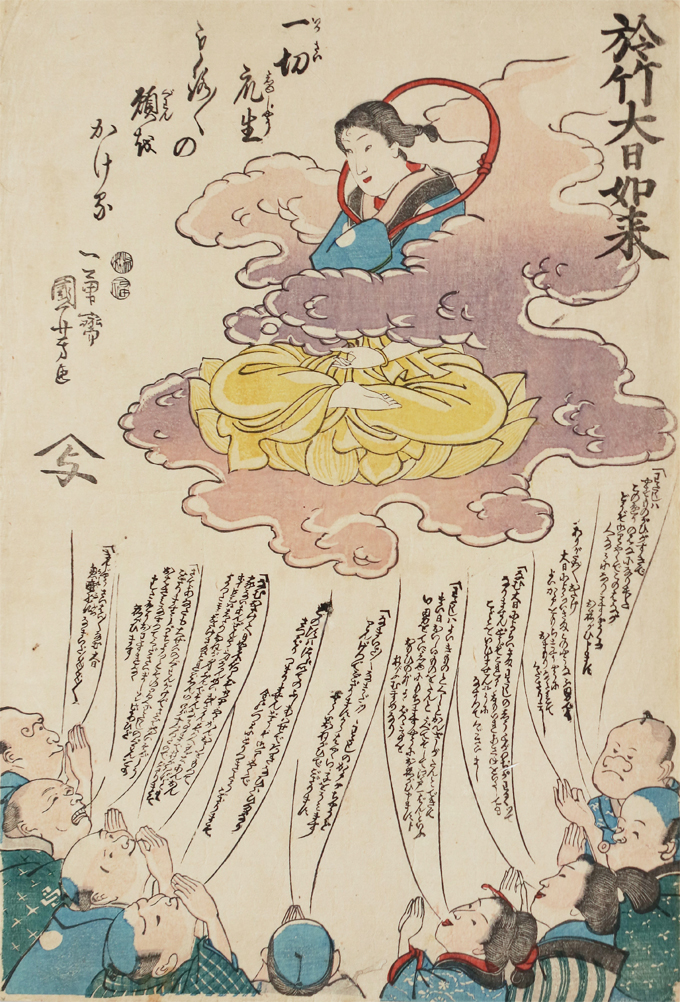 Big Earthquakes, Epidemics and Superstitions –Change Them into Laughter
People in Edo believed in various superstitions in their daily lives, and these superstitions had a close relationship with ukiyo-e. For example, after the Great Ansei Earthquake in 1855, many humorous paintings of catfish, based on the superstition that catfish were the cause of earthquakes, were drawn and became very popular. Not only disasters, but superstitions related to epidemics also became a subject of ukiyo-e. When epidemics such as pox, measles, and cholera broke out, many caricature-style works were published, depicting superstitions related to diseases in a funny style.
A Mermaid Appeared! Doubtful Topics Depicted in Ukiyo-e
In Edo, news that was a little suspicious and doubtful rumors became hot topics, and were often the subjects of ukiyo-e. For example, there is a picture depicting a mysterious mermaid-like woman who appeared out of the sea in Echigo Province. The woman prophesied, "There will be an epidemic in the future, but if you draw a picture of me and put it in your house, you will be safe," and disappeared. Moreover, we will introduce a series of works depicting the seven famous wonders of Honjo in Edo.
---
Admission
開館日カレンダー
Romance in Ukiyo-e
From Pure Love, Tragic Love to Adultery -A Collection of Love Stories from Edo
In ukiyo-e, we can see all forms of love. Celebrated artists such as Suzuki Harunobu and Kitagawa Utamaro depicted ideal love between beautiful men and women that fascinated viewers. On the other hand, the love-hate dramas of Kabuki and Joruri plays, based on shocking real-life incidents such as suicide, adultery, and murder following romance, were also good subjects for ukiyo-e. As well as beautiful romance, ugly relationships between men and women, just like in modern day dramas, also attracted people in Edo. This exhibition focuses on love depicted in ukiyo-e. Not only can you enjoy romantic pictures, but you can discover the real lives of Edo people, who had various emotions, such as earnestness and jealousy, just like us.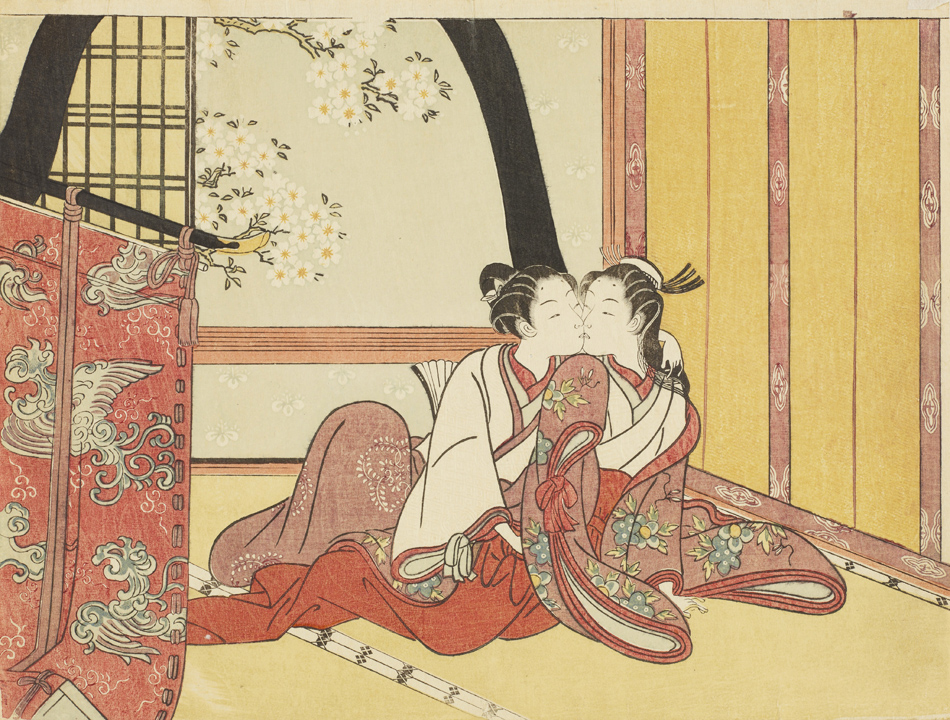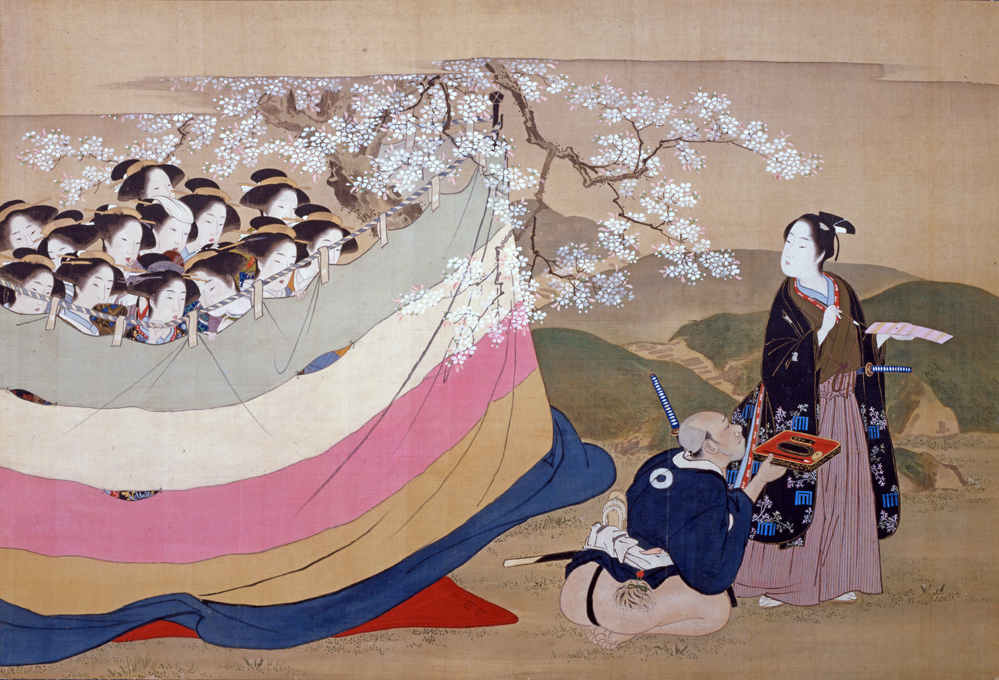 A Dangerous Love and Its Consequences
Portraits of men and women who seem happy are often depicted in ukiyo-e. However, let's read into their background. A town girl, Omiwa, was troubled by a love triangle and lost her life because of jealousy, Yaoya-Oshichi, who committed arson to see her lover one more time, was given the death penalty, and a courtesan Urazato and her lover Tokijirō thought of double suicide since they were unable to be together. We will trace those sensational loves through ukiyo-e.
Handsome Men, Bad Men, and Stalkers – Men in Love
Sukeroku, a popular kabuki character, who bonded strongly with a courtesan named Agemaki, was a beautiful man and an ideal person as a lover. However, ukiyo-e depicts not only such perfect men, but also a large number of good-for-nothing men who could hardly be called heroes. Fujiya Izaemon fell into debt and had a quarrel with his lover, a courtesan named Yugiri; a monk named Seigen, who can be considered to be the first stalker, stalked Princess Sakura even after his death, and Sano Jirozaemon killed a courtesan who rejected him. It is clear that people were also attracted to miserable men who were tossed about by love.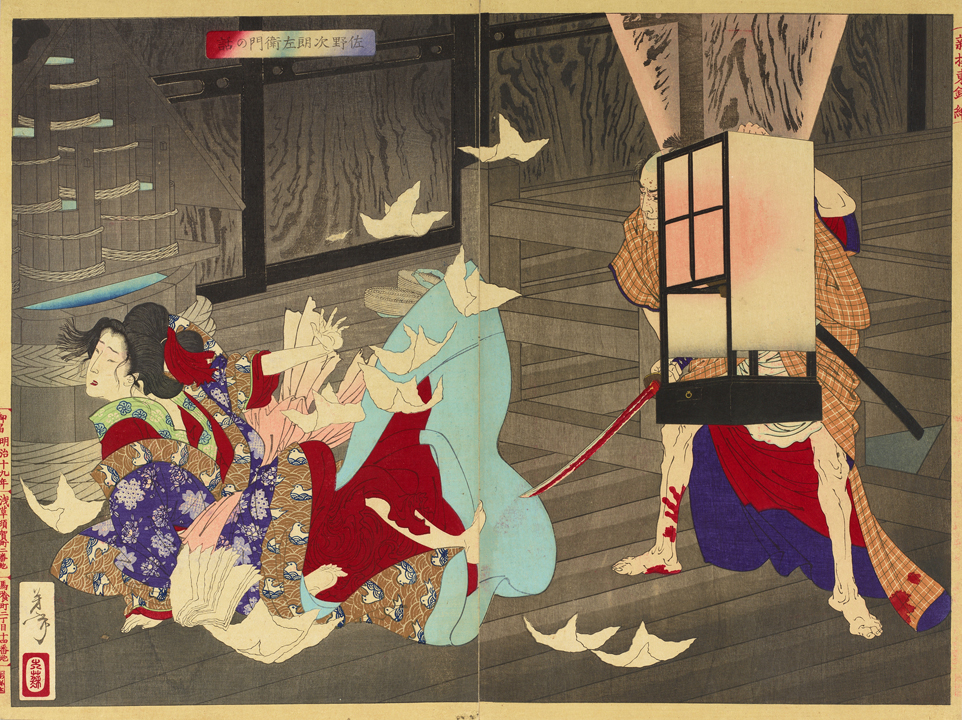 ---
Admission
Calendar