TOP
prevention measures against covid-19
Ōta Memorial Museum of Art will be opened again from April 1st.
Please check our website to stay informed since we might suddenly close without notice depending on the situations.
At this moment, we will be closed on April 4th, 5th, 11th and 12th.
To prepare for the reopening, we deal with the prevention measures against coronavirus as follows.
What We Ask You
Customers who meet any of the following conditions are not allowed to come visit:

If you feel sick with fever, cough or trouble breathing, develop symptoms, or if you are taking a fever reducer.
If you have traveled to those infected countries or areas in the past 14 days.
If there is anyone infected with the coronavirus close to you.

No entrance without a mask. If you don't have one, please use towels or handkerchiefs to cover your mouth and nose.
If you keep coughing in the museum or have the flu-like symptoms, please understand that we might have to ask you to leave.
Please cooperate to wash your hands frequently, use the hand sanitizer and cover your mouth and nose when you cough or sneeze.
Try to keep distance with other customers in the museum.
Please keep quiet and avoid having a conversation to prevent the spread of infection.
You may not come visit with the group of over 10 people.
We cannot keep your luggage other than suitcases (large baggage).
We might limit the number of visitors at peak times to avoid the crowds.
At the Museum
Increasing our use of disinfectant and cleaning in what we call "high touch" areas at the museum such as doors, hand rails and restrooms.
To avoid the crowds, we reduced the exhibits on both 1st and 2nd floors, and moved them to another exhibition room in the basement.
Placing the hand sanitizer at the reception for customers to use.
Keeping the entrance door open for ventilation.
Staffs are wearing a mask.
Hand dryer in the restroom and lending pencils are not available due to prevent infection.
We appreciate your understanding and cooperation.
Current Exhibition
2020, April 1st-May 27th

[1st Term] April 1st-26th

<

[2nd Term]May 1st-27th<

/li>

※Works change between two terms
Will be closed on April 6, 13, 20, 27-30 May 7, 11, 18, 25.
Upcoming Exhibition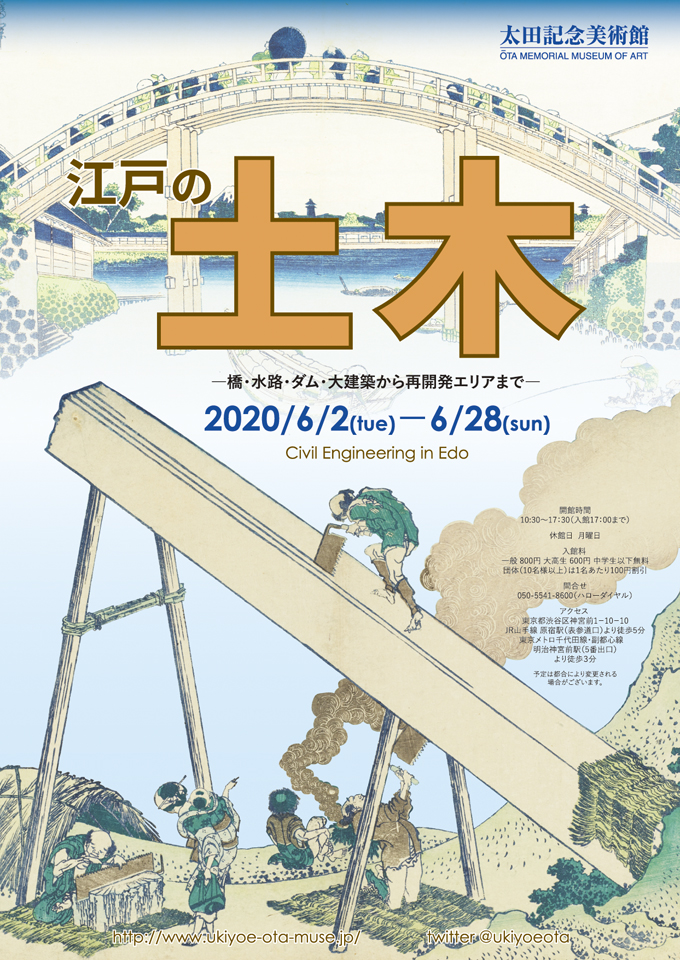 Civil Engineering in Edo
2020, June 2nd- 28th

Will be closed on June 8, 15, 22.
Calendar
2020 April

| SUN | MON | TUE | WED | THU | FRI | SAT |
| --- | --- | --- | --- | --- | --- | --- |
| | | | 1 | 2 | 3 | 4 |
| 5 | 6 | 7 | 8 | 9 | 10 | 11 |
| 12 | 13 | 14 | 15 | 16 | 17 | 18 |
| 19 | 20 | 21 | 22 | 23 | 24 | 25 |
| 26 | 27 | 28 | 29 | 30 | | |

2020 May

| SUN | MON | TUE | WED | THU | FRI | SAT |
| --- | --- | --- | --- | --- | --- | --- |
| | | | | | 1 | 2 |
| 3 | 4 | 5 | 6 | 7 | 8 | 9 |
| 10 | 11 | 12 | 13 | 14 | 15 | 16 |
| 17 | 18 | 19 | 20 | 21 | 22 | 23 |
| 24 | 25 | 26 | 27 | 28 | 29 | 30 |
| 31 | | | | | | |