Utagawa Toyokuni – A man who surpassed Sharaku
Will be closed on September 9, 17, 24.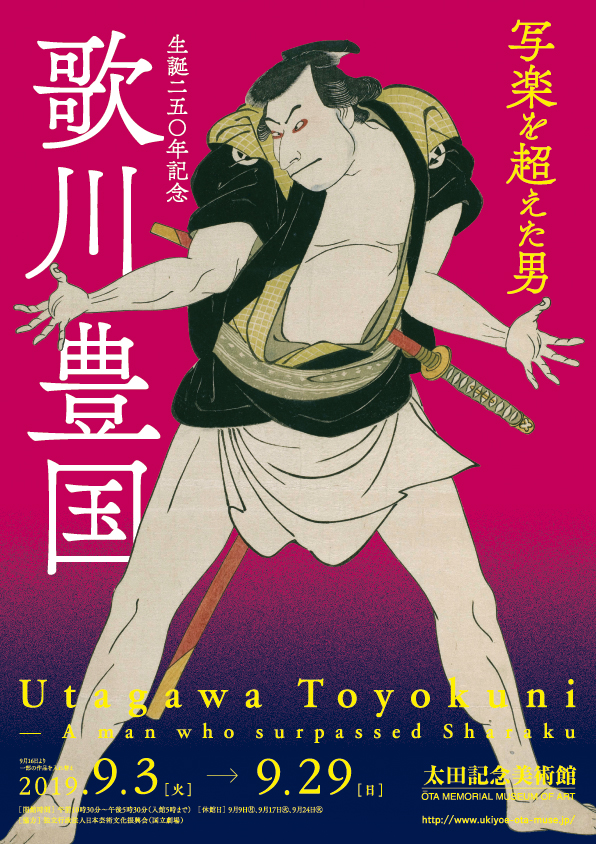 Utagawa Toyokuni (1769~1825) is an ukiyo-e artist who played an active part in the field of yakusha-e (portraits of kabuki actors) and bijin-ga (pictures of beautiful women). He studied under Toyoharu, the founder of the Utagawa School. Since he published his representative series "Kabuki Actors on the Stage" in 1794, he stood out in the field of yakusha-e along with Tōshūsai Sharaku and Katsukawa Shun'ei. However, Toyokuni's clear touch gained greater popularity than the others and he became a leading artist. In the field of bijin-ga, he competed with popular artist Kitagawa Utamaro. Compared to Utamaro's amorous women, Toyokuni's women were healthy and elegant, and this also attracted people. Moreover, he created illustrations for books energetically enough to vie with Katsushika Hokusai. Many talented young artists rallied around Toyokuni, who was a leading artist in various genres, and the Utagawa School became the biggest school of ukiyo-e at the end on the Edo period. This year commemorates the 250th year since his birth. Although Toyokuni played an important role as the master of Kuniyoshi and Kunisada, who are more recent popular ukiyo-e artists, exhibitions showing the entirety of his work have rarely been held. This exhibition introduces various genres of Toyokuni's works and brings out their charms.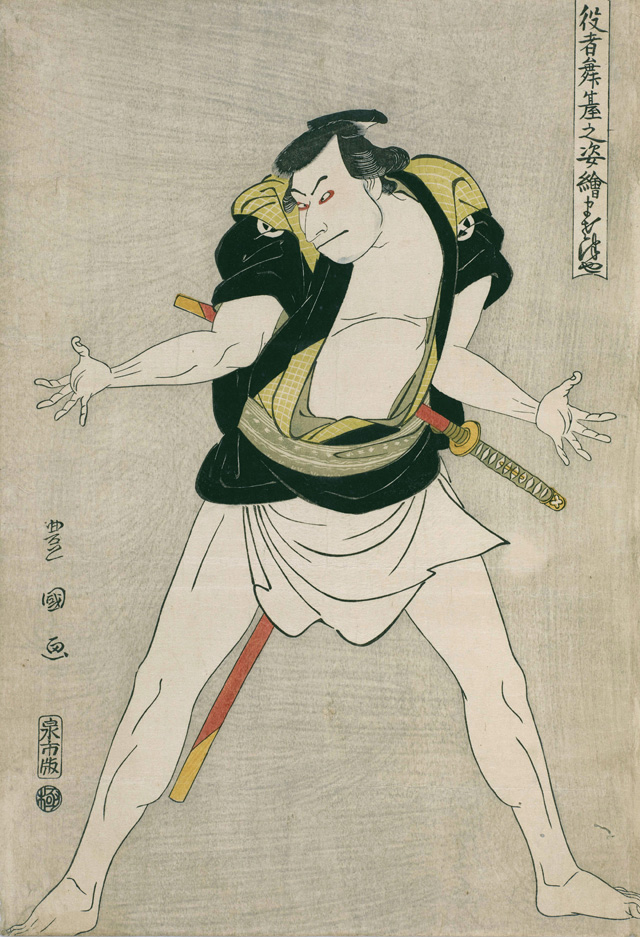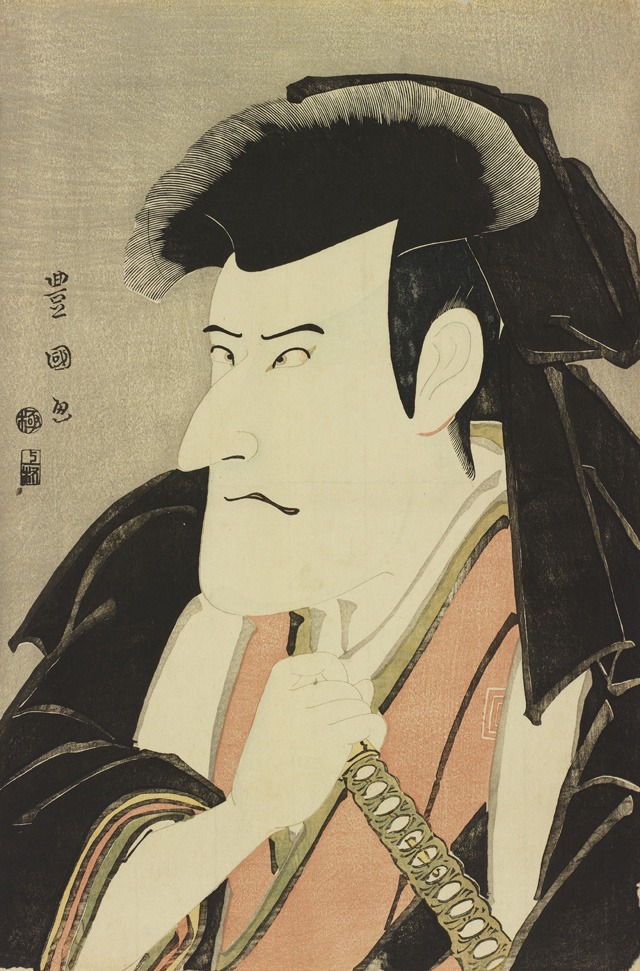 Toyokuni's yakusha-e, "Kabuki Actors on the Stage," made him a front runner surpassing Sharaku
Toyokuni became a star artist in the genre of yakusha-e which portrayed Kabuki actors in Edo. His representative series of yakusha-e, "Kabuki Actors on the Stage," published in 1749 attracted people with its refreshingly honest depictions of actors. In May of the same year, Tōshūsai Sharaku debuted with 28 bust portraits of actors made luxuriously with mica and published by Tsutaya Jūzaburō. This launched the rivalry between Toyokuni, Sharaku and Shun'ei, who were already big names in this genre. However, public interest toward Sharaku did not last long and he disappeared after about 10 months. Shun'ei, too, stopped making yakusha-e within a few years. Toyokuni, who gained both popularity and ability, became the leading artist of yakusha-e and pursued his own unique expression.

Bijin-ga works that competed with Utamaro – from women of samurai families to the lowest-ranked courtesans
Toyokuni was skilled at depicting not only kabuki actors but also beautiful women. Compared to Utamaro's amorous women, Toyokuni's women were healthy and elegant, and this also attracted people. Moreover, Toyokuni is also known for depicting women in various occupations and ranks such as women from samurai families, female farmers, high-ranked courtesans in Yoshiwara and the lowest-ranked courtesans working on boats in the illustrated book "Ehon Imayō Sugata".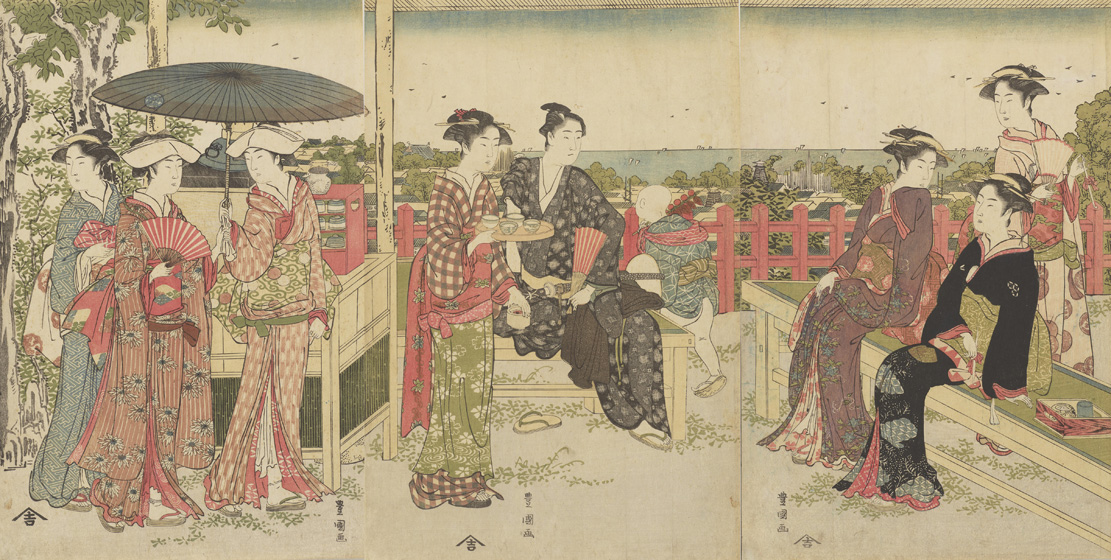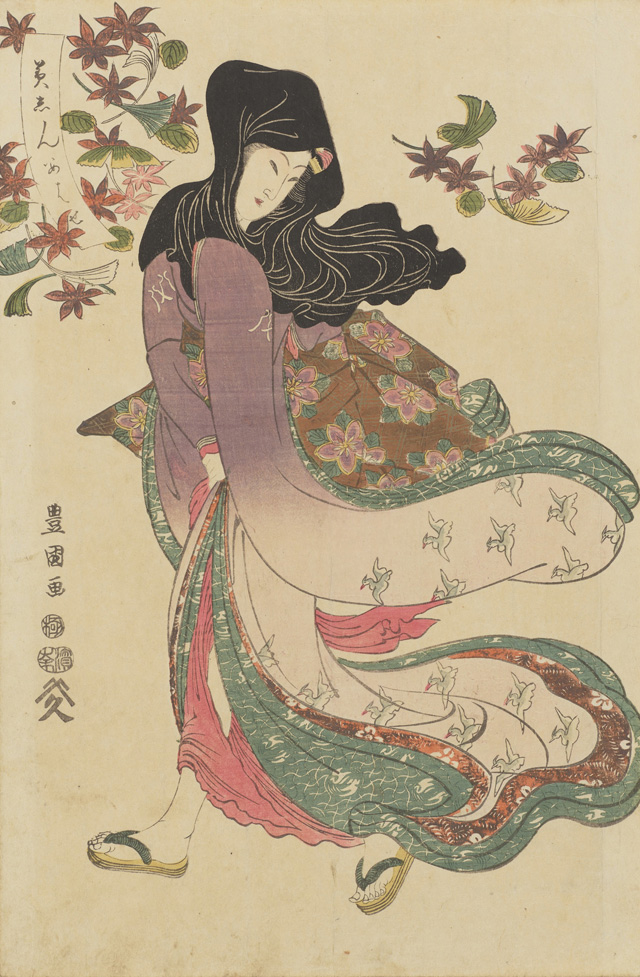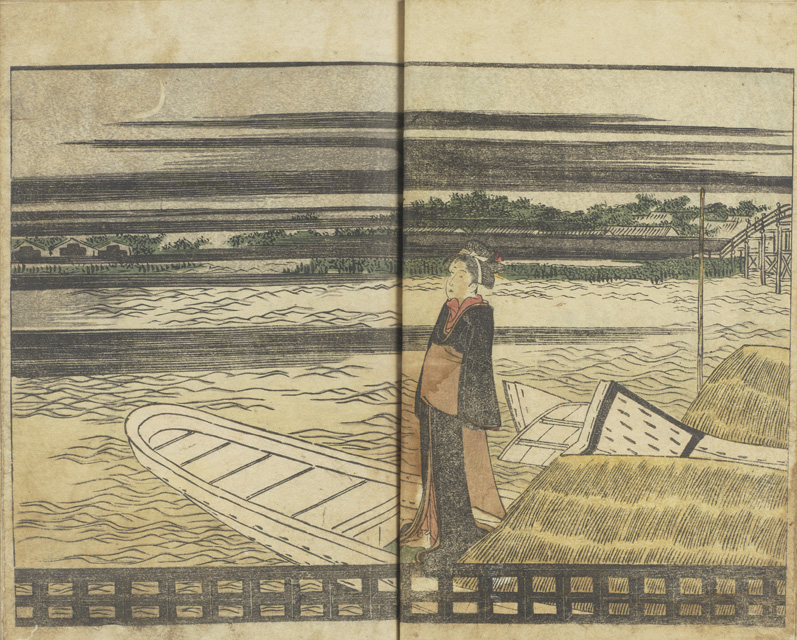 Book illustrations that competed with Hokusai – amusing anecdotes of popular artist Toyokuni
Toyokuni, who became a popular artist in the genre of yakusha-e and bijin-ga, competed with Hokusai in the various genres of illustrated books. He had many deadlines from various publishers, and was popular enough to be confined indoors working. However, he was not known as a quick worker. One story says that when Toyokuni was confined to his room in spring, he said he wanted to go see the cherry blossoms at the Sumida River and stopped drawing. The publisher brought a branch of cherry blossoms to Toyokuni's room and he resumed drawing. There are many anecdotes that remind us of manga artists in the Showa period who were bold and openhearted.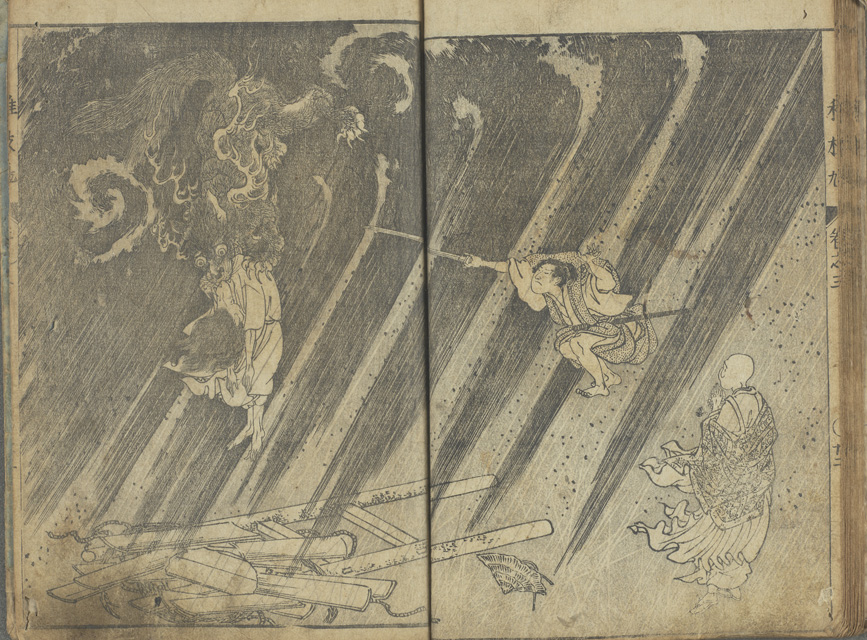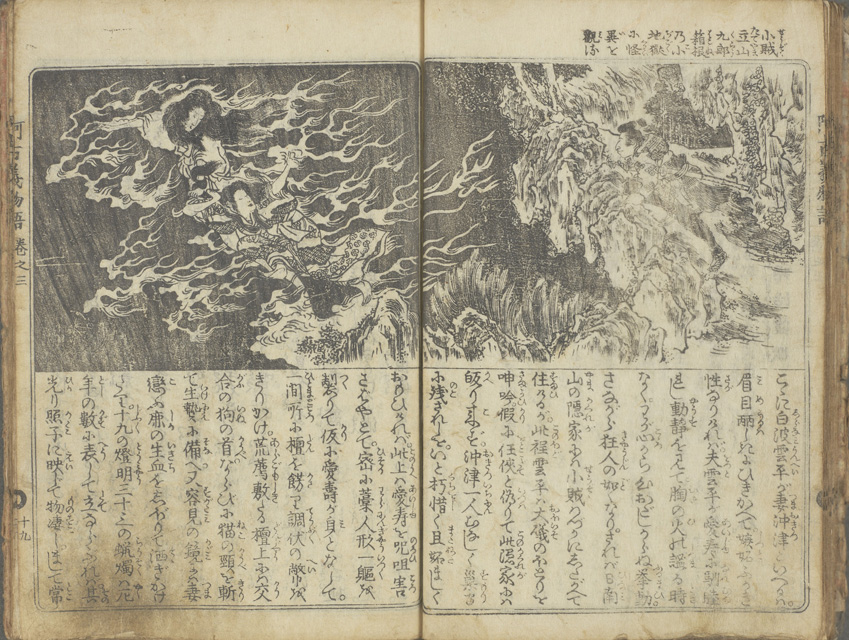 The roots of Kuniyoshi? Toyokuni's caricature pictures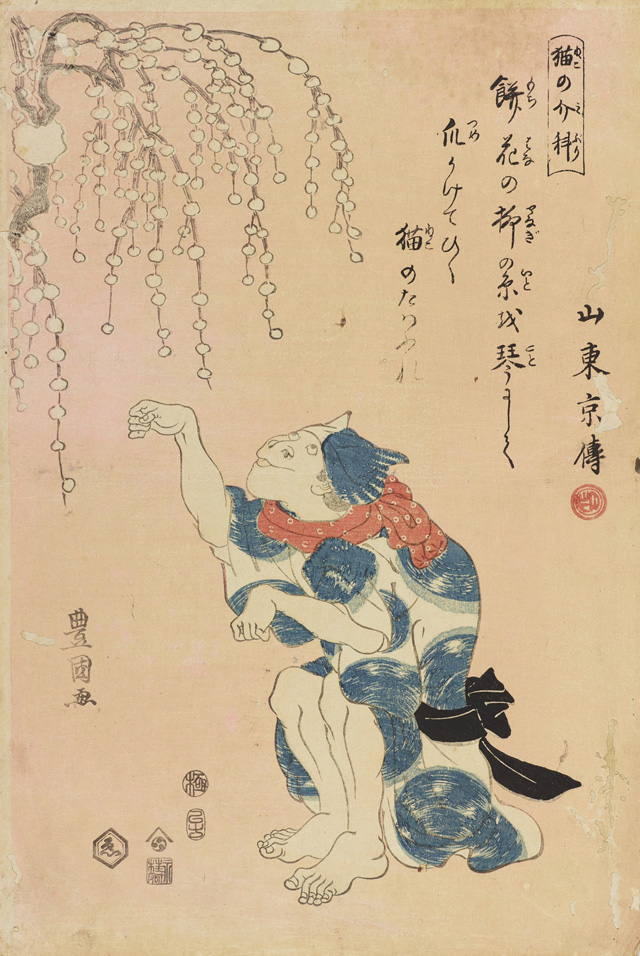 Although Toyokuni did not create many of them, he did leave behind some interesting parody pictures. This picture depicts a man pretending to be a cat. The man is playing with decorative New Year ornaments made of rice cakes. There is something amusing about Toyokuni's humorous depictions of cats on towels and kimono. Toyokuni's pupil, popular uikiyo-e artist Kuniyoshi, was skilled at caricature pictures and left many works featuring farcical pictures of cats. In this way, Toyokuni's caricature pictures can be said to be the roots of Kuniyoshi.
Featured Work
Utagawa Toyokuni "Kabuki Actor Sawamura Sōjūrō Ⅲon the Boat at Night"

One of the series of pictures depicting the daily lives of popular kabuki actors with beautiful women. This picture depicts Sawamura Sōjūrō Ⅲ who is seating hunched, warming himself at a kotatsu (a small table with a heater placed underneath) on a boat. We can feel the coldness of the air from the picture. Since the woman standing on the dock looks surprised, she might have just noticed the figure of this famous kabuki actor. The gradation of black applied from the top expresses the night, and the depiction of the light from the lantern the woman is holding also makes an impact. This work is quintessential Toyokuni, showcasing his remarkable skill in both portraits of kabuki actors and pictures of beautiful women. Sawamura Sōjūrō Ⅲ was an active kabuki actor during 1789-1801 who was drawn by many ukiyo-e artists of this period such as Toyokuni, Tōshūsai Sharaku and Katsukawa Shun'ei.
Admission
| | |
| --- | --- |
| Adult | 1000 yen |
| University and High school students | 700 yen |
| Junior High School Students and below | Free |
Calendar
2019 September

| SUN | MON | TUE | WED | THU | FRI | SAT |
| --- | --- | --- | --- | --- | --- | --- |
| 1 | 2 | 3 | 4 | 5 | 6 | 7 |
| 8 | 9 | 10 | 11 | 12 | 13 | 14 |
| 15 | 16 | 17 | 18 | 19 | 20 | 21 |
| 22 | 23 | 24 | 25 | 26 | 27 | 28 |
| 29 | 30 | | | | | |