Grant for Ukiyo-e Research
The 40th (2023) GRANT OFFERED FOR RESEARCHERS ON UKIYO-E
Purpose and Objects of Grant
Ōta Memorial Museum of Art is an art gallery specializing in ukiyo-e. We have been offering research grants in the aim to help nurturing new, emerging ukiyo-e researchers. The grants are applicable to academic research and study related to ukiyo-e, which are conducted by individuals or groups in Japan or abroad. Any person who aspires to become an ukiyo-e researcher may apply for the grant, regardless of their nationalities, organizations they belong to, or their age.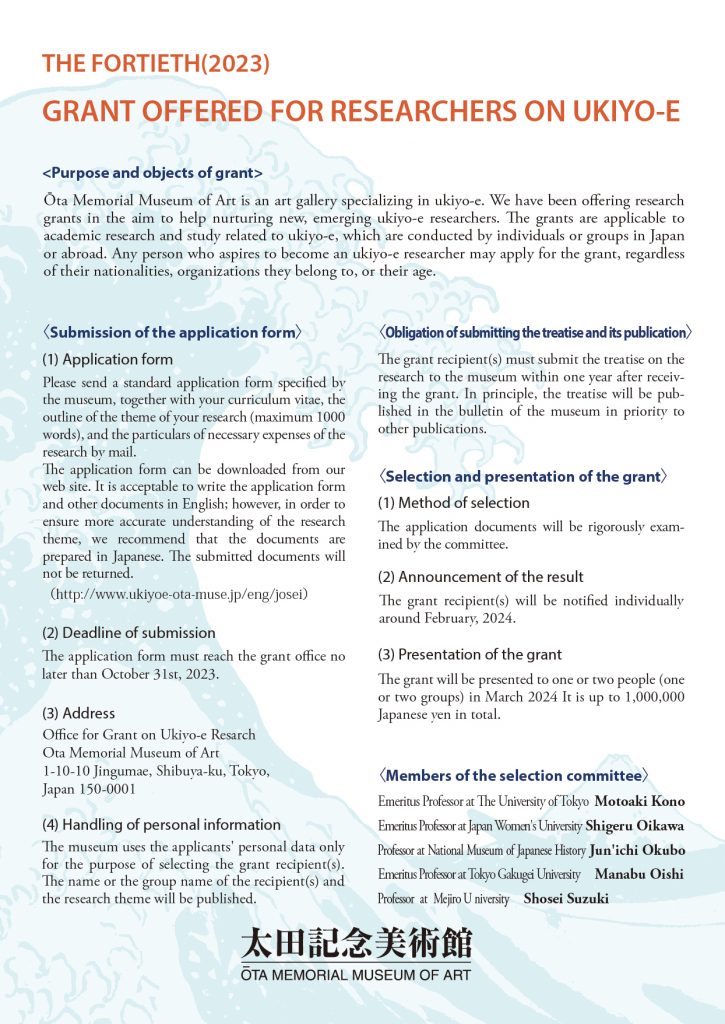 Submission of the application form
Application form (PDF)

(←Please Click)
Please send a standard application form specified by the museum, together with your curriculum vitae, the outline of the theme of your research (maximum 1000 words), and the particulars of necessary expenses of the research by mail.
The application form can be downloaded from our web site. It is acceptable to write the application form and other documents in English; however, in order to ensure more accurate understanding of the research theme, we recommend that the documents are prepared in Japanese. The submitted documents will not be returned.
Address:
Office for Grant on Ukiyo-e Research
Ota Memorial Museum of Art
1-10-10 Jingumae, Shibuya-ku Tokyo 150-0001 JAPAN
Deadline of submission : October 31, 2023
Handling of personal information
The museum uses the applicants' personal data only for the purpose of selecting the grant recipient(s). The name or the group name of the recipient(s) and the research theme will be published.
Selection and presentation of the grant
Method of selection:
The application documents will be rigorously examined by the committee.
Announcement of the result:
The grant recipient(s) will be notified individually around February, 2024.
Presentation of the grant:
The grant will be presented to one or two people (one or two groups). It is up to 1,000,000 Japanese yen in total.
Obligation of submitting the treatise and its publication
The grant recipient(s) must submit the treatise on the research to the museum within one year after receiving the grant. In principle, the treatise will be published in the bulletin of the museum in priority to other publications.
Members of the selection committee (in random order)
Emeritus Professor at The University of Tokyo: Motoaki Kono
Emeritus Professor at Japan Women's University : Shigeru Oikawa
Professor at National Museum of Japanese History : Jun'ichi Okubo
Emeritus Professor at Tokyo Gakugei University : Manabu Oishi
Professor at Mejiro University : Shosei Suzuki