About the Museum
Ōta Memorial Museum of Art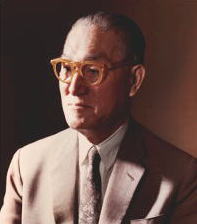 Ōta Memorial Museum of Art was founded based on the ukiyo-e collection of late Seizō OtaⅤ, former president of Tōhō Insurance Company in order to show widely its collection to public.
Late Seizō Ota Ⅴ, who was born in Fukuoka, had a great knowledge of art history and literature and began to have an interest in ukiyo-e wood-block prints since he was a college student. As a young man, he learned that ukiyo-e was highly admired abroad and as one of the Japanese traditional arts, he realized how nationally important it was to collect and protect this art form, and he developed a deep interest in collecting ukiyo-e wood-block prints. Moreover, he continued to improve a sense of beauty while forming a friendship with Mr. Fujikake Shizuya and Mr. Narazaki Muneshige who were famous researchers of ukiyo-e. Though his collection was partly burned down thereafter by the Pacific War, his passion toward ukiyo-e had never declined, and he continued to collect his favorite ukiyo-e until his death diligently.
Though his collection had not been shown to the public in his lifetime, the bereaved family decided to carry out the wish of the deceased: to exhibit works not yet shown to the public, and ultimately to promote Japanese art after he died at the age of 83 in 1977. Firstly, some of the works of his collection were displayed at the temporary museum opened within the Tōhō Insurance Company Building in Ginza for about 2 years, then the museum opened officially on January 13, 1980 in Harajuku, the same address as present location of the museum as one of the few museums to continuously exhibit ukiyo-e.
The main part of the collection consists of about 12,000 pieces collected enthusiastically by Late Seizō Ota Ⅴ. This collection has a remarkable character, not only in comprehensively covering representative masterpieces of ukiyo-e from its origin through all its stages, but also collecting both masterpieces of nikuhitsu-ga painting and ukiyo-e wood-block prints, which are two substantial portions of ukiyo-e, which were one of the world leading private ukiyo-e collections.
Ōta Memorial Museum of Art has been visited by both lovers of ukiyo-e in Japan and foreign people who are interested in Japanese culture as one of the few museums specializing in ukiyo-e. Ukiyo-e works on display are changed every month according to themes of exhibition. Therefore people can admire different charms of ukiyo-e whenever they visit the museum. Moreover, the museum has gotten involved in various activities such as organizing lectures and offering grant for budding ukiyo-e researchers for many years.