Invitation to different worlds – Specters, the spiritual world and foreign countries
Will be closed on August 5, 13, 19, 26.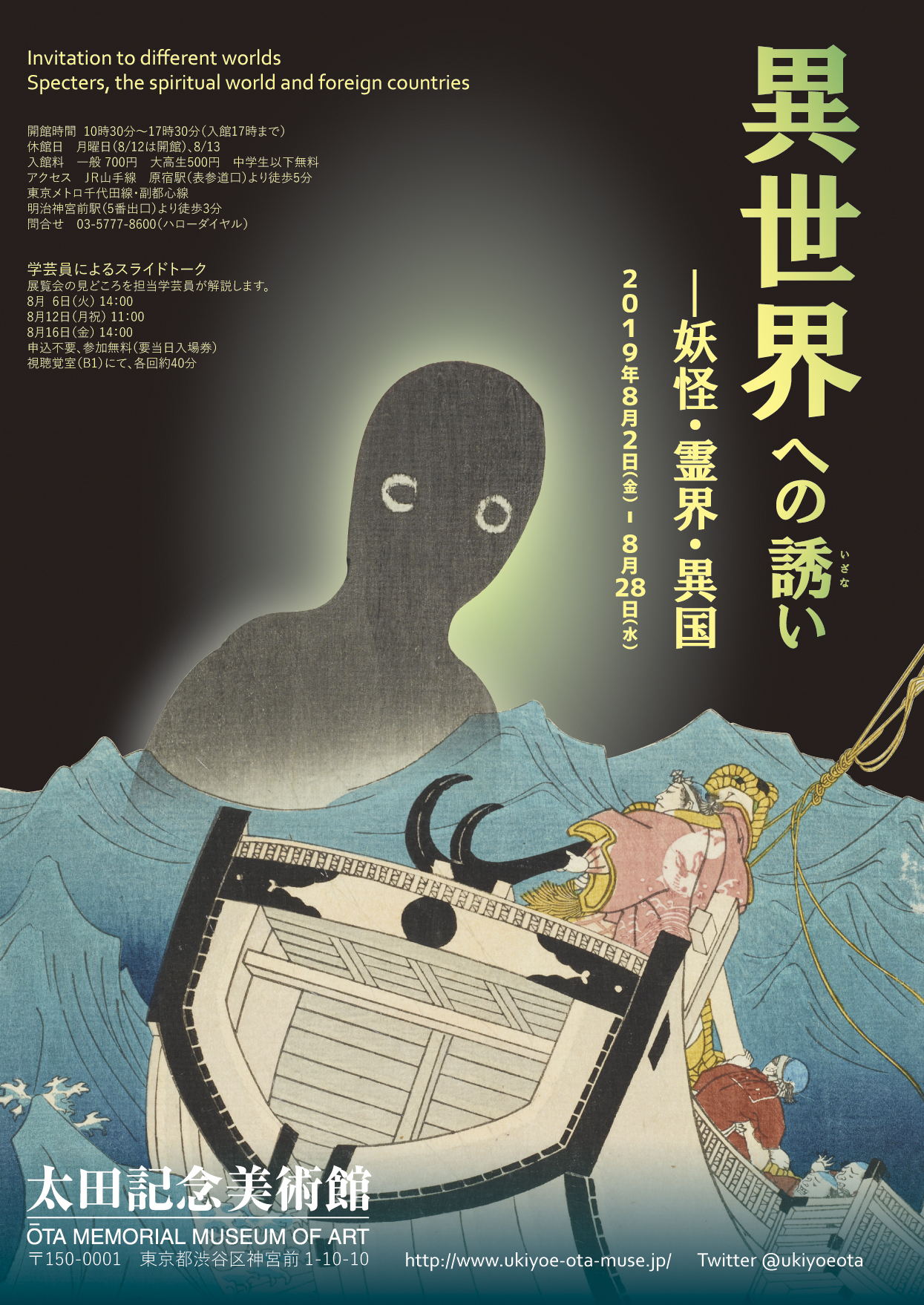 Ukiyo-e mostly depicts subjects of the pleasurable yet fleeting "ukiyo" (real world) such as popular kabuki actors and courtesans, as well as famous sites crowded with people. However, the real world is not the only subject of ukiyo-e. In some ukiyo-e paintings, landscapes of worlds which are completely different to those of the world we live in, and characters from these worlds are featured. In this exhibition, we will guide you through the various worlds depicted in ukiyo-e paintings with three themes – specters, the spiritual world and foreign countries. We hope you enjoy the encounters in the unreal worlds.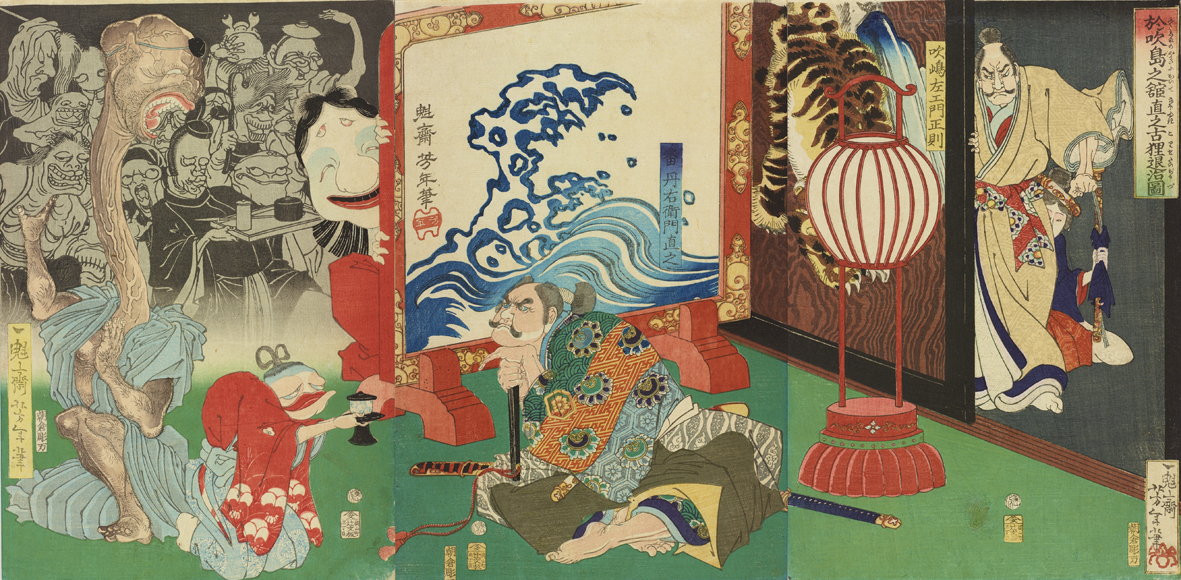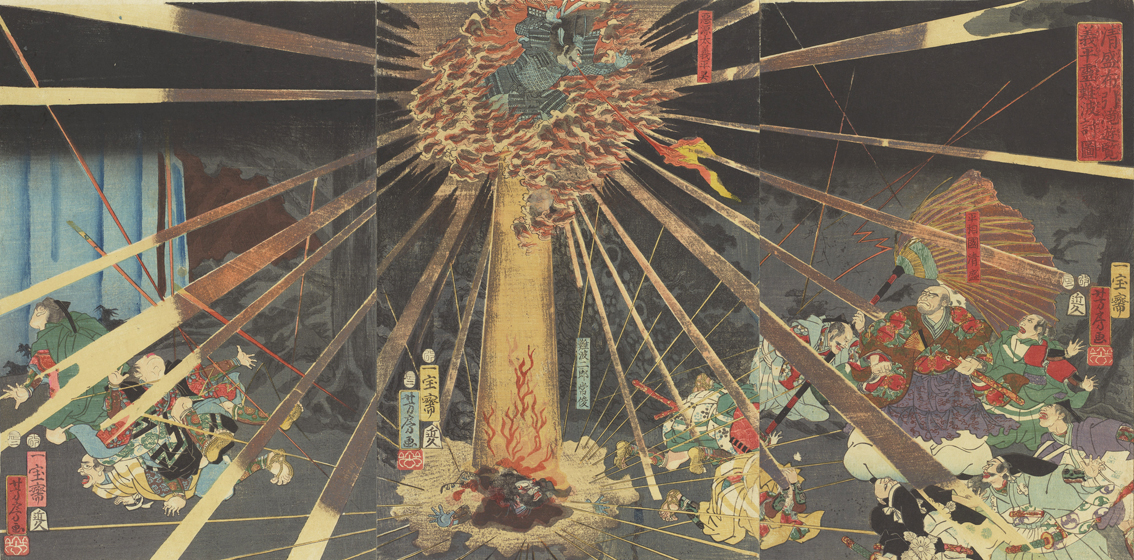 Specters – Encounters with odd-looking creatures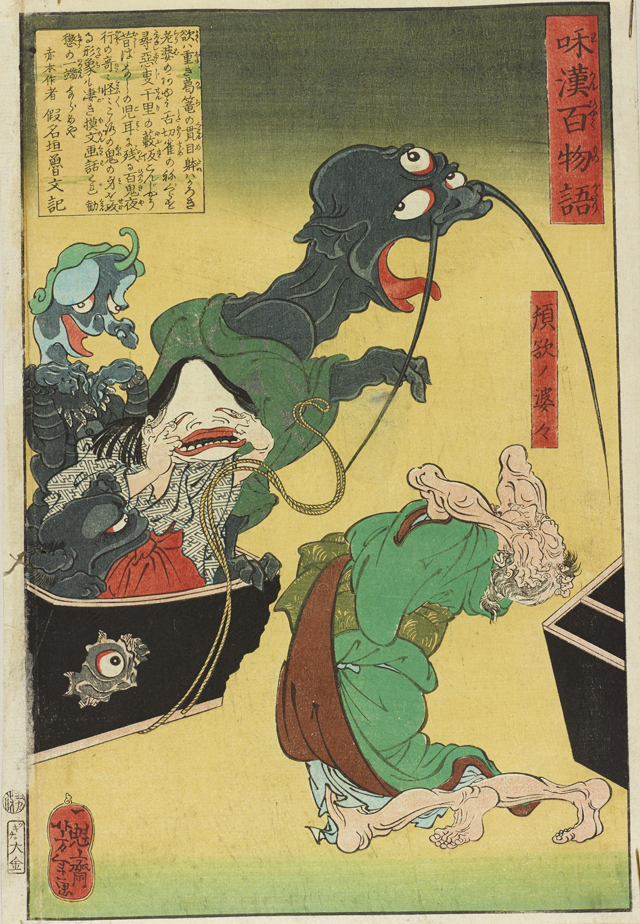 Specters attempting to scare, or attack people are often depicted in ukiyo-e. Their appearances can be tremendously horrifying at times and humorous at others. There are also ukiyo-e of people confronting these odd-looking creatures without fear and defeating them. In this section, we will introduce the various monsters that come from different worlds.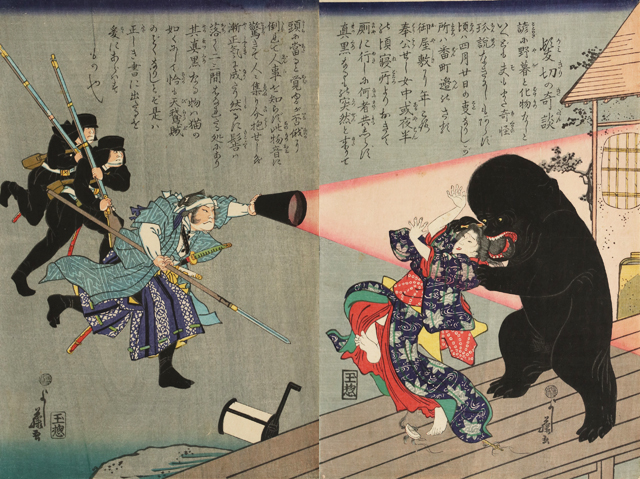 The spiritual world – Ghosts risen from the underworld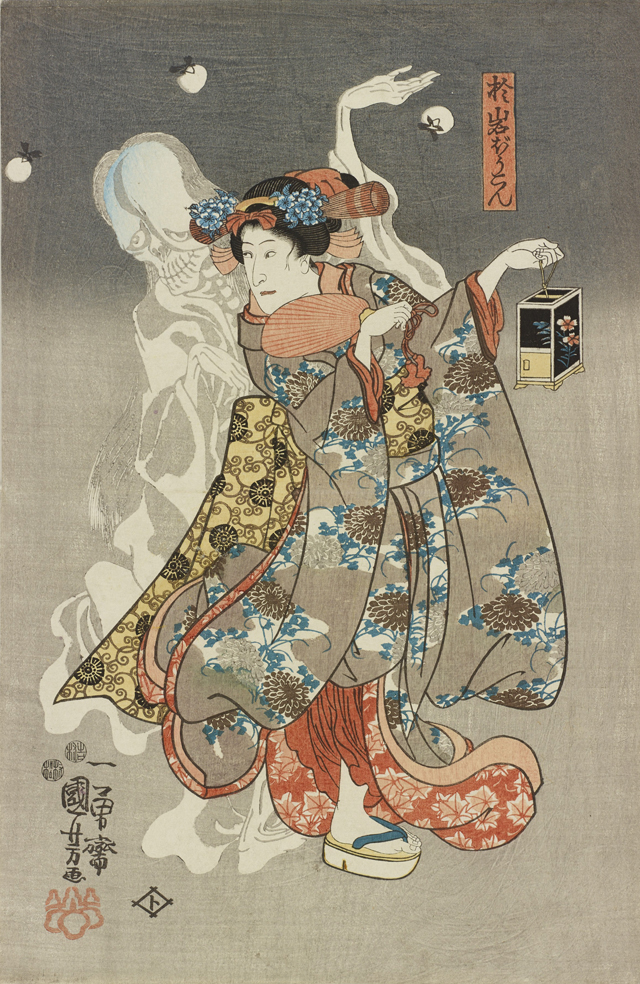 Stories of people coming back to this world as ghosts after being killed by villains were often performed in kabuki plays and made into ukiyo-e portraits of the kabuki actors. There are also peculiar works which depict the judge of the afterlife and demons being defeated by a dead person raging in hell. Here, we will introduce ghosts and the world after death depicted in ukiyo-e, as well as the memorial portraits to commemorate the people who had died, called "shini-e."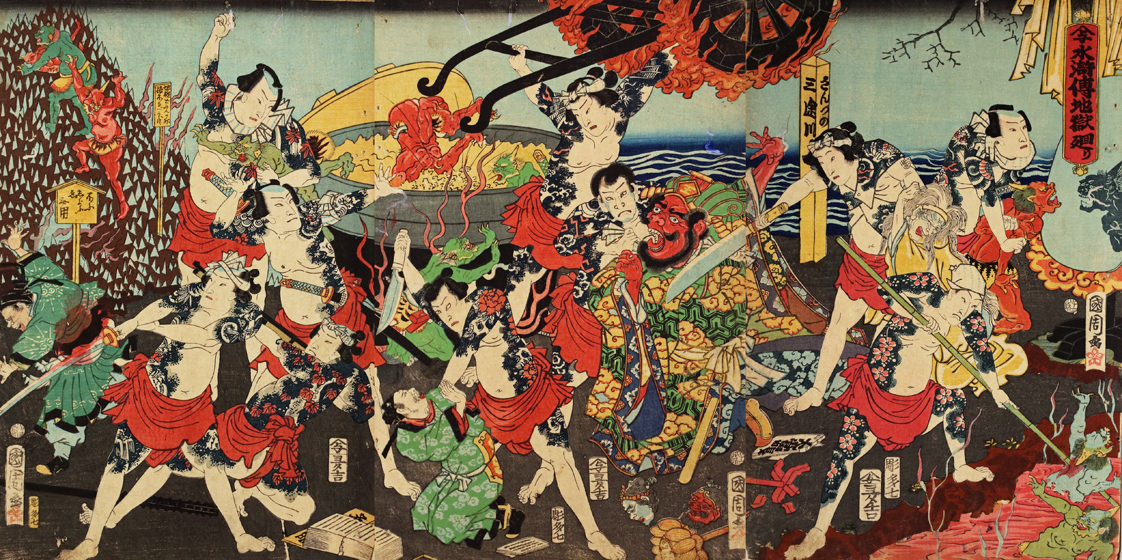 Foreign countries – landscapes based on hearsay and imagination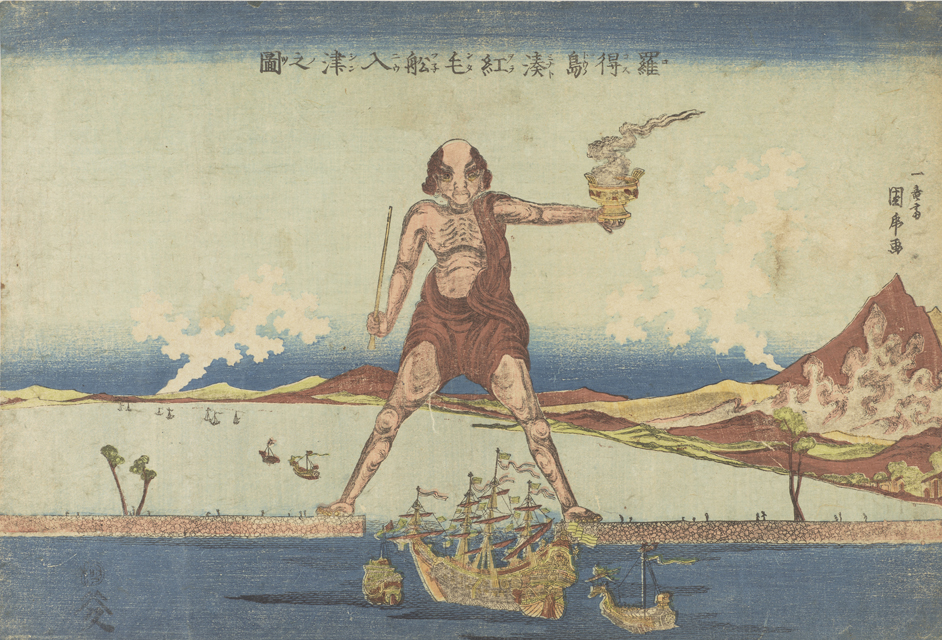 For people in the Edo period who had never been abroad or rarely had direct interactions with foreigners, foreign countries were beyond their imagination. The sceneries of these foreign countries were depicted in ukiyo-e, referring to limited documents, pictorial information, and sometimes fanciful imaginations. In this section, we will introduce works picturing Okinawa and Hokkaidō which were not part of Japan at the time, landscapes of China and Europe far across the ocean, and the foreign technologies such as steamships, trains and hot air balloons introduced to Japan at the end of the Edo period through the Meiji period.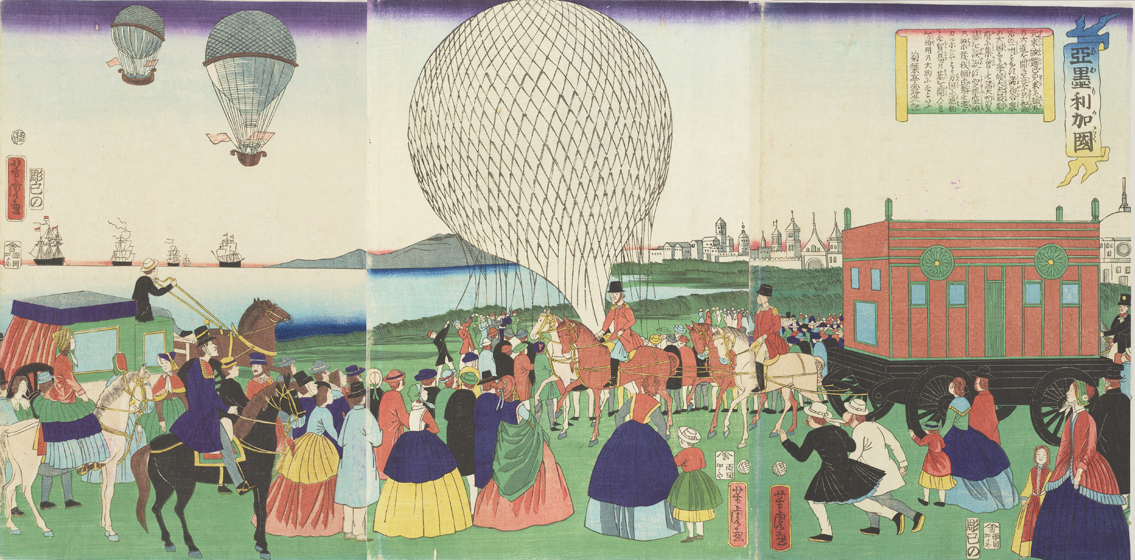 Featured Work
Utagawa Kuniyoshi "Pairs for the Fifty-three Stations of the Tōkaidō Road: Kuwana, Sailor Tokuzō Looking at a Sea Goblin"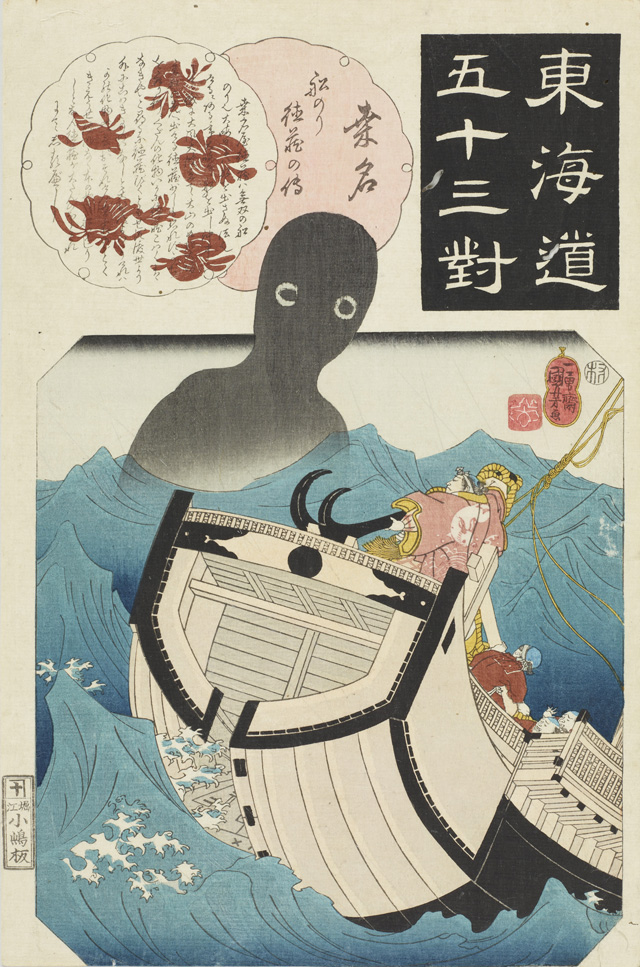 A sailorman Kuwana Tokuzō ignores the rule that he should not set sail on New Year's Eve and encounters a huge sea monster called "umibōzu" offshore. Umibōzu asked Tokuzō if he was scared, but contrary to the expectation of umibōzu, he answers that living in this world is much scarier. Umibōzu was awed by Tokuzō of what he said and disappeared. With umibōzu depicted with only dim eyes in a black shadow, this is an impressive work of the creepy appearance of umibōzu coming from a different world.
Admission
| | |
| --- | --- |
| Adult | 700 yen |
| University and High school students | 500 yen |
| Junior High School Students and below | Free |
Calendar
2019 August

| SUN | MON | TUE | WED | THU | FRI | SAT |
| --- | --- | --- | --- | --- | --- | --- |
| | | | | 1 | 2 | 3 |
| 4 | 5 | 6 | 7 | 8 | 9 | 10 |
| 11 | 12 | 13 | 14 | 15 | 16 | 17 |
| 18 | 19 | 20 | 21 | 22 | 23 | 24 |
| 25 | 26 | 27 | 28 | 29 | 30 | 31 |