Beautiful Women and Kimono
Ukiyo-e are paintings that capture the trends of the time, and an important genre within ukiyo-e are "bijin-ga", which portray beautiful women in the latest fashions. The appearance of the kimono depicted in ukiyo-e represents the aesthetic sense back then, and also determines the impression created by the work. The Edo period, when ukiyo-e flourished, was an era when social stability and industrial development in various regions grew and fashion culture blossomed.
While various clothing, accessories, techniques, and designs were developed, ukiyo-e artists depicted these attractive items in their paintings, and as a result, excellent bijin-ga which captured the trends of the time were produced.
In this exhibition, we will introduce about 130 works from the early Edo period to the early Showa period. The changing fashions and styles of kimono over time and auspicious patterns and designs that had been beloved since ancient times as well as the history of bijin-ga will be presented. You will be able to feel the richness of Japanese culture from the portraits of women wearing patterns which each have their own history and story.
A Lot of Excellent Works of Bijin-ga (pictures of beautiful women)
This exhibition introduces ukiyo-e paintings and prints that depict beautiful women spanning approximately 250 years, and features a large number of outstanding works by leading artists of the time, such as Suzuki Harunobu, Kitagawa Utamaro and Tsukioka Yoshitoshi. Many beautiful and precious masterpieces are a must-see. Please do not miss them.
Wearing Patterns and Stories
Kimonos have many kinds of different patterns. Even if the motif appears simple, the patterns sometimes represent an auspicious meaning, sometimes are based on classic tales such as "The Tales of Genji" or "The Tales of Ise", and sometimes associated with popular kabuki actors. This exhibition also delves into the meanings of the patterns, and introduces how the women depicted in ukiyo-e enjoyed not only the beauty of the patterns, but also the stories behind them.
Men in Fashion
Men in the Edo period were as passionate about dressing as they are today. Ukiyo-e often depicted men's preferences for fashion items such as unique coordinates of a dark-colored kimono and a red sash called "Harakiri (belly-breaking) belt," and imported leather tobacco pouches with gold patterns. In this exhibition, you can enjoy highly individual men's fashions such as beautifully dressed boys, sophisticated men, and chivalrous men in wild yukatas.
Enjoy Dressing – Sophisticated, Gorgeous and Cute!
People in the Edo period wore distinct clothing depending on their status, age, and occupation. Ukiyo-e also depicts the different charms of each kind of fashion style: high-ranking courtesans wearing elaborate kimonos with gorgeous hair ornaments, towns girls coordinated in their kimono with floral patterns and bright colors, and geisha using stylish accessories such as hairpins and half collars. It may be fun to learn the techniques of how to dress from their styles
Admission
Calendar
Utagawa Hiroshige -Traveling Mountains and Seas
Exploring Breathtaking Scenery in Japan with Hiroshige
As a leading painter of landscapes, the ukiyo-e artist Utagawa Hiroshige (1797-1858) gained popularity among the general public at the end of the Edo period. As well as the famous landmarks in Edo, Hiroshige was also active in depicting natural scenes of mountains and the sea in various places. He had focused on famous places along the Tōkaidō Road which is far from Edo since his youth, but from around his 40s especially, it is known that he traveled to various places such as Kōshū and Bōsō; it is thought that since then his experience of capturing nature while travelling is reflected in his works.
Mountains and the sea are the key themes, and this exhibition will show a wide variety of works, from well-known masterpieces to the works rarely exhibited, including all of the 20 drawings in the series "Wrestling Match Between the Mountains and Sea " which Hiroshige produced in his later years, "Thirty-six Views of Mount Fuji" and "Famous Views of the Sixty-odd Provinces".
This exhibition will also introduce the process of producing these works as well as the famous places that Hiroshige actually visited, and the places he depicted based on the illustrations from existing geography books. We will also discover through these works the various forms of religious beliefs rooted in the mountains and the sea of each place, such as shrines built on the steep mountains and the large torii gates on the sea. This exhibition offers visitors the opportunity to learn more about Hiroshige's works while enjoying the breathtaking scenery depicted in his ukiyo-e paintings, just as if they were traveling.
1 All 20 works of " Wrestling Match Between the Mountains and Sea", one of the Hiroshige's masterpieces that depicts the beauty of Japan's mountains and seas, will be exhibited
In his later years, Utagawa Hiroshige produced a number of works featuring landscapes of various provinces in Japan, especially mountains and seas. Among them, the series " Wrestling Match Between the Mountains and Sea" is one of his best-known series and he completed publishing it just before his death from cholera in September 1858. This exhibition features all 20 works of this series into which Hiroshige poured his last energy, as well as "One Hundred Famous Views of Edo" and " Thirty-six Views of Mount Fuji", which he painted in his later years. This is also the first experience of presenting the entire series in one exhibition. In addition, " Famous Views of the Sixty-odd Provinces " and many other landscapes pictures by Hiroshige will be introduced.
2 Did Hiroshige see the actual scenery? – Thinking about the process of creation
Hiroshige traveled around various provinces during his lifetime. In his travels to Kōshū and Bōsō Province, he kept a diary and sketches, and his works after returning to Edo are believed to be based on his experiences during the travel. On the other hand, Hiroshige often referred to illustrations in existing geographical books such as Fuchigami Kyokkō's "Noted Landscapes" and Tani Bunchō's "The Book of Famous Mountains". In this exhibition, we will study Hiroshige's ingenuity to create beautiful landscape prints through his works and materials.
3 Introducing various beliefs rooted in great nature
In Hiroshige's landscape pictures, we can often find the precincts of shrines and temples. Great nature such as steep mountains and capes often became objects of worship since ancient times. This exhibition introduces various beliefs of the Edo period, including the Fuji and Oyama faiths, through Hiroshige's works.
Admission
Calendar
Woodblock Prints Exhibition of Paul Jacoulet
aul Jacoulet (1896-1960) was a French artist born in Paris. Since his father started to teach French in Japan, he moved to Japan at the age of 3 and remained there until his death at 64. At 38, in 1934, he published a distinctive series of woodblock prints depicting people in the South Seas Islands and Asia. During the early Showa era (1926-1989), a popular genre of collaborative woodblock prints called "shin-hanga" emerged, involving painters, carvers, and printers. Jacoulet's vividly colored woodblock prints, portraying individuals of all ages from various countries, stand out as unique examples within the new prints of that time. This exhibition showcases the complete range of Jacoulet's new prints.
本展の見どころ
First-Ever Exhibition of All 162 Prints by Jacoulet in Tokyo
This exhibition will showcase a comprehensive collection of 162 prints by Jacoulet, divided into two separate terms. It marks the first occasion for all 162 works to be presented together in Tokyo.
Vibrantly Colored Portrayals of People from the South Seas Islands and Asia
Jacoulet's colorful prints vividly depict individuals from Micronesia's Saipan and Yap islands, as well as various regions in Asia, including Japan, the Ainu, Korea, China, and Manchuria. His artworks showcase a harmonious blend of vibrant colors, such as red, light blue, yellow, and purple, and offers a refreshing surprise to those accustomed to the digital color palettes today.
Jacoulet's Prints Stand Out in the World of "Shin-hanga"
The term "shin-hanga" refers to woodblock prints created during the Taishō and Shōwa Eras through collaborative efforts of artists, carvers, and printers. While publishers typically played a leading role in ukiyo-e print production, Jacoulet took charge of directing the carvers and printers himself, pursuing his own unique artistic style. His works gained recognition after World War II, with positive reception from General MacArthur and other American military personnel stationed in Japan. Additionally, Jacoulet carved his own path in terms of distribution, setting himself apart from other shin-hanga artists.
Jacoulet's Place in the Lineage of Ukiyo-e during the Edo Period
Having grown up in Japan, Jacoulet was intimately familiar with traditional Japanese culture, including ukiyo-e, kabuki plays, and gidayū ballad dramas. From a young age, he collected and reproduced ukiyo-e prints, immersing himself in their artistry. During his teenage years, he studied Japanese painting under Ikeda Terukata and his wife Shōen, who were students of Tsukioka Yoshitoshi's original pupil. Inspired by the works of Kitagawa Utamaro, Jacoulet specialized in depicting beautiful women. It can be said that Jacoulet was a part of the lineage of ukiyo-e artists during the Edo period.
Admission
開館日カレンダー
Cats in Ukiyo-e
Cats All Over – Life in Edo with Cats
Among the various animals that appear in ukiyo-e, cats were the most popular subject. They were not only depicted as pets but also as monsters or personified, dancing and attending schools. Chronicles of a life of a female cat and amulets as mice repellent were produced as well. This exhibition will present various works of cats, including masterpieces by Utagawa Kuniyoshi, Utagawa Hiroshige and Tsukioka Yoshitoshi, as well as "Omocha-e" (toy paintings) for children. Please enjoy the charming cats in ukiyo-e; thay are adorable, humorous, and sometimes mysterious.
Best Cats Exhibition Ever? – Kuniyoshi's Masterpieces Gather Here
Utagawa Kuniyoshi depicted many charming cats in ukiyo-e. During the first term, all 5 works in the series "Cats forming characters" that are particularly popular among Kuniyoshi's works will be on display. The second term will present the valuable masterpieces "Sonomama Juguchi Myokaiko Gojusannbiki" (fifty-three cats personified as the post-towns between Tokyo and Kyoto) and "Tatoe-zukushi No Uchi" (personified cat idioms) together. Don't miss this rare opportunity to see Kuniyoshi's masterpieces gathered in this exhibition.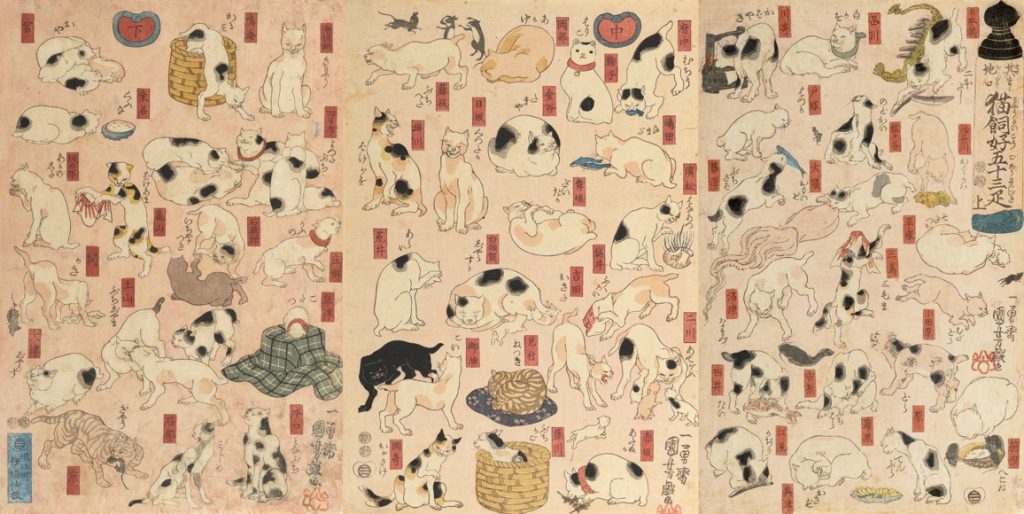 Enjoy the Cat Stories
Manga featuring cats are popular today, but even during the Edo period, stories, novels, and kabuki with cats were extremely popular. You will see pictures of monster cats, old cats that behold the secret of martial arts and stories including that of "Okoma" and "Otama," who lead chaotic lives as cats, avenging their mother's death and seizing their position to serve for the palace. Please enjoy the cat stories that were endeared by Edo people.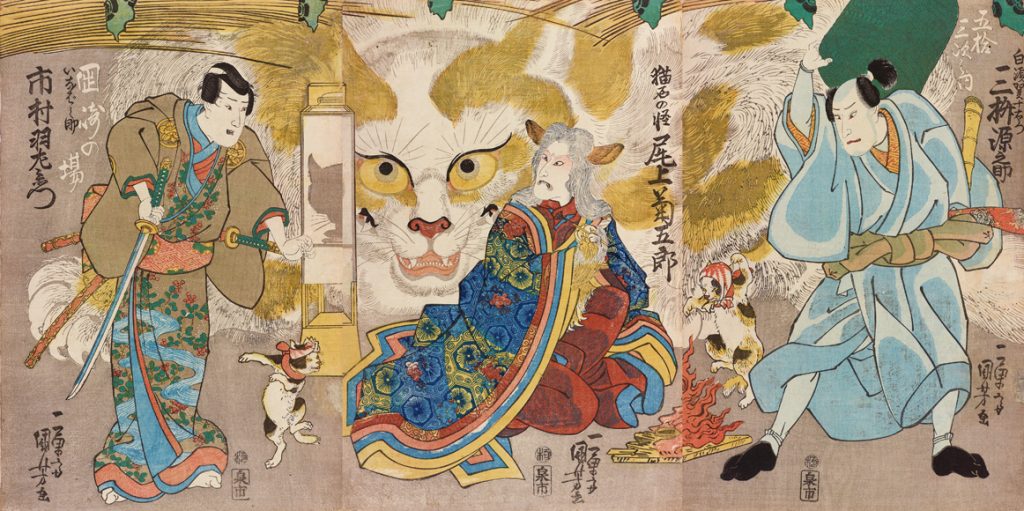 Cats in trend – multi-media art attempted by Kuniyoshi
In 1841, Kuniyoshi produced a round fan picture "Neko-no Hyakumenso" (the many faces of cats) depicting cats as actual kabuki actor's faces. When it became popular, a kabuki play that featured these fan pictures was performed. Around this time, Kuniyoshi also produced pictures of acrobatic performers personified as cats and illustrations for the novel "Oborozuki Neko No Soushi" (Story of the Hazy Moon Cat). This exhibition takes you back to the time when ukiyo-e of cats where in their highest popularity, by featuring many works produced in 1841 and 1842, when Kuniyoshi concentrated on producing personified pictures of cats.
Playing with Cats – World of Toy Pictures
"Omocha-e" (toy pictures) is ukiyo-e for children, largely produced from the end of the Edo period to the Meiji era. Most of them depict a world inhabited solely by cats, and we can tell that cats were also adored by children. Cats in the public bath, eating soba noodles and going out on a rickshaw ride – about 40 toy pictures will be on display in this exhibition. Why don't we play with them and enjoy their adorable world together?
Admission
Calendar