Ukiyo-e from the end of the Edo Period to the Meiji Period
Planned Exhibition
2018, January 5th-February 25th
[1st Term] January 5th-28th
[2nd Term] February 2nd-25th
※Works change between two terms
(Will be closed on January 9, 15, 22, 29- February 1, 5, 13, 19 )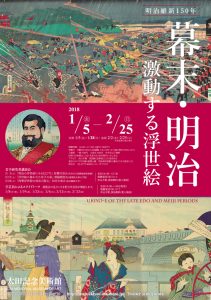 150 years ago, Japan experienced historical changes, from the downfall of the Edo shogunate to the establishment of the Meiji Government. Ukiyo-e artists who were active from the end of the Edo Period to the early Meiji Period portrayed social changes such as the Boshin War and westernization, and explored new forms of art by accepting Western styles. 2018 is the 150th year from the Meiji Restoration. In its commemoration, we introduce 150 pieces of ukiyo-e produced from the end of the Edo Period to the Meiji Period (the exhibits will be changed between the first term and the second term). Please enjoy the rapidly changing ukiyo-e, mirroring the turbulence from the end of the Edo Period into the Meiji Period.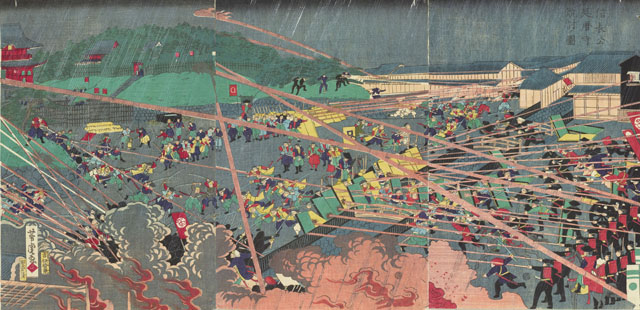 Highlight ① 2018 is the 150th year from the Meiji Restoration. Let's reflect upon this turbulent period.
The Boshin War started in 1868, ending in the collapse of the Edo shogunate. Edo changed its name to Tokyo, and modernized rapidly. Through the caricatures depicting the turmoil of the end of the Edo period and pictures portraying the modernized landscapes of Tokyo, we will reflect upon this dynamic period.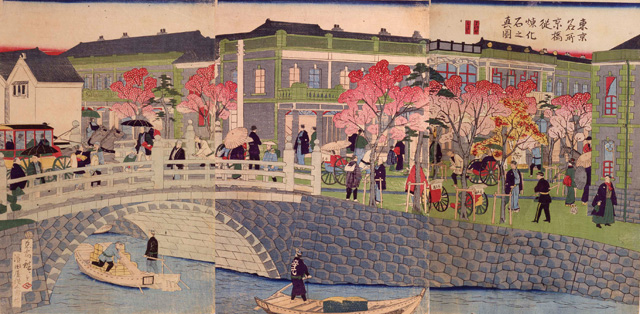 Highlight ② Saigō Takamori as depicted by ukiyo-e artists
Saigō Takamori recently attracts particular attention as the protagonist of the NHK Taiga drama. His most famous figure is his statue in Ueno Park, depicting him wearing a casual kimono while walking his dog. However, various ukiyo-e in the Meiji Period also portrayed his figure, sometimes in different ways. Here, we will introduce 8 portraits of Saigō Takamori.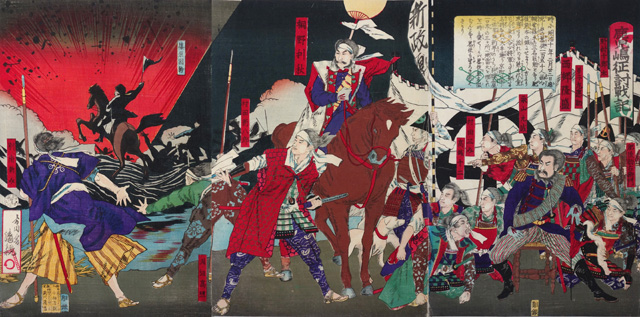 Highlight③ Tsukioka Yoshitoshi and Kobayashi Kiyochika. Ukiyo-e artists who gathered attention in this period.
Tsukioka Yoshitoshi, famous for his historical pictures, and Kobayashi Kiyochika, known for his Kosen-ga (scenic pictures with characteristic styles of light and shadow), were active from the end of the Edo period to the Meiji period. They and many more ukiyo-e artists tried to create new styles of drawing that were more suitable for this turbulent period. Here, we will introduce ukiyo-e various artists, from the popular ones to those hardly known.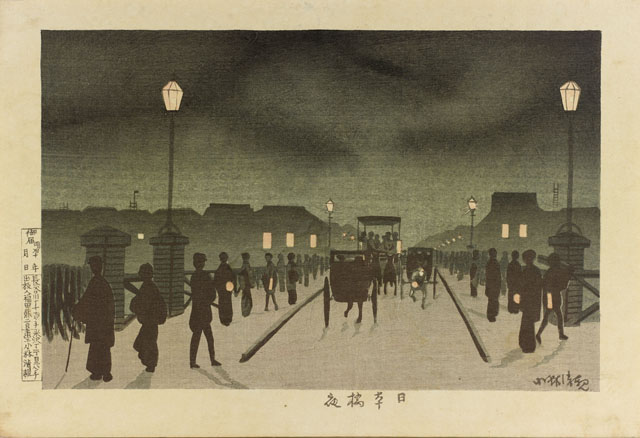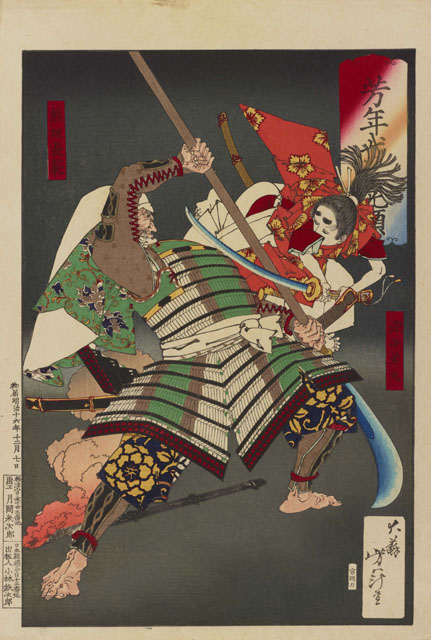 <Highlight work of Exhibition>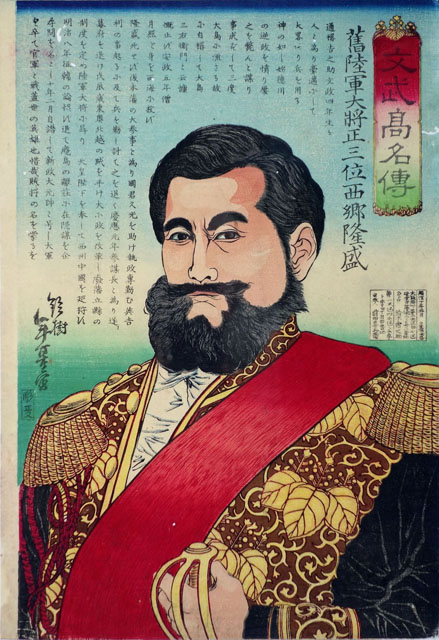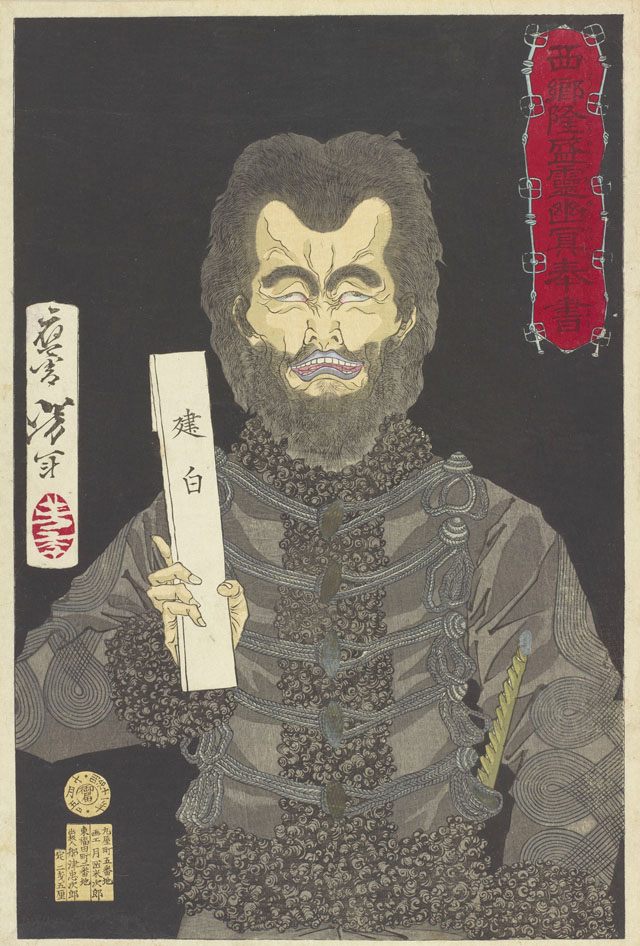 Both pictures portray Saigō Takamori. In the piece by Toshimoto, Saigō wears a military uniform, and his appearance is dignified. This piece was made in May 1877, after the Seinan War had already started. Saigō's army was losing at that time, but the winner had not been decided yet. Although this picture describes him as the rebellion leader, he looks majestic and far from the image of rebel. On the other hand, Yoshitoshi's Saigō has a glassy stare, and his lip is drawn in purple. This picture was depicted in July 1878, after Saigō committed suicide by the sword when he lost the War. He is portrayed as a ghost trying to hand in a petition. The eerie figure of Saigō seems to symbolize the painter's anxiety about the future of Japan.
Admission
| | |
| --- | --- |
| Adult | 700 yen |
| University and High school students | 500 yen |
| Junior High School Students and below | Free |
Calendar
2018 January

| SUN | MON | TUE | WED | THU | FRI | SAT |
| --- | --- | --- | --- | --- | --- | --- |
| | 1 | 2 | 3 | 4 | 5 | 6 |
| 7 | 8 | 9 | 10 | 11 | 12 | 13 |
| 14 | 15 | 16 | 17 | 18 | 19 | 20 |
| 21 | 22 | 23 | 24 | 25 | 26 | 27 |
| 28 | 29 | 30 | 31 | | | |
2018 February

| SUN | MON | TUE | WED | THU | FRI | SAT |
| --- | --- | --- | --- | --- | --- | --- |
| | | | | 1 | 2 | 3 |
| 4 | 5 | 6 | 7 | 8 | 9 | 10 |
| 11 | 12 | 13 | 14 | 15 | 16 | 17 |
| 18 | 19 | 20 | 21 | 22 | 23 | 24 |
| 25 | 26 | 27 | 28 | | | |