Tsukioka Yoshitoshi "One Hundred Views of the Moon"
Special Exhibition
2017, September 1st-24th
Will be closed on September 4, 11, 19th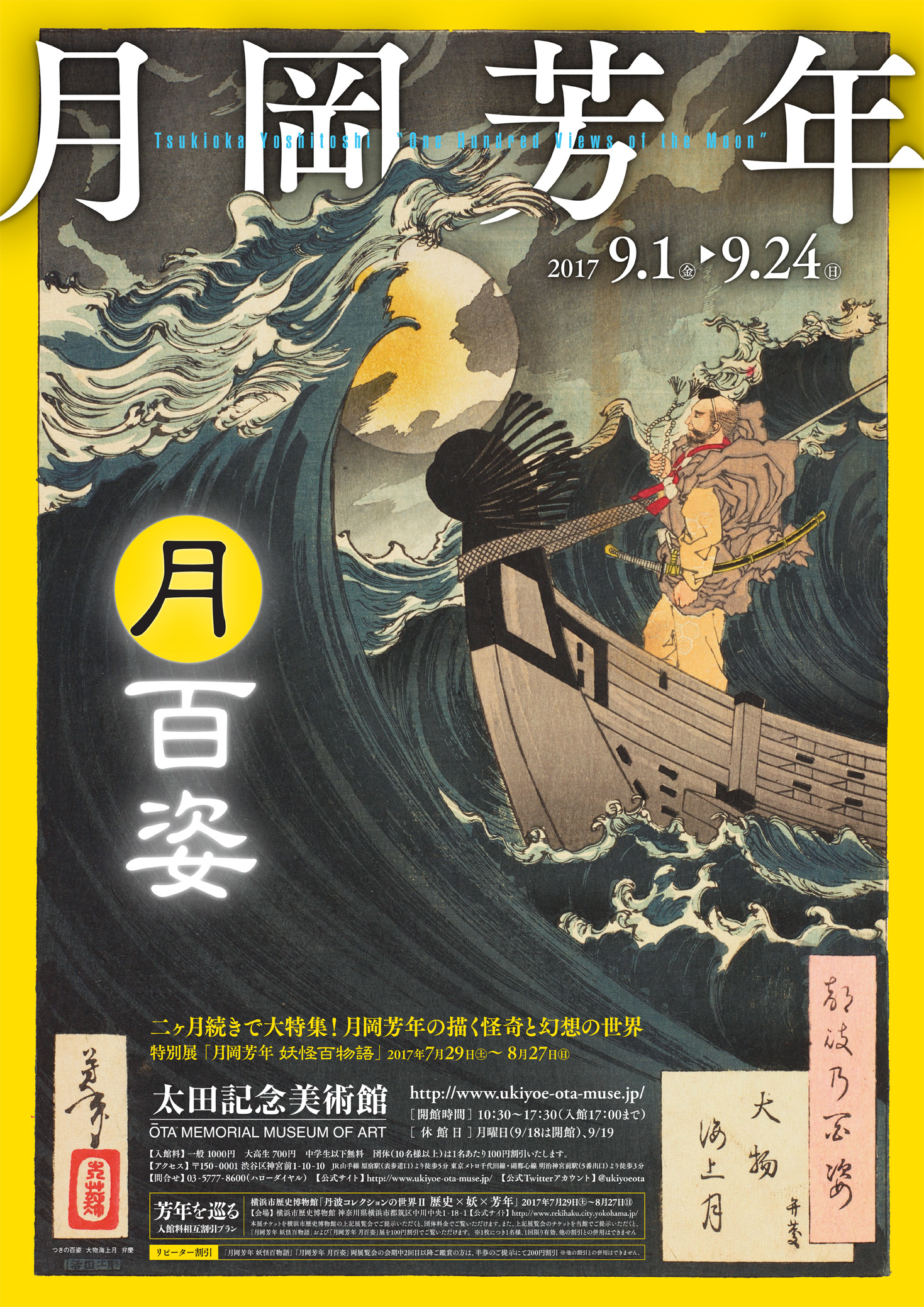 Exhibition of the complete 100 works of "One Hundred Views of the Moon": Tsukioka Yoshitoshi's most well-known works from his last year
Following our previous exhibition "Specters by Tsukioka Yoshitoshi" (July 29 ~ August 27, 2017), we would like to further explore in depth the fascinating world of Tsukioka Yoshitoshi, an ukiyo-e artist who lived from the end of the Edo period to the Meiji period. In this exhibition, we will present "One Hundred Views of the Moon" series, which are Yoshioshi's masterpieces from his last year. As the title describes, "One Hundred Views of the Moon" consists of a total of 100 pictures. This exhibition provides a very rare opportunity to see all the pictures in one place. It is also an unmissable opportunity to see the ultimate achievement of Yoshitoshi, who is renowned as the last ukiyo-e master.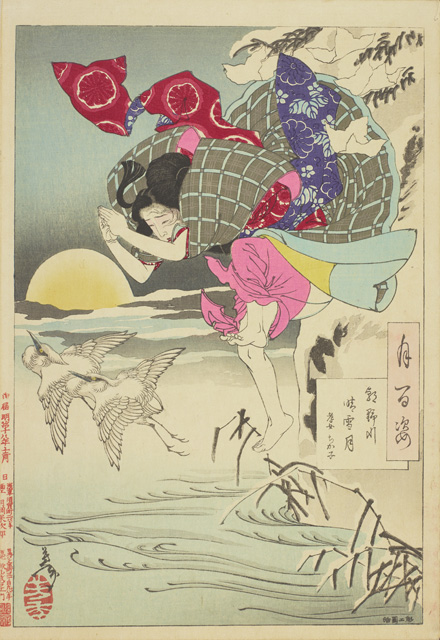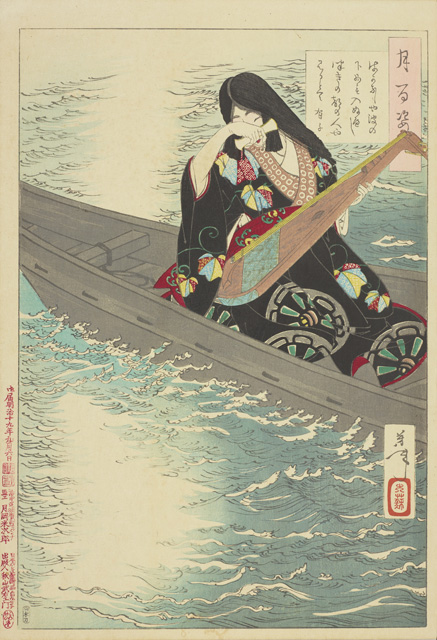 Appreciating "One Hundred Views of the Moon" from four different aspects
The themes of "One Hundred Views of the Moon" are based on stories related to the moon. They vary widely, from warriors and beautiful women in the Heian period and the Age of Civil Wars, to mystic creatures such as ghosts and monsters. In this exhibition, we will aim to present a clearer view of the world of "One Hundred Views of the Moon" by categorizing them based on four different aspects: 1) beautiful women; 2) specters, ghosts, deities and Buddha; 3) brave men; and 4) refinement, nostalgia and sorrow. We hope you will enjoy a variety of stories surrounding the moon, which are appropriate for the autumn, the season of beautiful moon.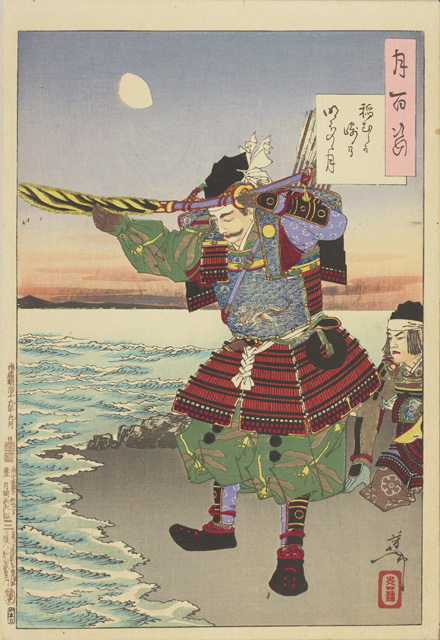 "Moon over Cape Inamura at Daybreak"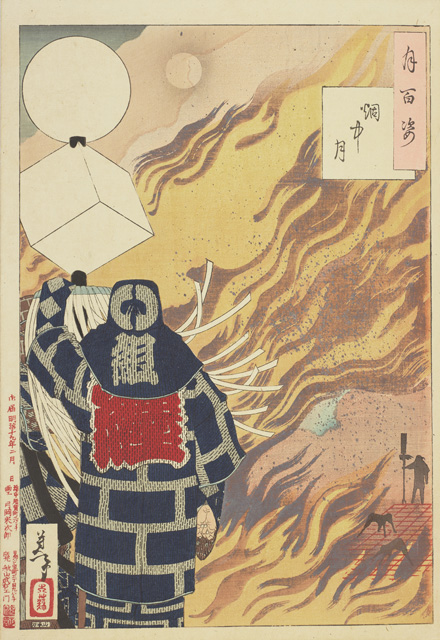 Innovative compositions and vivid colors are still fresh even after more than 100 years
Even though the "One Hundred Views of the Moon" series were created between 1885 and 1892, more than 130 years ago, they are still full of freshness and charm. The powerful compositions cropped out from a dynamic viewpoint, the sense of serenity that fills the air with silence on a moonlight night, and
 the sophisticated carving skills and the beauty of prints presented in these works make the viewers say "Cool!" or "Beautiful!" even in modern days. The "newness" of "One Hundred Views of the Moon" is highlighted in this exhibition.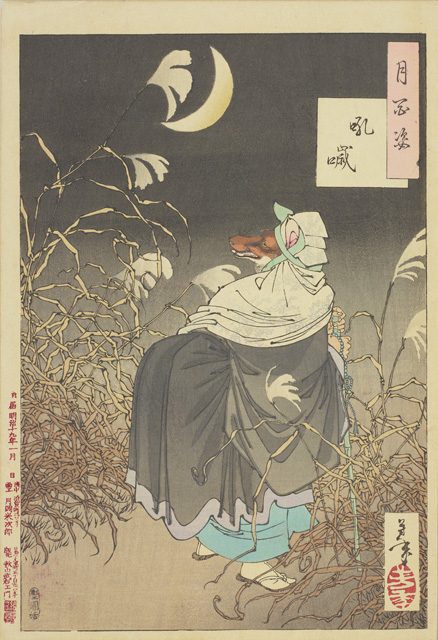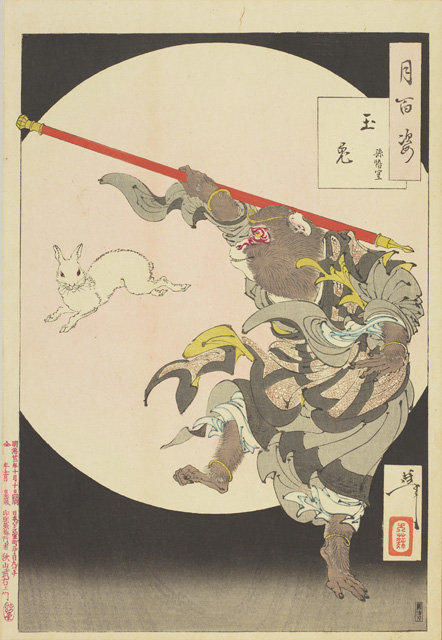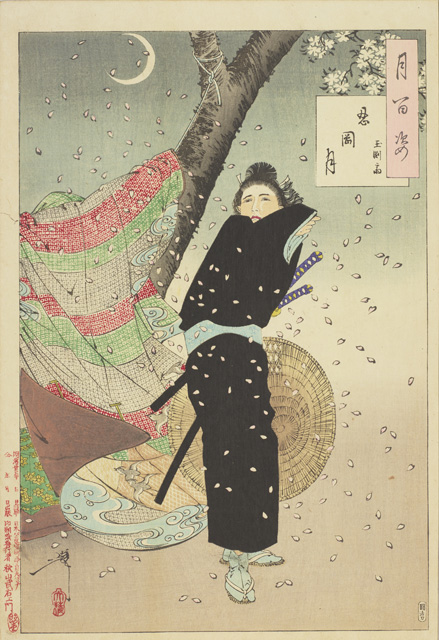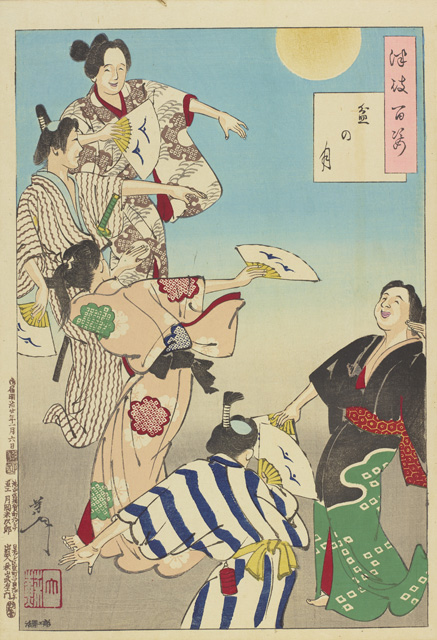 <Highlight work of Exhibition>
"Moon Above the Daimotsu Bay : Benkei"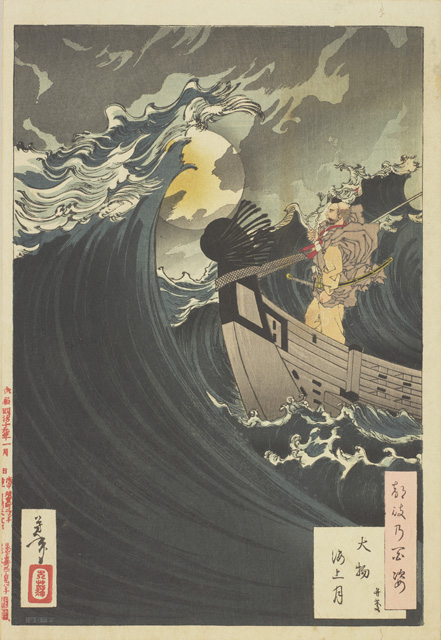 When Minamoto no Yoshitsune and his retainers embarked from Daimotsu Bay, suddenly a storm came and vengeful ghosts of Heike warriors, who were defeated and sank into Dan-no-ura Bay, tried to prevent Yoshitsune's voyage. One of his retainers Benkei, however, impressively warded off the ghosts by chanting Buddhist prayers. Although the vengeful ghosts of Heike warriors are not clearly depicted in this work, the pitch-dark ocean that occupies a large part of the picture and the ominous movements of the waves that are crashing over Benkei give uneasy feelings to the viewers. This meticulously calculated, powerful picture represents typical characteristics of Yoshitoshi's works.
Admission
| | |
| --- | --- |
| Adult | 1000 yen |
| University and High school students | 700 yen |
| Junior High School Students and below | Free |
Calendar
2017 September

Special Exhibition

| SUN | MON | TUE | WED | THU | FRI | SAT |
| --- | --- | --- | --- | --- | --- | --- |
| | | | | | 1 | 2 |
| 3 | 4 | 5 | 6 | 7 | 8 | 9 |
| 10 | 11 | 12 | 13 | 14 | 15 | 16 |
| 17 | 18 | 19 | 20 | 21 | 22 | 23 |
| 24 | 25 | 26 | 27 | 28 | 29 | 30 |