Weather in Ukiyo-e
2021, June 26th-August 29th
[1st Term] June 26th-July 25th
[2nd Term] July 30th-August 29th
※Works change between two terms
Will be closed on June 28, July 5, 12, 19, 26-29, August 2, 10, 16, 23.
Various weather phenomena are depicted in ukiyo-e: clear skies, heavy rain, gentle snowfall, and rainbows after rain. Ukiyo-e artists expressed the ever-changing weather with delicate color changes or with bold deformation.
Japan's diverse climate, which changes along with the seasons, has had a great influence on people's lives in both the past and present. During the Edo period, heavy rains caused frequent floods, and unseasonable weather conditions sometimes led to famine.
Even today, with the advancement of science, we cannot control the weather.
Although we prepare for daily changes in the weather by relying on the weather forecast, in recent years, unpredictable abnormal weather such as heavy rain and extreme heat often hit us, and people's concern for climate change is increasing.
In this exhibition, we focus on the weather depicted in ukiyo-e, and introduce mainly landscape prints created by such artists as Katsushika Hokusai, Utagawa Hiroshige, and Kobayashi Kiyochika. Through the unique expressions of these ukiyo-e artists, you will be able to experience not only the aesthetic sense of the Japanese people who love the changing sky, but also the activities of the people who were sometimes at the mercy of the wind and rain.
Capturing a Variety of Rain
From light rain to thunderstorms, there are a wide variety of ukiyo-e works on the theme of rain. Some of them remind us of the "guerrilla rainstorms" that we have heard so much about in recent years. For ukiyo-e artists, how they express the variety of rain, which is difficult to draw, is a highlight that shows their techniques, and the dramatic changes in everyday life caused by sudden rain might have been attractive as a subject of ukiyo-e.。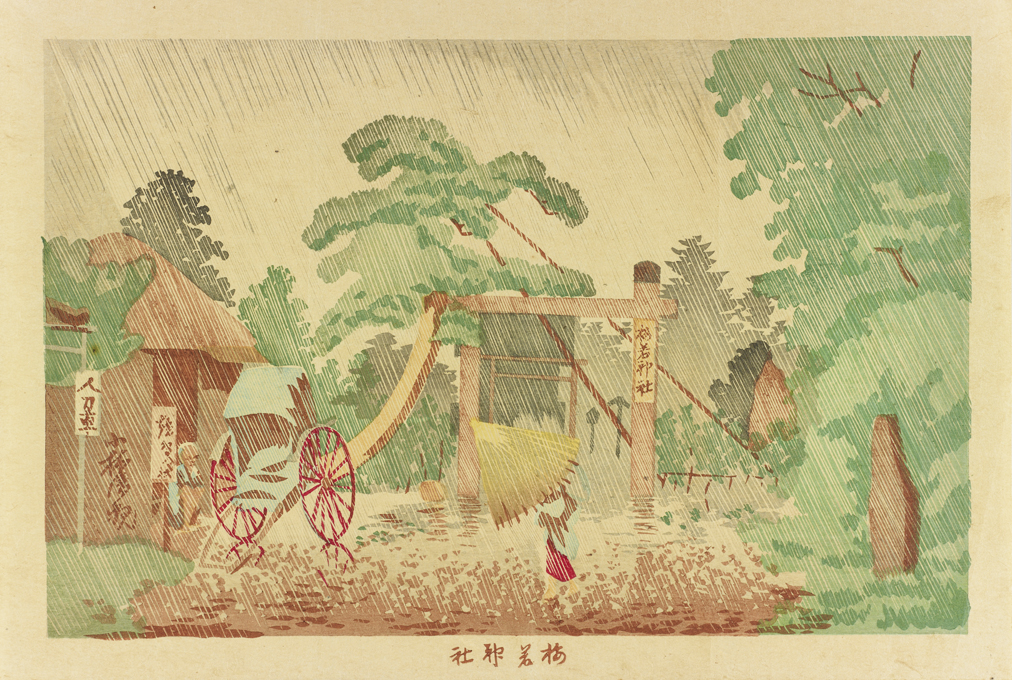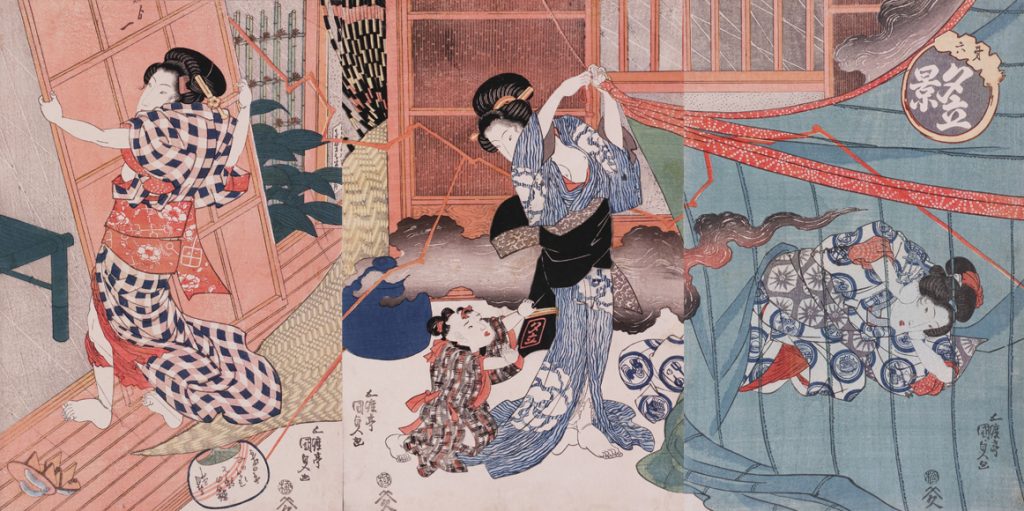 Snowy Landscapes
In the Edo period (1603-1868), the Sumida River, Mt. Atago and Kan'eiji Temple were known for their beautiful landscapes with snow, and many snow scenes in Edo were drawn in ukiyo-e. However, it seems a little strange to us because snow rarely accumulates in modern Tokyo. In fact, most of the Edo period is considered to have been a Little Ice Age, and colder than it is today. This might be one of the reasons why many ukiyo-e of snowy landscapes were created.
Various Shapes of Clouds and Colors of the Sky
Highlighted in this exhibition are expressions of the sky that are unique to ukiyo-e and differ from reality, such as 'spear-shaped' haze and blue and red gradation. We introduce works that show unique and original depictions of the sky, such as Katsushika Hokusai's Thunderstorm Beneath the Summit from Thirty-six Views of Mount Fuji, in which geometric patterns represent lightning, and clear weather and rain are expressed in the same illustration, as well as Utagawa''s Plum Park in Kameido from One Hundred Famous Views of Edo, whose bold color scheme features a red sky.
Abnormal Weather
In the Meiji era, ukiyo-e artists began to depict current disasters and incidents that had been prohibited to be drawn by the Edo Shogunate in the Edo period. Among them, many works that convey the flood damage to urban areas caused by heavy rain were drawn.
Highlight
Utagawa Hiroshige "One Hundred Famous Views of Edo: Sudden Shower Over Shin-Ōhashi Bridge and Atake"後期
This is one of the most famous ukiyo-e masterpieces depicting rain, which captured an evening shower that hit the Shin-Ohashi Bridge over the Sumida River (today, Chuo Ward sits on the west bank, while Koto Ward is on the east).
Among the people on the bridge, we can see a man wearing a woven-rush mat to avoid getting wet, and three men are huddling under one umbrella, which tells us that it was an unexpected rain.
The streaks of rain that cover the screen are made using two types of lines with different angles and shades carved into two woodblocks, then printed. The combination of the depiction of hazy Atake on the opposite bank and the lines of the rain skillfully emphasize the strength and depth of the rain.
Furthermore, the unsettling movement of the clouds is expressed by "atenashi-bokashi", an irregularly shaped blur, at the top of the painting. A variety of techniques were used to recreate the scene of a violent evening shower and the panic of the people.
This piece, which is also part of Hiroshige's late masterpiece, the One Hundred Famous Views of Edo series, is considered a gem which fully demonstrates his sensibility and strength in composition, refined as he continued to draw all kinds of weather.
---
Admission
| | |
| --- | --- |
| Adult | 800 yen |
| University and High school students | 600 yen |
| Junior High School Students and below | Free |
Calendar
2021 / 06
7,14,21-25,28
| SUN | MON | TUE | WED | THU | FRI | SAT |
| --- | --- | --- | --- | --- | --- | --- |
2021 / 07
5,12,19,26-29
| SUN | MON | TUE | WED | THU | FRI | SAT |
| --- | --- | --- | --- | --- | --- | --- |
2021 / 08
2,10,16,23,30,31
| SUN | MON | TUE | WED | THU | FRI | SAT |
| --- | --- | --- | --- | --- | --- | --- |