Splendid Views of Edo~Snow, Moon and Flowers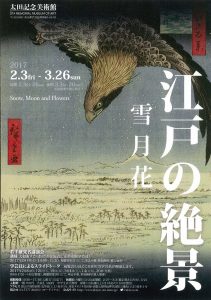 2017, February 3rd ~ March 26th
[1st Term] February 3rd~26th
[2nd Term] March 3rd~26th
※Works change between two terms
(Will be closed on February 6, 13, 20, 27~28 / March 1~2, 6, 13, 21st)
The trend for splendid views existed in Edo, too.
The word "Zekkei (Breathtaking scenery)" was so popular that it was nominated for Buzzwords-of-the-year contest in 2014. While TV shows introducing splendid views both within Japan and abroad are very popular today, it seems that the people of Edo also loved marveling at beautiful scenery. In the latter half of the Edo period, geographical books illustrating famous places along with their histories were published, and an innumerous amount of ukiyo-e works showing picturesque landscapes from Edo and all parts of Japan was created. Artists depicted a wide range of scenery, from seasonal spectacles to unexplored regions and even temples overlooking the secular world from upon a cliff. Furthermore, they actively used imaginary viewpoints – looking down from the sky, for example – and portrayed views that "no one has seen". In this exhibition, we will exhibit the breathtaking works by Utagawa Hiroshige and other artists, such as Hokusai, Kuniyoshi and more. The exhibit is divided into five sections: "snow" "moon" "flowers" "mountains and waterfronts" and "temples and shrines". Please enjoy your journey of Japanese Zekkei in this museum.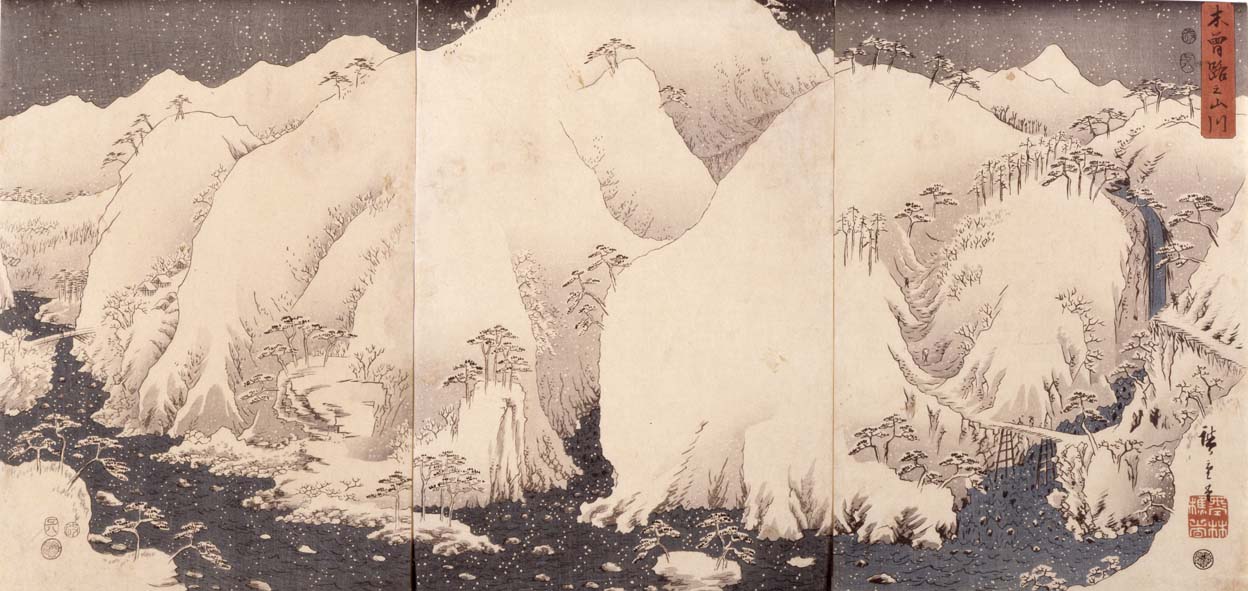 A Must-see for Edokko: Breathtaking Scenery from around Japan
Many people are mesmerized by breathtaking scenery they see on the Internet or in books, and imagine themselves being there. In the Edo period, people were just as excited to visit scenic spots they had seen in ukiyo-e, such as the cherry blossoms of Kyoto, Kiso-ji in snow and Enoshima surrounded by the blue sea, which are in fact still popular tourist spots. In a time without Shinkansen or airplanes, everyone longed to pay a visit to these scenic places, which would require long and hard travel. Spectacles that have been loved by the Japanese people over the ages come together, with their various seasons.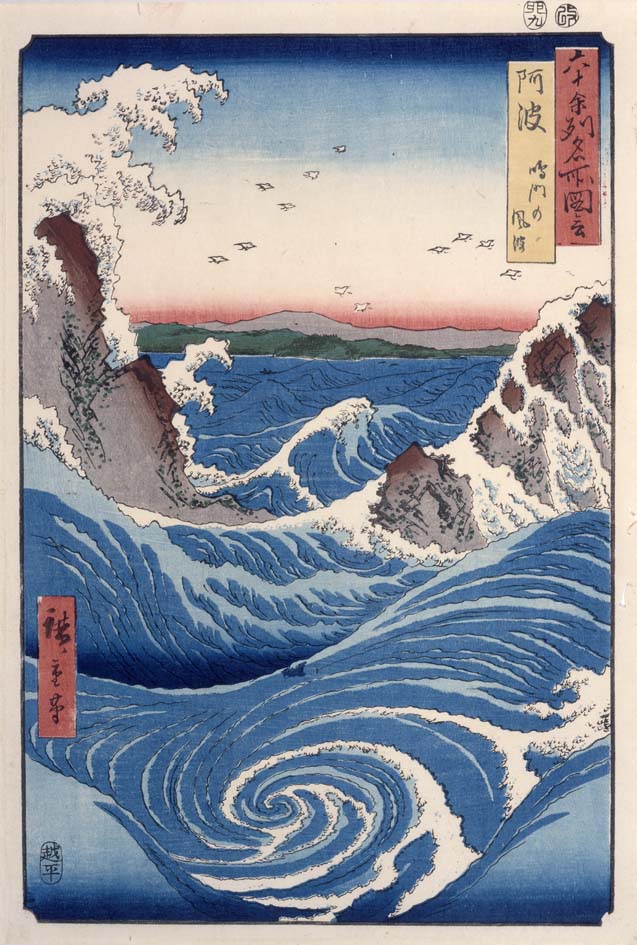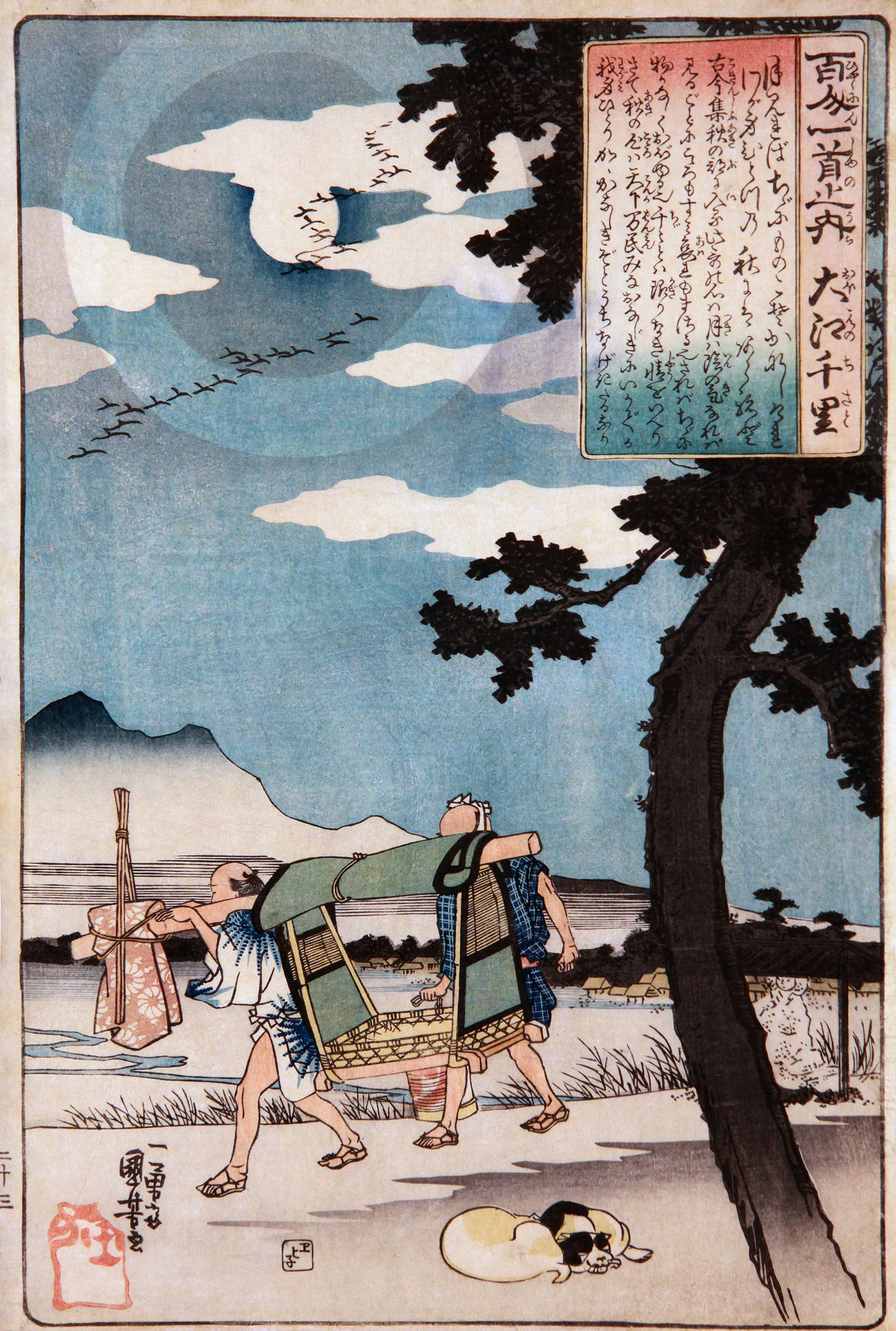 Walk of superb views in Edo
 The Sumida River in snow, Edo bay basking in the moonlight, and Kanei-ji Temple in cherry blossom season. People in Edo enjoyed various sightseeing spots from season to season, and gazed upon Mt.Fuji from all around the city. The people then were able to enjoy aesthetic scenery that we, living in Tokyo full of skyscrapers, can hardly imagine. Here we exhibit pictures of the scenic places loved by the people of Edo.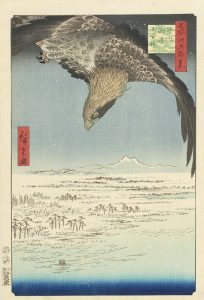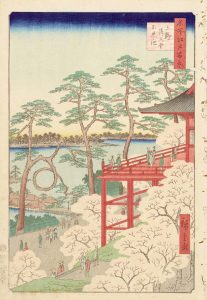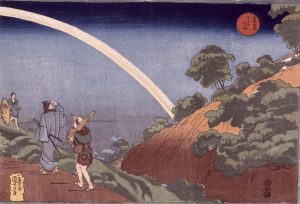 <Highlight Work of Exhibition>
Katsushika Hokusai "Unusual Views of Famous Bridges in Various Provinces: The Suspension Bridge on the Border of Hida and Ecchū Provinces"
Hi-etsu is the region around the border between Northern Gifu (Hida) and Toyama (Ecchū).   A suspension bridge with no handrail connects the steep mountains. A man and a woman thought to be woodcutters are serenely walking across with their baggage. Trees, birds, and even the haze seem to be supporting their feet, and they look as if they are walking in the air. The stiff bridge behind the woman gives a tense contrast within this mystical view of nature.
Translation Supervised by Japanese Students Association of Princeton University
Admission
| | |
| --- | --- |
| Adult | 700 yen |
| University and High school students | 500 yen |
| Junior High School Students and below | Free |
Calendar
2017, February

| SUN | MON | TUE | WED | THU | FRI | SAT |
| --- | --- | --- | --- | --- | --- | --- |
|   |   |   | 1 | 2 | 3 | 4 |
| 5 | 6 | 7 | 8 | 9 | 10 | 11 |
| 12 | 13 | 14 | 15 | 16 | 17 | 18 |
| 19 | 20 | 21 | 22 | 23 | 24 | 25 |
| 26 | 27 | 28 |   |   |   |   |

2017, March

| SUN | MON | TUE | WED | THU | FRI | SAT |
| --- | --- | --- | --- | --- | --- | --- |
|   |   |   | 1 | 2 | 3 | 4 |
| 5 | 6 | 7 | 8 | 9 | 10 | 11 |
| 12 | 13 | 14 | 15 | 16 | 17 | 18 |
| 19 | 20 | 21 | 22 | 23 | 24 | 25 |
| 26 | 27 | 28 | 29 | 30 | 31 |   |