Scary Pictures of Ukiyo-e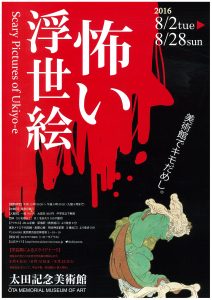 (will be closed on August  8, 15, 22nd)
Test of Courage at the Museum
"Scary", "Horrifying" – fear is a universal feeling that people have. People hate and avoid those that are unknown, dangerous, and weird. However, as is evident in the word "Curiosity overcomes fear" fear also brings strong feelings of curiosity. At times, even fear close to danger can be a thrilling excitement for people. Perhaps it is this "Curiosity overcomes fear"  that create the popularity of horror and suspense.
People of the Edo were also very interested in scary, horrifying things. Ghost stories were popular as represented in the Kabuki play, "Tōkaidō Yotsuya Kaidan" by Tsuruya Nanboku IV. There were also many Ukiyo-e depicting ghosts and horrifying bloody scenes. At this exhibition, we will look at horror of the Edo from Ukiyo-e. There are ghosts full of grudge from their lifetime such as Kasane, Oiwa, and Sutoku-in, as well as ogres, sea monsters, demon spiders, other weird-looking creatures and pictures full of blood. We hope you enjoy the variety of fear with a pleasant chill.
1, Ghosts
Ghosts are departed souls wandering in the world after death. In the late Edo period, ghost and monster themed novels and kabuki plays became popular, and many kinds of ghosts were depicted in ukiyo-e wood-block prints. In this section, we will introduce the figures of horrible ghosts such as Kasane, Oiwa, Okiku, Asakura Tōgo and Sutoku-in, and others that died an unnatural death and accomplished revenge with a terrible grudge.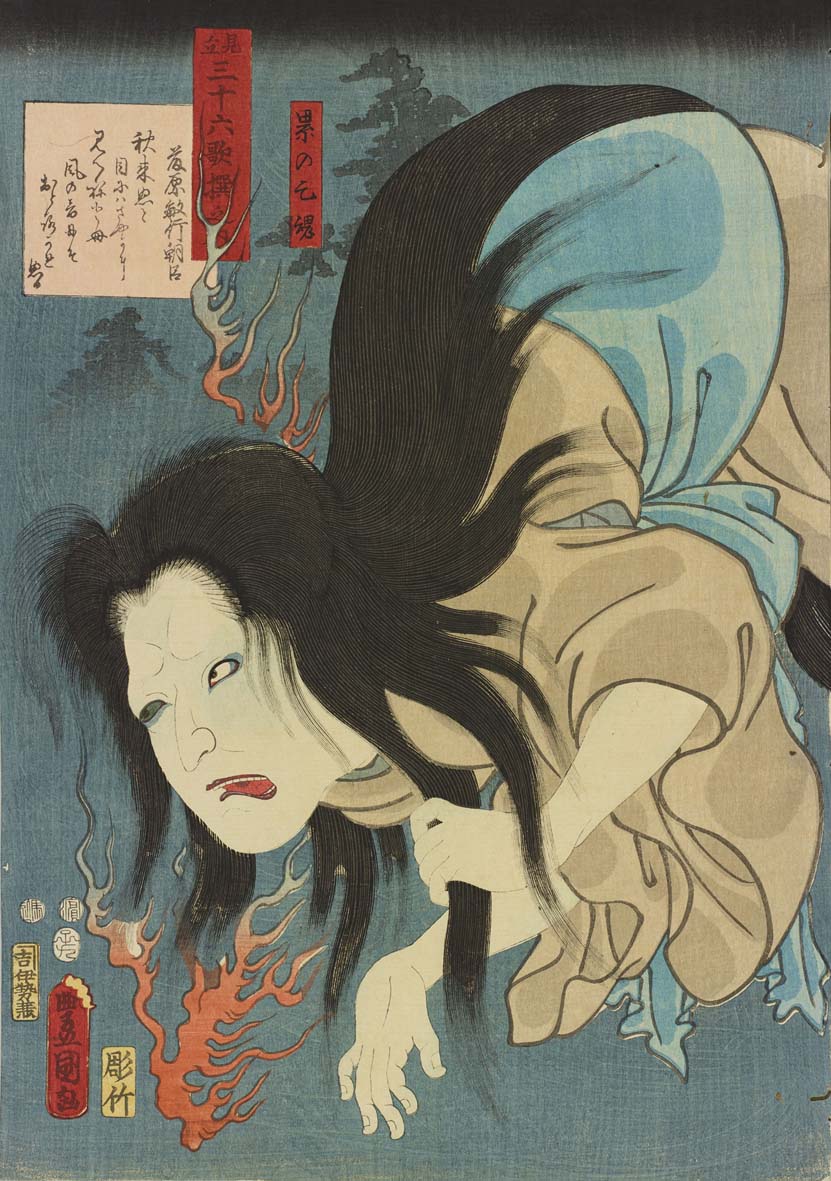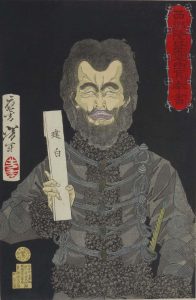 2, Specters
Ranging from ogres, sea goblins, big snakes, demon spiders and nine-tailed foxes to cat monsters -such weird creatures appear in ukiyo-e very often. Especially in the 19th century, ukiyo-e artists such as Katsushika Hokusai, Utagawa Kuniyoshi, Kuniyoshi's disciple Tsukioka Yoshitoshi and others depicted these creatures with their brilliant imagination. Here we will introduce pictures of weird creatures. At times they were depicted with powerful brushstrokes that made people shiver, and at others were depicted as with a touch of humor.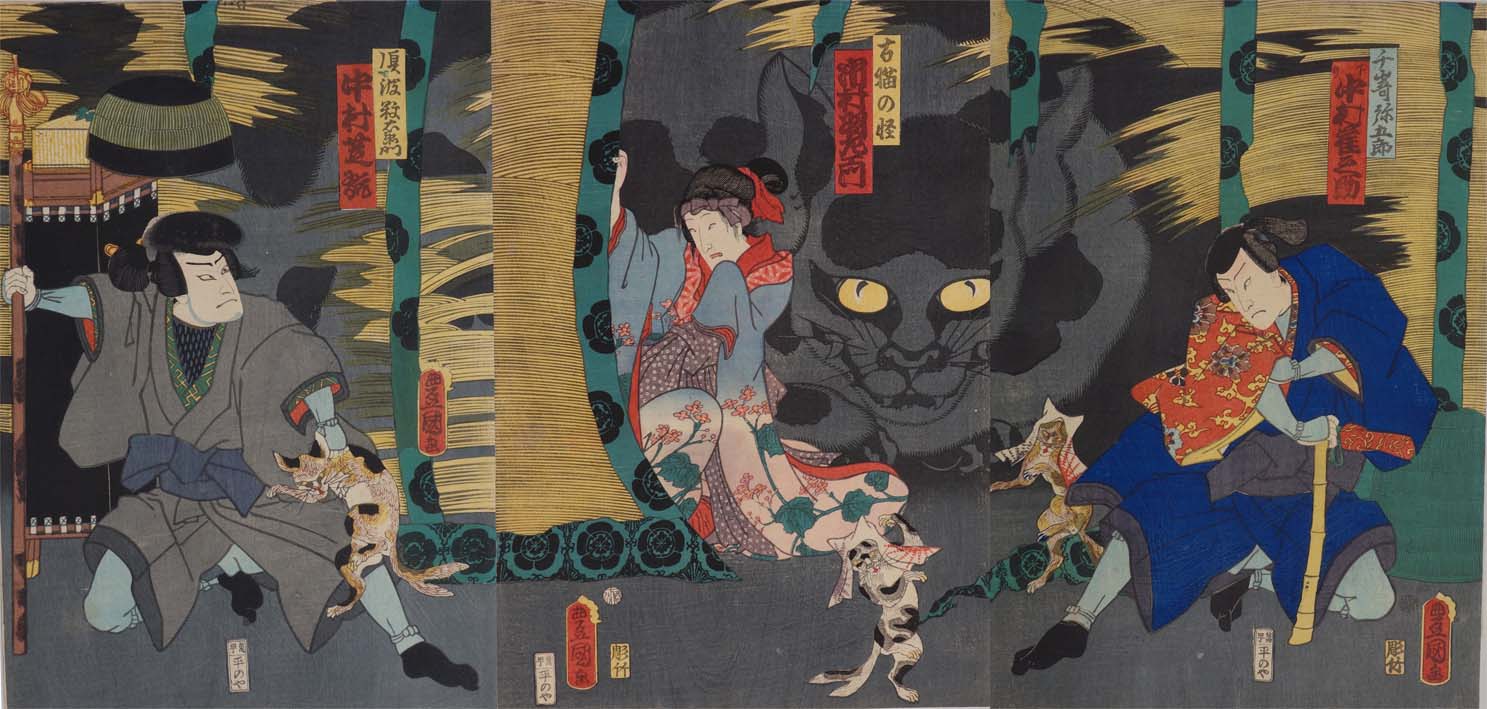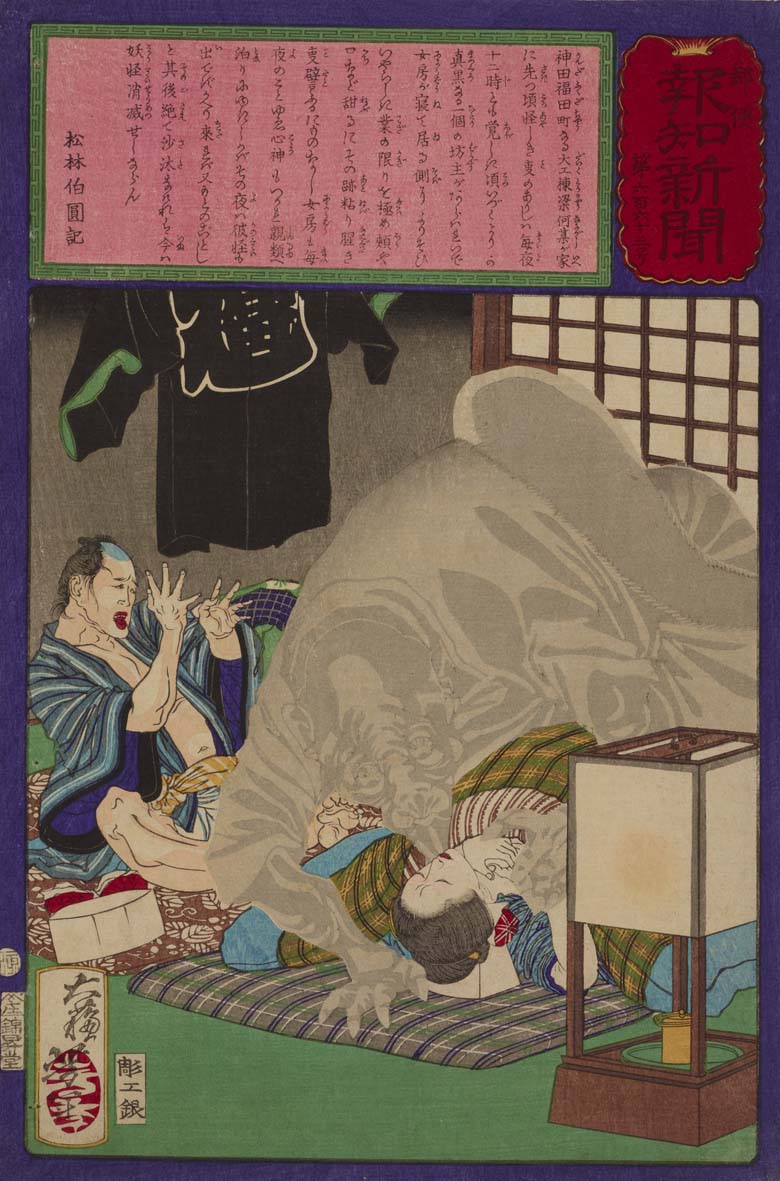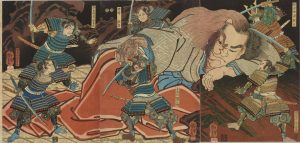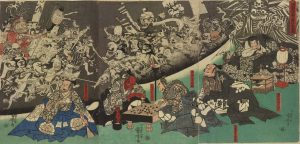 3, Blood-stained Pictures
During
the late-Edo and Meiji periods, the genre of blood-stained pictures became popular with the success of the collaboration series by Tsukioka Yoshitoshi and Utagawa Yoshiiku titled "Twenty-eight Famous Murders with Verse". Some pictures depicted kabuki plays and storytelling while others depict realistic themes such as the " Yoshitoshi's Selection of One Hundred Warriors", whose theme is the Battle of Ueno. In this section, we will introduce horrible bloodstained pictures that well
reflect
the savageness of society during unquiet times.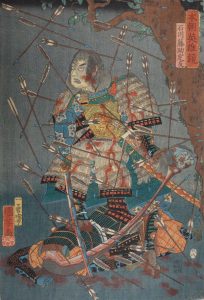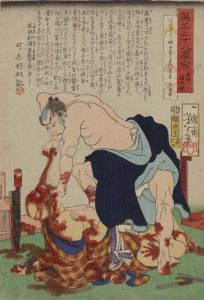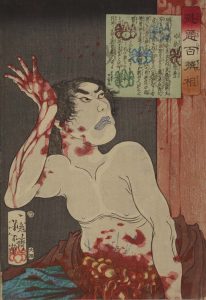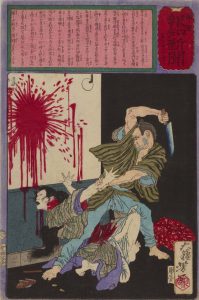 《Highlight Work of Picture》

Utagawa Kuniyohi "Kabuki Actor, "Ichikawa KodanjiⅣ as Ghost of Oiwa"" (Ōta Memorial Museum of Art)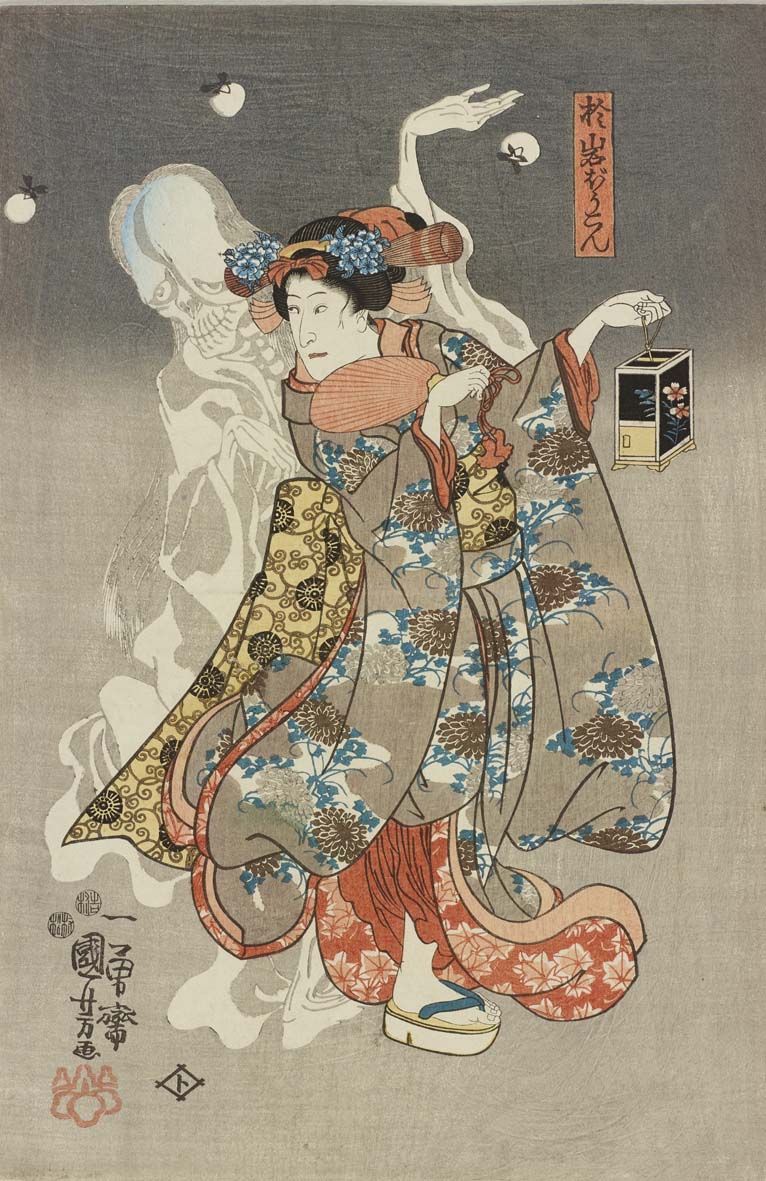 A beautiful young woman, Oiwa is dancing with an insect cage and a round fan in her hands. Fireflies are flying in the black of night. Taking a closer look at this picture, shows the horrible appearance of the ghost of Oiwa dancing behind. The depiction of her appearance is horrible with her hair shed and bone bare. This picture depicts the scene from the kabuki play, "Manetemimasu Yotsuya no Sakigaki" performed in September, 1848 in Ichimura-za Theater. The play borrowed the style from the famous play, "Tōkaidō Yotsuya Kaidan". This picture depicts the final stage froma the dream scene of the story. The beautiful young woman, Oiwa appears in the dream of main character, Iemon, who committed numerous evil deeds. However, when the beautiful Oiwa drops her mask, she reveals her ghost form, making this scene both beautiful and horrible. Great kabuki actor, Ichikawa DanjūrōⅣ played the role of Oiwa. This picture is a part of a two-pair picture. On the left part of the prints, kabuki actor, Ichikawa Danjūrō I is playing the role of Iemon and Nakamura KantarōⅠis playing the role of Akiyama Chōbei.     
Admission
| | |
| --- | --- |
| Adult | 700 yen |
| University and High school students | 500 yen |
| Junior High School Students and below | Free |
Calendar



      August

| SUN | MON | TUE | WED | THU | FRI | SAT |
| --- | --- | --- | --- | --- | --- | --- |
|   | 1 | 2 | 3 | 4 | 5 | 6 |
| 7 | 8 | 9 | 10 | 11 | 12 | 13 |
| 14 | 15 | 16 | 17 | 18 | 19 | 20 |
| 21 | 22 | 23 | 24 | 25 | 26 | 27 |
| 28 | 29 | 30 | 31 |   |   |   |