Hiroshige's Ojisan Encyclopedia
2023, February 3rd-March 26th
1st Term February 3rd-26th
2nd Term March 3rd-26th
Will be closed on February 6, 13, 20, 27- March 2, 6, 13, 20.
Opening Hours : 10:30 a.m. – 5:30 p.m. (Last Admission: 5:00 p.m.)
Admission : Adult ¥800 / University and High school students ¥600 / Junior High School Students and below
Smiling, Working and Traveling -Various Ojisan by Utagawa Hiroshige
Utagawa Hiroshige (1797-1858) is one of the most famous ukiyo-e artists who created many masterpieces of landscapes. When you look closely, you often find charming figures inhabiting these landscapes. These middle-aged men ("Ojisan" in Japanese) are the focus of this exhibition. They smile innocently, work hard, enjoy fine foods, and sometimes panic. The more attention you pay to Hiroshige's Ojisan, the more you realize that they have their own personalities and charms.
By experiencing Hiroshige's masterpieces paying close attention to these Ojisan, they will leave you a fresh impression. This exhibition introduces you to a new charm of Hiroshige's work through masterpieces such as "Fifty-three Stations of the Tōkaidō Road (Hoeidō Edition)" to those that are rarely exhibited.
※This exhibition is inspired by the concept of "Ojisan Encyclopedia" and "Ojisan Encyclopedia Returns" held at Hiroshige Museum of Art Ena, newly composed with the collections of Ota Memorial Museum of Art.
1 Discovering a new Charm of Hiroshige' work through Ojisan
In the works of Utagawa Hiroshige, various Ojisan (middle-aged men) with their own personality often appear. They are usually depicted as supporting characters of the landscape. However, if you look closely, you can see that their faces, expressions, and clothing are carefully articulated. Such detail allows us to understand their status and occupation, and sometimes even imagine the drama that each character is going through. As you pay attention to these Ojisan, you will enjoy the masterpieces you already know with more depth and color.
2 Ojisan everywhere! 150 Works from Masterpieces to Rarities by Hiroshige
The main characters in the 150 works on display during the period of this exhibition are all Ojisan. The exhibition introduces of Hiroshige's masterpieces such as "Fifty-three Stations of the Tōkaidō Road (Hoeidō Edition)" and "Sixty-nine Stations of Kisokaidō Road," as well as works that are rarely exhibited, all united under the theme of Ojisan!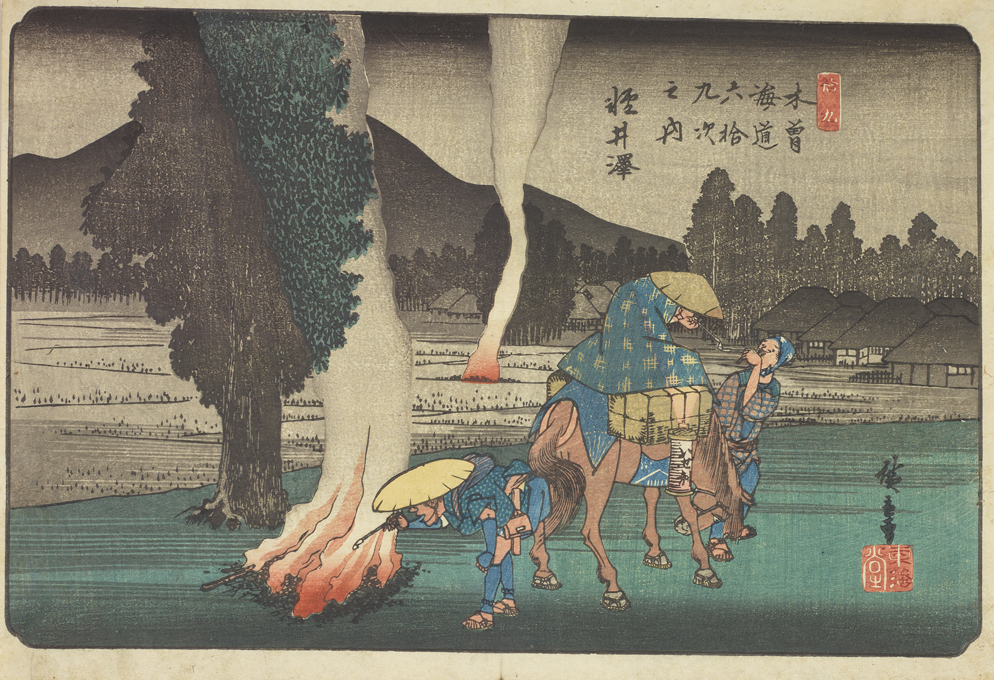 3 Hokusai, Kuniyoshi and Kiyochika -Ojisan Depicted by Popular Ukiyo-e Artists
Hiroshige was not the only artist who depicted various Ojisan. In this exhibition, we introduce Ojisan drawn by various ukiyo-e masters, such as Katsushika Hokusai, Keisai Eisen, Utagawa Kuniyoshi and Kobayashi Kiyochika. Please enjoy the differences in style and personality given to the Ojisan by each artist.
Admission
| | |
| --- | --- |
| Adult | 800 yen |
| University and High school students | 600 yen |
| Junior High School Students and below | Free |
Calendar
2023 / 2
1,2,6,13,20,27,28
| SUN | MON | TUE | WED | THU | FRI | SAT |
| --- | --- | --- | --- | --- | --- | --- |
2023 / 3
1,2,6,13,20,27-31
| SUN | MON | TUE | WED | THU | FRI | SAT |
| --- | --- | --- | --- | --- | --- | --- |