Mizuno Toshikata~Successor of Yoshitoshi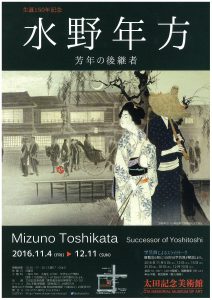 2016,  November 4th ~December 11th
(will be closed on November  7, 14, 21, 28th / December 5th)
The First Exhibition to Explore the Whole Picture of Ukiyo-e Artist of Meiji, Mizuno Toshikata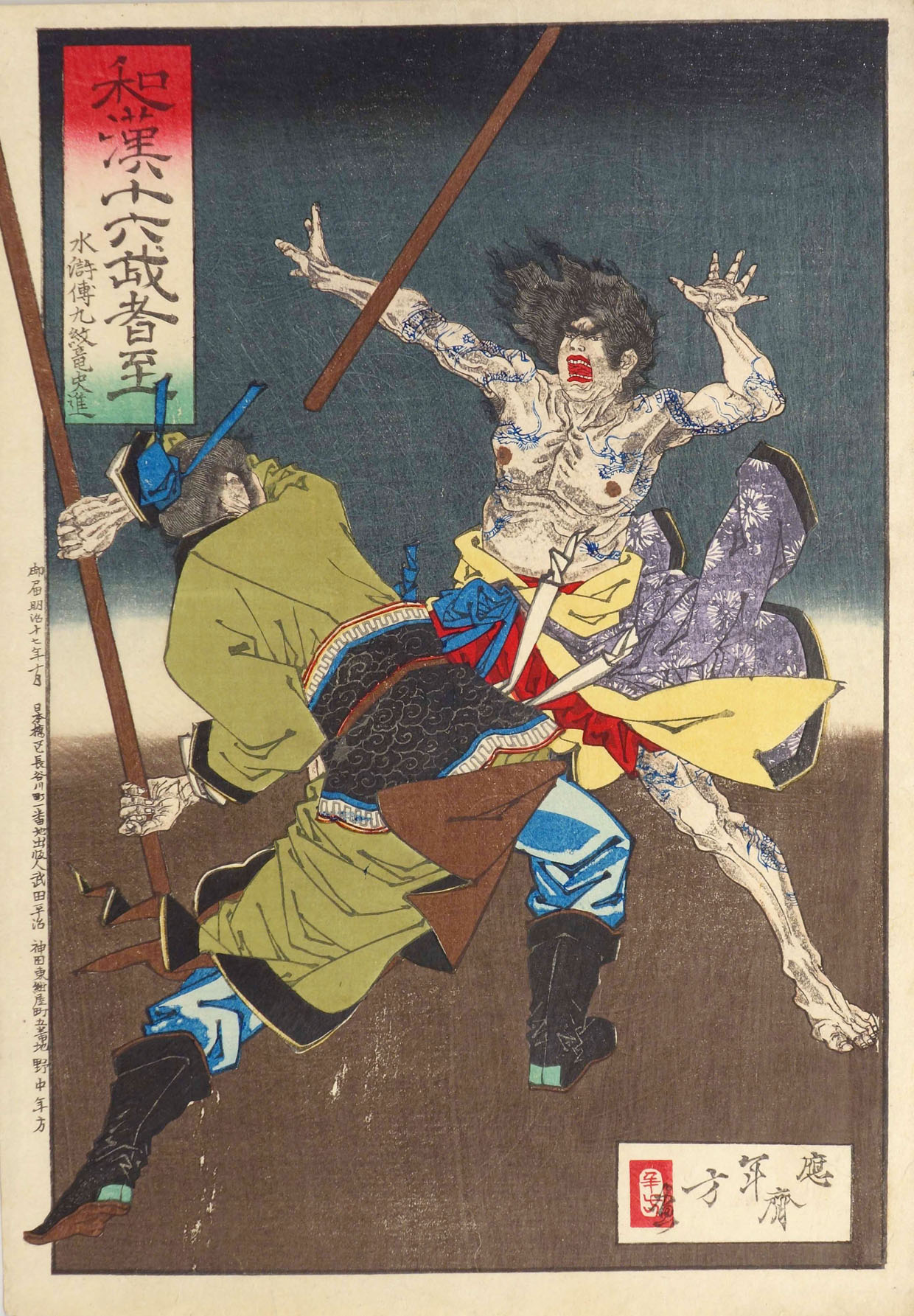 Mizuno Toshikata (1866~1908) was an ukiyo-e artist and Japanese-style painter of the Meiji period. He apprenticed under Tsukioka Yoshitoshi, and succeeding his master's style of painting, worked on historical paintings, bijin-ga (portraits of beautiful women), newspaper illustrations, and war picture depicting the Sino-Japanese war. Furthermore, his frontispiece drawings for novels and for literary magazines such as the "Bungei Club" gained much popularity.
     Moreover, Toshikata became an associate member of the Japan Art Academy, led by Okakura Tenshin , and discussed with fellow painters such as Yokoyama Taikan and Hishida Shunsō about producing a new style of Japanese painting. Considering that his line of pupils include Ito Shinsui, it can be said that Toshikata had a considerable impact on Japanese-style paintings of the Taishō and Shōwa periods.
     However, Toshikata has received little attention not only in the context of modern art history but also within ukiyo-e history. Perhaps his early death at the age of 43 is a reason.
     This year celebrates the 150th anniversary of the birth of Mizuno Toshikata in 1866. In commemoration, this exhibition displays his works, with a focus on ukiyo-e wood-block prints. This is the first exhibition to explore the works of Mizuno Toshikata as an ukiyo-e artist. Please enjoy the tender colors, rarely achieved in such wood-block prints, and the sweet beauty of the women of the Meiji period.
Successor of Tsukioka Yoshitoshi ~Mizuno Toshikata
Mizuno Toshikata became a disciple of Tsukioka Yoshitoshi in his late teenage years, and learned various ukiyo-e such as musha-ga (warrior pictures), historical pictures, and bijin-ga (portraits of beautiful women). His ability and popularity stood out even among senior disciples. After the death of Yoshitoshi, he was even rumored to succeed his master as Yoshitoshi II.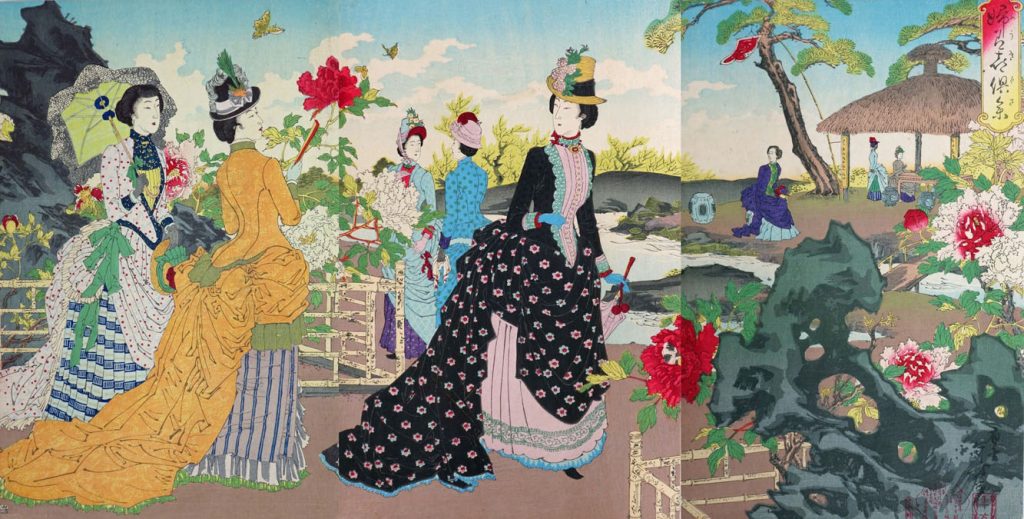 Izumi Ky

ō

ka, K

ō

da Rohan

~Collaboration with Modern Novelists
Mizuno Toshikata took on frontispiece drawings for literary magazines and novels. Such novelists include Ozaki Kōyō, Izumi Kyōka, Kōda Rohan, and many other representative writers of modern literature. At that time, such frontispiece drawings gained much more popularity than the novel itself. Toshikata played an important role in development of modern literature.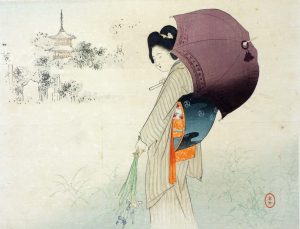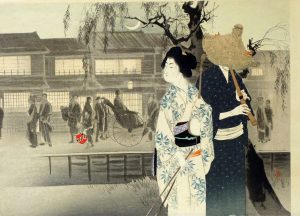 Brilliant Beauties of Meiji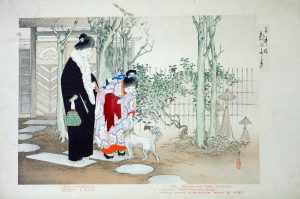 Mizuno Toshikata was skilled in depicting glamorous yet dignified women embodying the air of the new Meiji era. Such a female image was succeeded to his disciple, Kaburaki Kiyokata who pioneered the world of bijin-ga during the Taishō and Shōwa periods.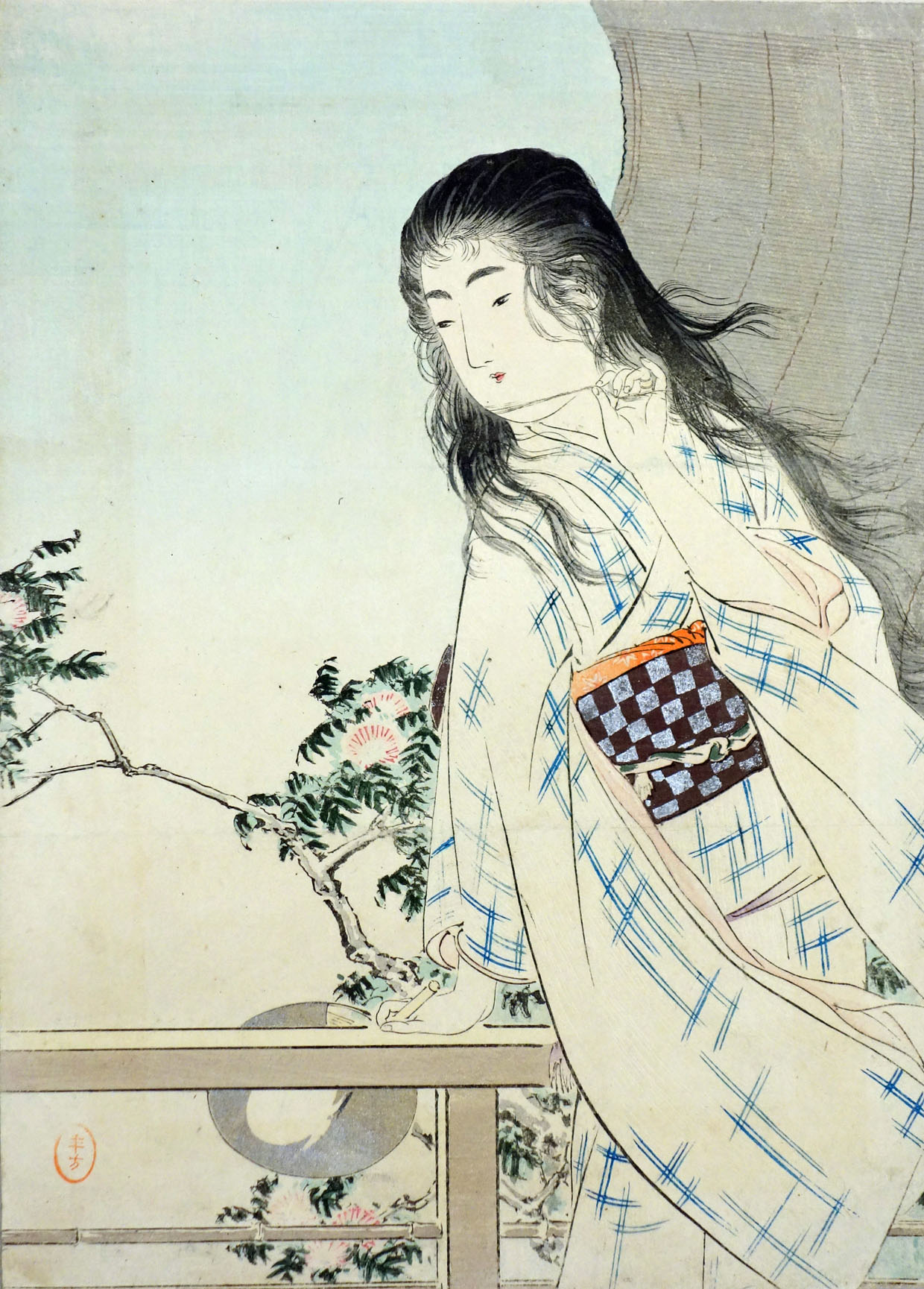 Highlight Work of the Exhibition
Mizuno Toshikata "Frontispiece Drawing of Novel Titled "Gekashitsu (operation room)" by Izumi Kyōka ("Bungei Club" the 1st Volume, Chapter 6 ) " 1895 (Ōta Memorial Museum of Art)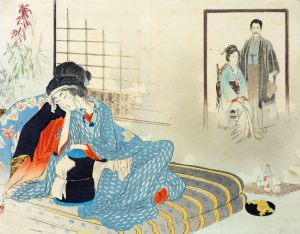 "Gekashitsu (operation room)" is a representative novel from the early works of Izumi Kyōka. Though this novel was published in a literary magazine titled "Bungei Club", Mizuno Toshikata drew the frontispiece for this novel. At that time, such frontispieces were created by wood-block prints, and therefore were time consuming. Toshikata needed to complete the picture of frontispiece without satisfactory understanding about the novel's content. Although "Gekashitsu" takes place in an operation room, Toshikata's frontispiece shows a woman recuperating at home. It seems that the frontispiece does not associate well with the novel. Nevertheless, readers of the time were mesmerized by Toshikata's finely detailed frontispiece.
Translation Supervised by Japanese Students Association of Princeton University
Admission
| | |
| --- | --- |
| Adult | 700 yen |
| University and High school students | 500 yen |
| Junior High School Students and below | Free |
Calendar



    

November

| SUN | MON | TUE | WED | THU | FRI | SAT |
| --- | --- | --- | --- | --- | --- | --- |
|   |   | 1 | 2 | 3 | 4 | 5 |
| 6 | 7 | 8 | 9 | 10 | 11 | 12 |
| 13 | 14 | 15 | 16 | 17 | 18 | 19 |
| 20 | 21 | 22 | 23 | 24 | 25 | 26 |
| 27 | 28 | 29 | 30 |   |   |   |

December

| SUN | MON | TUE | WED | THU | FRI | SAT |
| --- | --- | --- | --- | --- | --- | --- |
|   |   |   |   | 1 | 2 | 3 |
| 4 | 5 | 6 | 7 | 8 | 9 | 10 |
| 11 | 12 | 13 | 14 | 15 | 16 | 17 |
| 18 | 19 | 20 | 21 | 22 | 23 | 24 |
| 25 | 26 | 27 | 28 | 29 | 30 | 31 |