Life with blue – Kimono, pottery and daily articles
Will be closed on July 8, 16, 22.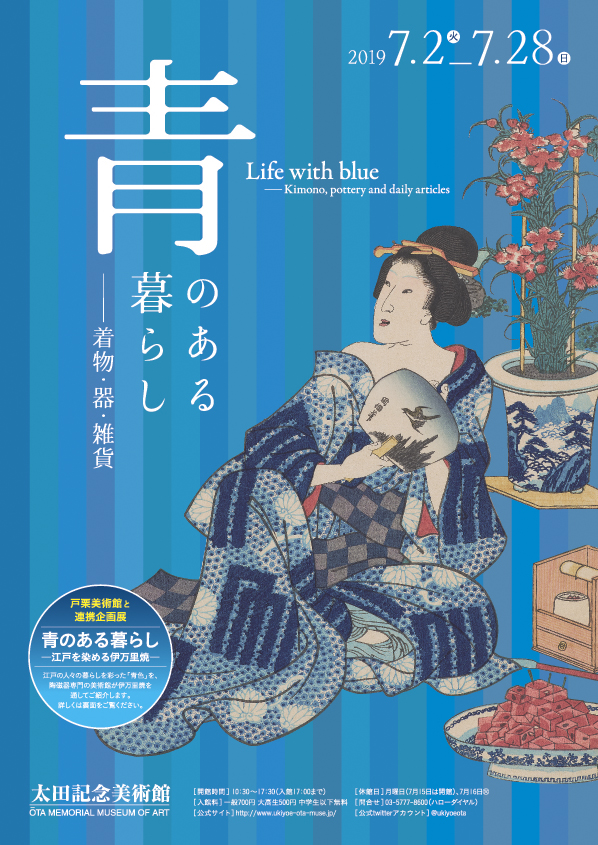 The color "blue", which reminds us of the beautiful sky and sea, fascinated the people in the Edo Period, and brought a refreshing splash of color to their lives. In particular, thanks to the abundant supply of cotton and improvements in dyeing technology, the indigo shade called "Japan blue" in the present day spread widely and came to be used for yukata (light cotton kimono), tenugui (cotton cloths) and noren (store curtains). Furthermore, blue-colored tableware and flowerpots called sometsuke became popular, and blue became a color used in various scenes of daily life. There are a surprising number of ukiyo-e prints depicting Edo people incorporating blue into their daily lives. In this exhibition, we will introduce "the culture of blue" fostered in the Edo Period through pictures which captured the daily life of Edokko (people in Edo) as well as landscape pictures by Katsushika Hokusai and Utagawa Hiroshige.

The Ota Memorial Museum of Art, specializing in ukiyo-e, and The Toguri Museum of Art, specializing in ceramic ware, have collaborated for the first time, going beyond the genre of Art. We hope you will enjoy the lifestyles of Edo filled with beautiful blue through the perspectives of ukiyo-e and ceramics.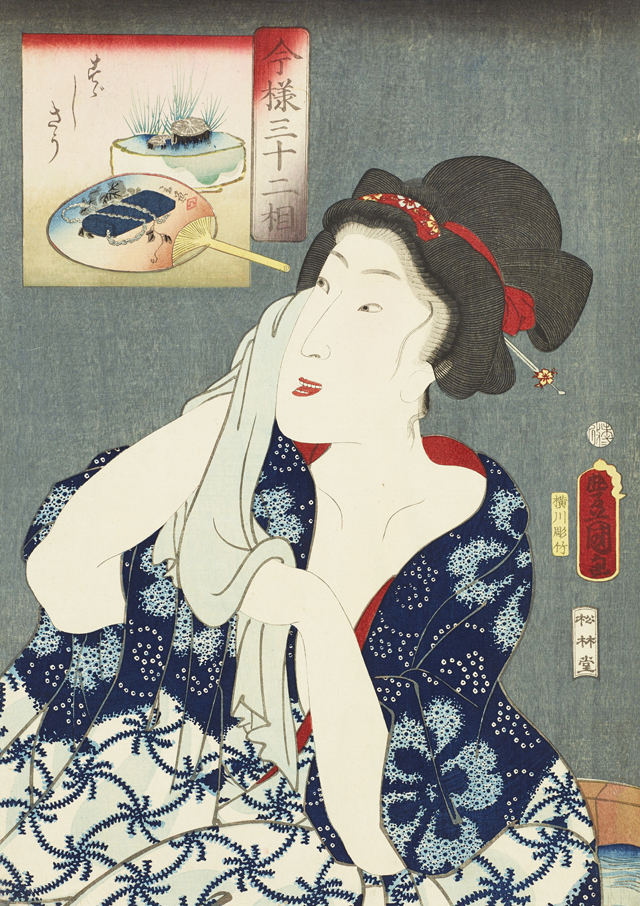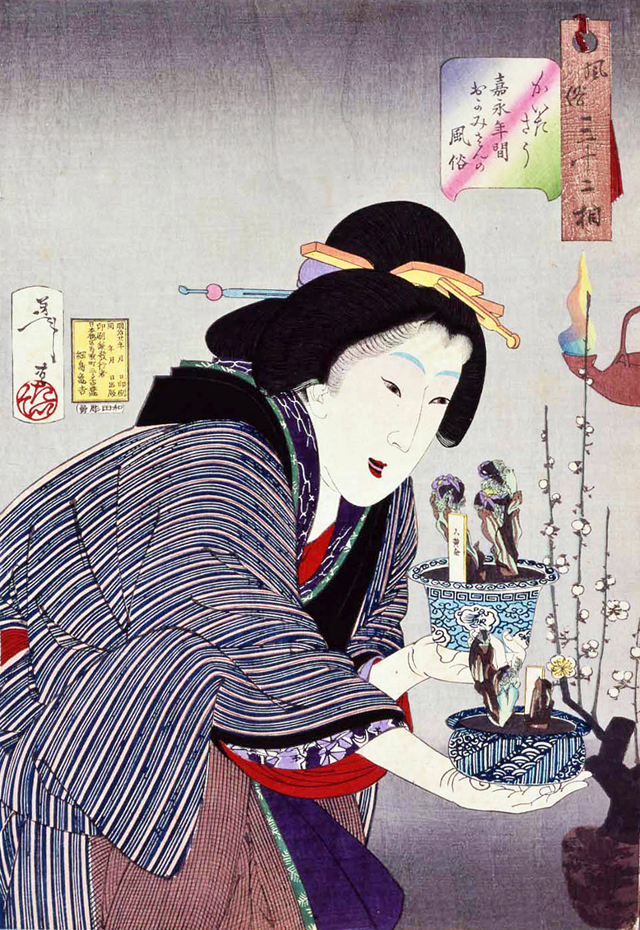 Blue in fashion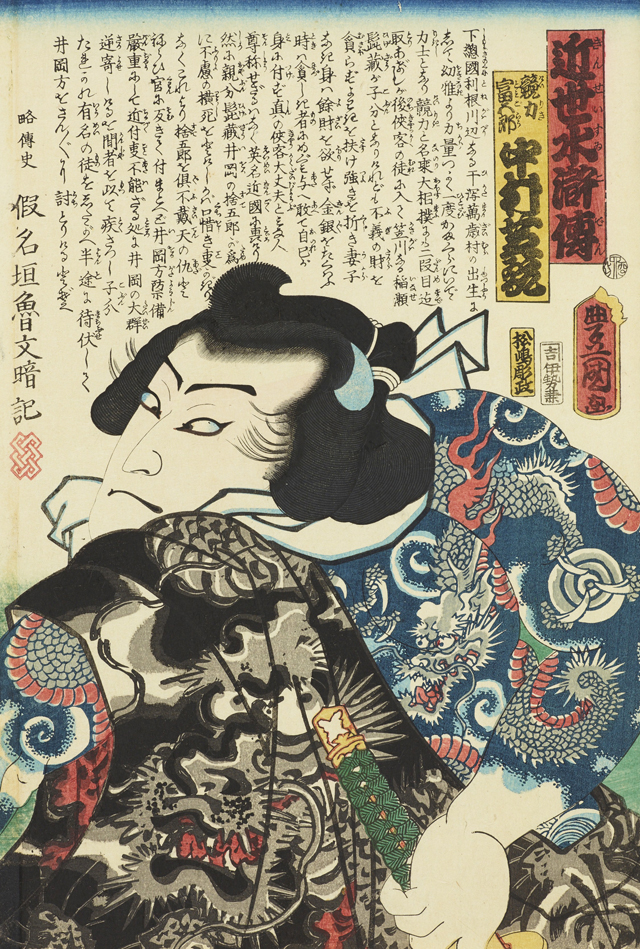 The color of the uniform of the Japanese national soccer team is called "Samurai blue", which features a deep shade of blue originating from traditional indigo. With the distribution of indigo, ukiyo-e in the late Edo Period captured the appearance of various people wearing blue as daily clothes. In this section, we will introduce various fashions using blue in Edo, especially yukata (light cotton kimono) which features beautiful contrasts between blue and white. Women wear yukata with not only cute patterns but also bold designs such as crabs and octopuses, and men present cool and chic figures with yukata. Moreover, we will introduce manly beauty at that time through the pictures depicting tattoos which gained popularity in the late Edo Period.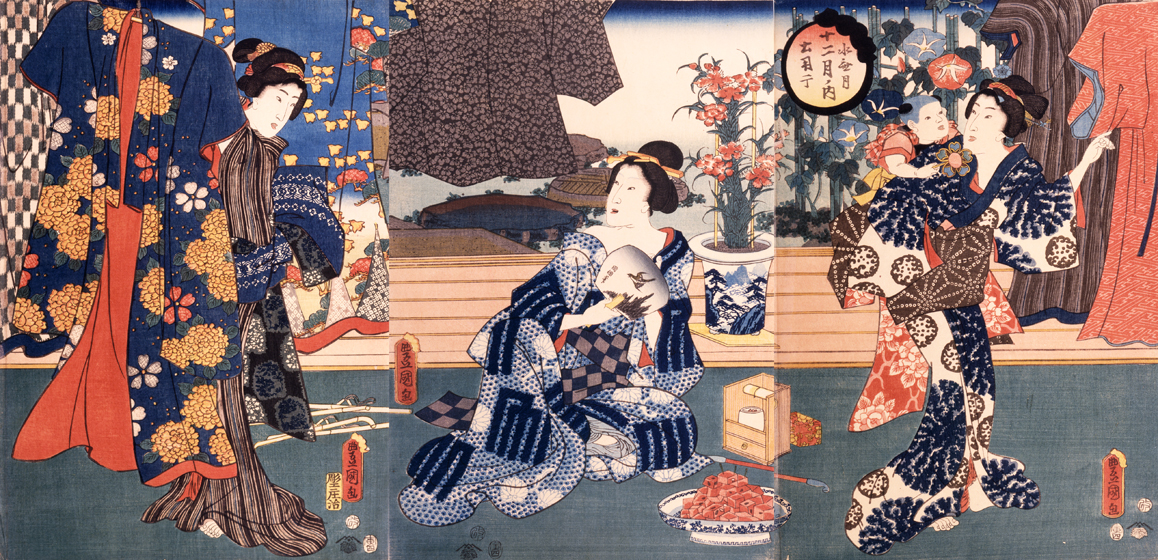 Blue coloring life
In the late Edo Period when food, fashion and gardening cultures that continue even today started blooming, people used various pottery and daily articles such as dishes, rice bowls, flower pots and cotton towels, with many of them colored in blue. It can be said that blue colored life and was loved by people back then. Furthermore, a Greek writer, Lafcadio Hearn (Koizumi Yakumo), also wrote about the charm of Japanese scenes with copious amounts of blue used for the house roofs, clothes and store curtains that he saw when he came to Japan in 1890. From this section, you can understand that sense of how Japanese people loving blue was nurtured in the Edo Period.
Japan blue that fascinated the world
It seems that the Western people who visited Japan in the Meiji Period found the culture of blue developed in the Edo Period to be unique to Japan. Originally, the person who named the blue color ingrained in Japanese life "Japan blue" was a British chemist Robert William Atkinson who came to Japan in 1874. Furthermore, a Greek writer Lafcadio Hearn (Koizumi Yakumo) also wrote about the charm of Japanese scene with a lot of blue used for the house roofs, clothes and store curtains that he saw when he came to japan in 1890.
Ukiyo-e blue revolution
Landscape paintings with the beautiful blue sky and the ocean of Katsushika Hokusai and Utagawa Hiroshige have fascinated many people all over the world. Behind the birth of the world-class ukiyo-e landscape paintings of Hokusai and Hiroshige was the appearance of a new blue paint called Berlin blue (Prussian blue). It made it possible to delicately express the changing sky and the subtle surface of water. We will introduce the changes of expression related to the new blue painting in ukiyo-e history by exhibiting landscape paintings from before and after its use became common.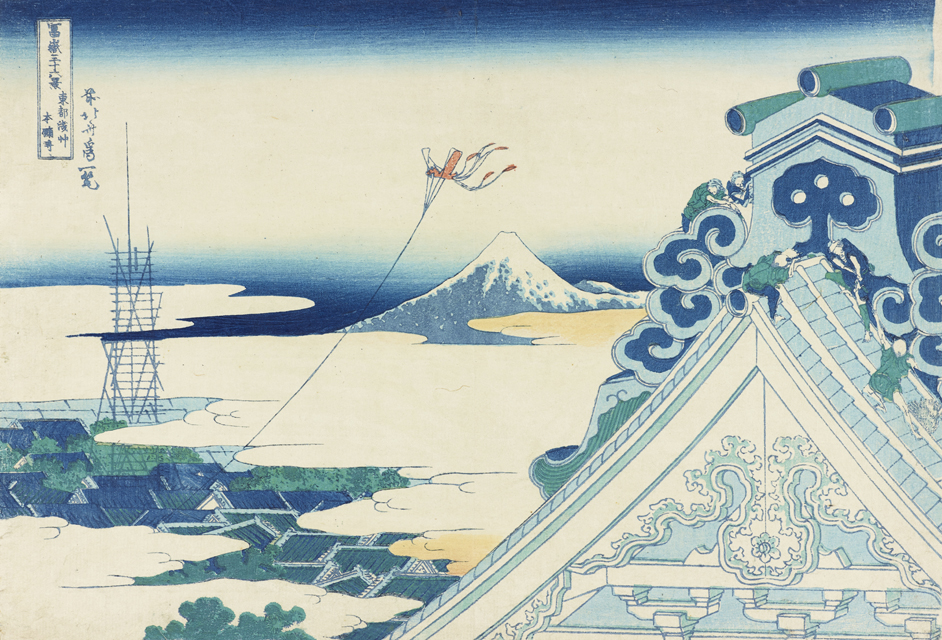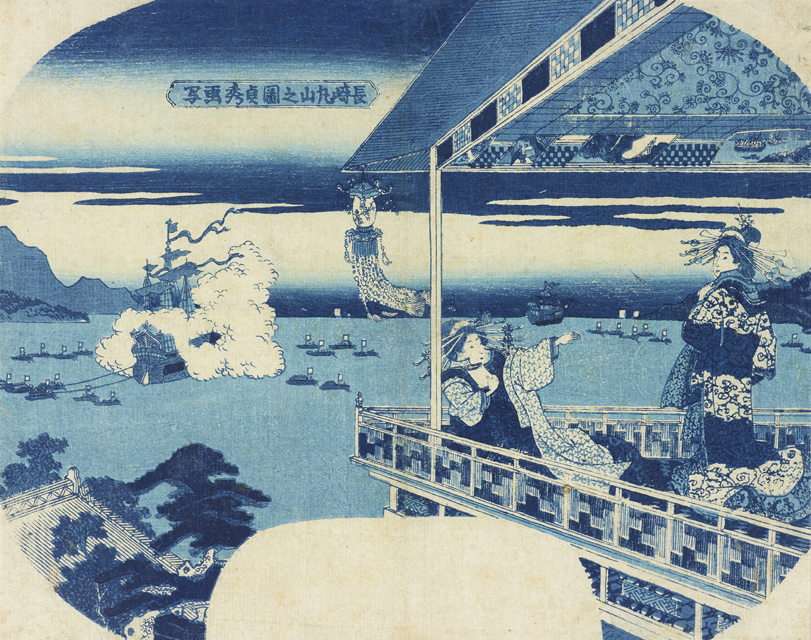 Featured Works
Utagawa Hiroshige "One Hundred Famous Views of Edo: Dyers' Quarter, Kanda"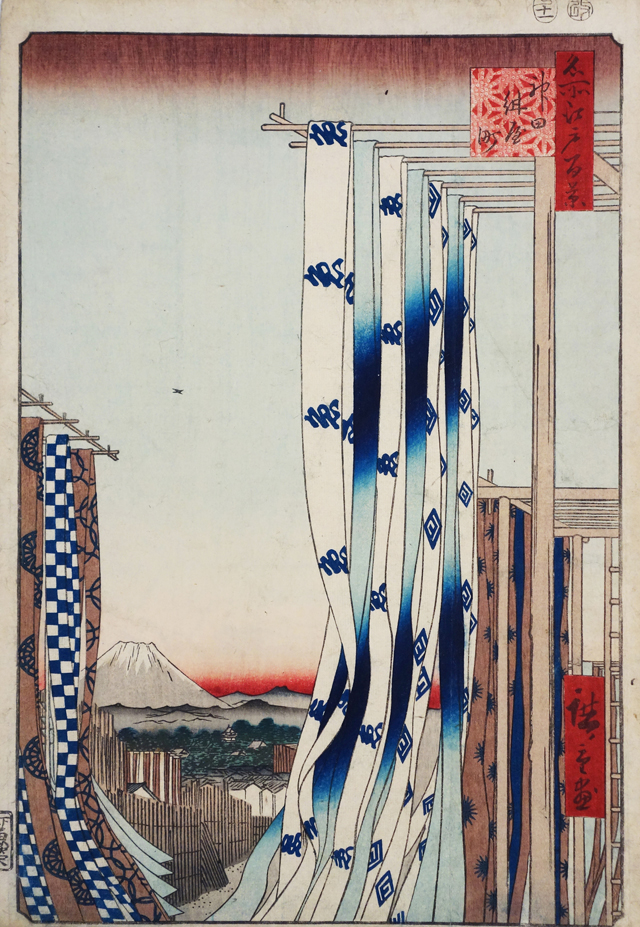 See Edo Castle and Mt. Fuji fluttering in the wind on fabric dyed shades of blue and brown. Kanda Kon'ya-chō was governed by Tsuchiya Gorōemon, the head dyer who was allowed to buy the indigo fabrics throughout the Kanto district. It was named after the fact that there were many dye artisans living in this area. The appearance of the fabrics being hung at the drying space must have been a common sight in this region. The fabrics dyed with various patterns such as characters, color gradations and checkerboard patterns, show how people tried to seek out various patterns and how the dyers responded to those needs.
Admission
| | |
| --- | --- |
| Adult | 700 yen |
| University and High school students | 500 yen |
| Junior High School Students and below | Free |
Calendar
2019 July

| SUN | MON | TUE | WED | THU | FRI | SAT |
| --- | --- | --- | --- | --- | --- | --- |
| | 1 | 2 | 3 | 4 | 5 | 6 |
| 7 | 8 | 9 | 10 | 11 | 12 | 13 |
| 14 | 15 | 16 | 17 | 18 | 19 | 20 |
| 21 | 22 | 23 | 24 | 25 | 26 | 27 |
| 28 | 29 | 30 | 31 | | | |