Kuniyoshi Heroes~Heroes from Tales of the Water Margin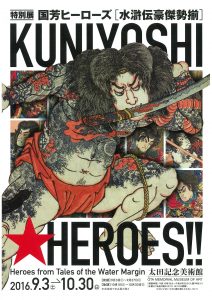 Special Exhibition
2016, September 3rd~October 30th
【1st Term】 2016, September 3rd ~27th
【2nd Term】 2016, October 1st ~30th

 Works change between two terms
(Will be closed on September 5,12,20, 26,28~30 /  October 3,11,17,24th)
This is Kuniyoshi! The world of Tales of the Water Margin with tingling blood with excitement
In 1797, Kuniyoshi was born in Nihonbashi Honshiroganechō-1 chōme in a household that worked in the textile dyeing industry. He became the pupil of Utagawa ToyokuniⅠwhen he was about 12 years old and started using the pseudonym, Kuniyoshi, in around 1813. In his twenties, he produced illustrations for Gokan(type of picture book popular in the late Edo period). Among those were portraits of kabuki actors, warrior picture, and others, but the number of works are not many. For a long period of time, Kuniyoshi could not excel among the various pupils of ToyokuniⅠ.However, this changes in 1827, when he published the series titled "One Hundred and Eight Heroes from Tales of the Water Margin", based on the well-known Chinese novel, "Tales of the Water Margin".
Kuniyoshi depicted the powerful and exotic foreign heroes with a dynamic brushstroke and the warrior pictures quickly gained popularity. This popularity was such that people started to want tattoos with these warriors as well. With this, Kuniyoshi joins the group of popular artists and establishes his status as "Kuniyoshi of Warrior Pictures". At the same time, he created masterpieces from various genres such as caricatures, landscape pictures, pictures of beautiful women, and others later, becoming one of the representative ukiyo-e artists of the time. 
In this exhibition, we will exhibit almost all Kuniyoshi's works from this popular series in addition to the various other pictures related to "Tales of the Water Margin. Please enjoy the figures of brave heroes that Kuniyoshi threw his whole soul into.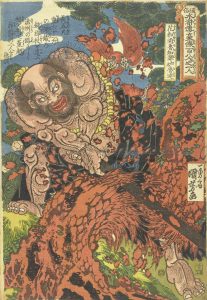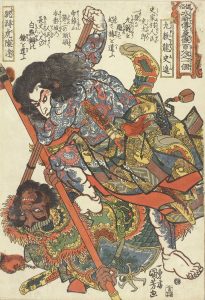 Approaching Kuniyoshi's Starting Point
Brave warriors that defeat the enemies, strategists with an intellectual appearance, heroine wearing splendid clothes- These individualistic and attractive characters appear in Kuniyoshi's work, "One Hundred and Eight Heroes from Tales of the Water Margin" (No.1~80), also being one of his first works. The people of Edo were excited to see the unyielding fighting spirit, friendship and dramatic fate of these various warriors. Kuniyoshi started to produce this series from around 1827, and published about more than 70 pieces of pictures across the years. Such a big series with many pieces of pictures didn't exist before, and this series gained much popularity at that time. The highlight of this series is the figures of brave warriors full of lively movements, description of minute details supported by exquisite technique of carving and printing, designs full of exoticism, and a wide variety of individual brave warriors, and others. In this section of the exhibition, we will introduce its world view by introducing 73 pieces of prints of masterpieces from this series which is considered to be 74 pieces of prints in total.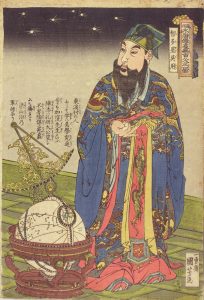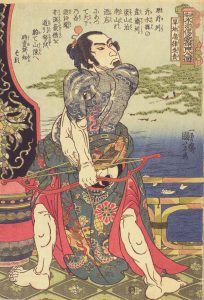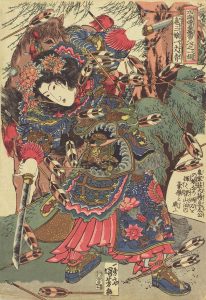 Full force of various "Tales of Water Margin"
Related goods were sold after the birth of hit, which is the way of the world. After the big success of this series, Kuniyoshi also sent out related pictures into the world one after another. For example, Japanese backgammon for children which parodied brave heroes and pictures of beautiful women which parodies brave heroes, and warrior pictures whose characters become Japanese warriors, and others.  Kuniyoshi expanded the world of "Tales of Water Margin" with imagination. 
This exhibition exhibits together with such related pictures. Please feel and touch not only the ability of arrangement by Kuniyoshi but also the ambience of the boom of "Tales of Water Margin" at that time.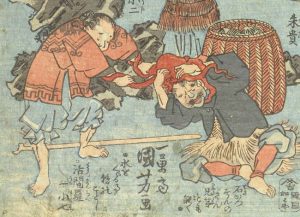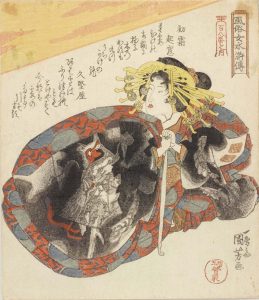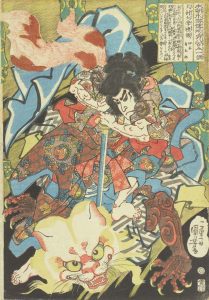 <Highlight Work of Exhibition>
"One Hundred and Eight Heroes from Tales of the Water Margin: Rōrihakuchō Chōjun"
(Private collection / exhibited in the 2nd term)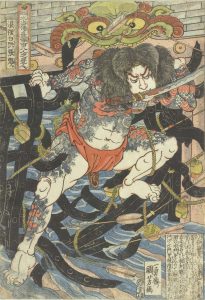 This is the representative picture of this series. A man glares with a sword in his mouth.  The bent fence is a water gate. This man is Rōrihakuchō Chōjun and he was a master of swimming, exerting himself as the leader of naval forces. This picture depicts the last scene of the novel. Here, Chōjun breaks the water gate in order to attack the Hangzhou castle.  The angry facial expression, strong-muscled body and blue tattoo on his white skin show his wild strength. After he broke the water gate, he died from a group attack by the enemy and could not come back to his friends till the end. Kuniyoshi depicts the appearance of a courageous hero whose death is approaching.          
Translation Supervised by Japanese Students Association of Princeton University
Admission
| | |
| --- | --- |
| Adult | 1000 yen |
| University and High school students | 700 yen |
| Junior High School Students and below | Free |
Calendar



   

September

| SUN | MON | TUE | WED | THU | FRI | SAT |
| --- | --- | --- | --- | --- | --- | --- |
|   | | | | 1 | 2 | 3 |
| 4 | 5 | 6 | 7 | 8 | 9 | 10 |
| 11 | 12 | 13 | 14 | 15 | 16 | 17 |
| 18 | 19 | 20 | 21 | 22 | 23 | 24 |
| 25 | 26 | 27 | 28 | 29 | 30 |   |

October

| SUN | MON | TUE | WED | THU | FRI | SAT |
| --- | --- | --- | --- | --- | --- | --- |
|   |   |   |   |   | | 1 |
| 2 | 3 | 4 | 5 | 6 | 7 | 8 |
| 9 | 10 | 11 | 12 | 13 | 14 | 15 |
| 16 | 17 | 18 | 19 | 20 | 21 | 22 |
| 23 | 24 | 25 | 26 | 27 | 28 | 29 |
| 30 | 31 | |   |   |   |   |