Utagawa Kuniyoshi
2021, September 4th-October 24th
PARTⅠ Make the Gloomy World Laugh! – Caricatures and the State of Society
September 4th-26th
PARTⅡ Astonish the Edo People! – Warriors and Landscapes
October 1st-24th
※Works change between two terms
Will be closed on September 6, 13, 21, 27-30, October 4, 11, 18.
Utagawa Kuniyoshi (1797-1861) was an ukiyo-e artist who was active in the late Edo period. Kuniyoshi made his debut as an ukiyo-e artist in his late teens. After an unsuccessful period, he made a big breakthrough in his early thirties with the series "One Hundred and Eight Heroes from Tales of the Water Margin." Since then, he worked energetically on all kinds of genres of ukiyo-e including "musha-e (warrior pictures)" of heroes, "giga (caricatures)", landscapes, "bijin-ga (pictures of beautiful women)", "yakusha-e (portraits of kabuki actors)", and pictures for children. He also trained many disciples, and led the world of ukiyo-e.
The year 2021 marks the 160th anniversary of Utagawa Kuniyoshi's death. In this commemorative year, we will reintroduce and explore Kuniyoshi's life and his works.
1.Overcoming Adversity
Utagawa Kuniyoshi is known for his resilient work during the unstable ruling under the influence of the Tenpō Reforms. During the reforms, the Tokugawa Shogunate imposed strict controls on the entertainment of the common people. Ukiyo-e artists were prohibited from depicting popular genres such as portraits of famous actors and courtesans. Under such restrictions, one of the genres in which Kuniyoshi found his way was caricature. His joyous and humorous caricatures of anthropomorphized animals became very popular. Although some of his caricatures went out of print being accused as implicitly satirizing the Tokugawa shogunate and he was sometimes summoned to the magistrate for such daring, Kuniyoshi was never discouraged and continued to produce new and inventive works one after another.
With the spread of COVID-19, our activities have been restrained and entertainment is limited. Because we are facing such a challenging time period, Kuniyoshi's resilience towards adversity and the cheerful tone of his works appeal strongly to us.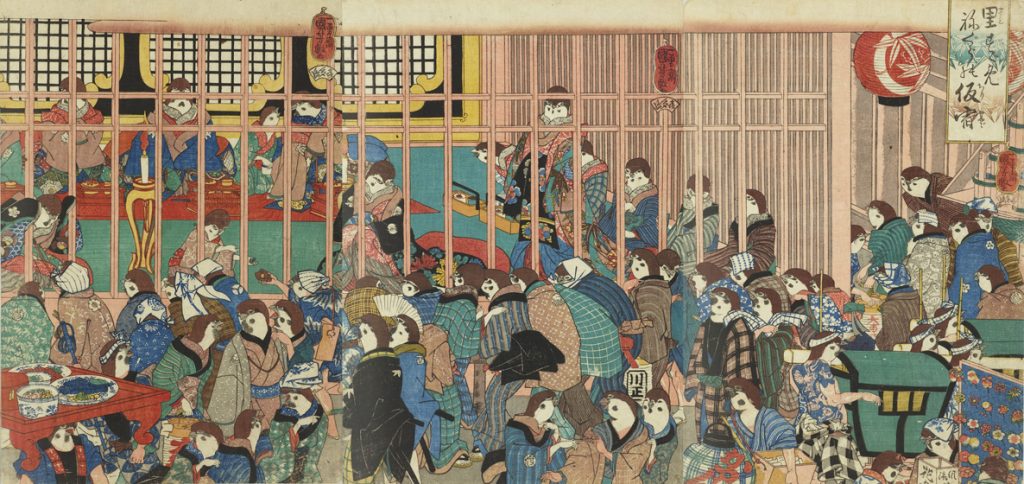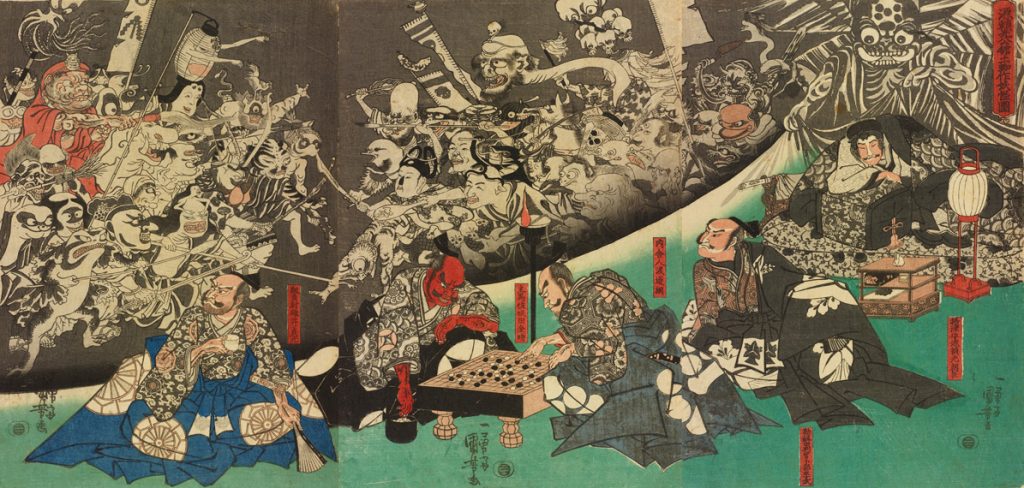 2. Astonishing Large-Scale Motifs
Utagawa Kuniyoshi became one of the most popular ukiyo-e artists with the huge success of his "One Hundred and Eight Heroes from Tales of the Water Margin" series. Although Kuniyoshi became the leading artist of the genre "musha-e (warrior pictures)", he was never satisfied and always tried to create new compositions and themes. Kuniyoshi's series of warrior paintings with skeletons, fierce sharks, and other gigantic motifs filling up three large screens are his essential works. The people of Edo must have been astonished by the new artistic frontiers he began to explore in his early 50s.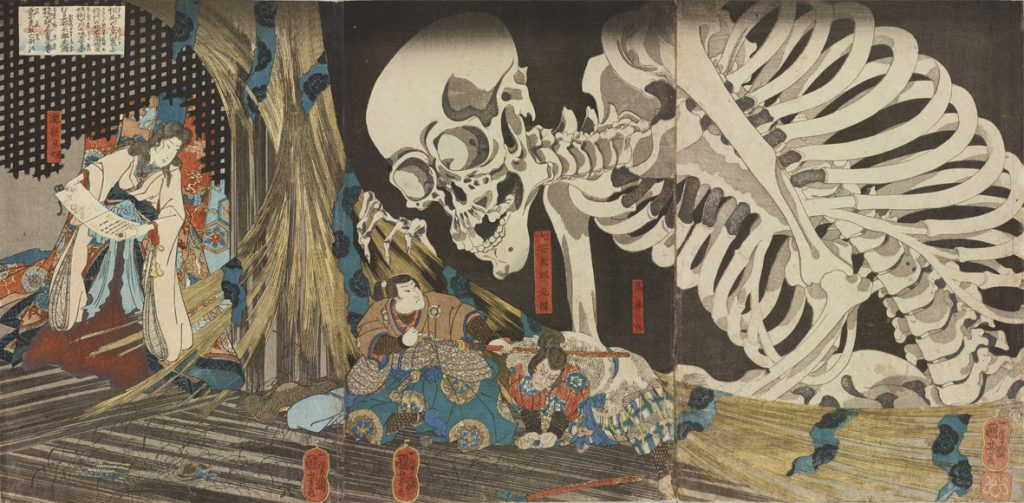 3.A large exhibition marking the 160th anniversary of his death
Kuniyoshi was not only skilled at caricatures and warrior pictures. He also created a wide range of fascinating works in various genres, including landscapes incorporating Western artistic expressions and "bijin-ga (pictures of beautiful women)" of cool and lively women. This exhibition commemorating the 160th anniversary of Kuniyoshi's death, presents a total of 160 works of various genres. The exhibition is divided into two sessions: "PART I: "Transform the Transient World into Amusement! – Caricatures and Social Conditions" from September 4 to 26, and "PART II: "Astonish the People of Edo! –Warriors and Landscapes" from October 1 to 24. The works exhibited will be changed entirely between the two sessions.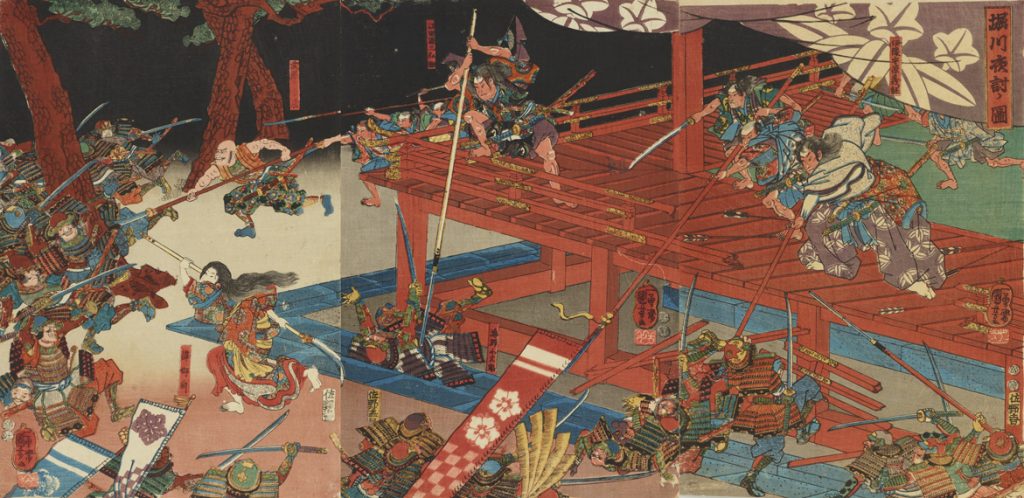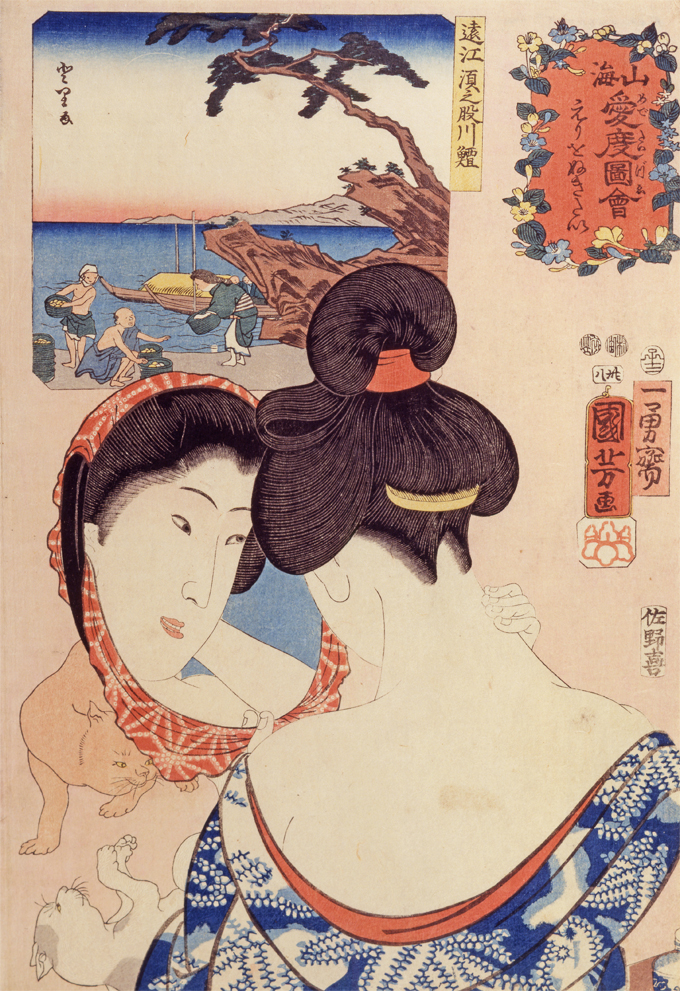 Highlight
Corns' Comic: Corn Swinging the Hair(PARTⅠ)/ Private Collection
Here, a corn is dancing with its hair swaying in the air. The corn is painted in imitation of the lion spirit which appears in a dance of the Kabuki play called "Shakkyō-mono". You may have seen Kabuki actors on TV swinging their long red and white hair wildly. The same kind of dance is performed by a corn in this painting.
A singer and a flute player in the back are also painted as anthropomorphic vegetables, perhaps a pumpkin and a sweet potato. This innovative work of vegetables performing a kabuki play is a perfect example of Kuniyoshi's sense of humor.
---
Admission
| | |
| --- | --- |
| Adult | 1000 yen |
| University and High school students | 700 yen |
| Junior High School Students and below | Free |
開館日カレンダー
2021 / 09
1-3, 6, 13, 21, 27-30
| SUN | MON | TUE | WED | THU | FRI | SAT |
| --- | --- | --- | --- | --- | --- | --- |
2021 / 10
4, 11, 18, 25-28
| SUN | MON | TUE | WED | THU | FRI | SAT |
| --- | --- | --- | --- | --- | --- | --- |