Kikukawa Eizan
Special Exhibition
2
017
,November 3rd- December 20th
[1st Term] November 3rd-26th
[2nd Term] December 1st-20th
※Works change between two terms
Will be closed on November
 6, 13, 20, 27~30th, December 4, 11, 18th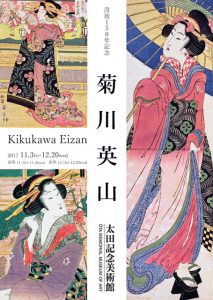 Kikukawa Eizan (1787-1867) was an ukiyo-e artist playing an active part especially in the Bunka era (1804-1818) after the death of Kitagawa Utamaro. While many ukiyo-e artists portrayed beautiful women in the sophisticated and ethereal Utamaro style, Eizan ushered in a new phase in the bijinga genre; although his women too wear the latest fashionable kimonos, he established his own sweet down-to-earth vision of female beauty. His works portrayed a diverse range of women from different social classes, such as the graceful young ladies of samurai families, charming daughters of merchants, or flamboyant courtesans. We see them sleek, svelte, and elegant, or sometimes bright, colorful, and fashionable. In recent years, Eizan's bijinga are not well-known, but these works would have profoundly influenced not only his pupil Keisai Eisen, but also such later artists as Utagawa Kunisada and Utagawa Kuniyoshi. It is no exaggeration to say that bijinga in the 19th century started from Eizan.
 This year commemorates the 150th year since the death of Kikukawa Eizan. This exhibition is made up of some 200 outstanding works, covering wood-block prints and nikuhitsu-ga (original paintings), including important representative pieces and works shown to the public for the first time; together they once again shine the spotlight on Kikukawa Eizan's achievements as an ukiyo-e artist. We would be grateful if, through this exhibition, you can fully enjoy the fascination of Eizan's beauties that blossomed so gracefully in response to the culture of the late Edo period.
 Finally, we would like to sincerely express our gratitude to all those collectors who loaned their valuable works and materials to the exhibition, and all those involved in the mammoth task of assembling this wonderful display of the artist's works.
The blossoming of Eizan's beauties
It was in his late teens that Kikukawa Eizan made his debut into the world of ukiyo-e with his animated bijinga (ukiyo-e prints of beautiful women). Working first in the style of Kitagawa Utamaro he became a popular ukiyo-e artist at a young age, and after Utamaro's death, Eizan, in his mid-twenties, began exploring a new style of bijinga, finally reaching an image of charming, slender, and elegantly-proportioned women with beguiling large dark eyes. Utamaro's beauties are tall and slim and living in a world free of cares; they are the super models of their times. While the sweet charming and smaller beauties of Eizan are approachable with an everyday feel about them akin to the photos of reader models appearing in today's fashion magazines. Eizan's women and their new fresh beauty were much loved by people in the city of Edo.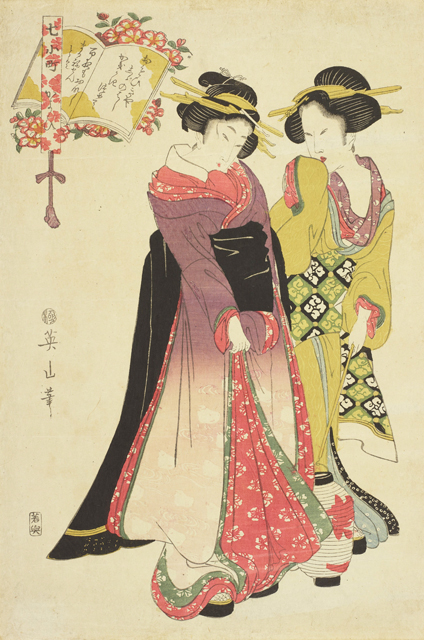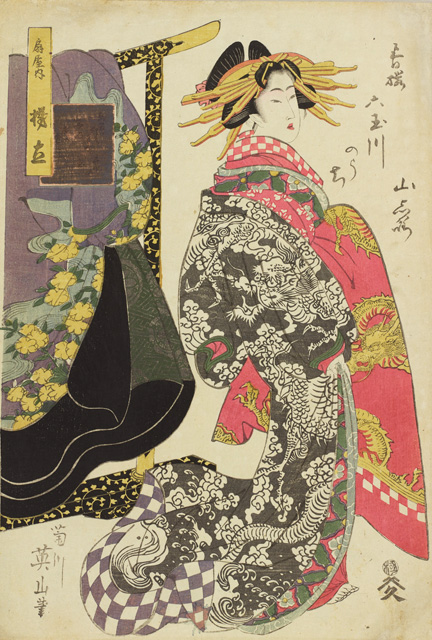 Eizan's beauties were models of women's fashion
In Eizan's works, women who lent color and charm to the streets of Edo constantly appear: pretty girls attracting customers to the many teahouses, mothers and daughters strolling, geishas or courtesans entertaining. All of his works give us an exciting glimpse into this attractive world of high fashion, stylish kimono, and beautiful accessories. And yet, in those days, according to a woman's social class or age there were restrictions and rules concerning hairstyles, makeup, and even prescribing the manner of wearing kimono; against such a backdrop how to enjoy and exploit the latest fashion was a great concern for women in Edo. Eizan's beauties proclaimed the latest trends of this fashion-conscious society and were a visual guide of the rules applied to such themes as the seasonal motifs spread by popular actors, or sasairo-beni (iridescent lip rouge), which would have excited the hearts of women in just the same way as our present-day glossy fashion magazines.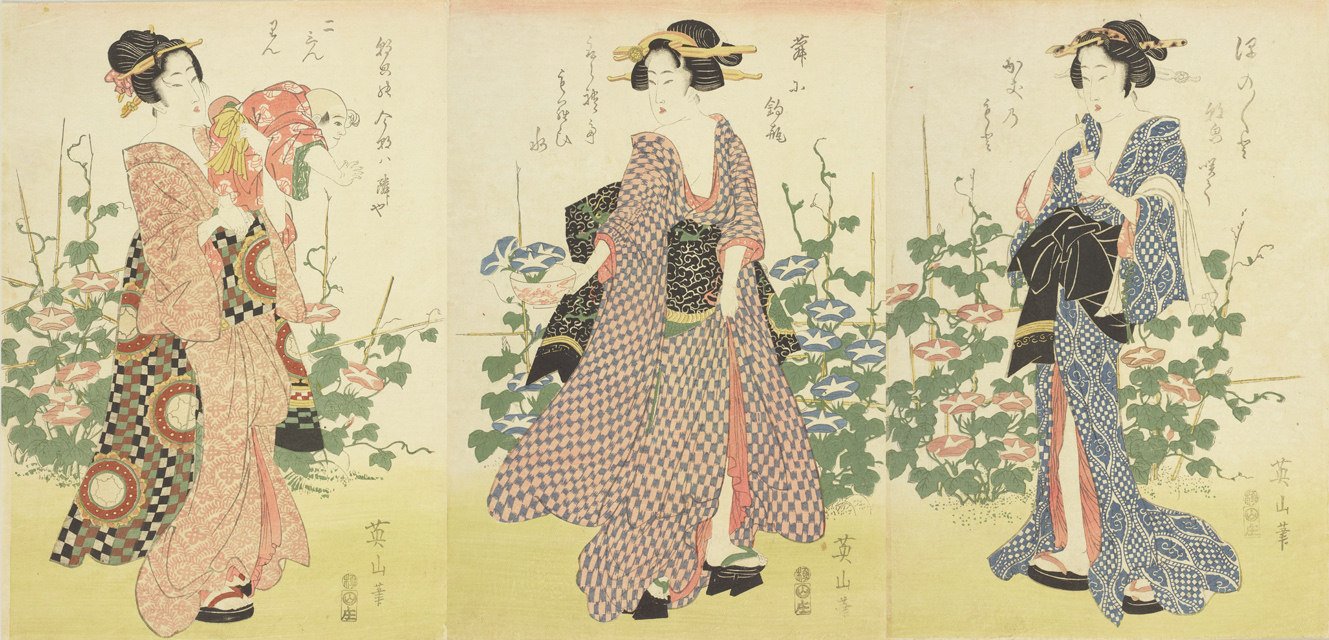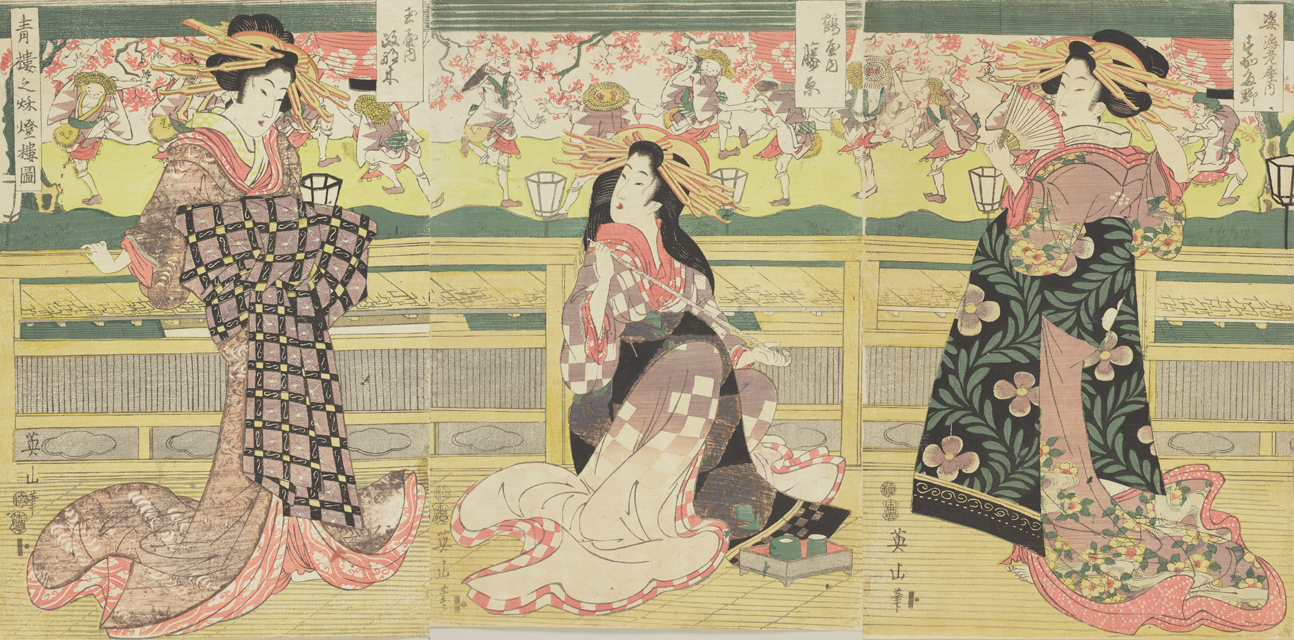 Shining the spotlight on a neglected period in bijinga
In any discussion of ukiyo-e bijinga, the Bunka era (1804-1818), when Eizan was at his most energetic, does not normally draw much attention. In recent years, however, exhibitions of Keisai Eisen, his pupil, and Utagawa Kuniyoshi, and Utagawa Kunisada have been held, and those ukiyo-e artists who flourished around the end of the Edo period, are now gaining in popularity. This exhibition, displaying Eizan's works in chronological order, reconsiders the significance of his bijinga, and how they connected the grand master Kitagawa Utamaro to those artists in the closing days of the Tokugawa Shogunate.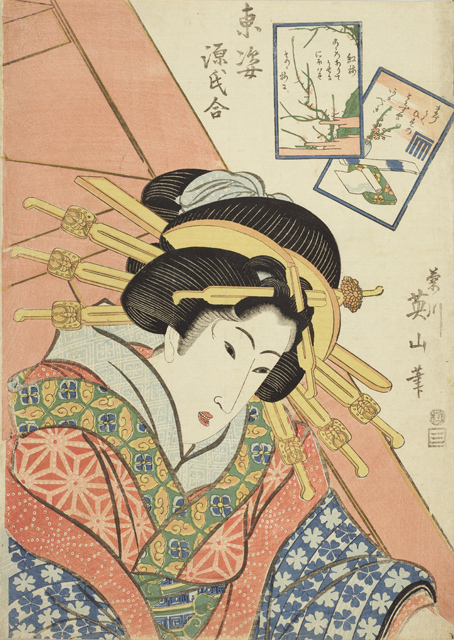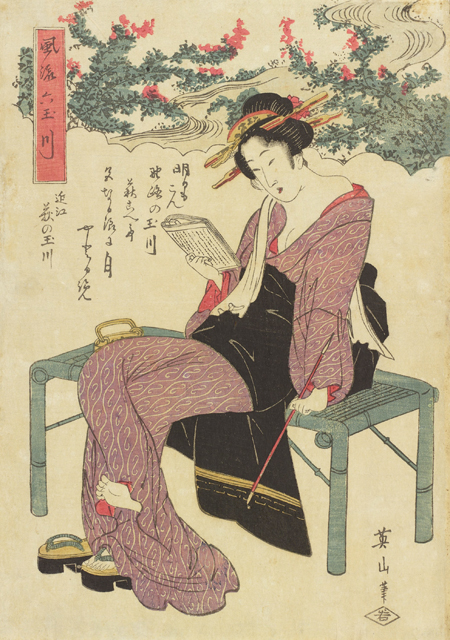 An array of the finest works, including some on public display for the first time, and others from the outstanding Japan Ukiyo-e Museum Collection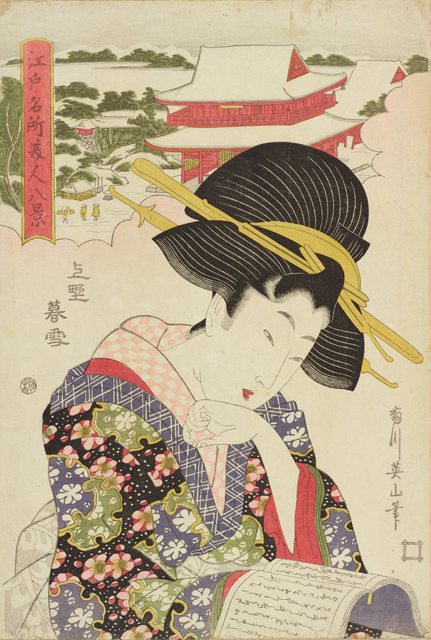 This exhibition showcases many of Eizan's works carefully chosen from private and museum collections. In particular, it is the first time that all of the 23 well-preserved works from the Japan Ukiyo-e Museum Eizan Collection have been shown in Tokyo. There are also valuable pieces including those on loan from private collections, which have never been seen by the public before. We very much hope visitors will enjoy their time in the company of Eizan's beautiful women with their delightful world and feminine essence captured in his elegant color palette.
<Highlight work of Exhibition>
Six Views of theTama River [1st Term]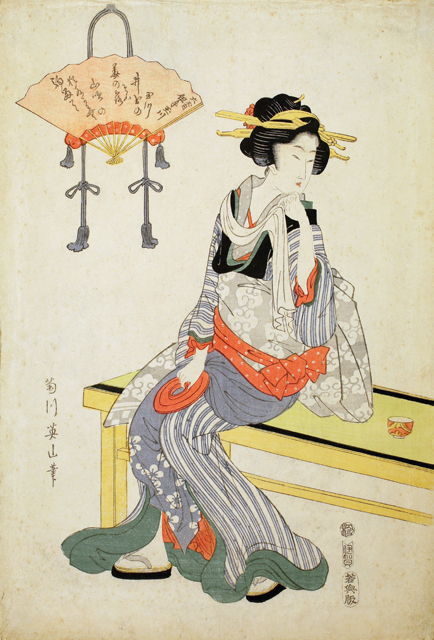 This well-preserved picture from the Japan Ukiyo-e Museum Collection is a superb work and the pale blue color, which usually would have faded over time, is still clearly distinct. A woman sitting on a bench in a tea stall is lost in thought; in those days tea stalls were commonly set up in any busy place, such as a temple or shrine, and good-looking women often worked in such places. At first sight the woman appears modestly dressed in a bluish purple striped kimono, with a floral pattern apron and a grey cloud pattern obi sash, but her apron strap and other items colored in vermillion provide very effective high-lights; her fingertips holding a hand towel draped from her shoulder are depicted very softly, suggesting a gentle and alluring feminine presence. This print crystalizes an idealized image of woman.
Translation Supervised by Japanese Students Association of Princeton University
Admission
| | |
| --- | --- |
| Adult | 1000 yen |
| University and High school students | 700 yen |
| Junior High School Students and below | Free |
開館日カレンダー
2017 November

Special Exhibition

| SUN | MON | TUE | WED | THU | FRI | SAT |
| --- | --- | --- | --- | --- | --- | --- |
| | | | 1 | 2 | 3 | 4 |
| 5 | 6 | 7 | 8 | 9 | 10 | 11 |
| 12 | 13 | 14 | 15 | 16 | 17 | 18 |
| 19 | 20 | 21 | 22 | 23 | 24 | 25 |
| 26 | 27 | 28 | 29 | 30 | | |

2

017 December

Special Exhibition

| SUN | MON | TUE | WED | THU | FRI | SAT |
| --- | --- | --- | --- | --- | --- | --- |
| | | | | | 1 | 2 |
| 3 | 4 | 5 | 6 | 7 | 8 | 9 |
| 10 | 11 | 12 | 13 | 14 | 15 | 16 |
| 17 | 18 | 19 | 20 | 21 | 22 | 23 |
| 24 | 25 | 26 | 27 | 28 | 29 | 30 |
| 31 | | | | | | |