Utagawa Hiroshige
Special Exhibition
2018, September 1st-October 28th
[1st Term] September 1st-24th
[2nd Term] September 29th-October 28th
※Works change between two terms
Will be closed on September 3rd, 10th, 18th, 25th-28th, October 1st, 9th, 15th, 22nd.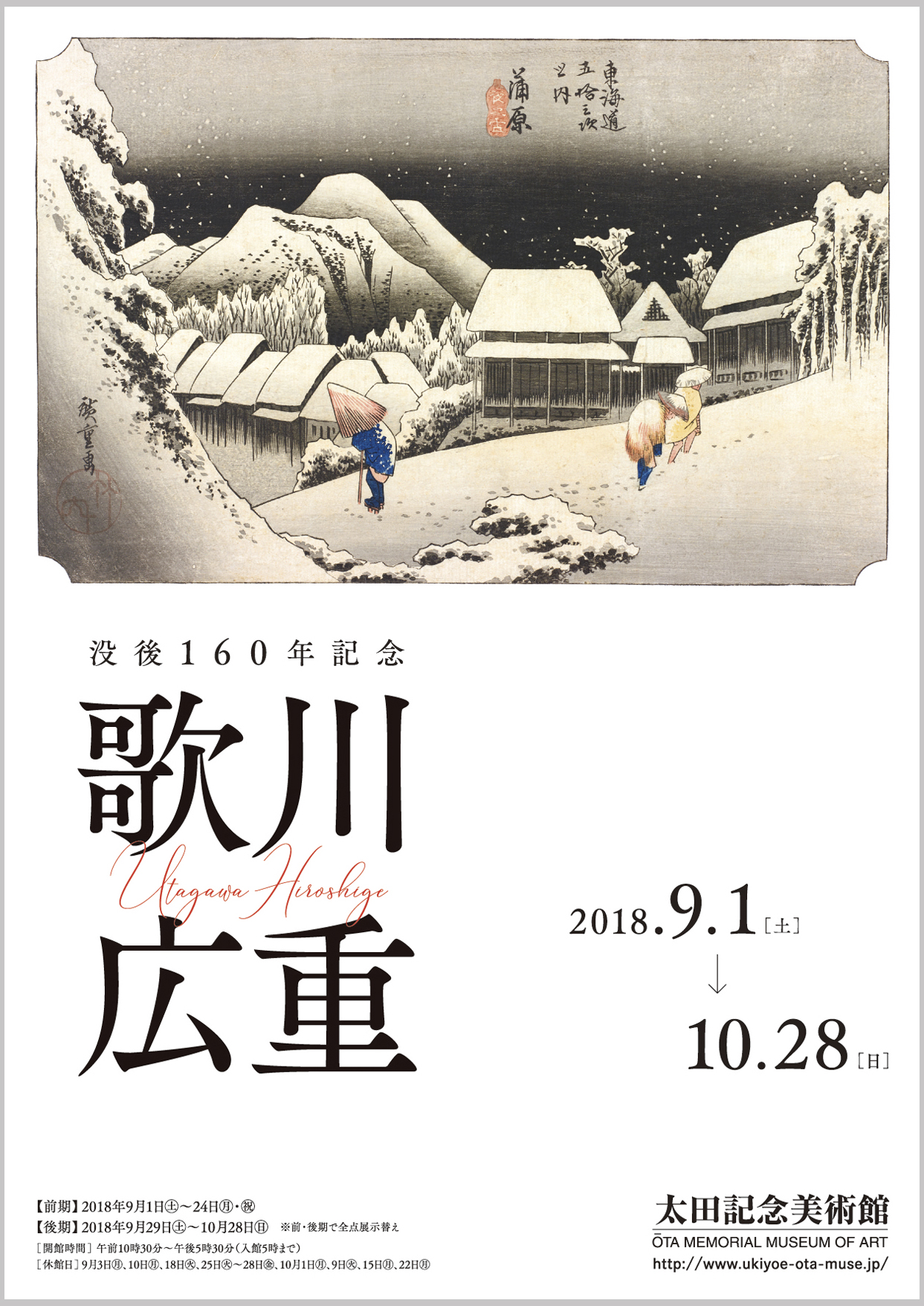 Utagawa Hiroshige (1797~1858) was an ukiyo-e artist who lyrically depicted landscapes around Japan. His representative works such as "Fifty-three Stations of the Tōkaidō Road" and "One Hundred Famous Views of Edo" are not only famous in Japan but also around the world. This year, it is the 160th year since the death of Hiroshige. In commemoration, Ota Memorial Museum of Art is hosting a special exhibition introducing the entirety of Hiroshige's art works.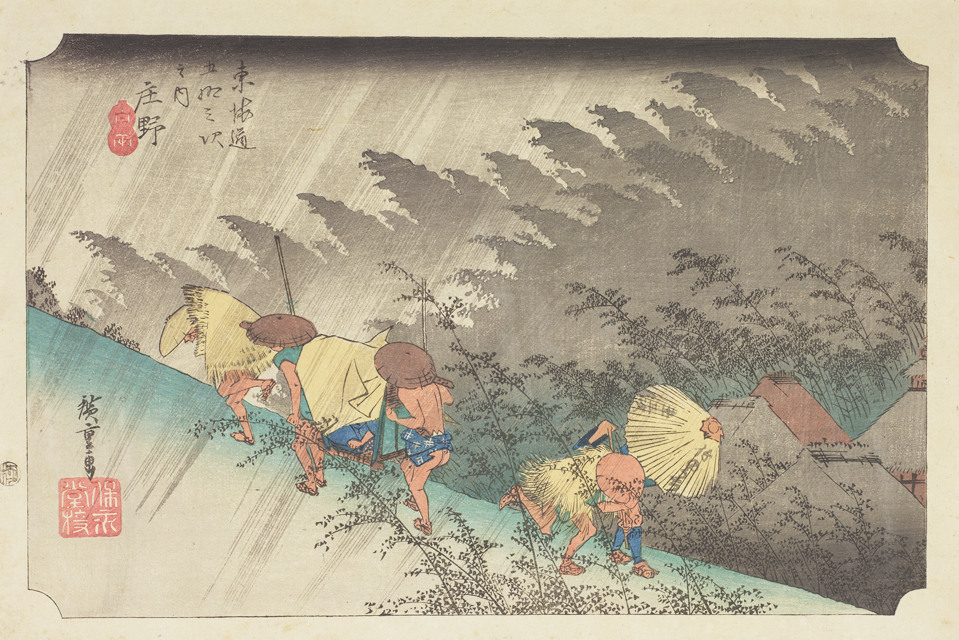 160th anniversary of Hiroshige's death.
Hiroshige died on the 6th September, 1858. We will host an exhibition commemorating the 160th anniversary of his death, during the month of his passing. In fact, works by Hiroshige constitute the largest portion in the museum collections. We will introduce a series of selected works, including his representative works "Fifty-three Stations of the Tōkaidō Road" and "One Hundred Famous Views of Edo". This retrospective exhibition is being held for the first time in the past 13 years.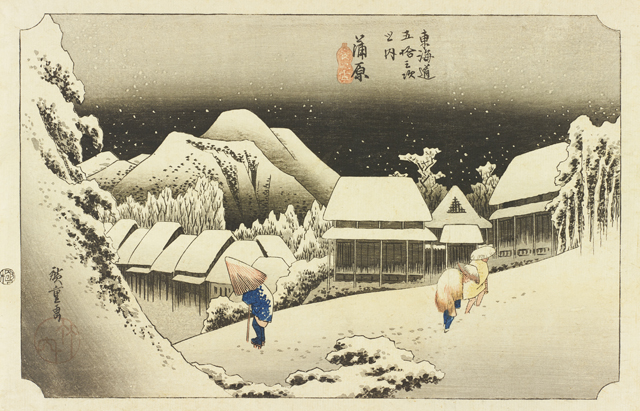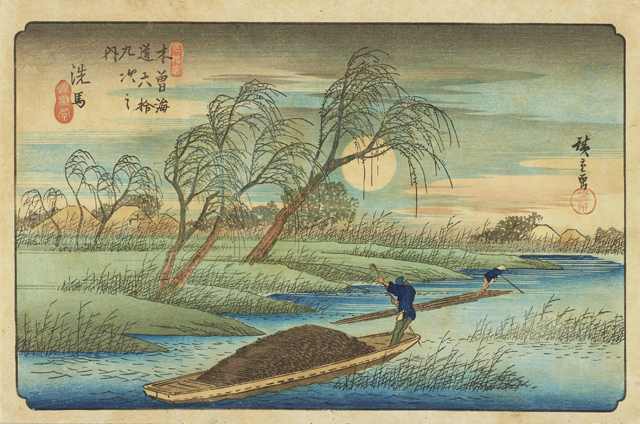 All about Hiroshige from masterpieces to rare works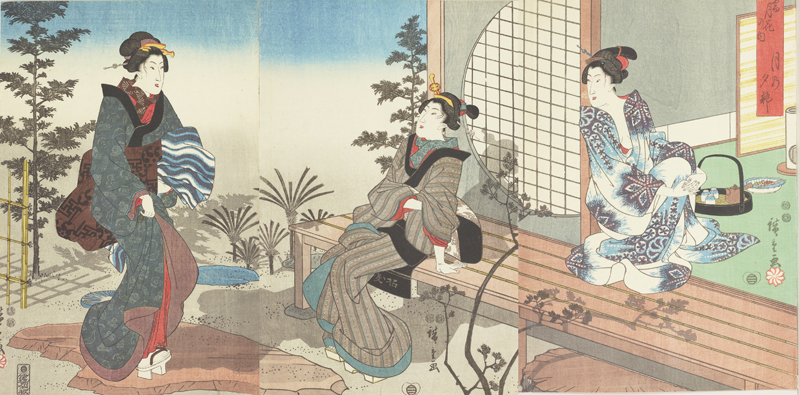 It goes without saying that the most famous works of Hiroshige are that of landscapes. However, he drew various genre of pictures, such as "pictures of beautiful women" (bijin-ga), "pictures of flowers and birds" (kacho-ga) and "farcical pictures" (giga), which are rarely presented in ordinary exhibitions. We will exhibit more than 200 pieces of works, including these genres, throughout the first and second exhibition (all pieces in display will be changed between the two exhibitions). Your perception of Hiroshige may change after experiencing this exhibition.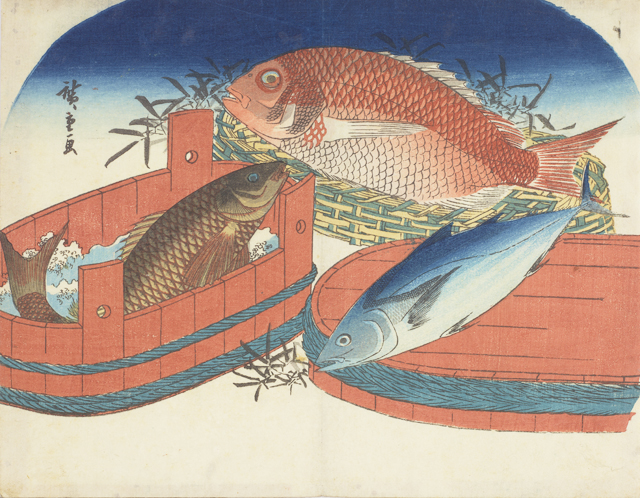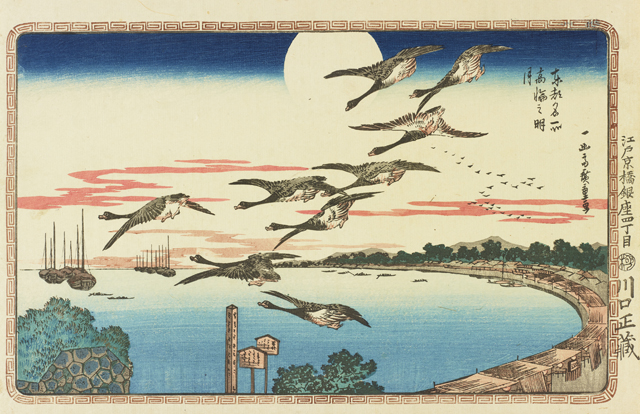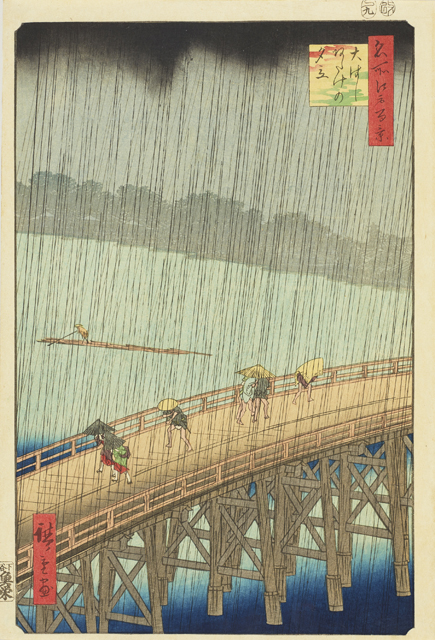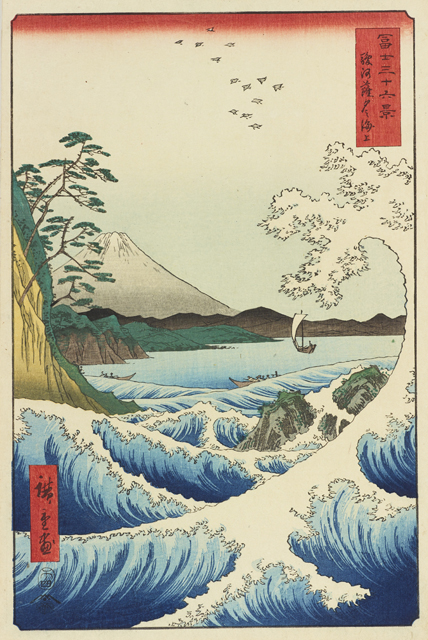 Highlight of the exhibition – Hiroshige Blue
Utagawa Hiroshige "Fifty-three Stations of the Tōkaidō Road : Dusk at Numazu" (1st term)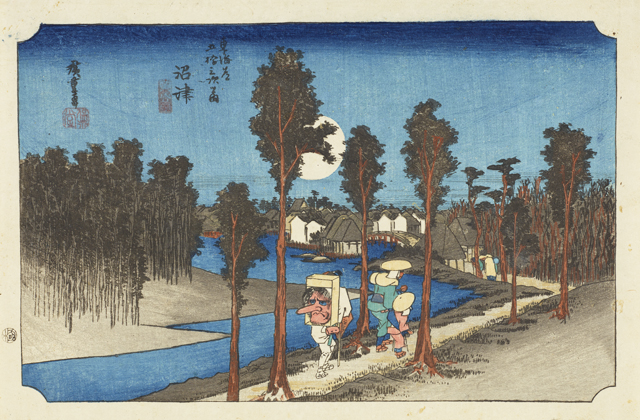 This is the only picture depicting a moonlit night among the famous series "Fifty-Three Stations of the Tōkaidō Road." It is dusk. Three travelers are walking in silence under the moonlight. Two nuns are walking in front of them. The man behind who has a big Tengu (long‐nosed goblin) mask on his back, is possibly going to visit the Konpira Temple. The travelers will arrive at Numazu station after crossing the bridge. Bero-ai (Berlin blue) imported from overseas is used as the color of the sky and the river, creating a beautiful world of blue called "Hiroshige blue". This masterpiece is fitting for autumn, the season in which we enjoy the full moon with tranquility.
Admission
| | |
| --- | --- |
| Adult | 1000 yen |
| University and High school students | 700 yen |
| Junior High School Students and below | Free |
Calendar
2018 September

| SUN | MON | TUE | WED | THU | FRI | SAT |
| --- | --- | --- | --- | --- | --- | --- |
| | | | | | | 1 |
| 2 | 3 | 4 | 5 | 6 | 7 | 8 |
| 9 | 10 | 11 | 12 | 13 | 14 | 15 |
| 16 | 17 | 18 | 19 | 20 | 21 | 22 |
| 23 | 24 | 25 | 26 | 27 | 28 | 29 |
| 30 | | | | | | |

2018 October

| SUN | MON | TUE | WED | THU | FRI | SAT |
| --- | --- | --- | --- | --- | --- | --- |
| | 1 | 2 | 3 | 4 | 5 | 6 |
| 7 | 8 | 9 | 10 | 11 | 12 | 13 |
| 14 | 15 | 16 | 17 | 18 | 19 | 20 |
| 21 | 22 | 23 | 24 | 25 | 26 | 27 |
| 28 | 29 | 30 | 31 | | | |