Comical Edo People by Utagawa Hirokage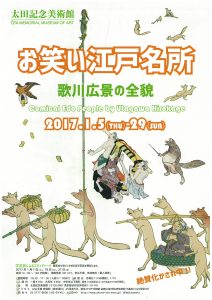 2017, January 5th~January 29th
(Will be closed on  January 10, 16, 23rd)
Laughing! Joking!! Goofing!!!  Silly Edokko Collection
Utagawa Hirokage's representative work "Comical Views of Famous Places in Edo" playfully depicts Edokko (Edo people) having fun and goofing around in the late Edo period. This exhibition is a valuable opportunity to see all 50 pieces of this series at once. Please enjoy the comical and entertaining pictures of the Edokko, which you cannot often see in the other ukiyo-e exhibitions.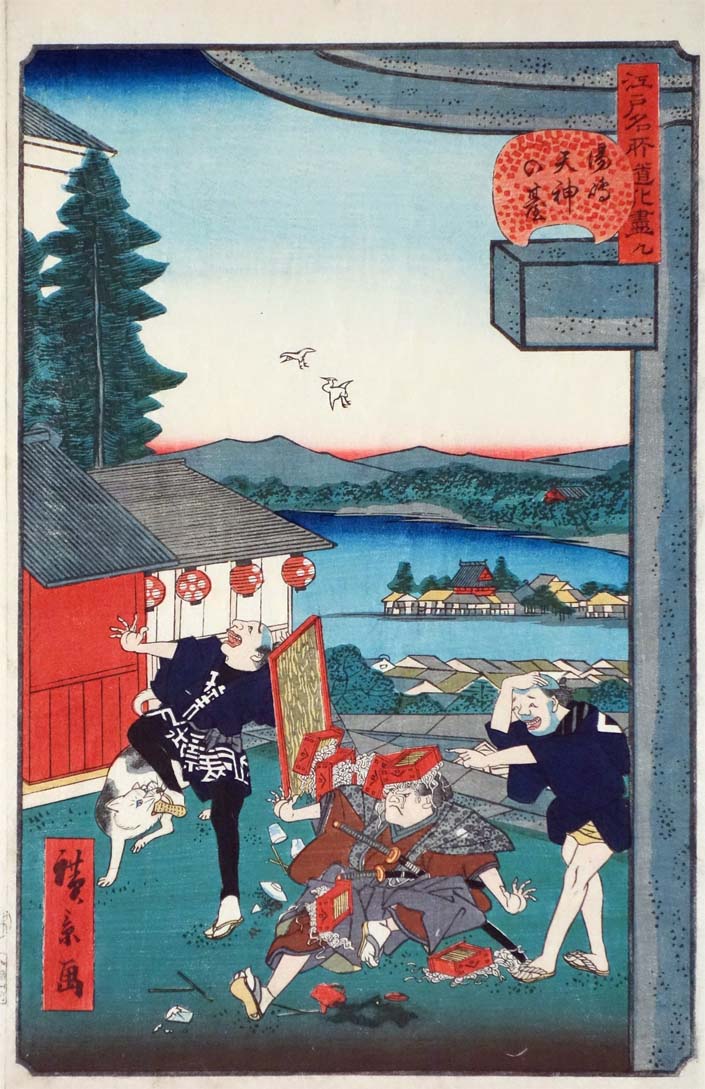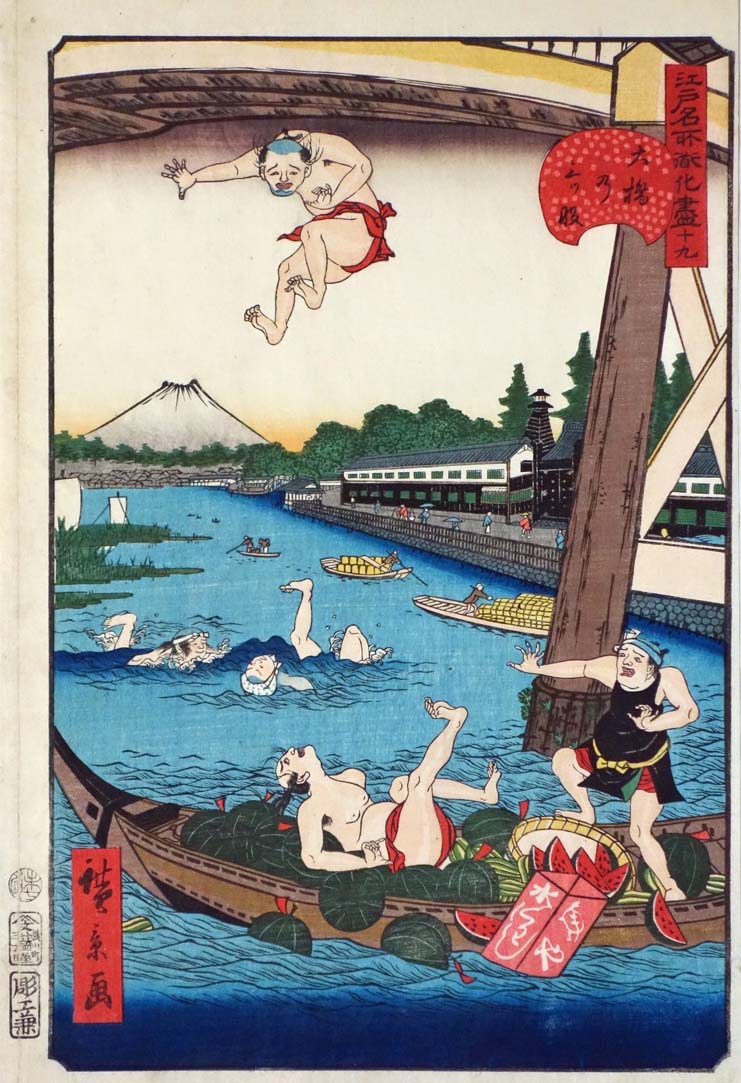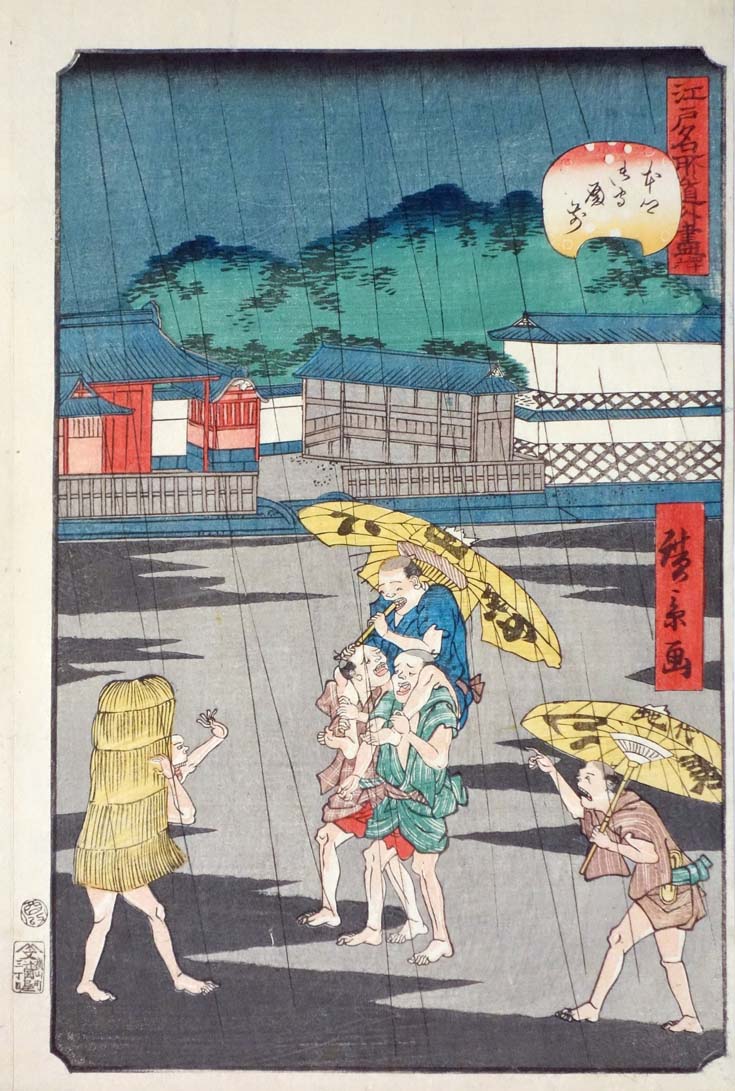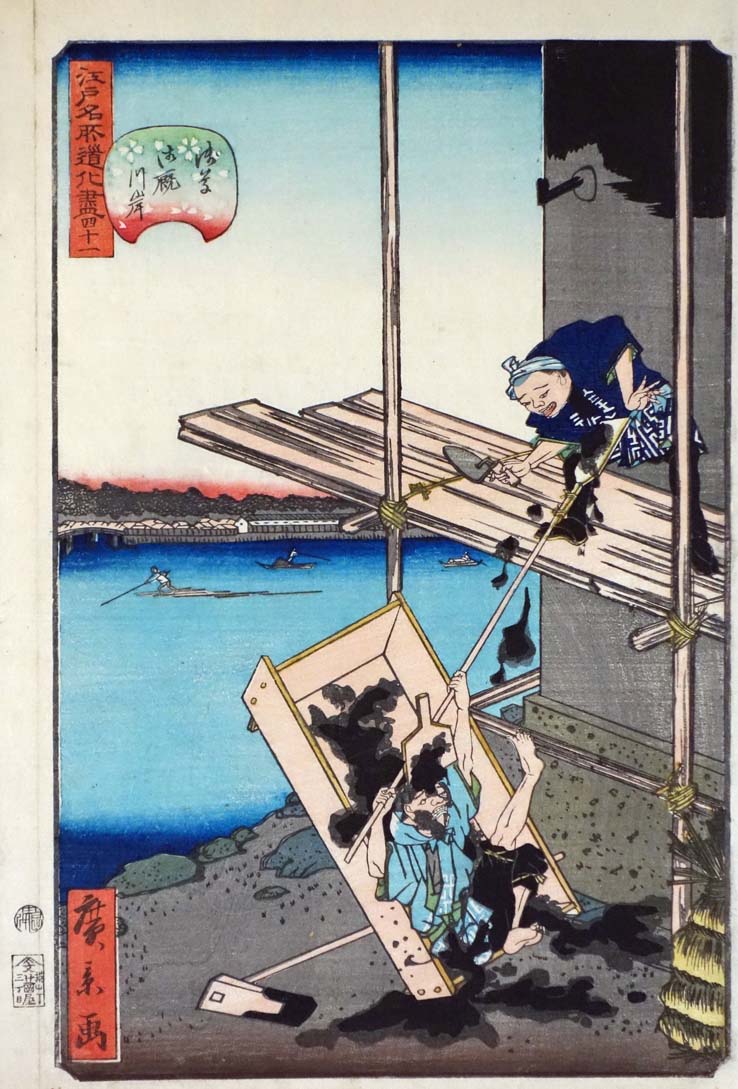 The First Exhibition to Explore the Details of the Mysterious Artist, Utagawa Hirokage
The only clear thing known about Utagawa Hirokage is that he was a pupil of Utagawa Hiroshige, and his true character is shrouded in mystery. In this exhibition, we will not only introduce all 50 pictures of his representative work "Comical Views of Famous Places in Edo", but also his other works such as "Great Battle of the Vegetables and the Fish" and "Thirty-six Views of Mt.Fuji From the Eastern Capital", to find out more about this mysterious painter.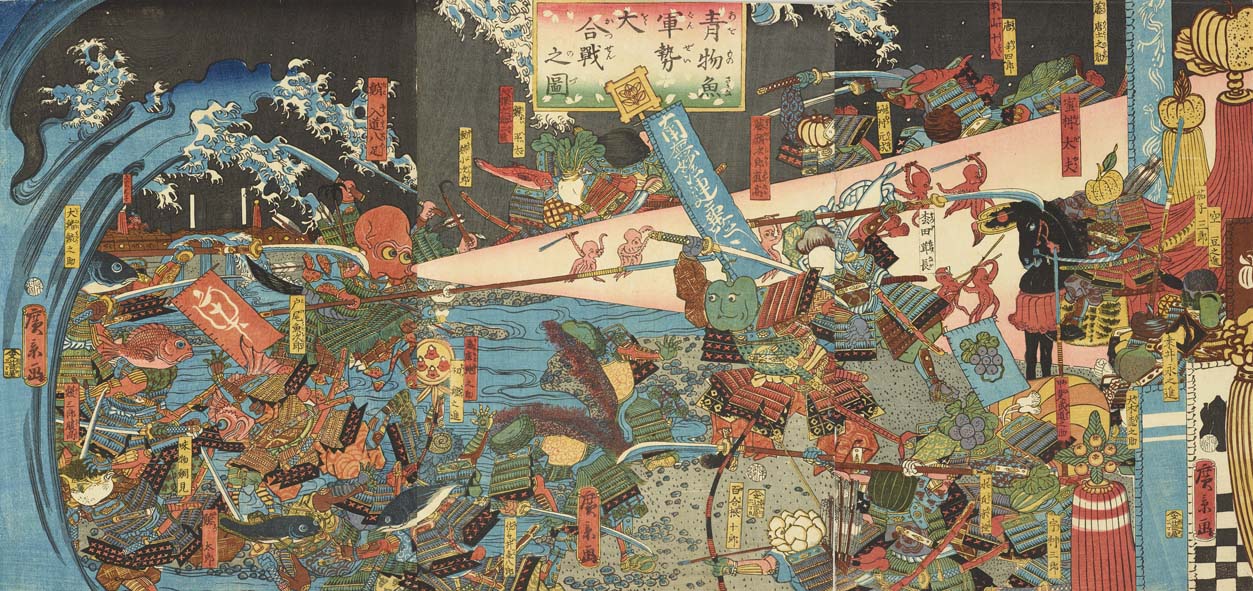 Copy? Respect? The Strange Relationship between Hokusai and Hiroshige
Several works in the series, "Comical Views of Famous Places in Edo" seem to refer to the works of Katsushika Hokusai and Utagawa Hiroshige. In this exhibition, we will also show the works of Hokusai and Hiroshige, in order to dig into the sources of Hirokage's ideas and the influences exerted on next generations by his two great predecessors.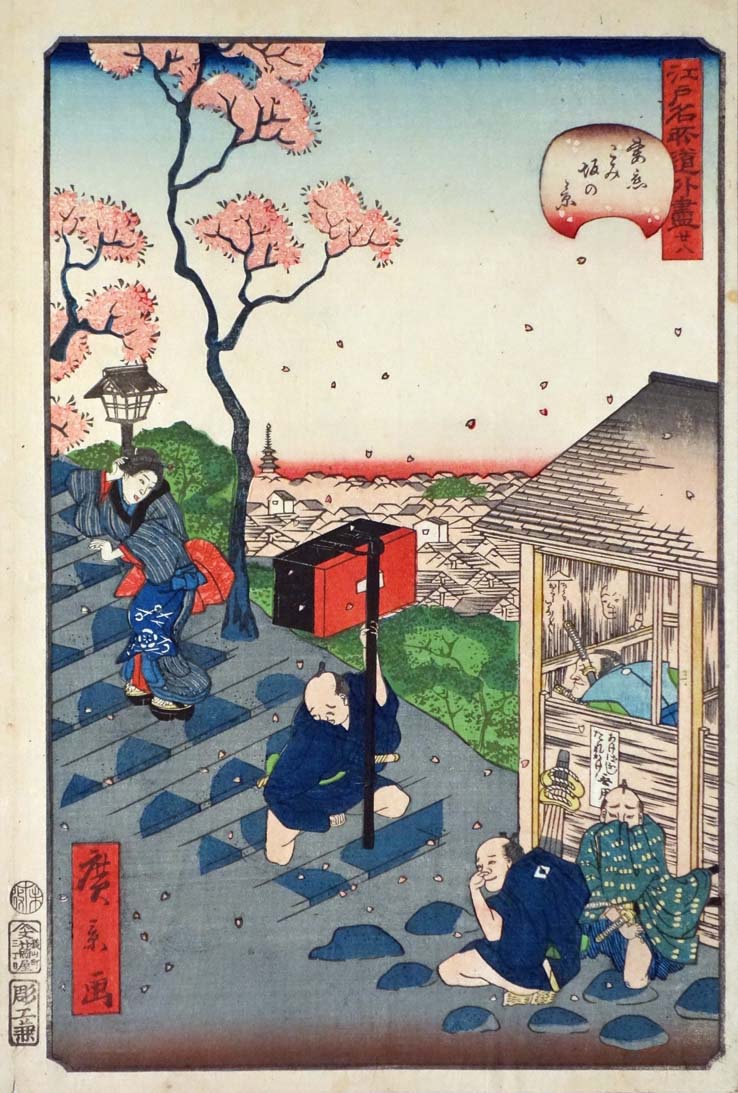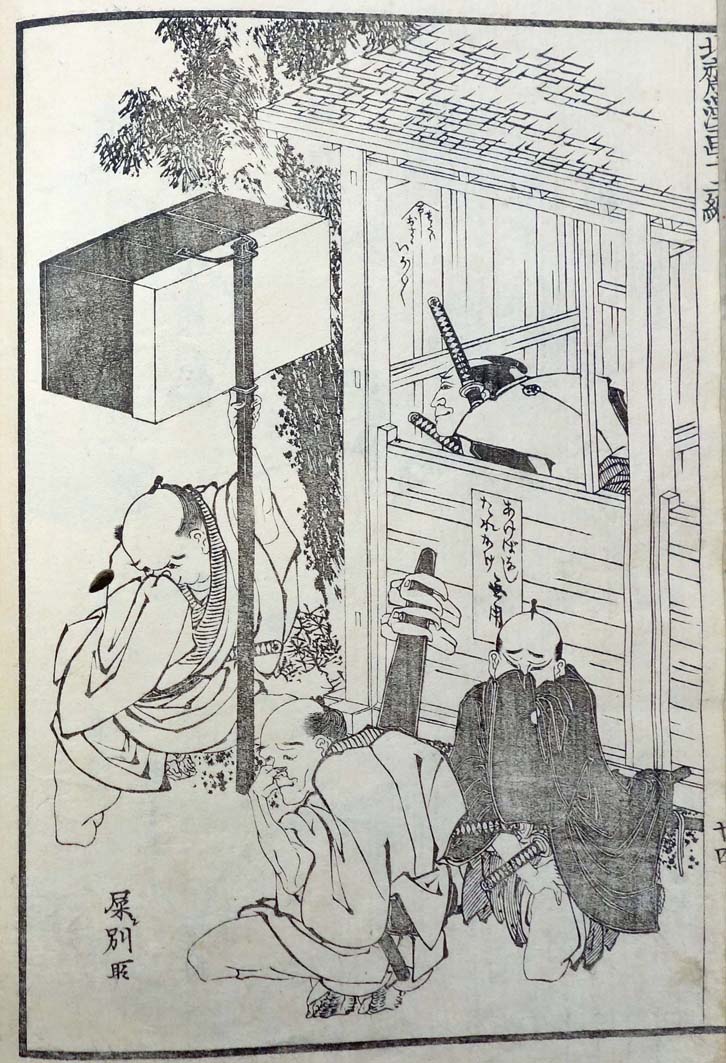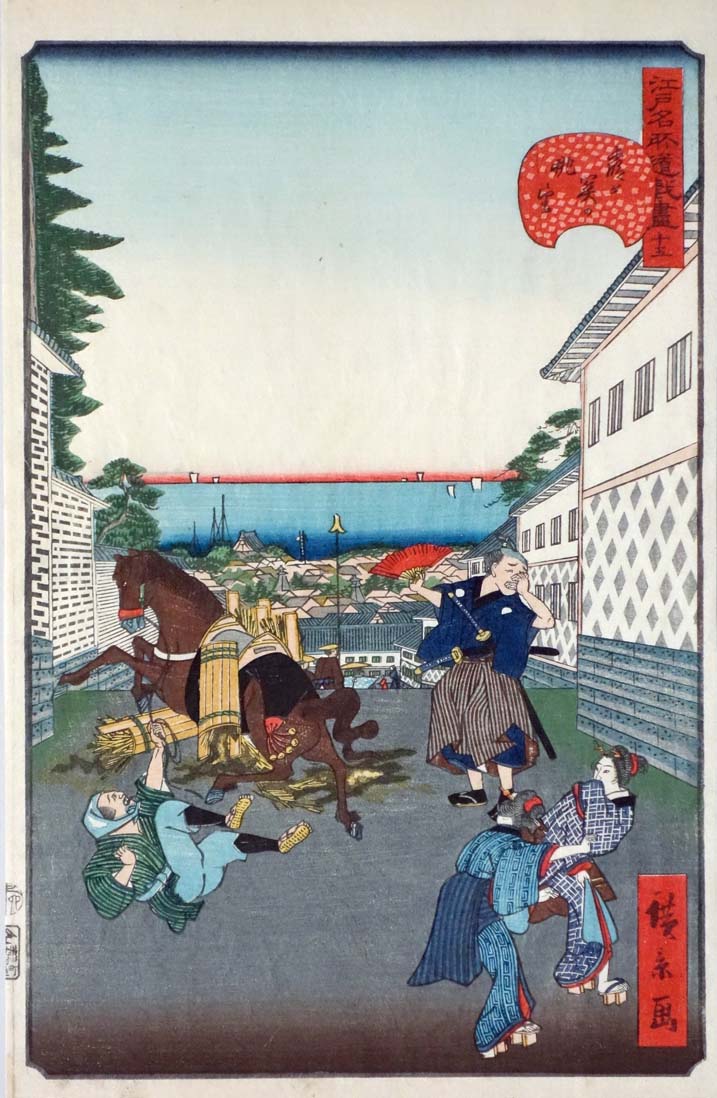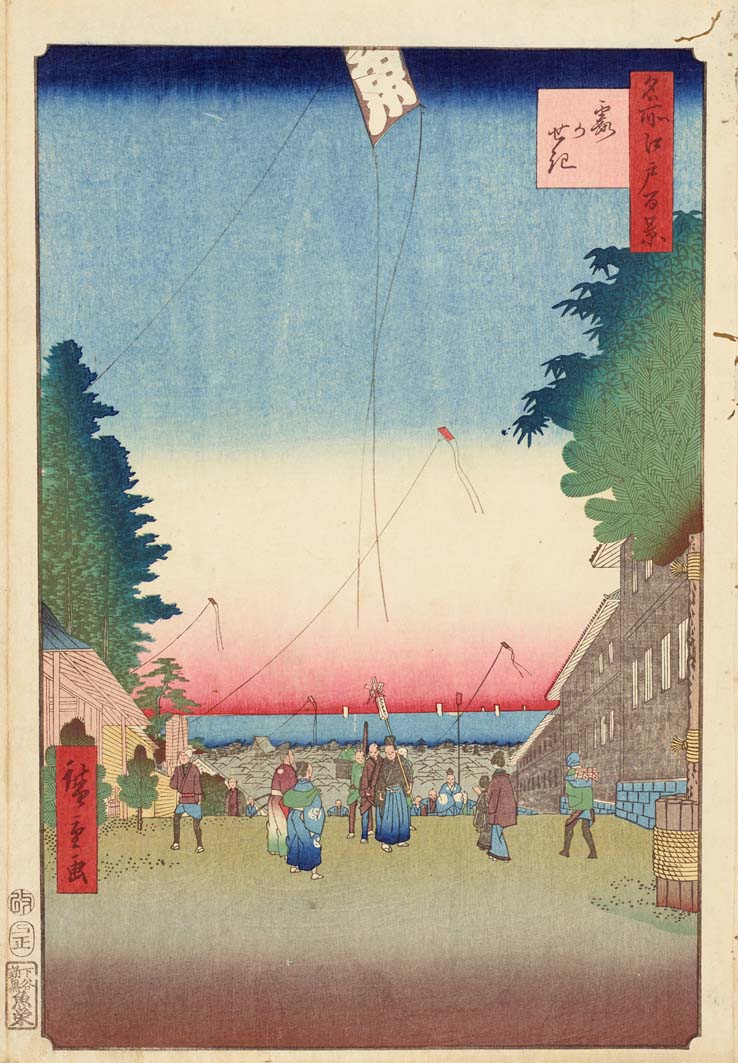 <Highlight Work of Exhibition>
Utagawa Hirokage "Comical Views of Famous Places in Edo : No. 16, Fox-fires at Ōji " (Ota Memorial Museum of Art)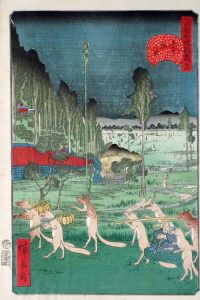 Foxes playing pretend a daimyō's (feudal lord's) procession. They are carrying pumpkin instead of travelling bags and holding a bamboo stick with hanging corn instead of a spear. The man sitting in a bamboo basket seems to be delighted, bewitched by the foxes to feel as if he were a feudal lord. The place is near the Ōji Inari Shrine. It was said that foxes gathered to the Shrine on New Year's Eve, and farmers forecasted the harvest of next year depending on the numbers of foxfires they see.
Translation Supervised by Japanese Students Association of Princeton University
Admission
| | |
| --- | --- |
| Adult | 700 yen |
| University and High school students | 500 yen |
| Junior High School Students and below | Free |
Calendar




2017, January

| SUN | MON | TUE | WED | THU | FRI | SAT |
| --- | --- | --- | --- | --- | --- | --- |
| 1 | 2 | 3 | 4 | 5 | 6 | 7 |
| 8 | 9 | 10 | 11 | 12 | 13 | 14 |
| 15 | 16 | 17 | 18 | 19 | 20 | 21 |
| 22 | 23 | 24 | 25 | 26 | 27 | 28 |
| 29 | 30 | 31 |   |   |   |   |