Animals in Ukiyo-e
2022, July 30th-September 25th
1st Term July 30th-August 28th
2nd Term September 2nd-25th
Will be closed on August 1, 8, 15, 22, 29-31, September 1, 5, 12, 20.
Opening Hours : 10:30 a.m. – 5:30 p.m. (Last Admission: 5:00 p.m.)
Admission : Adult ¥1200 / University and High school students ¥800 / Junior High School Students and below
Cute! Funny! A Little Weird? -Enjoy the Rich Variety of Expressions of Animals!
Various animals appear in ukiyo-e. In addition to pets such as cats and dogs, and domestic animals such as horses and cows, those believed to be good omens, such as cranes and turtles, imported from overseas, such as elephants and leopards, and even catfish, based on the superstition that catfish cause earthquakes, are depicted in ukiyo-e.   
Moreover, ukiyo-e artists used their imagination to create anthropomorphic creatures that do not exist in this world, such as Torakoishi.   
Ukiyo-e is indeed a treasure trove of animal representations. This exhibition introduces approximately 160 works, offering visitors the opportunity to enjoy the rich variety of animals in ukiyo-e. This summer, how about visiting the museum and enjoying the cute and a little bit strange ukiyo-e animals?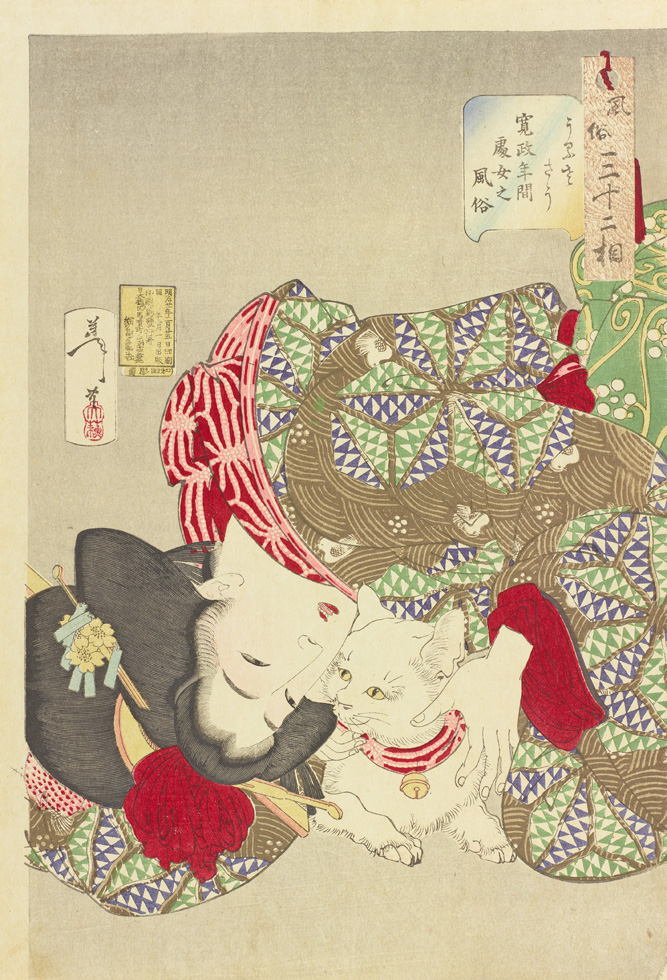 Ukiyo-e Reveals the Deep Relationship Between the People of Edo and Animals
Ukiyo-e portrays people doting on their pets as we do today. On the other hand, ukiyo-e also shows us aspects of the lives of people and animals that are no longer seen today, such as a dog snatching fish from a fishmonger, and a traveler on a horse. Ukiyo-e also depicts various scenes of everyday life, such as horned owls, which were drawn because they were thought to prevent smallpox, and dogs that were said to have visited Ise Shrine in place of their owners. Here we would like to introduce the activities of animals that sometimes exceed the imagination of modern people.
Legendary Spiritual Beasts and Strange Creatures
Imaginary creatures appear in legends and tales, such as dragons believed to have the spiritual power to bring rain, white elephants believed to be the vehicles of Fugen Bosatsu (Samantabhadra), and haunted foxes and cats, also played an important role in ukiyo-e. But that's not all. Ukiyo-e also features strange creatures such as Torakoishi, which is a combination of a tiger and a stone, and mysterious creatures that are combinations of all the signs of the Chinese zodiac. Experience the aesthetic sense of the people of Edo, who enjoyed not only pictures of traditional animals, but also delightful works created with the free imagination of the artists.
Dancing, Working, and Dressing Up – Active Anthropomorphic Animals
Among ukiyo-e depicting animals, the most popular genre is anthropomorphic animals. In this exhibition, you will see rabbits wrestling, cats doing business and studying, birds fighting and having a party, octopuses dancing, and many more. The animals behaving like humans are very charming and humorous, and in addition, they show us things about the lifestyle and customs of the time. Please enjoy their charm.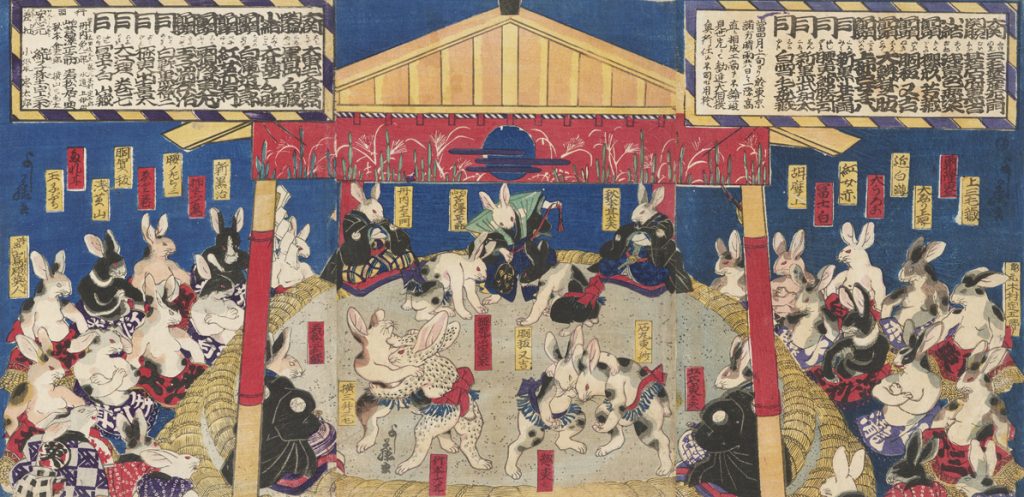 From the Masters to Minor Artists – Animal Pictures by 40 Artists
The highlights of this exhibition include masterpieces by famous ukiyo-e artists, such as "Tiger in the Rain," a representative work of Hokusai's later years, and Hiroshige's "One Hundred Famous Views of Edo: Asakusa Ricefields and Torinomachi Festival", one of the most popular ukiyo-e drawn cats. Moreover, the number of ukiyo-e artists introduced in this exhibition reaches 40. Visitors can enjoy not only famous works, but also the works of unknown animal picture masters such as Utagawa Yoshifuji, who specialized in cute anthropomorphic animals, and Utagawa Yoshikazu, the creator of "Torakoishi", who displayed an outstanding sense of humor.
Highlight of the Exhibition
Kikukawa Eizan "Tiger" (1st term)

The tiger has been a familiar animal for Japanese people for a long time, despite the fact that it never inhabited Japan. Although sometimes depicted as a raging figure confronting a dragon, in this work, a very charming tiger appears from behind a bamboo tree with large, gawking eyes, a smiling mouth, and plump paw pads. The vertically long surface of this picture is a combination of two normal size ukiyo-e prints. This format was also called "kakemono-e", and was sometimes displayed as a hanging scroll with a frame around it. The tigers in this work may have had just the right degree of friendliness for the people of Edo to display in their house for enjoyment.
---
Admission
| | |
| --- | --- |
| Adult | 1200 yen |
| University and High school students | 800 yen |
| Junior High School Students and below | Free |
Calendar
2022 / 07
4,11,19,25-29
| SUN | MON | TUE | WED | THU | FRI | SAT |
| --- | --- | --- | --- | --- | --- | --- |
2022 / 08
1,8,15,22,29-31
| SUN | MON | TUE | WED | THU | FRI | SAT |
| --- | --- | --- | --- | --- | --- | --- |
2022 / 09
1,5,12,20,26-30
| SUN | MON | TUE | WED | THU | FRI | SAT |
| --- | --- | --- | --- | --- | --- | --- |