"Katsukawa Shunshō -Master of Hokusai"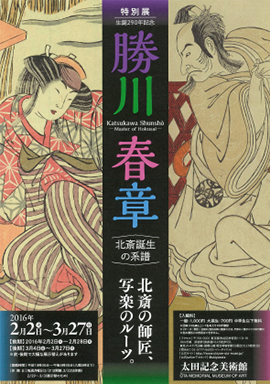 Special Exhibition
2016, February 2nd ~March 27th
[1st Term] February 2nd~28th
[2nd Term] March 4th ~27th
※Will be closed on February 8,15,22,29th / March 1~3,7,14,22nd
The Master of Hokusai, The Origins of Sharaku
Unearthing the Unnamed Titan, Katsukawa Shunshō, and His Career as an Artist
 Katsukawa Shunshō (1726?~1792) was an ukiyo-e artist who became popular for his realistic portraits of kabuki actors and sumo wrestlers. He is also known for his intricate nikuhitsu-ga (paintings drawn on cloth or paper by hand) of beautiful women that he worked on in his later years. Some of Shunshō's successful disciples were Katsukawa Shunkō, Katsukawa Shun'ei, Katsukawa Shunchō. The Katsukawa School wielded a big influence on the world of ukiyo-e. The famous ukiyo-e artist, Katsushika Hokusai was also one of Shunsho's pupils, and took upon the name, Katsukawa Shunrō in his younger days. Shunsho's method of portraying of kabuki actors affected the style of ukiyo-e artists of later generations such as Tōshūsai Sharaku and Utagawa Toyokuni. Hence, without Shunshō, Hokusai and Sharaku could not be appeared. In 2016, we will celebrate the 290th year anniversary since Katsukawa Shunshō's birth. In this exhibition, we will display masterpieces of wood-block prints by Shunshō, as well as introduce works of ukiyo-e artists such as Hokusai and Sharaku who received the influence of Shunshō. We aim to uncover the work, life, and legacy of Shunsho here.
1. Roots of Sharaku ―Pioneer of the Kabuki Actor Portrait
  Katsukawa Shunsho, begins to concentrate his work on portraits of Kabuki actors in the Meiwa era (1764-1772). In collaboration with Ippitsusai Buncho, the style they produced was unlike the Torii style of art which was popular at the time. This art depicted the face, body, and costume of Kabuki actors in a very realistic manner. This new style of realistic portraits of the actors' bodies and clothes by the Katsukawa school become the new mainstream for Kabuki portraits, and here is where disciples such as Katsukawa Shunko, Katsukawa Shunei, Toshusai Sharaku, and Utagawa Toyokuni thrived. In that sense, it can be said that much of the popularity of Kabuki art throughout the late Edo period can be attributed to Shunsho's success.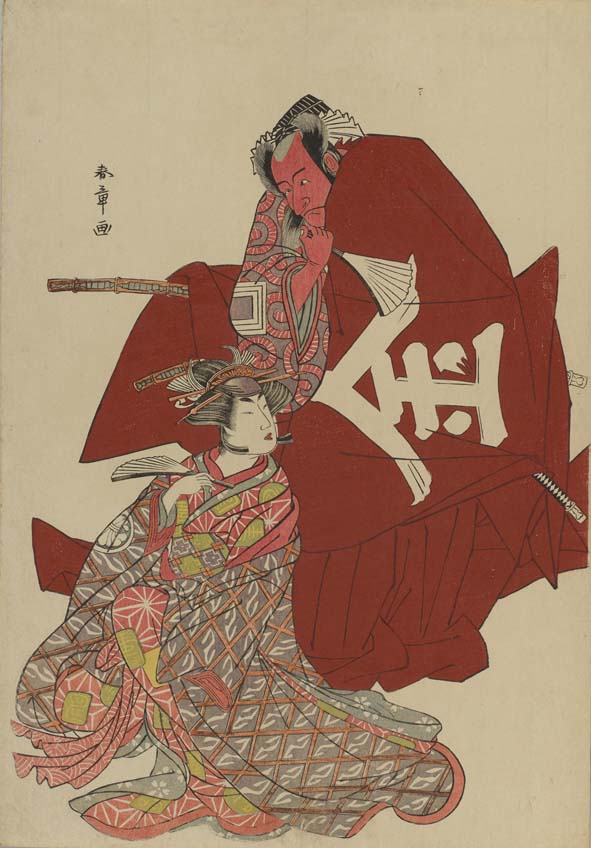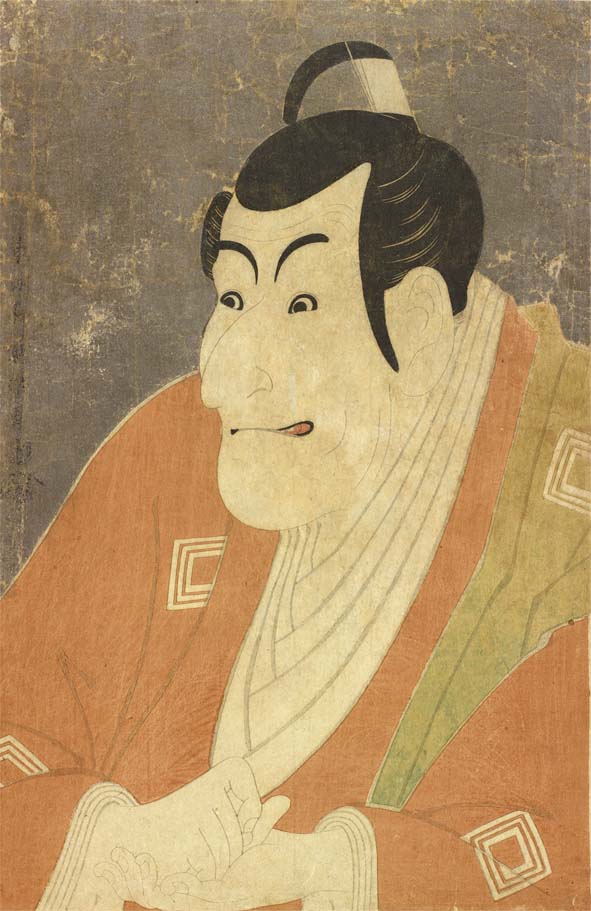 2.Endless Challenge –Sumo-e (pictures of sumo wrestlers) ・Bijin-ga (pictures of beautiful women)・Musha-e (warrior picture)
Shunsho's career as an artist started late, and is estimated to have begun when he was around forty years old. Portraits of Kabuki actors by Shunsho and the Katsukawa school of art gained much popularity, but Shunsho was not satisfied with it, and worked on many other genres such as Bijin-gas (portraits of beautiful women) and Musha-es (warrior portraits). Among those were the works he produced in his fifties, such as sumo-e which is said to have been established as a genre by Shunsho, and nikuhitsu-bijinga paintings, allowing us to observe Shunsho's mentality to keep on challenging himself even at an old age.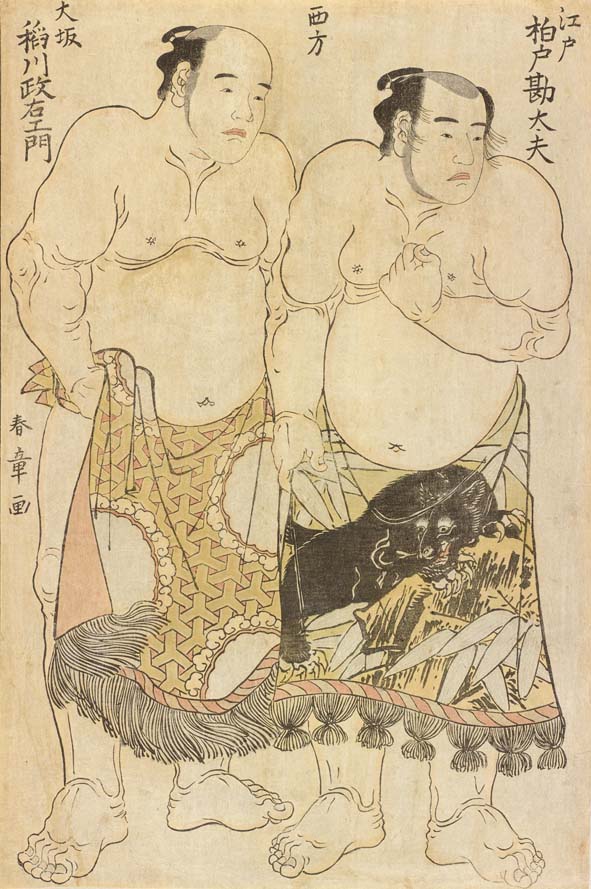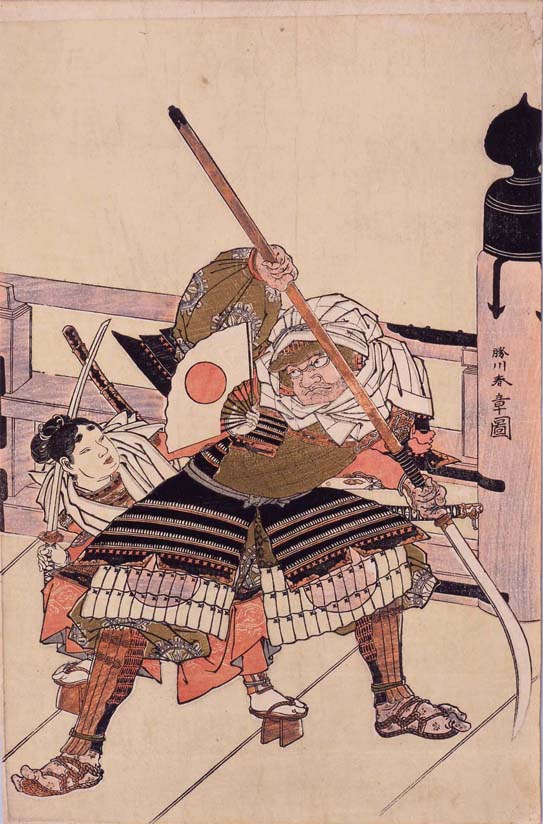 3.Hokusai's Master and Leader of the Katsukawa School of Art
The charismatic Shunsho attracted many disciples. Katsukawa Shunko, Shunsho's foremost pupil, faithfully followed his artistic style. Katsukawa Shun'ei was known for his soft, refined painting style, while Katsukawa Shuncho depicted beautiful women in the style of Torii Kiyonaga. While these three are the most famous of Shunsho's disciples, the renowned ukiyo-e artist, Katsushika Hokusai was once a student of his as well. Hokusai entered the Katsukawa School during his youth and painted under the pseudonym Katsukawa Shunro until he was about 35 years old. Hokusai, said to have eventually disagreed with the older disciples such as Shunko, left the school Shunsho's death. After much experience afterwards, Hokusai creates his series of masterpieces, such as the "Thirty-six Views of Mt. Fuji," at over 70 years old.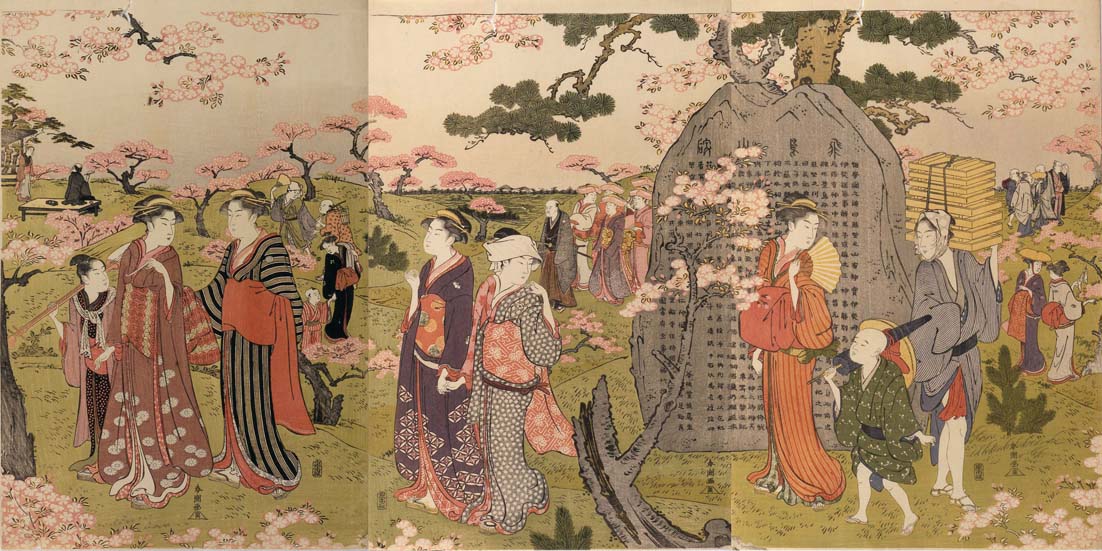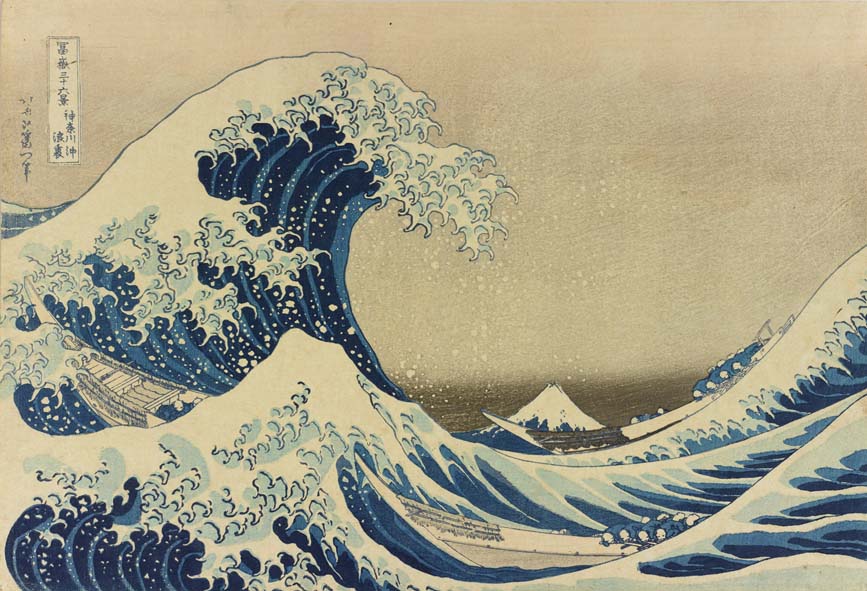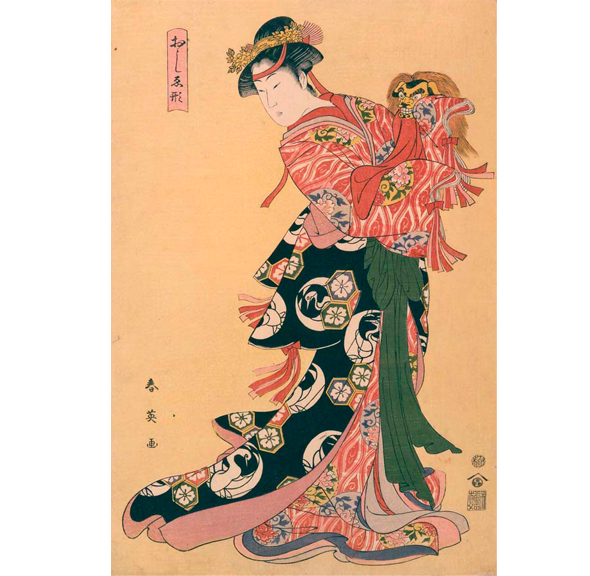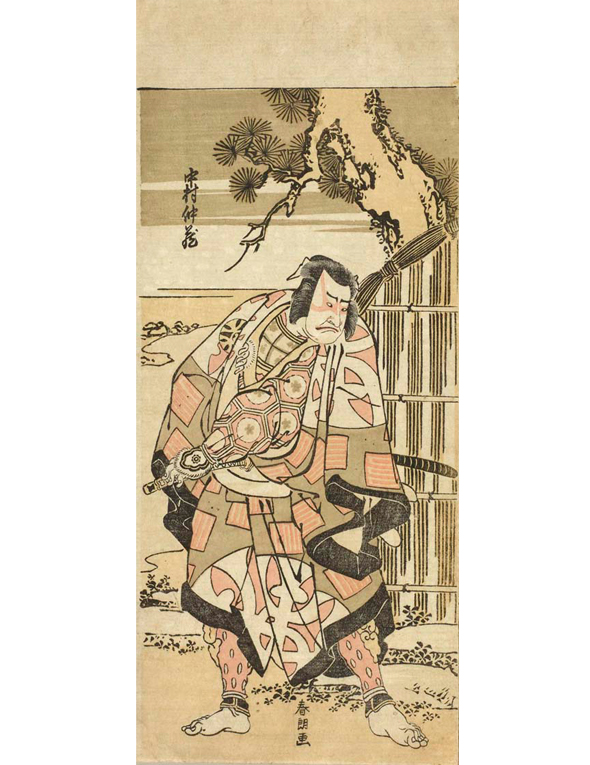 <Highlight Work of Exhibition>
Katsukawa Shunshō " July: the Star Festival "
(Exhibited in the 1st term) (C.1764~1772)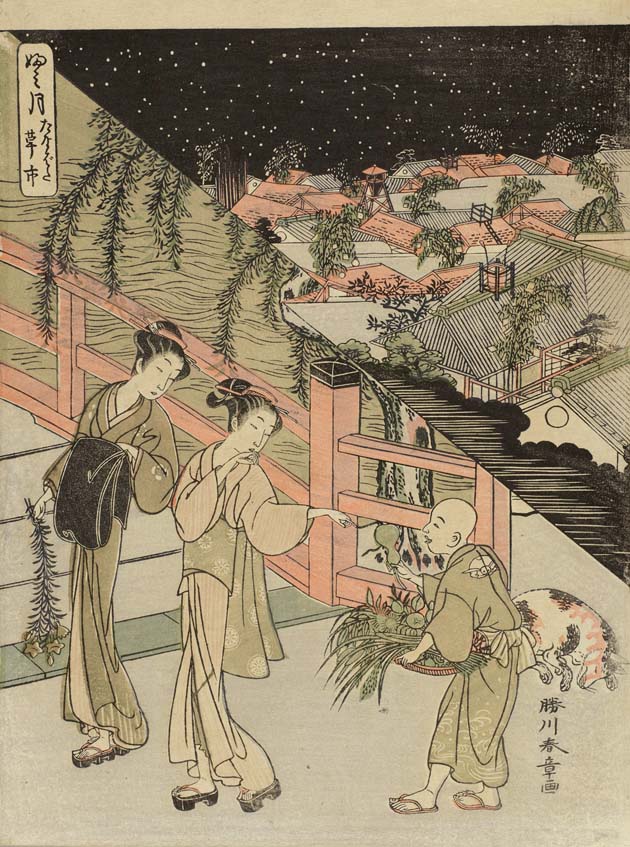 Our attention is drawn to the diagonal line bisecting the image. It is part of the unique series that depicts seasonal events of the twelve seasons, showing the images of the day and images of the night. This is a collaborative series of twelve works, four of which Shunsho did, and the then popular kabuki painters Kitao Shigemasa and Utagawa Toyoharu also contributing four pieces each.
 The artwork Shunsho presents here is one of July. In the upper right side is the image of the Star Festival, and the bottom left is the market for the bon festival. The Star Festival is still an ongoing event of July today. In this work, the star-festival decorations on the roofs of houses float in the wind under the starry sky. On the right side of the picture depicting the Bon Festival, a flower-seller boy is talking to two women. The dog under the bridge seems to sleep in comfort. This work can be said to be the masterpieces of Shunsho's early works on bijin-gas.
Translation Supervised by Japanese Students Association of Princeton University
Admission
| | |
| --- | --- |
| Adult | 1000yen |
| University and High school students | 700yen |
| Junior High School Students and below | FREE |
Calendar
2016 February

Special Exhibition

| SUN | MON | TUE | WED | THU | FRI | SAT |
| --- | --- | --- | --- | --- | --- | --- |
| | 1 | 2 | 3 | 4 | 5 | 6 |
| 7 | 8 | 9 | 10 | 11 | 12 | 13 |
| 14 | 15 | 16 | 17 | 18 | 19 | 20 |
| 21 | 22 | 23 | 24 | 25 | 26 | 27 |
| 28 | 29 | | | | | |

2016 March

Special Exhibition

| SUN | MON | TUE | WED | THU | FRI | SAT |
| --- | --- | --- | --- | --- | --- | --- |
| | | 1 | 2 | 3 | 4 | 5 |
| 6 | 7 | 8 | 9 | 10 | 11 | 12 |
| 13 | 14 | 15 | 16 | 17 | 18 | 19 |
| 20 | 21 | 22 | 23 | 24 | 25 | 26 |
| 27 | 28 | 29 | 30 | 31 | | |