Transportation in Ukiyo-e – Cars, Ships and Railways
Discover the Transportation in the Edo Period through Ukiyo-e
Transportation is an essential part of our daily lives. In the Edo period, there were various transport systems by manpower, horses, and boats. Edo was a city of water, surrounded by Edo Bay and Sumida River, with many waterways running horizontally and vertically. Boats were an essential means of transportation for the people of Edo and shipping business between Edo and other cities flourished. On land, highways such as the Tokaido Road were developed for business transportation and became popular among the common people as a route for traveling long-distance. The various use of transportation is vividly depicted by ukiyo-e artists such as Utagawa Hiroshige and Katsushika Hokusai.
This year also commemorates the 150th anniversary of the introduction of railroads. Ukiyo-e in the Meiji era (1868-1912) actively depicted steam locomotives and railroads, which were new encounters to the people. The railroad system along with horse-drawn carriages, rickshaws and other new forms of transportations were symbols of civilization.
While transportation logistics using the internet has developed in recent years due to COVID-19, this exhibition focuses on the various means of transportation in the Edo period, as a driving force of modernization.
The Reality of the Lives in Edo uncovered through Transportion
Let's take a look at Edo depicted by artists such as Utagawa Hiroshige and Katsushika Hokusai from the perspective of transport. On one hand, ukiyo-e depicts various figures who are "transporting" something of their own. We notice people serving food at restaurants, selling goods on the street, and carrying luggage on a trip. On the other hand, ukiyo-e also depicts a wide range of vehicles as means of transportation. Ferry boats for crossing rivers and ships used as taxis to visit pleasure quarters took advantage of the topography of Edo with many waterfront areas. People and horses carried luggage for travelers in relays between inns, and couriers delivered documents from Edo to Osaka in only a few days. In a time when there were no cars or trains, there was a more extensive transportation system.
By paying close attention to the various forms of transportation in ukiyo-e, we can understand how the people of Edo lived.
150th Anniversary of the Birth of the Railroads- Various Vehicles in Ukiyo-e are on Display
In October 1872, the railroad connecting Shimbashi and Yokohama opened. October 2022 marks the 150th anniversary. Since about two years before the actual inauguration of the railroad system, ukiyo-e artists started to actively depict steam locomotives and railroads with imagination. The large number of ukiyo-e published reveals the enthusiasm for the new infrastructure. This exhibition features not only the railroad system, but also the wide variety of transportation in ukiyo-e such as horse-drawn carriages, rickshaws, boats, balloons, and other vehicles.
Admission
Calendar
Animals in Ukiyo-e
Cute! Funny! A Little Weird? -Enjoy the Rich Variety of Expressions of Animals!
Various animals appear in ukiyo-e. In addition to pets such as cats and dogs, and domestic animals such as horses and cows, those believed to be good omens, such as cranes and turtles, imported from overseas, such as elephants and leopards, and even catfish, based on the superstition that catfish cause earthquakes, are depicted in ukiyo-e.   
Moreover, ukiyo-e artists used their imagination to create anthropomorphic creatures that do not exist in this world, such as Torakoishi.   
Ukiyo-e is indeed a treasure trove of animal representations. This exhibition introduces approximately 160 works, offering visitors the opportunity to enjoy the rich variety of animals in ukiyo-e. This summer, how about visiting the museum and enjoying the cute and a little bit strange ukiyo-e animals?
Ukiyo-e Reveals the Deep Relationship Between the People of Edo and Animals
Ukiyo-e portrays people doting on their pets as we do today. On the other hand, ukiyo-e also shows us aspects of the lives of people and animals that are no longer seen today, such as a dog snatching fish from a fishmonger, and a traveler on a horse. Ukiyo-e also depicts various scenes of everyday life, such as horned owls, which were drawn because they were thought to prevent smallpox, and dogs that were said to have visited Ise Shrine in place of their owners. Here we would like to introduce the activities of animals that sometimes exceed the imagination of modern people.
Legendary Spiritual Beasts and Strange Creatures
Imaginary creatures appear in legends and tales, such as dragons believed to have the spiritual power to bring rain, white elephants believed to be the vehicles of Fugen Bosatsu (Samantabhadra), and haunted foxes and cats, also played an important role in ukiyo-e. But that's not all. Ukiyo-e also features strange creatures such as Torakoishi, which is a combination of a tiger and a stone, and mysterious creatures that are combinations of all the signs of the Chinese zodiac. Experience the aesthetic sense of the people of Edo, who enjoyed not only pictures of traditional animals, but also delightful works created with the free imagination of the artists.
Dancing, Working, and Dressing Up – Active Anthropomorphic Animals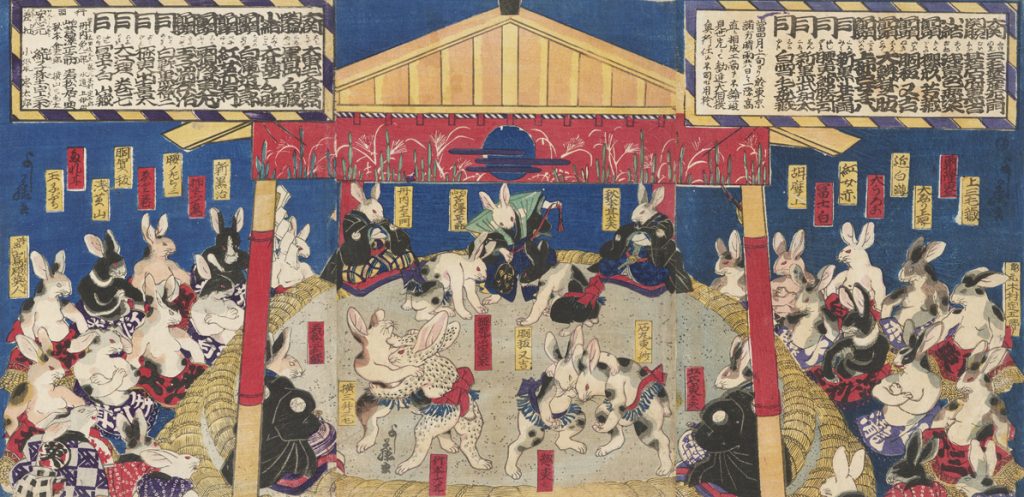 From the Masters to Minor Artists – Animal Pictures by 40 Artists
The highlights of this exhibition include masterpieces by famous ukiyo-e artists, such as "Tiger in the Rain," a representative work of Hokusai's later years, and Hiroshige's "One Hundred Famous Views of Edo: Asakusa Ricefields and Torinomachi Festival", one of the most popular ukiyo-e drawn cats. Moreover, the number of ukiyo-e artists introduced in this exhibition reaches 40. Visitors can enjoy not only famous works, but also the works of unknown animal picture masters such as Utagawa Yoshifuji, who specialized in cute anthropomorphic animals, and Utagawa Yoshikazu, the creator of "Torakoishi", who displayed an outstanding sense of humor.
---
Admission
Calendar
From the Genpei War to the Kamakura Period -Kiyomori, Yoshitsune and Yoritomo
Tracing the Rise and Fall of Samurai Warriors through Ukiyo-e
The Jishō-Juei Rebellion (1180-85) that at the end of the Heian period known as the "Genpei War" was a monumental battle between the warriors led by Minamoto no Yoritomo and the the Taira clan. Even after Yoritomo had conquered the Taira clan and established the Kamakura shogunate, a period of power struggles continued between Yoritomo's successors and the influential court nobles, especially the Hōjō clan.   
Stories of the survival wars of samurai families became popularized as military chronicles such as "The Tale of the Heike" and "Azuma Kagami". They were widely known as subjects of novels and kabuki plays in the Edo period, and were depicted in numerous ukiyo-e works as popular subjects.   
Recently, the time period has been recapturing popular attention, through animation and TV dramas. This exhibition will focus on this time period, to tell the story of the rise and fall of samurai warriors through ukiyo-e.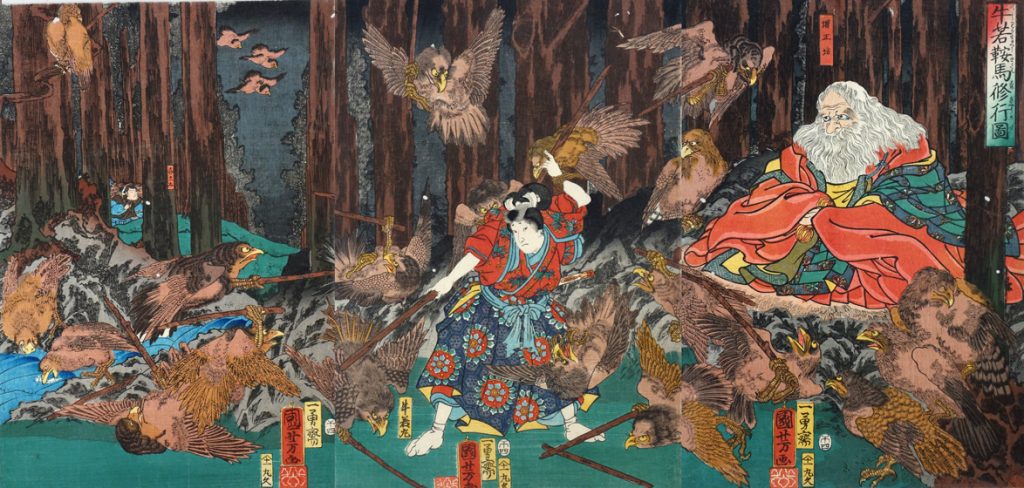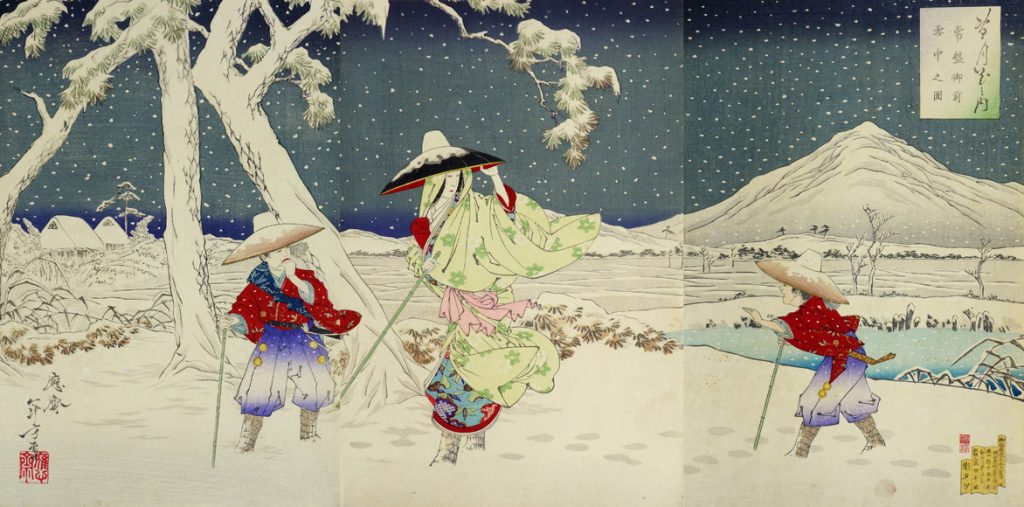 Episodes of Glory and Tragedy that Fascinated People in Edo
The Taira clan established by Taira no Kiyomori, despite its brief era of glory, continued to fall and finally perished at Dannoura. Minamoto no Yoshitsune who destroyed the Taira clan with his genius military strategy, had to die an unwilling death as he provoked his elder brother Yoritomo's antipathy. Many prominent vassals who supported the early times of the Kamakura shogunate with good faith perished in the struggle for power. The lives of those who lived during such turbulent times were often filled with spectacular victories and tragedies at the same time. These dramatic narratives, such as those of Yoshitsune, were featured in novels, kabuki plays, and ukiyo-e, and captivated the attention of the people during the Edo period.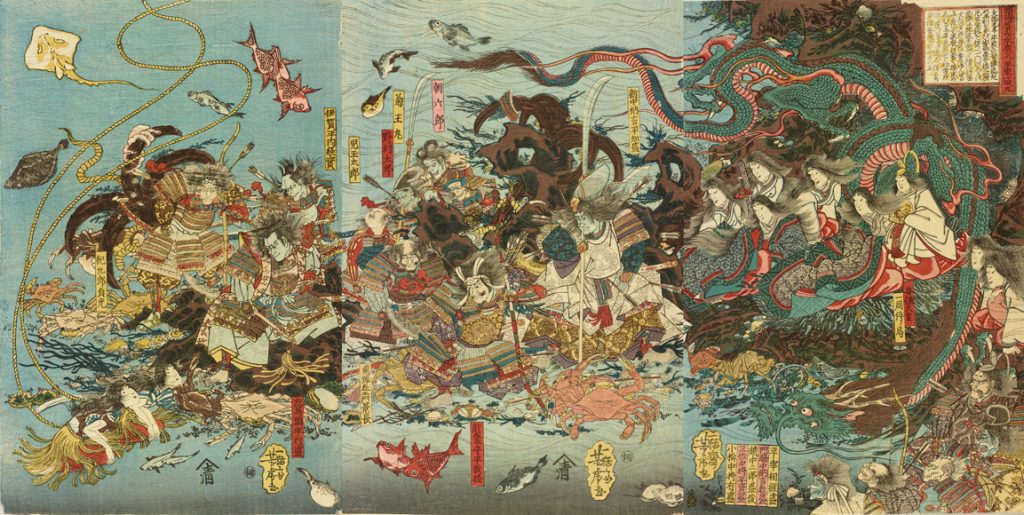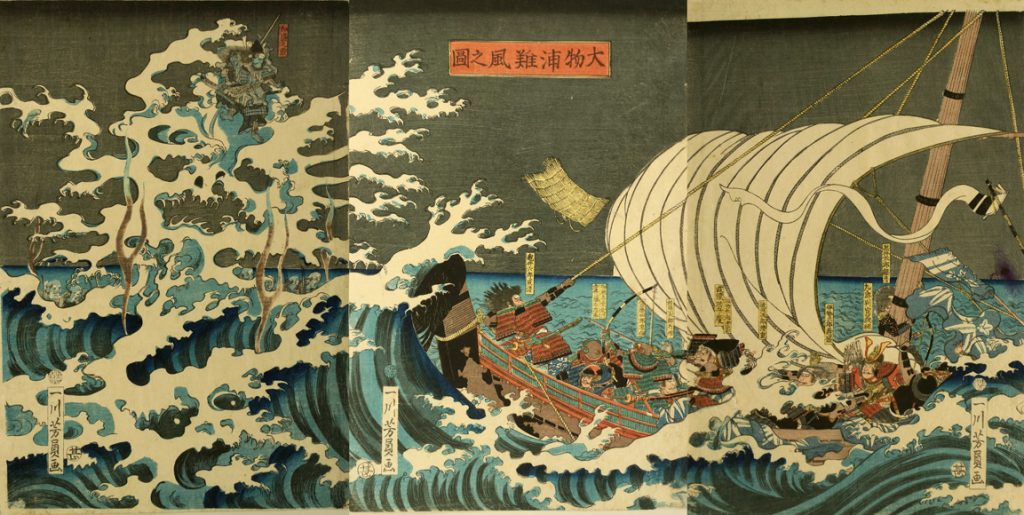 Kuniyoshi, Yoshitoshi and Hiroshige – Heroes Portrayed by Ukiyo-e Artists
Utagawa Kuniyoshi, a leading artist of musha-e, drew many warriors of the Genpei period. He depicted various stories from this time period with a familiar yet powerful style. This fascination was carried on by his pupils, especially Tsukioka Yoshitoshi, who continued to depict the subject with sophisticated style through the Meiji period.  
This section exhibits various works, including the grandeur musha-e and caricatures by Utagawa Hiroshige, the master of landscape pictures, to demonstrate the rich and unique styles of ukiyo-e artists.
Highlight of the Exhibition
Tsukioka Yoshitoshi "Mirror of Famous Commanders of Great Japan: Commander Minamoto no Yoritomo"
Spreading their wings, a flock of cranes is taking off into the sky. Minamoto no Yoritomo and his attendants look up at them. In August 1187, two years after Yoshitsune and his followers defeated the Taira clan in the Battle of Dannoura, Yoritomo held a Hōjō-e at Tsurugaoka Hachiman-gū Shrine in Kamakura. Hōjō-e is a ceremony that releases captured creatures, based on the Buddhist precept against killing. This picture is thought to depict the legend that a thousand cranes were released at the ceremony.  
Yoritomo seems satisfied as he watches the cranes, the symbol of good fortune, fly away. The scene may imply Yoritomo's feeling of grand accomplishment when he finally achieved great power, as he defeated his old enemy, the Taira clan.   
Two years later, in 1189, Yoritomo eliminated his younger brother Yoshitsune who had developed a hostile relationship with him and Fujiwara no Yasuhira, who had sheltered Yoshitsune. In 1192, Yoritomo became a Shogun and established a new age of samurai.
Admission
Calendar
Hokusai and His Rivals
Katsushika Hokusai is a worldly famous ukiyo-e artist. He achieved great fame with his landscape pictures, including "Thirty-six views of Mt. Fuji" and works in various other genres. Naturally, however, Hokusai was not the only ukiyo-e artist active during the time. A large number of ukiyo-e artists competed with Hokusai, and influenced each other's works. This exhibition will not only focus on Hokusai's works, but put them in conversation with the works by more than 15 artists who were contemporaneous with Hokusai or succeeded him.
Introducing the interactions between Hokusai and his rivals
The numerous exhibitions of Katsushika Hokusai held at various museums, mostly focused on his works exclusively. Utagawa Hiroshige, who also excelled at landscape pictures, is the only other artist whose works have been presented in comparison. This exhibition will not only present works by Utagawa Hiroshige, but also those by many other artists such as Tōshūsai Sharaku, Keisai Eisen, and Utagawa Kuniyoshi, who were active in the same period, to introduce Hokusai's relationship and interactions with such ukiyo-e artists who worked during his time.
An extensive exhibition with a wide variety of genres
Hokusai's rivalry with numerous artists is an indication of how he was active in so many different genres. We will put Hokusai's late masterpiece, "Thirty-six Views of Mt. Fuji" and a wide range of other works, including pictures of kabuki actors, warriors, landscapes, and beautiful women, in dialogue with works by other artists on display.
Discovering works by succeeding artists who learned from Hokusai
Hokusai not only had a huge impact on the works of rivaling artists of his generation but also on the artists of the following generation. His influence extended beyond his direct pupils, to the artists who belonged to different schools. This exhibition introduces works by artists of the generation after Hokusai, who learned through imitating his works.
---
Admission
Calendar