Kasamatsu Shiro -the Last Shin-hanga Prints Artist
2021, February 2nd-March 28th
[1st Term] February 2nd-25th
[2nd Term] March 2nd-28th
※Works change between two terms
Will be closed on February 8, 15, 22, 26-March 1, 8, 15, 22.
Kasamatsu Shirō –the last Shin-hanga print artist
Kasamatsu Shirō (1898-1991) is an ukiyo-e artist who was active during the Taishō Era to the Shōwa Era. He became a pupil of Kaburaki Kiyokata to learn Japanese paintings, and published Shin-hanga prints from the publisher Watanabe Shōzaburō in 1919. He produced Shin-hanga prints portraying modern cityscapes of Tokyo and sceneries of hot spring areas using pale colors. After the war, he left the publisher Watanabe and published his works from Unsōdō Woodblock Print in 1952-1959. Shirō can be considered the last authentic Shin-hanga print artist, as he produced Shin-hanga from its early period and was dedicated to the genre even after the war.
Shin-hanga prints in the spotlight
Shin-hanga print refers to woodblock prints produced between the Taishō and Shōwa Era as collaborative works of artists, carvers and painters. The genre was established by a publisher Watanabe Shōzaburō, and artists of various specialties invented techniques that further developed it. Today, Shin-hanga prints are more popular than ever. Kawase Hasui, known for his landscapes has always maintained it popularity, and Ohara Koson, who painted adorable birds suddenly started to attract attention from about 2 years ago. There will be a large-scale exhibition featuring Yoshida Hiroshi to commemorate the 70th anniversary of his death at the Tokyo Metropolitan Art Museum in Ueno, around the same time as this exhibition.
Discovering the Shin-hanga prints of Kasamatsu Shirō
Kasamatsu Shirō's was hardly recognized in the past, as his painting style was considered to be similar to that of Kawase Hasui. However, the landscapes painted with pale colors have unique charm. It is the 30th anniversary of his death this year. In celebration, this exhibition will present the entirety of Shirō's Shin-hanga prints. There will be about 130 paintings including Shin-hanga prints from the Taishō Era and the beginning of Shōwa Era as well as woodblock prints from after the war produced by the publisher Watanabe Kinjirō and Unsōdō.
Highlight of this exhibition
Cirrocumuli (Mackerel Sky) 【2nd term】
A farmer with a sickle in his hand is looking up at the sky with floating clouds. The expanse of the sky painted with a gradation of pale colors is impressive. This is one of the Shin-hanga prints published by the publisher Watanabe Shōzaburō during its earliest period. Kasamatsu Shirō was only 21 years old and has just began his career as a full-fledged artist at the time in 1919. Watanabe had just started publishing Shin-hanga prints by Kawase Hasui the year before in 1918. Shirō's young talent was discovered at the early stage of the development of the genre by Watanabe who was in search of a direction of Shin-hanga prints.
---
Admission
| | |
| --- | --- |
| Adult | 1000 yen |
| University and High school students | 700 yen |
| Junior High School Students and below | Free |
Calendar
2021 / 02
1,8,15,22,26-28
| SUN | MON | TUE | WED | THU | FRI | SAT |
| --- | --- | --- | --- | --- | --- | --- |
2021 / 03
1,8,15,22
| SUN | MON | TUE | WED | THU | FRI | SAT |
| --- | --- | --- | --- | --- | --- | --- |
Men in Japanese Kimono -Stylish and Charming in the Edo Period
Introduction
Young men with gorgeous attire, gentlemen dressed in refined patterns, and hipsters enjoying extravagant costumes. We encounter many fashionable men in ukiyo-e. In the Edo period, men enjoyed fashion just as much as they do today. Kabuki actors were the most popular fashion icons of the time. In their daily lives, men expressed their taste not only through the kimono they wore, but also through items such as hoods, cigarette cases and hair styles. Their elegant look in kimono, is one of the unique charms of the men of the Edo period. Tracing the history of male figures in ukiyo-e, young men with fringes were preferred as models in the early to mid Edo period, while gallant men were more commonly depicted in the late Edo period. This exhibition on men in kimono, presents the rich costume culture of Edo, the charm of men in kimono, and how the idea of an attractive man has evolved over time.
Passion for fashion
There are many courageous men depicted in ukiyo-e -chivalrous men, reprobates, firemen and artisans. Ukiyo-e of these figures were especially popular after the 19th century. Chivalrous men often dressed in eccentric costumes and gallant men wore accessories such as hand towels and short coats over kimono, showing off their dashing charms.
Men in kimono in stories
This chapter introduce various heroes that appear in stories, legends and kabuki plays. They put on costumes that express the personality of each character. They were often as eccentric as those of today's manga and anime. Please enjoy the ingenious kimono styles of the fictional world.
Kabuki actors as fashionable style icons
In the Edo period, when there was not much entertainment, kabuki actors collected particular popularity comparable to that of today's entertainers and YouTubers. When it comes to the star actors, their influence was extraordinary. The way they dressed and the color and patterns such as Edomurasaki purple and Kamawanu pattern they wore on stage came into trend. In this section, we present works depicting fashion trends that originated from kabuki actors.
Highlight of the Exhibition
Katsukawa Shunchō "Young Women Encountering a Young Man on a Bridge"
"Look! He is so handsome!" Perhaps the women are talking like this. The man who seems to be at joy to feel the attention, is wearing a black striped kimono with a purple striped over-garment, with the red color of the obi belt and thongs as an accent. Wearing a black hood around the neck, as well as wearing plain designs such as stripes was fashionable back then. This man shows his refined sense of fashion by layering elegant patterns.
The ornament on the men's head is an amulet which is a protection from lightning given by Myōgisha in Kameido Tenjin on a particular day of the new year's holiday. We can understand from this work that people in the Edo period also went out for special events with their favorite clothes just as we do today.
---
Admission
| | |
| --- | --- |
| Adult | 800 yen |
| University and High school students | 600 yen |
| Junior High School Students and below | Free |
Calendar
休館日
1,2,3,4,5,12,18,25,29, 30, 31
2021 / 01
1,2,3,4,5,12,18,25,29, 30, 31
| SUN | MON | TUE | WED | THU | FRI | SAT |
| --- | --- | --- | --- | --- | --- | --- |
Japan in Ukiyo-e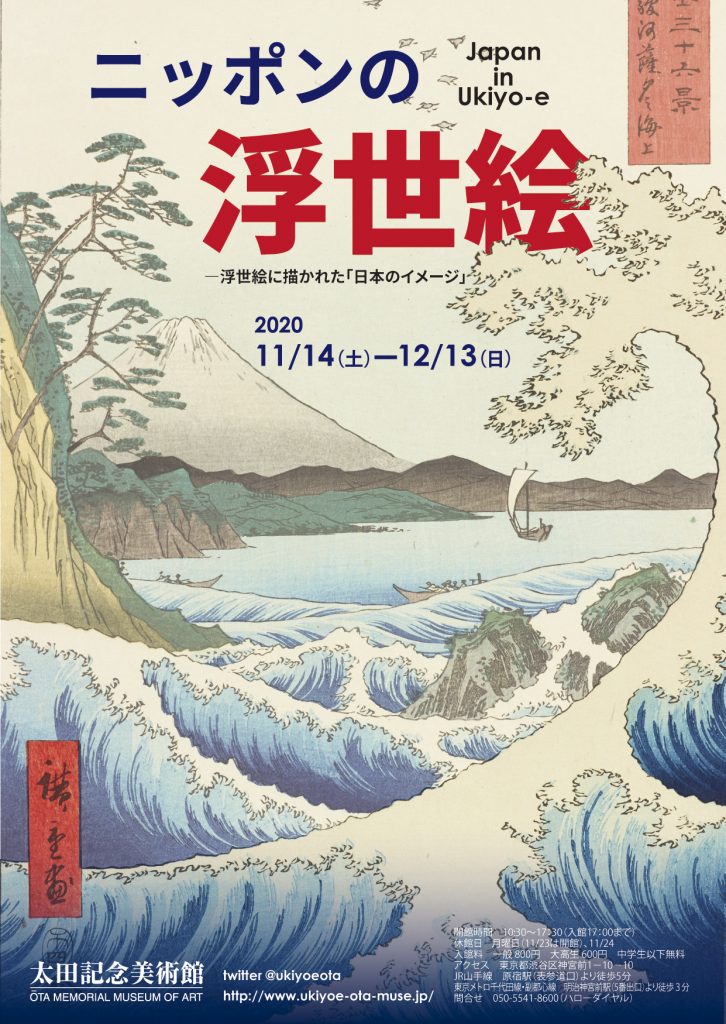 2020, November 14th-December 13th
Will be closed on November 16, 24, 30, December 7.
Rediscovering Japan through Ukuyo-e
At the moment, it is difficult to travel overseas due to COVID-19. We have the opportunity to reflect on our daily lives now more than ever. Ukiyo-e depicting the lives of the people during the Edo and Meiji period, shows us the traditional Japanese way of living. It gives us the opportunity to reconnect with our artistic sensibilities through Japanese aesthetics.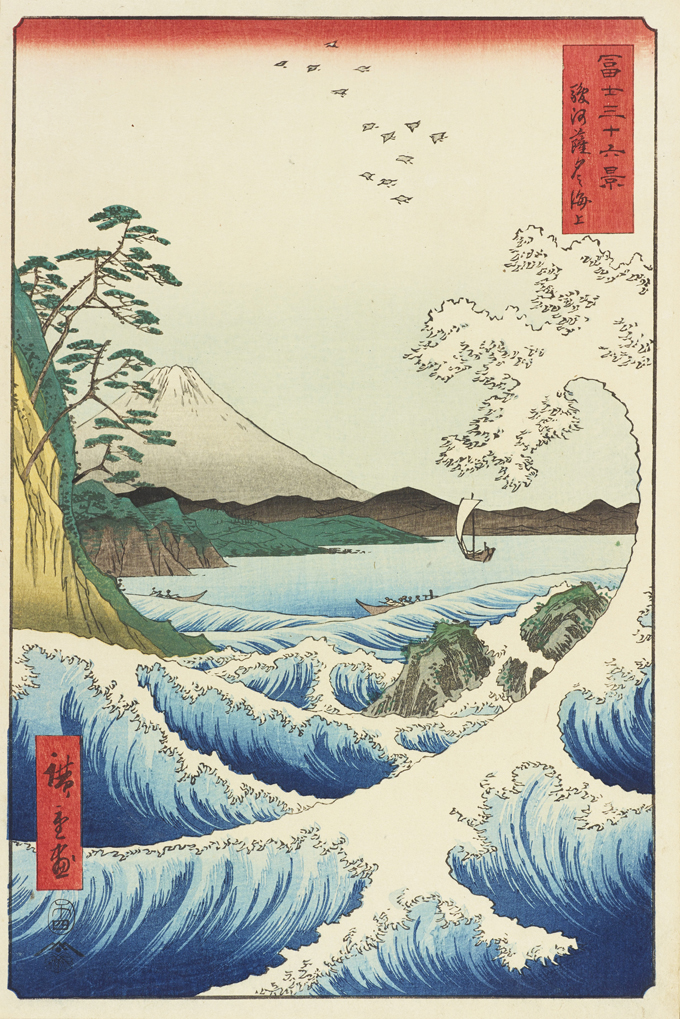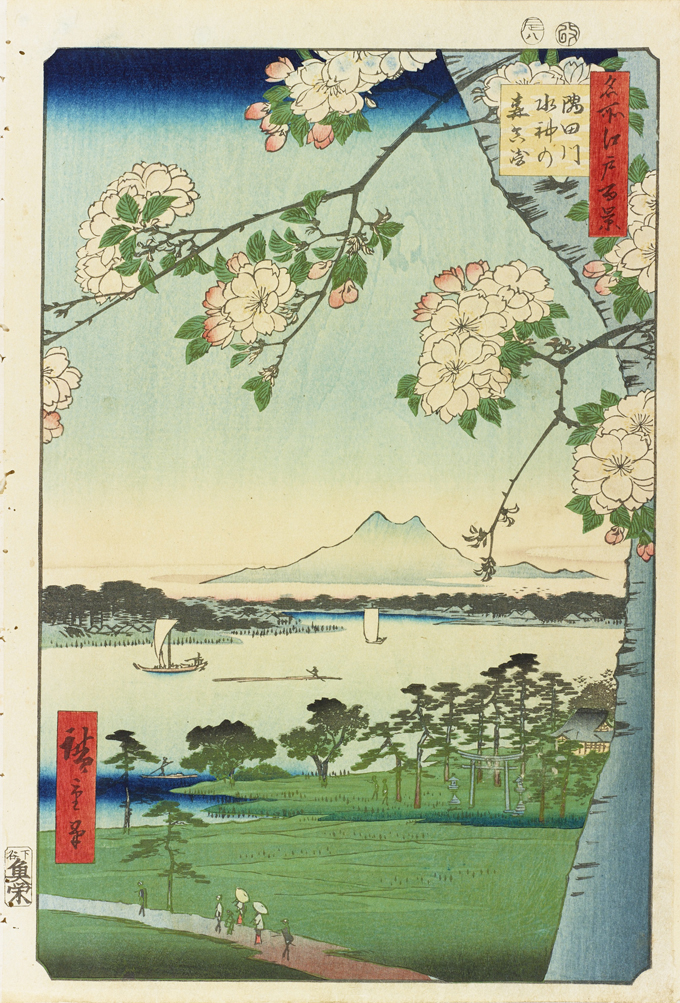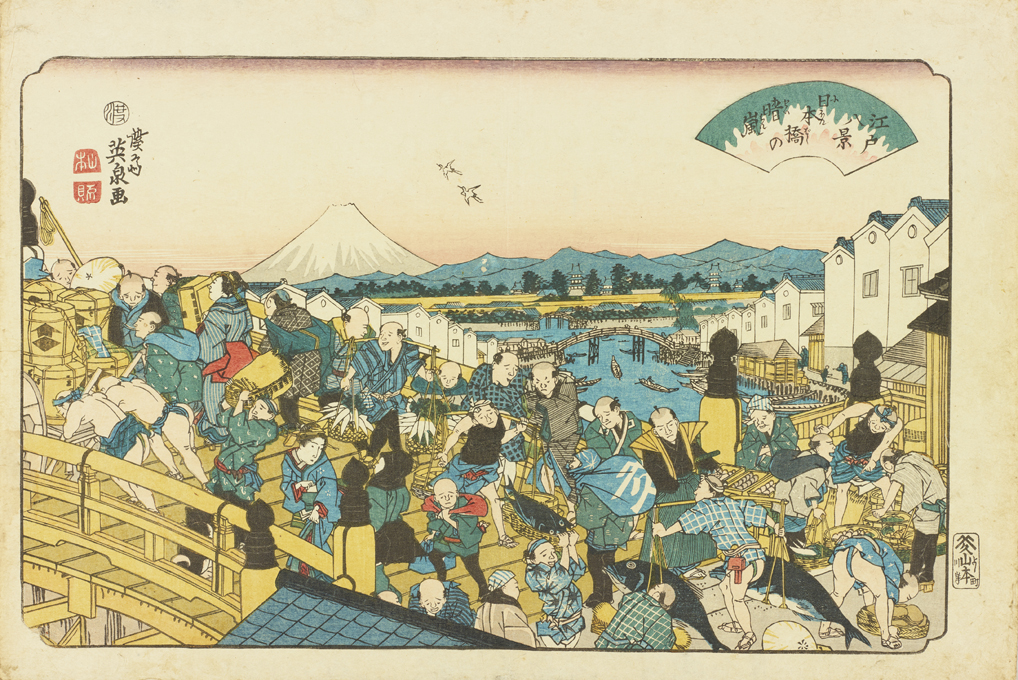 A Collection of the Images of Japan – Representative images from Mt. Fuji, cherry blossoms, traditional cuisine, to Sumō wrestlers
Ukiyo-e depicts various subjects that are uniquely Japanese. These include nature such as Mt. Fuji and cherry blossoms, which have had a significant presence in the appreciation of nature in Japan throughout history. There are also paintings of traditional cuisine such as soba noodles, tempura and sushi, as well as various occupations including courtesans, geishas and sumō wrestlers. This exhibition aims to rediscover Japan through such collection of representative images. We have collected about 70 pieces, which will all be on display throughout the exhibition period.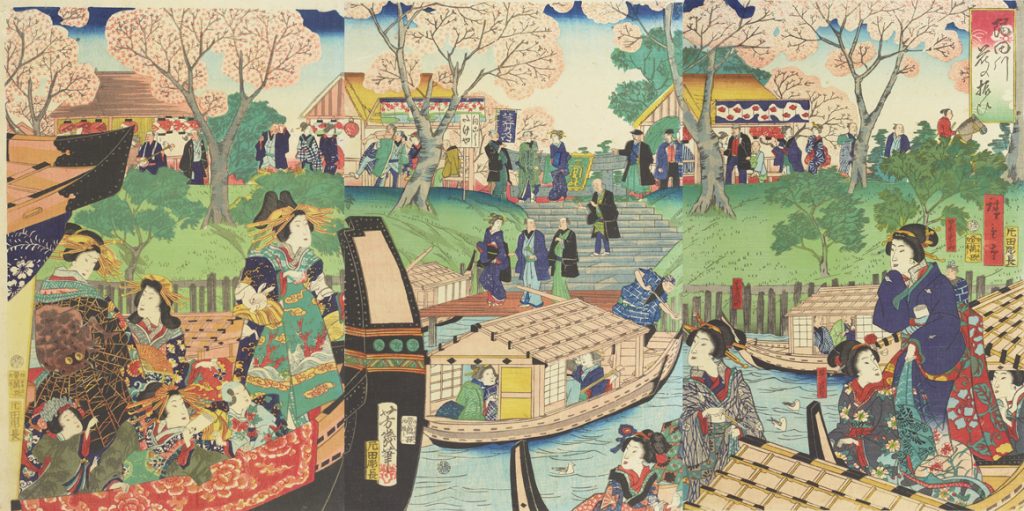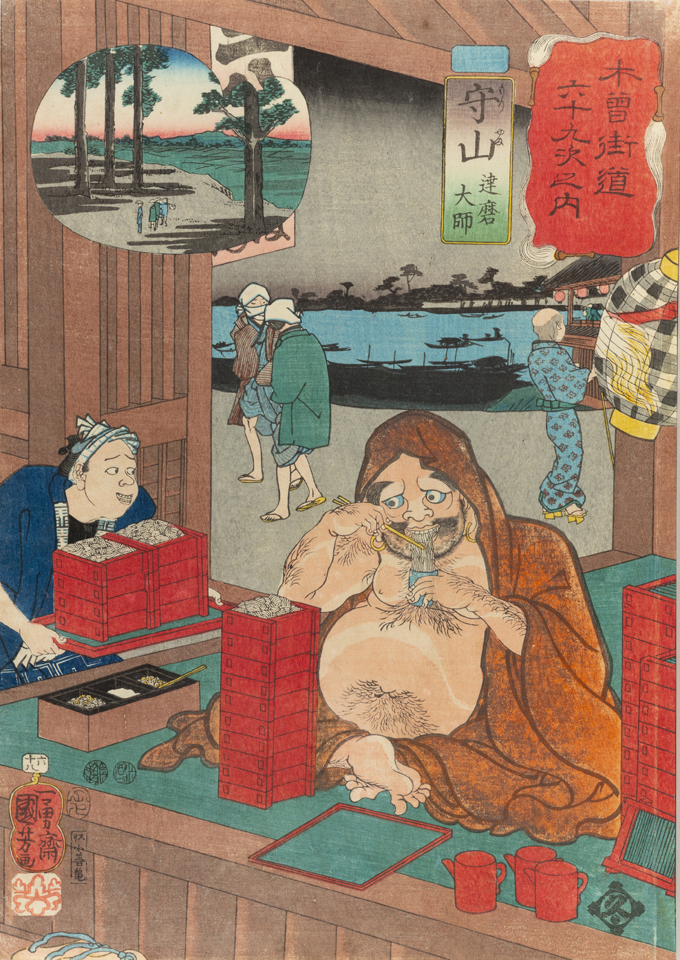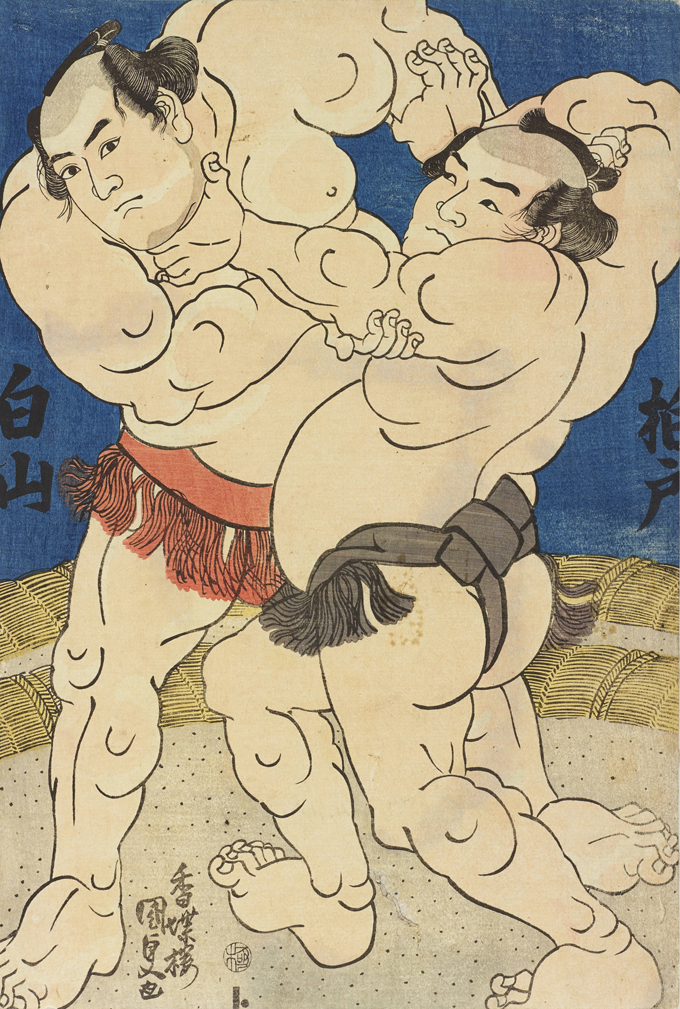 Highlight of the exhibition
Tsukioka Yoshitoshi "Thirty-two Aspects of Women: Looking Tasty, the Appearance of a Prostitute during the Kaei Era"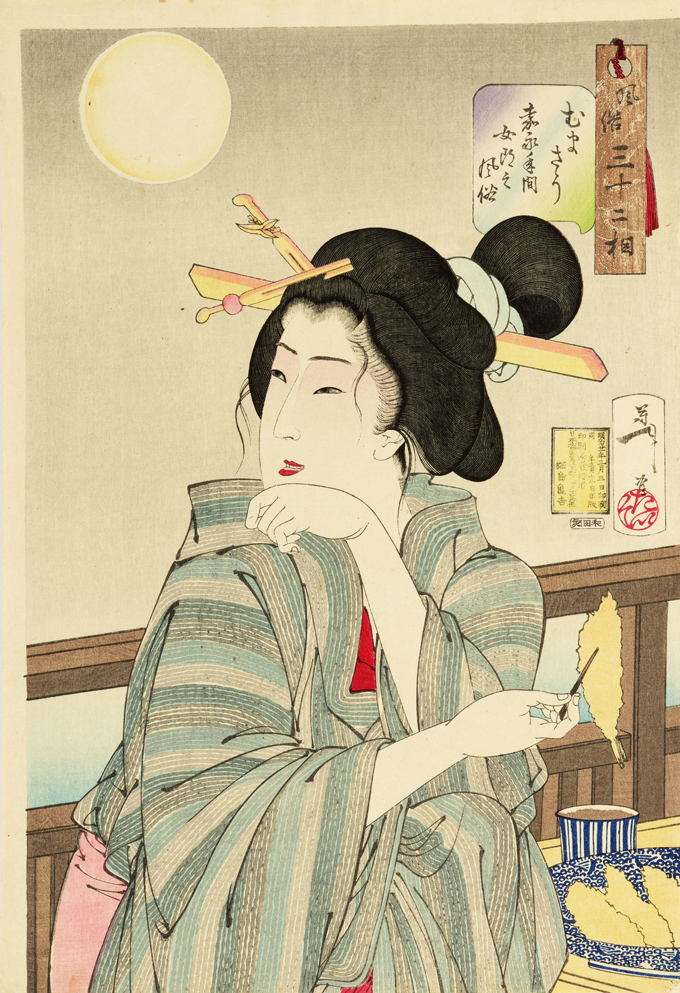 Among the various traditional cuisines, soba noodles, tempura, unagi (eel) and sushi were especially popular in Edo. This piece depicts a woman on the 2nd floor of the restaurant, just about to eat her tempura of shrimp (or fish). She is skillfully picking up the tempura with a toothpick. The title of this piece is "Delicious-looking". In ukiyo-e, we find origins of Washoku (Japanese food) that is still popular today.
---
Admission
| | |
| --- | --- |
| Adult | 800 yen |
| University and High school students | 600 yen |
| Junior High School Students and below | Free |
Calendar
2020 / 11
2,9-13,16,24,30
| SUN | MON | TUE | WED | THU | FRI | SAT |
| --- | --- | --- | --- | --- | --- | --- |
2020 / 12
7,14-31
| SUN | MON | TUE | WED | THU | FRI | SAT |
| --- | --- | --- | --- | --- | --- | --- |
Civil Engineering in Edo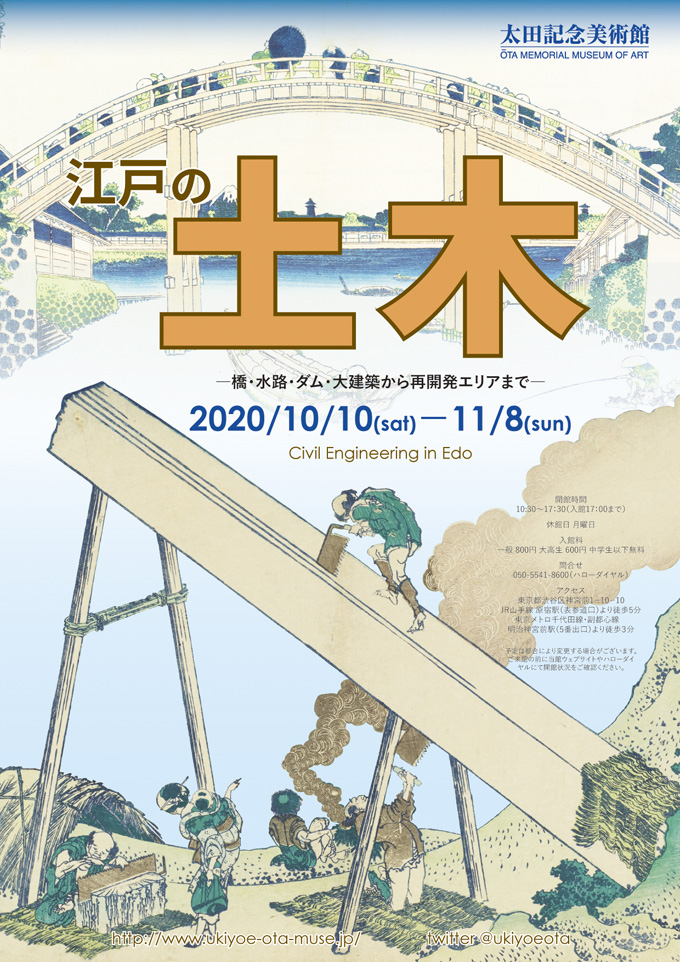 2020, October 10th-November 8th
Will be closed on October 12, 19, 26, November 2.
Civil Engineering of Edo through ukiyo-e
In recent years, large-scale redevelopment in the main areas have called attention in Tokyo. At the same time, civil engineering itself has become a popular genre to be studied as a hobby. There are increasing number of books and magazine articles featuring bridges, dams, rivers, and topology. However, looking back in history, this is not a recent trend. In fact, Tokyo has developed through various civil engineering projects since the Edo period. In this exhibition, you can deepen your understanding of various civil engineering of Edo through the works of the ukiyo-e artists such as Utagawa Hiroshige and Katsushika Hokusai.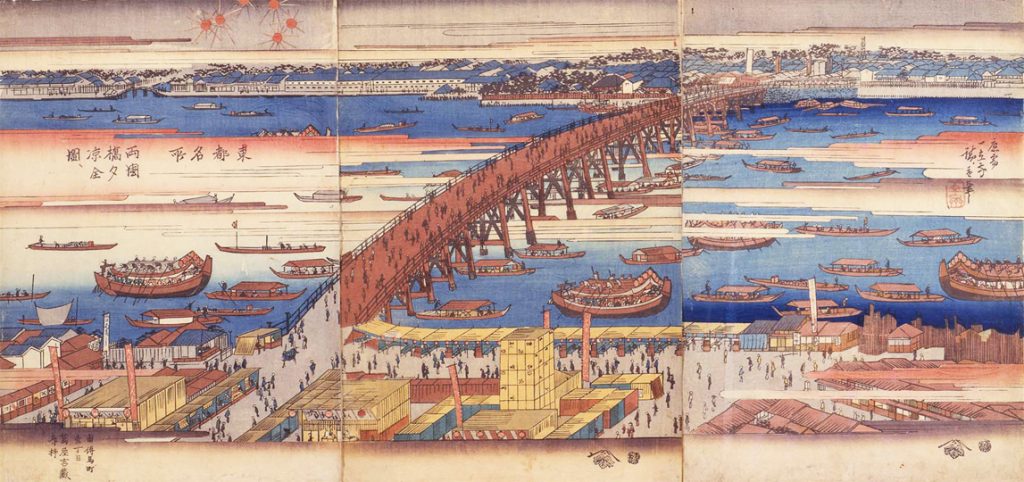 Civil engineering that created Edo, the megacity
100 years after the opening of the Tokugawa Shogunate by Tokugawa Ieyasu, Edo had become a megacity inhabited by more than one million people. What supported the extraordinary development of the city was the construction of urban areas and infrastructure using advanced civil engineering technology. The most notable are the Edo Castle and its outer and inner moats, landfill of Hibiya, Tsukiji, and Fukagawa, canals and water supply, bridges of Ryōgoku and Nihonbashi, as well as the huge temples such as Kan'ei-ji and Zōjō-ji.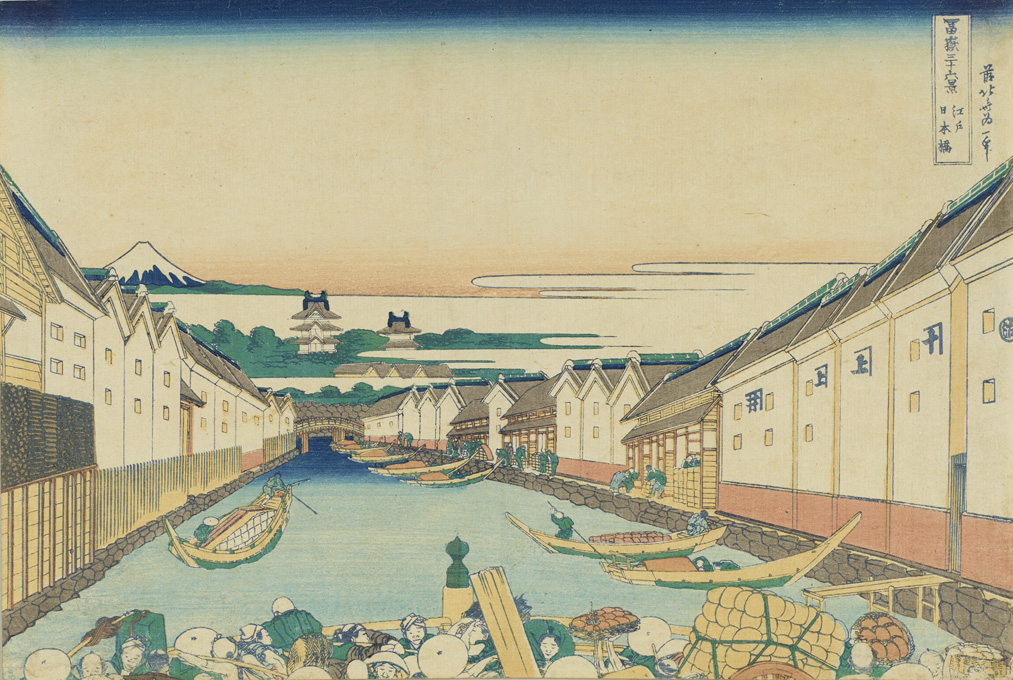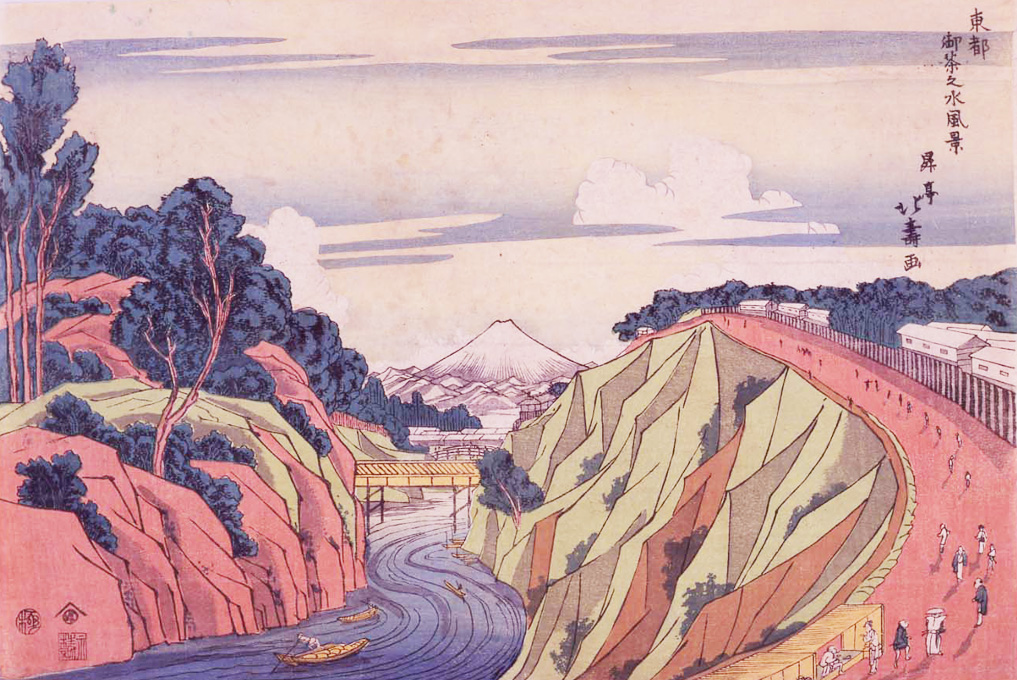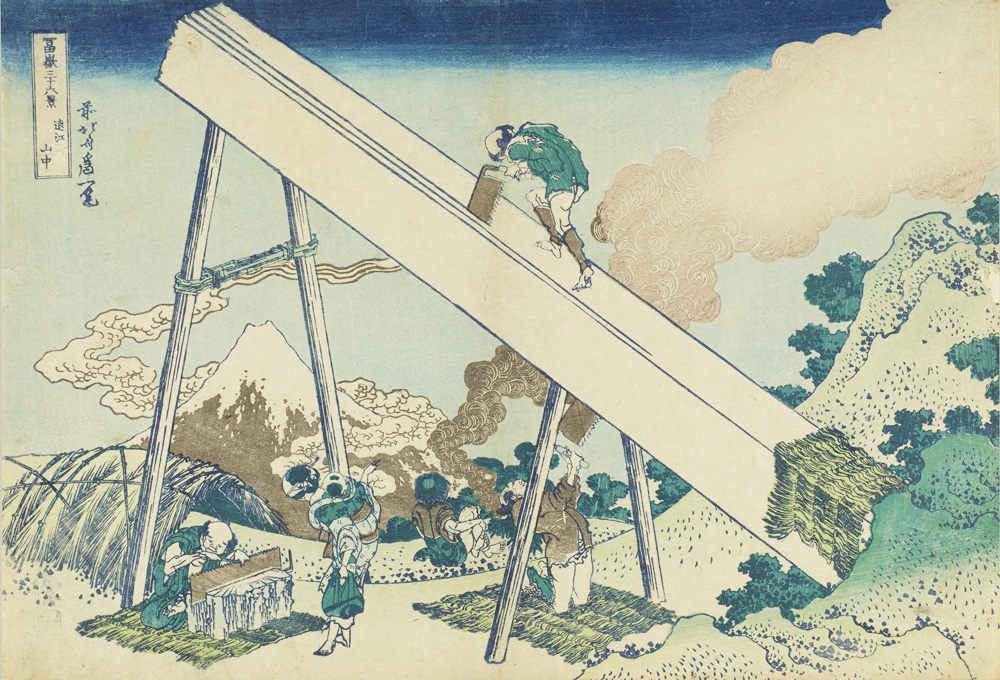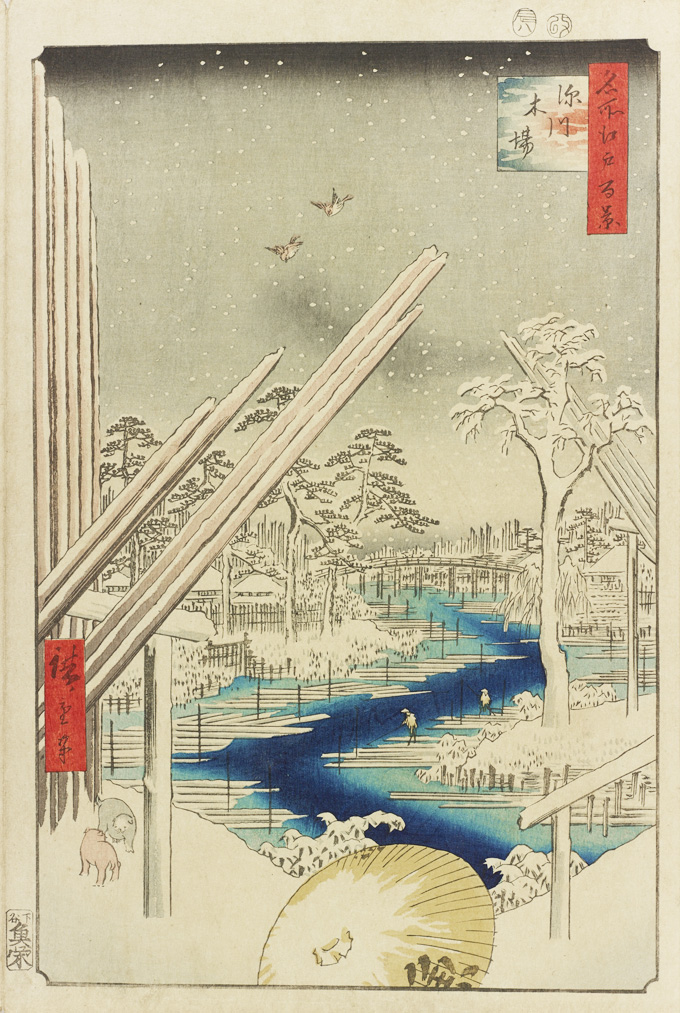 Culture of redevelopment has its origin in the Edo period?
Large-scale constructions of shopping malls such as Shibuya Stream and Tokyo Midtown Hibiya are often considered as a recent trend. However, looking back in history, large-scale redevelopments were carried out frequently since the Edo period. Notable projects include the re-installment of the pleasure quarter from Yoshiwara to Shin-yoshiwara, and the redevelopment of Saruwaka Theater District. The Nakazu amusement quarter which only existed for about ten years before being demolished can be considered one of the first redevelopment projects of Tokyo as well.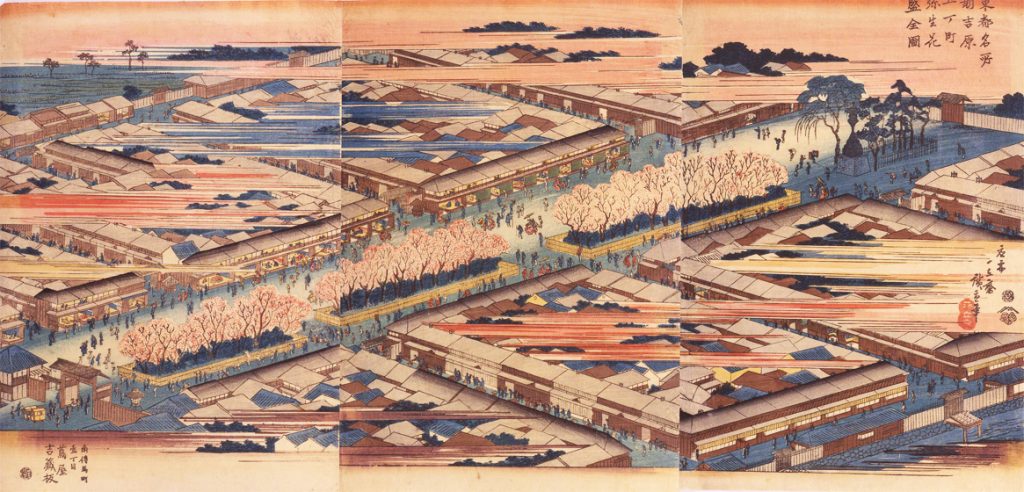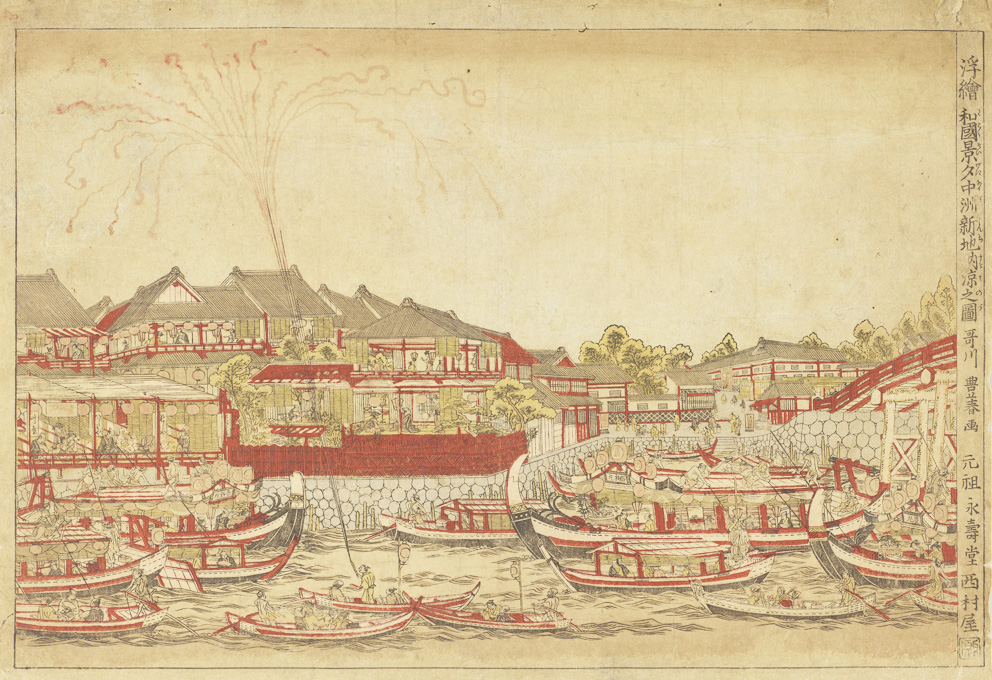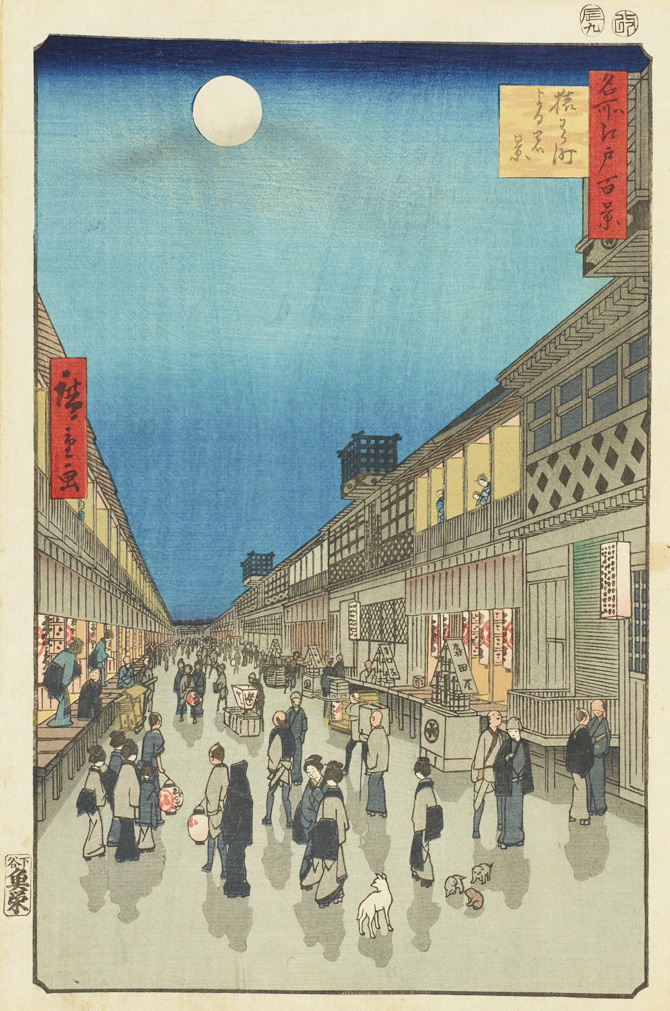 Highlight of the Exhibition
Artist Unknown "Pagoda Finial Bent by the Ansei Great Earthquakes" /Utagawa Hiroshige "One Hundred Famous Views of Edo: Kinryūzan Temple, Asakusa"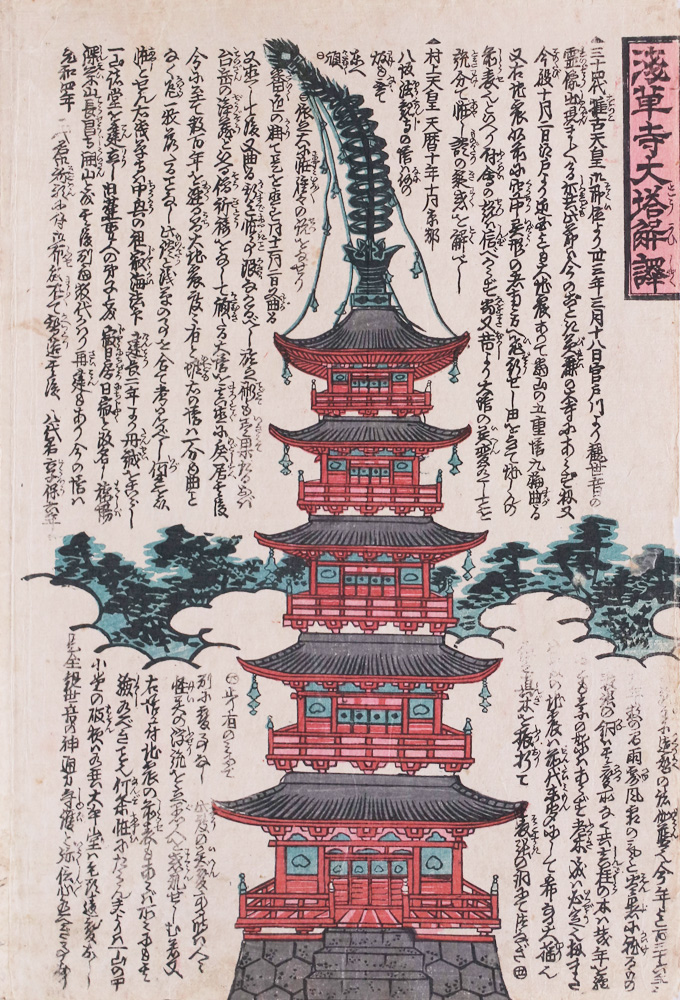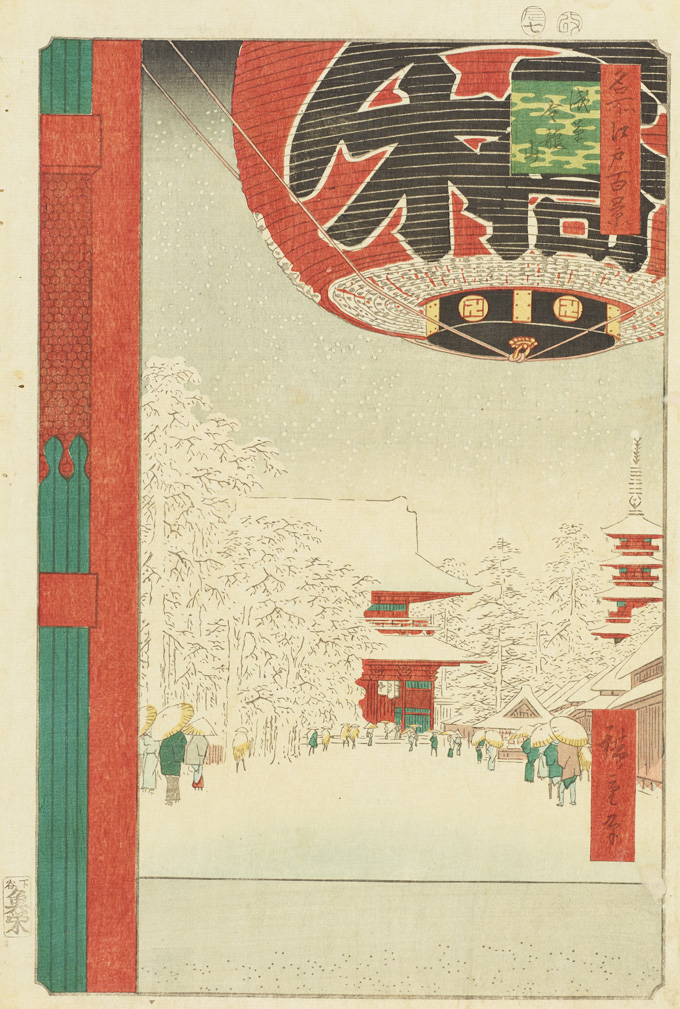 Disasters and recovery –The Ansei Earthquake
There are continuous effort to recover from the Great East Japan. Edo was also frequently affected by fires and earthquakes. Each time, the people of Edo recovered from the destruction by conducting large-scale reconstructions all over the city. The Great Ansei Earthquake (1855) at the end of the Edo period is one of the severest disasters of Edo. The city suffered serious damage from this earthquake. Although the famous Sensōji Temple was not entirely destroyed, the nine-wheeled tower at the top of the Five-storied Pagoda was bent. The painting on the left depicts the pagoda after the earthquake. The work on the right is one of the "One Hundred Famous Views of Edo" by Utagawa Hiroshige published a year after the earthquake. In this painting, the nine-wheeled tower is no longer bent. Since this picture was published shortly after May 9th when the restoration of the tower was completed, it is considered to be a commemoration of the restoration project.
Admission
| | |
| --- | --- |
| Adult | 800 yen |
| University and High school students | 600 yen |
| Junior High School Students and below | Free |
Calendar
2020 / 10
5-9,12,19,26
| SUN | MON | TUE | WED | THU | FRI | SAT |
| --- | --- | --- | --- | --- | --- | --- |
2020 / 11
2,9-13,16,24,30
| SUN | MON | TUE | WED | THU | FRI | SAT |
| --- | --- | --- | --- | --- | --- | --- |
Collection from Ota Memorial Museum of Art
Will be closed on July 6, 13, 20.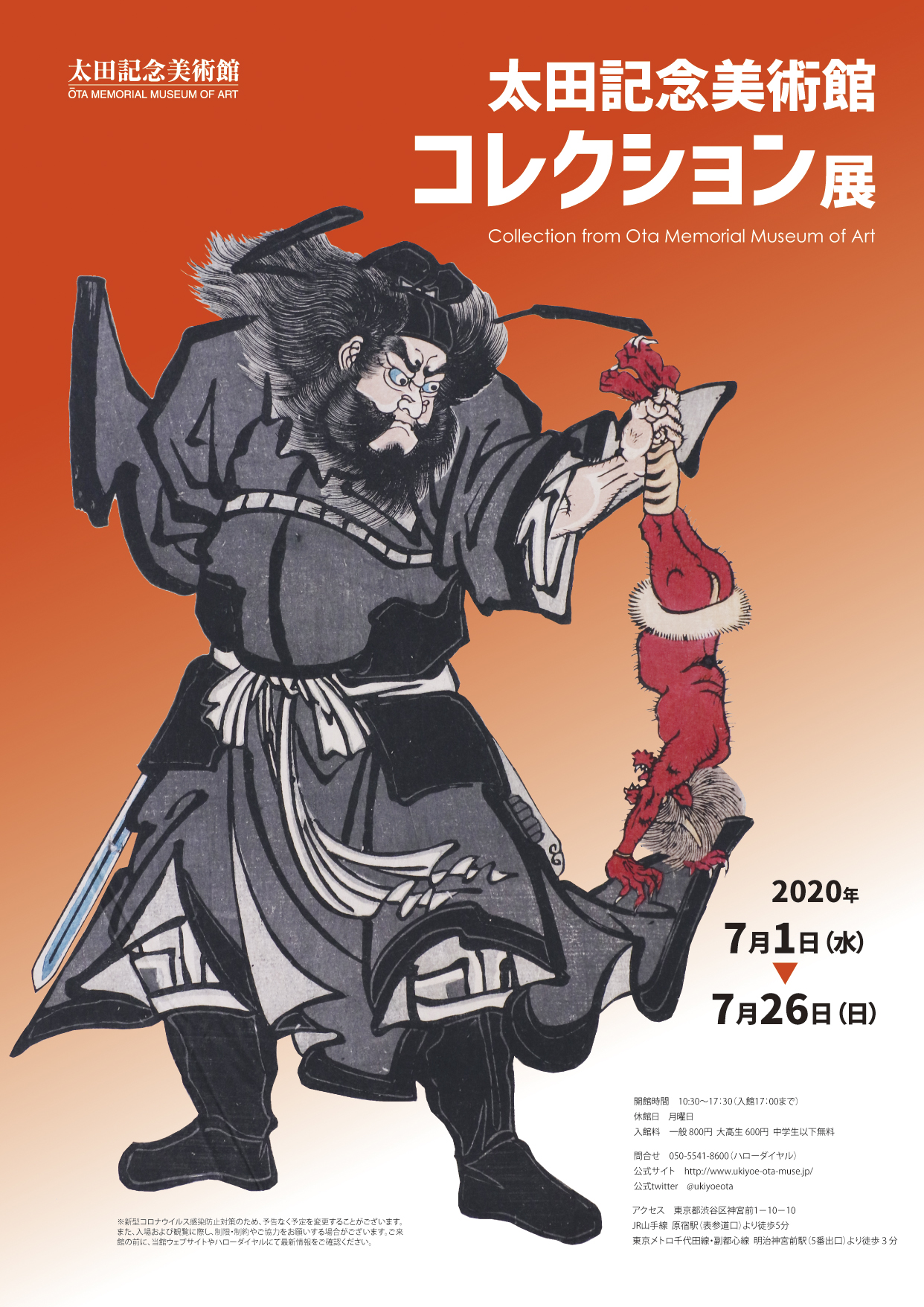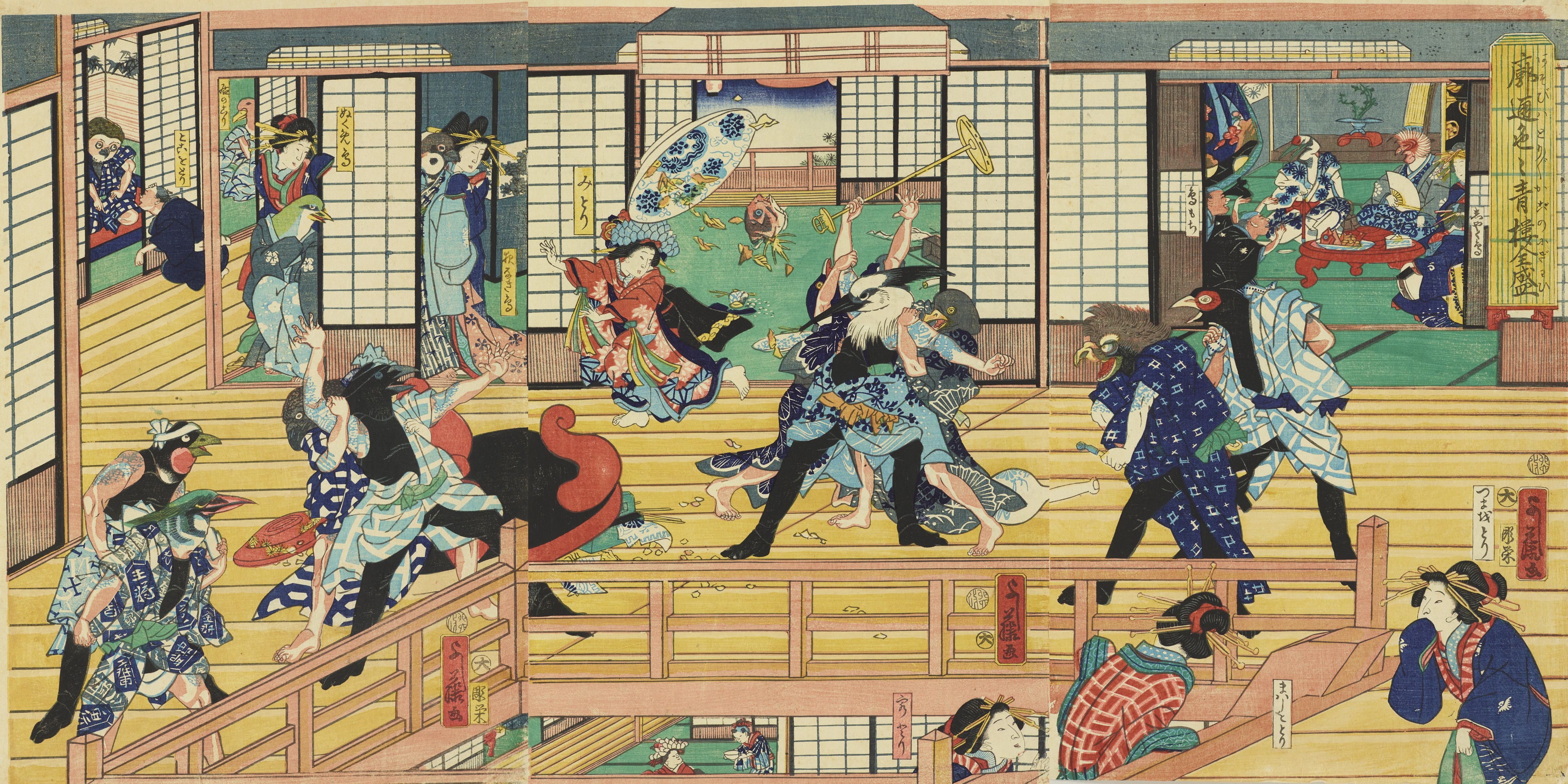 Although the Museum was closed for four months to limit the spread of the novel coronavirus (COVID-19), we finally reopened from this month. We replaced our original plans with the exhibition "Collection from the Ota Memorial Museum of Art". From the more than 14000 works in our collection, we selected the works which were made to aid recovery from illness, and works which give us a sense of relaxation. We will also exhibit the works which gained popularity when introduced on the museum's Twitter home page with the hashtag "# ouchideukiyoe (Ukiyo-e at home)" during the temporary closure.
In order to keep social distance between visitors, the distance between the works is further than usual, and as a result, the number of exhibits has been reduced to only about 40 works. We appreciate your cooperation and understanding.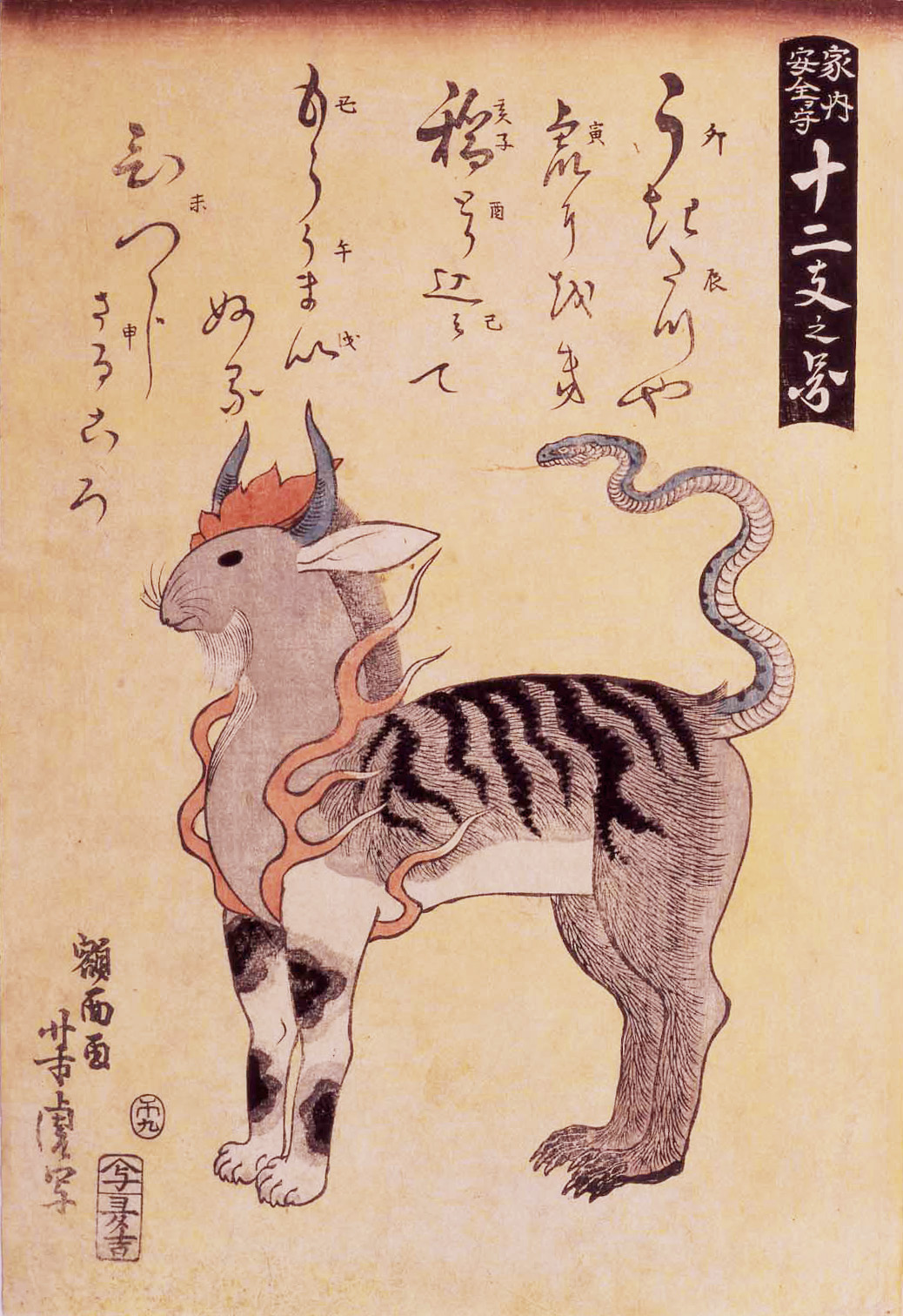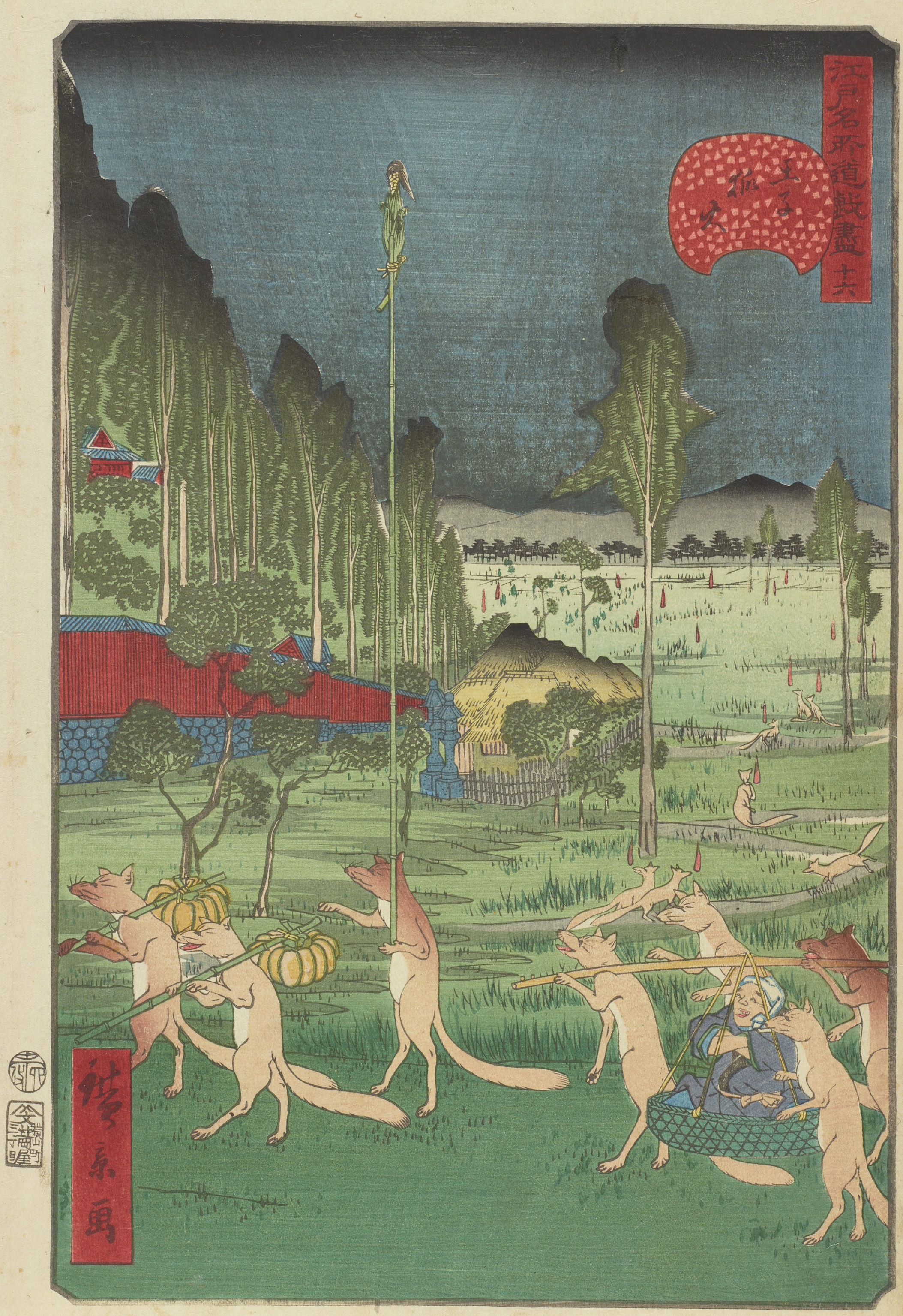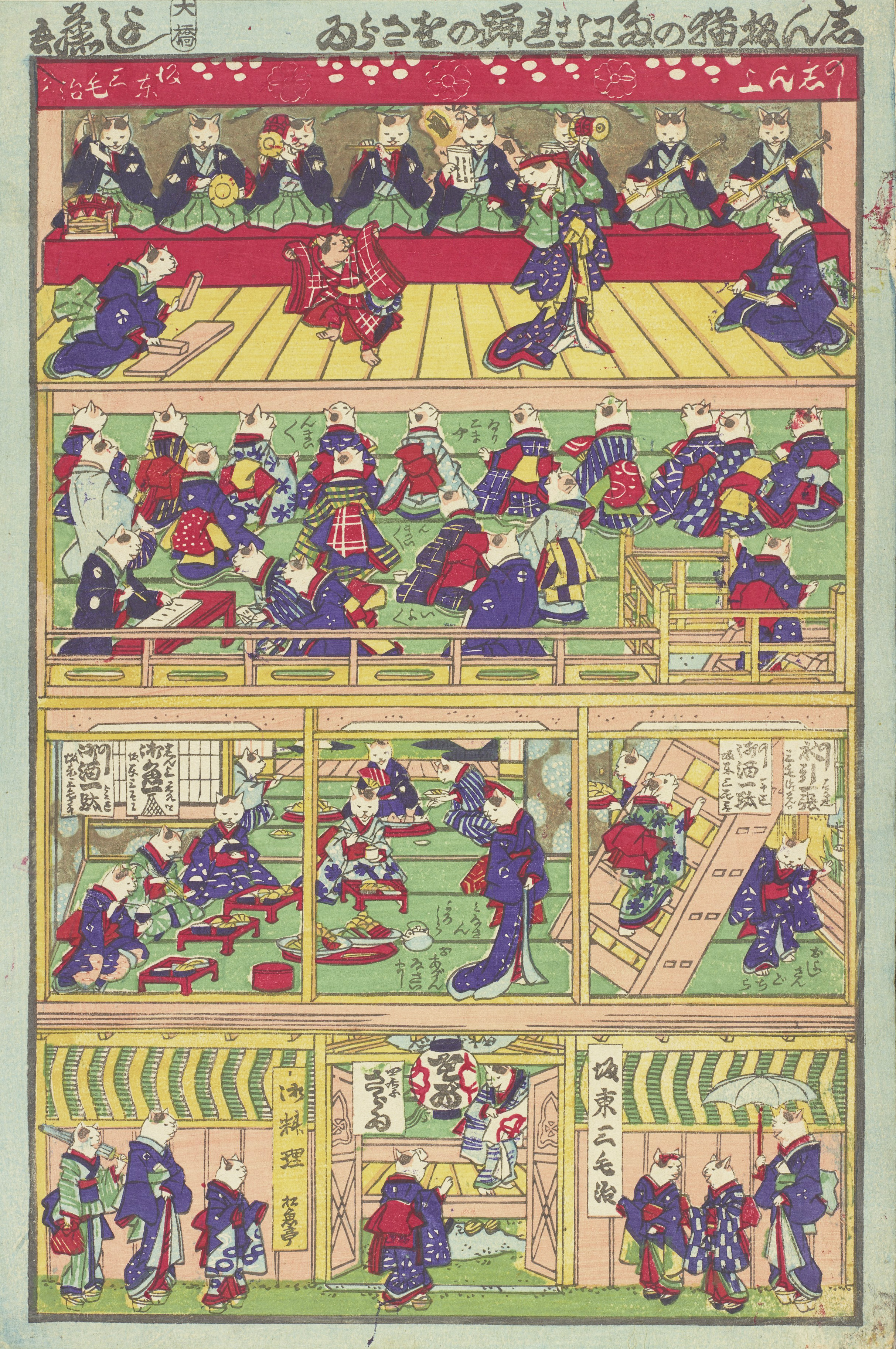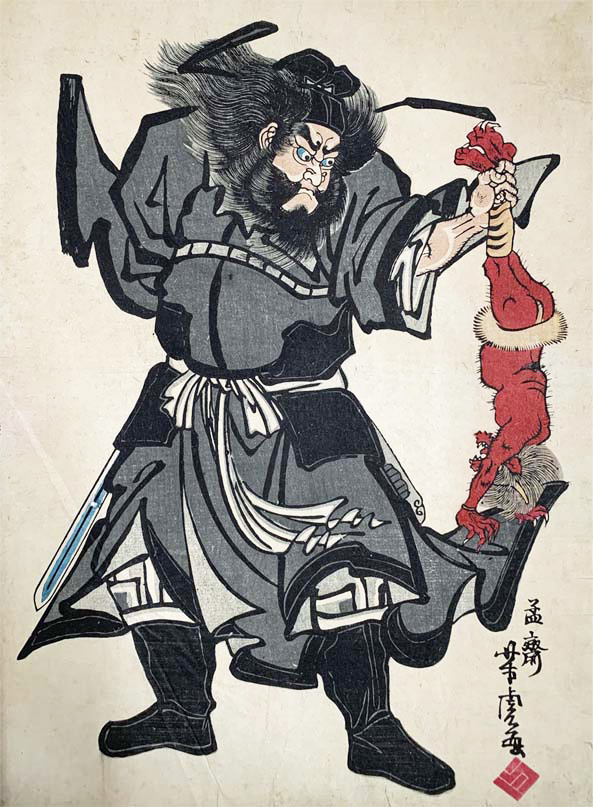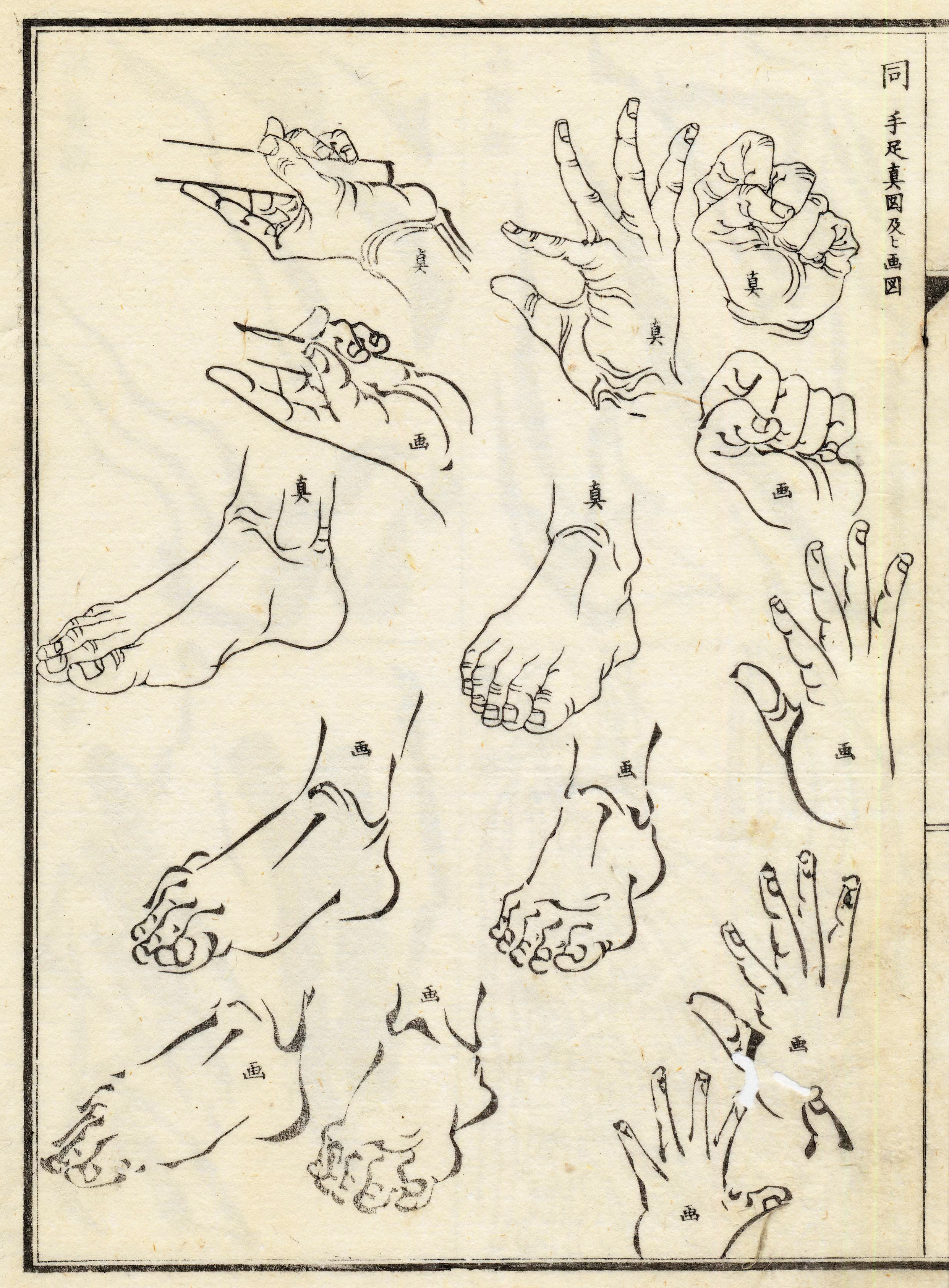 Admission
| | |
| --- | --- |
| Adult | 800 yen |
| University and High school students | 600 yen |
| Junior High School Students and below | Free |
Calendar
Closed
2020 July

| SUN | MON | TUE | WED | THU | FRI | SAT |
| --- | --- | --- | --- | --- | --- | --- |
| | | | 1 | 2 | 3 | 4 |
| 5 | 6 | 7 | 8 | 9 | 10 | 11 |
| 12 | 13 | 14 | 15 | 16 | 17 | 18 |
| 19 | 20 | 21 | 22 | 23 | 24 | 25 |
| 26 | 27 | 28 | 29 | 30 | 31 | |
Tsukioka Yoshitoshi -Blood and the Bewitching
2020, August 1st-October 4th
[1st Term] August 1st-30th 
[2nd Term] September 4th-October 4th
※Works change between two terms
Will be closed on August 3, 11, 17, 24, 31, September 1-3, 7, 14, 23, 28.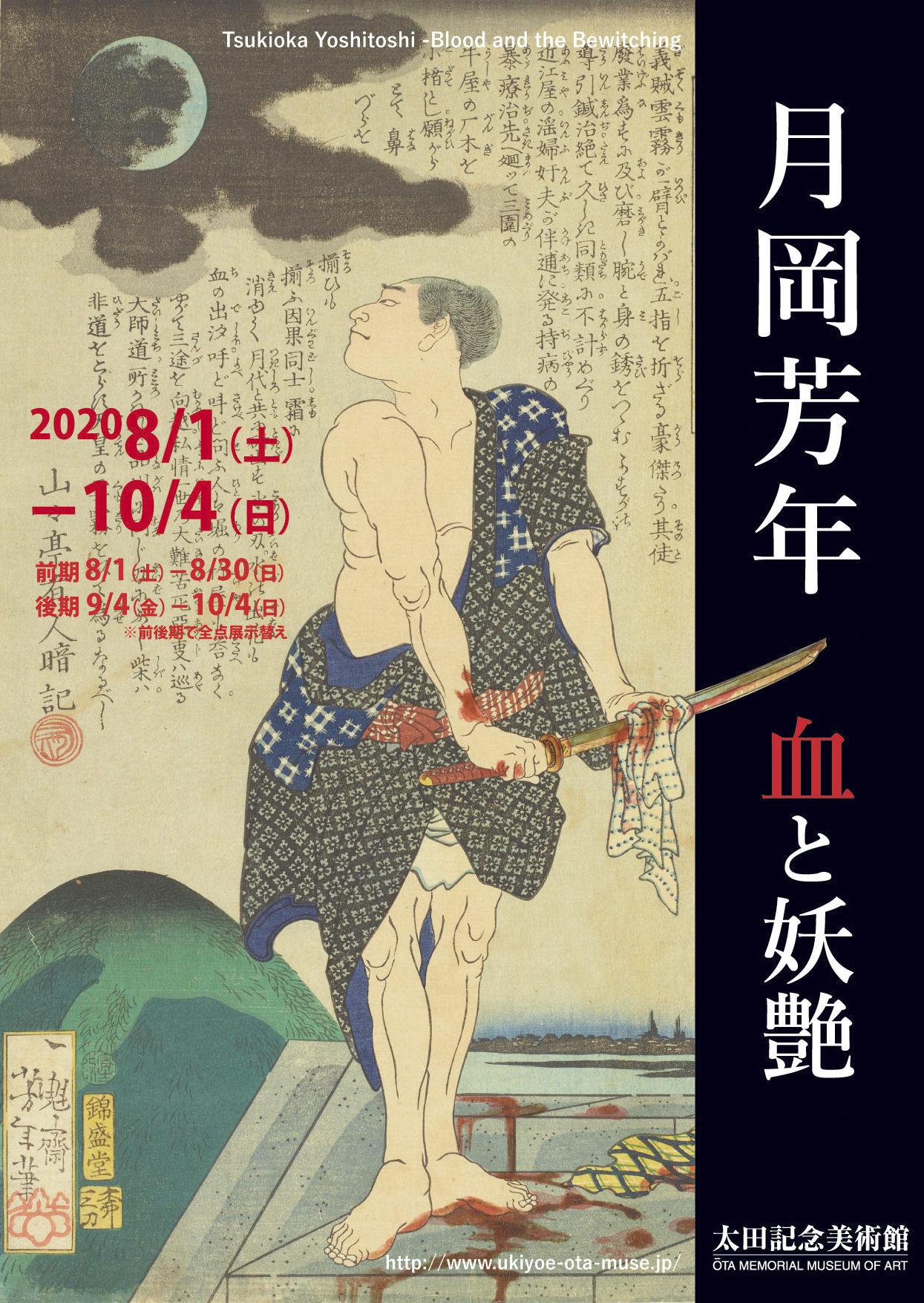 "Blood," "Bewitching" and "Darkness." Three Themes to Bring Out the Charm of Tsukioka Yoshitoshi
Tsukioka Yoshitoshi (1839-1892) was an ukiyo-e artist who was active from the end of the Edo period to the early Meiji Era. Although he became very popular back then, his dynamic composition and sharp brushwork are absolutely timeless to even our eyes today. This exhibition will dig deep into the allure of Tsukioka Yoshitoshi with three ominous keywords: "blood," "bewitching" and "darkness." About 150 works will be on display in total, and we will swap out all the works between the first and second terms.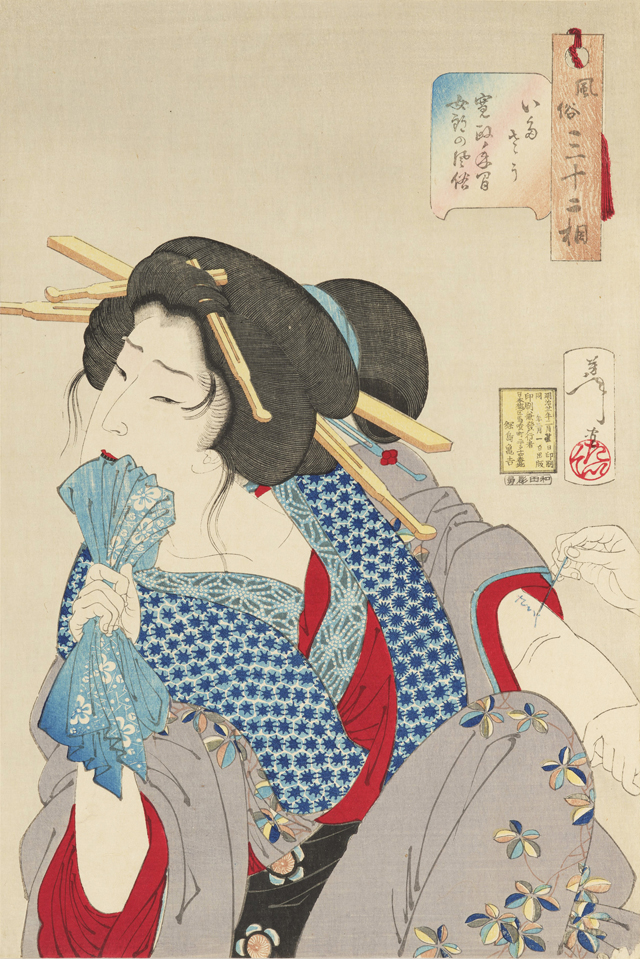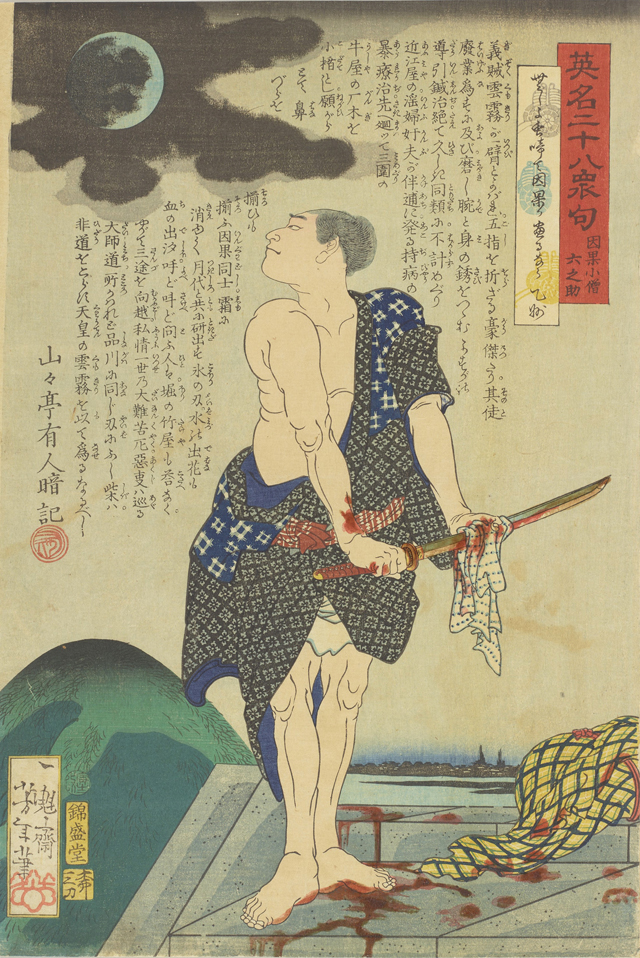 Warning to the Viewer! Brutal Bloody Paintings
Tsukioka Yoshitoshi had worked on the genre commonly called chimidoro-e ("bloody pictures"), depicting cruel scenes of killings and dead bodies. His ominous expression of sensationally depicting splattered blood is known to have attracted literary figures such as Edogawa Ranpo and Mishima Yukio, who were active during the Taishō and Shōwa Eras. In addition to all 14 pieces of his representative work "Twenty-eight Famous Murders with Verse", we will introduce other cruel works drawn by Yoshitoshi, such as "Tales of the Floating World" and "Yoshitoshi's Selection of One Hundred Warriors".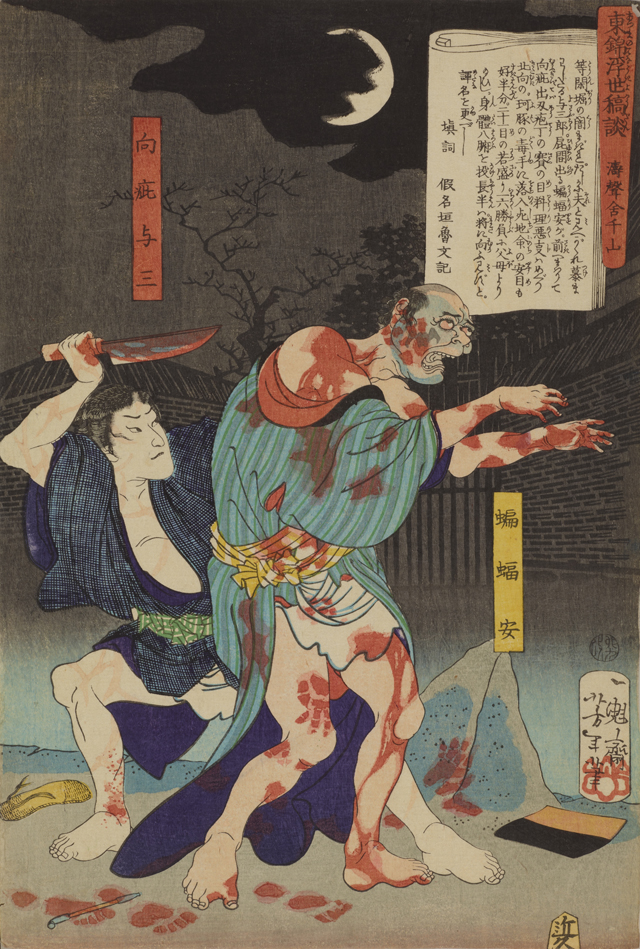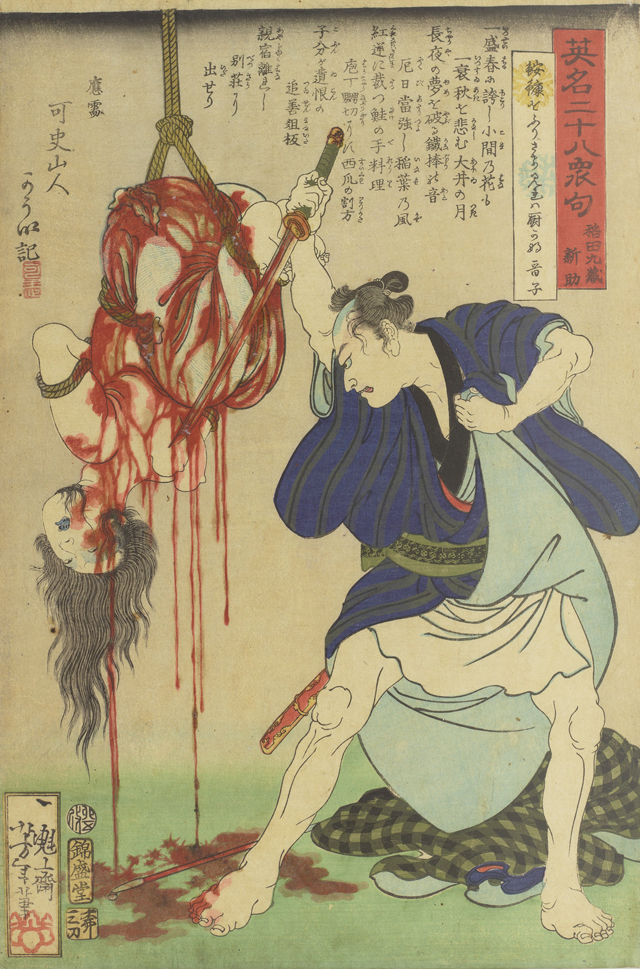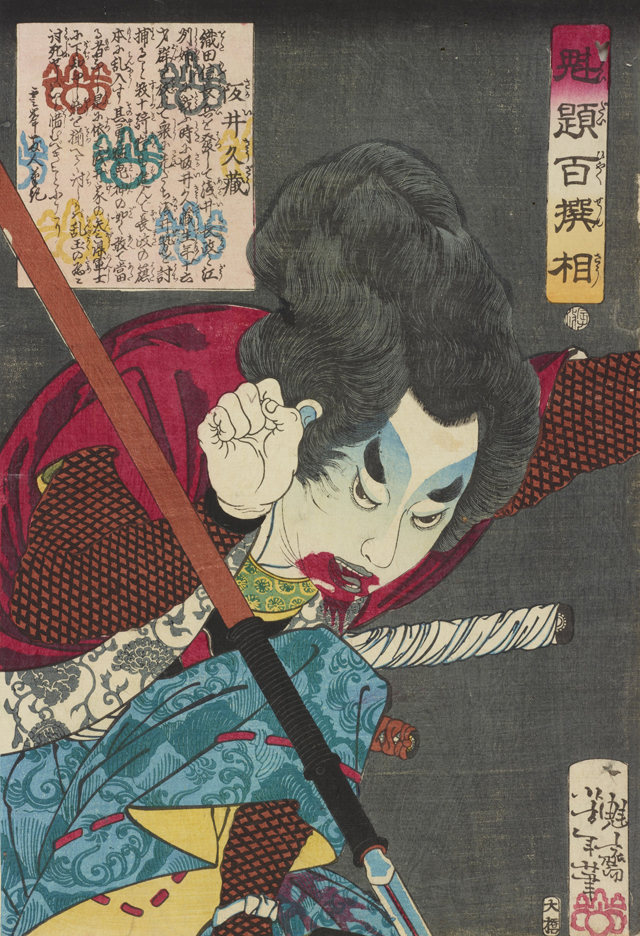 Bewitching Beautiful Women and Deep Darkness
Tsukioka Yoshitoshi's bijin-ga feature not only women who are simply beautiful in appearance, but also have inner charm with a faintly mysterious atmosphere. Furthermore, his works set at night are full of a tense air and the uncanny presence of specters and ghosts. We will introduce the eerie allure of Yoshitoshi through various works, such as his representative series of bijin-ga "Thirty-two Aspects of Women" and "One Hundred Views of the Moon", which depict the history of and stories about the moon, as well as the "One Hundred Ghost Stories of China and Japan" and "New Forms of Thirty-six Ghosts" series based on specters.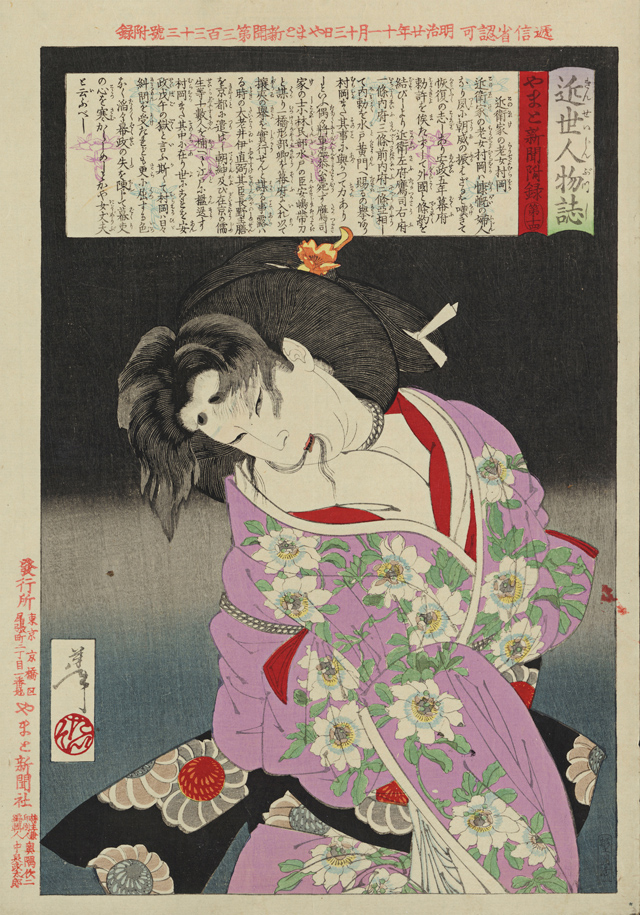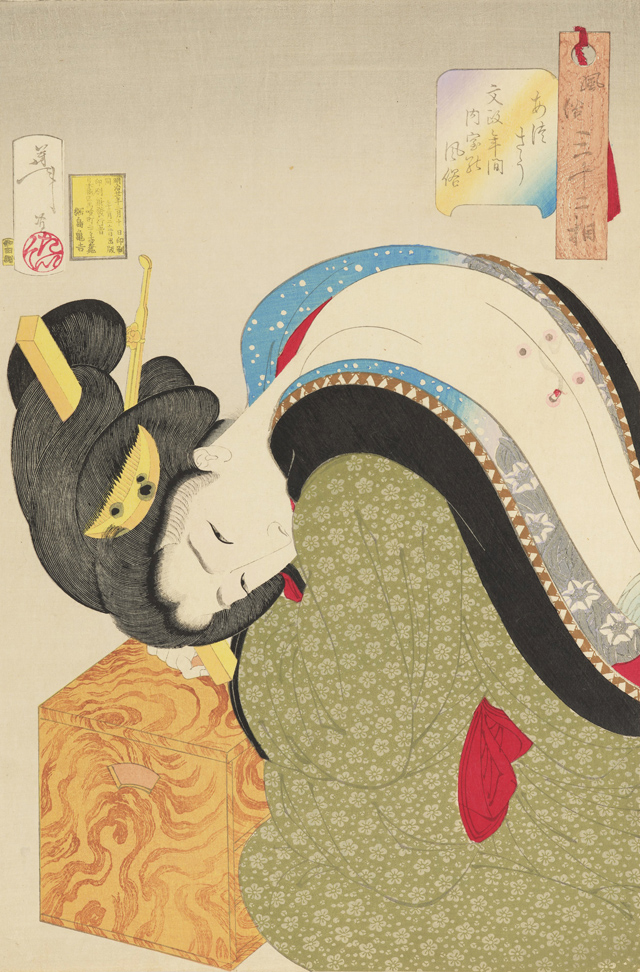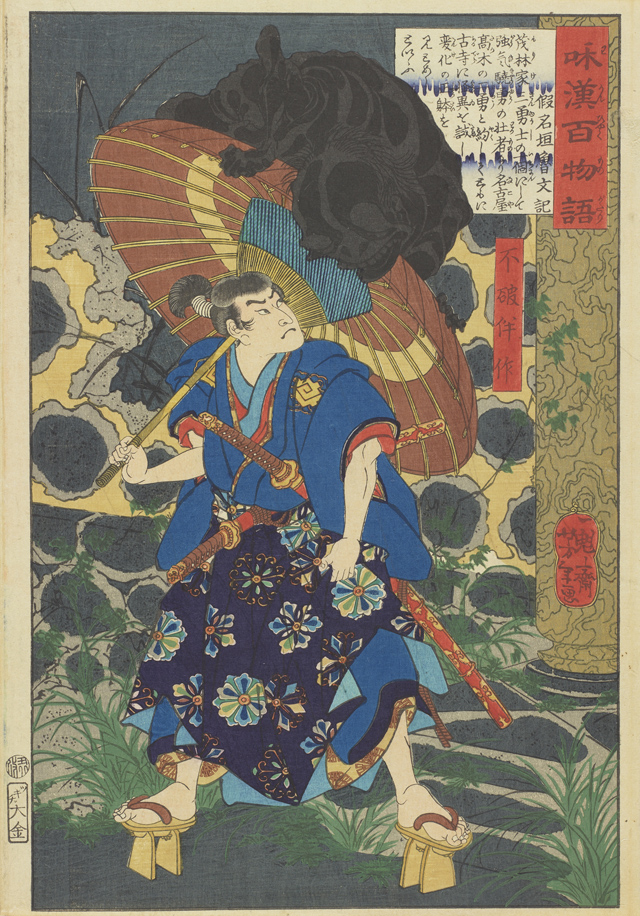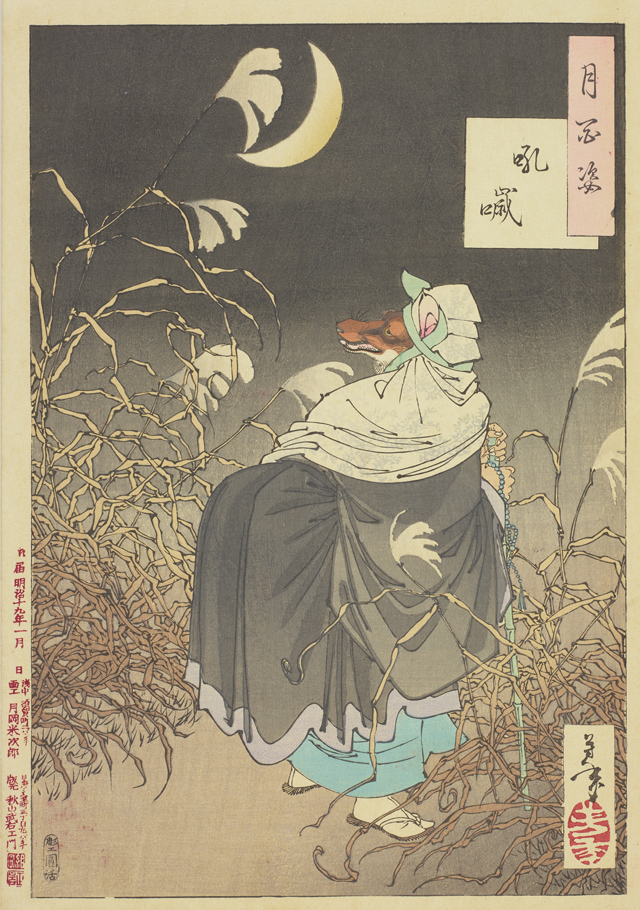 Highlight of the Exhibition
Tsukioka Yoshitoshi "Lonely House at Adachi Moor in Ōshū" (2nd term)

The Cruelest Work in Ukiyo-e History
When it comes to the cruelest work in ukiyo-e history, this may be the one. A pregnant woman bound with rope is hung upside down from the ceiling. She is gagged and has already passed out. An old woman is thoroughly sharpening a knife with which to cut the pregnant woman's abdomen. Although there is no blood depicted in this picture, the graphic depiction of the pregnant woman's painful appearance makes us feel its cruelty more strongly than chimidoro-e with a lot of splattered blood.
Admission
| | |
| --- | --- |
| Adult | 800 yen |
| University and High school students | 600 yen |
| Junior High School Students and below | Free |
Calendar
Closed
2020 April

| SUN | MON | TUE | WED | THU | FRI | SAT |
| --- | --- | --- | --- | --- | --- | --- |
| | | | 1 | 2 | 3 | 4 |
| 5 | 6 | 7 | 8 | 9 | 10 | 11 |
| 12 | 13 | 14 | 15 | 16 | 17 | 18 |
| 19 | 20 | 21 | 22 | 23 | 24 | 25 |
| 26 | 27 | 28 | 29 | 30 | | |

2020 May

| SUN | MON | TUE | WED | THU | FRI | SAT |
| --- | --- | --- | --- | --- | --- | --- |
| | | | | | 1 | 2 |
| 3 | 4 | 5 | 6 | 7 | 8 | 9 |
| 10 | 11 | 12 | 13 | 14 | 15 | 16 |
| 17 | 18 | 19 | 20 | 21 | 22 | 23 |
| 24 | 25 | 26 | 27 | 28 | 29 | 30 |
| 31 | | | | | | |