Cats in Ukiyo-e
2023, April 1st-May 28th
1st Term April 1st-25th
2nd Term April 29th-May 28th
Will be closed on April 3, 10, 17, 24, 26-28, May 1, 8, 15, 22.
Opening Hours : 10:30 a.m. – 5:30 p.m. (Last Admission: 5:00 p.m.)
Admission : Adult ¥1200 / University and High school students ¥800 / Junior High School Students and below
Cats All Over – Life in Edo with Cats
Among the various animals that appear in ukiyo-e, cats were the most popular subject. They were not only depicted as pets but also as monsters or personified, dancing and attending schools. Chronicles of a life of a female cat and amulets as mice repellent were produced as well. This exhibition will present various works of cats, including masterpieces by Utagawa Kuniyoshi, Utagawa Hiroshige and Tsukioka Yoshitoshi, as well as "Omocha-e" (toy paintings) for children. Please enjoy the charming cats in ukiyo-e; thay are adorable, humorous, and sometimes mysterious.
Best Cats Exhibition Ever? – Kuniyoshi's Masterpieces Gather Here
Utagawa Kuniyoshi depicted many charming cats in ukiyo-e. During the first term, all 5 works in the series "Cats forming characters" that are particularly popular among Kuniyoshi's works will be on display. The second term will present the valuable masterpieces "Sonomama Juguchi Myokaiko Gojusannbiki" (fifty-three cats personified as the post-towns between Tokyo and Kyoto) and "Tatoe-zukushi No Uchi" (personified cat idioms) together. Don't miss this rare opportunity to see Kuniyoshi's masterpieces gathered in this exhibition.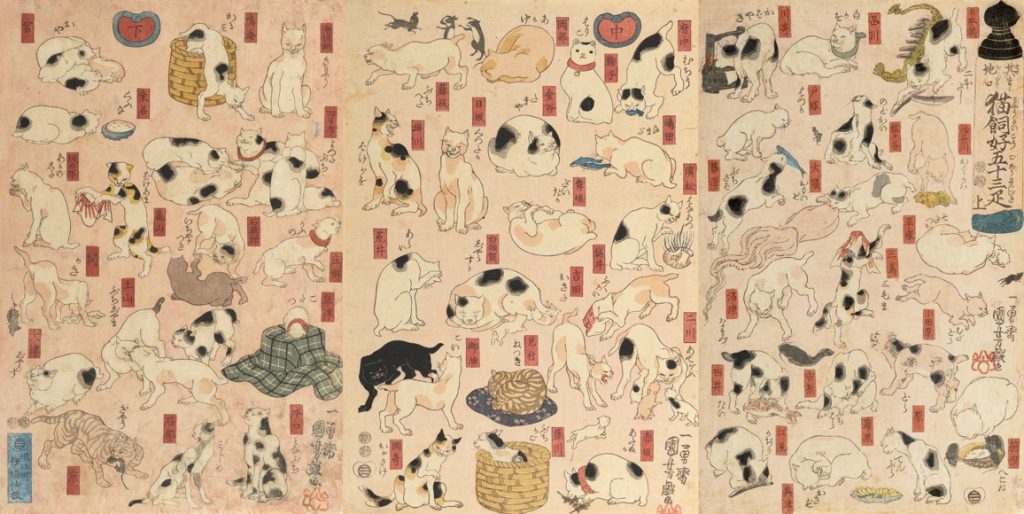 Enjoy the Cat Stories
Manga featuring cats are popular today, but even during the Edo period, stories, novels, and kabuki with cats were extremely popular. You will see pictures of monster cats, old cats that behold the secret of martial arts and stories including that of "Okoma" and "Otama," who lead chaotic lives as cats, avenging their mother's death and seizing their position to serve for the palace. Please enjoy the cat stories that were endeared by Edo people.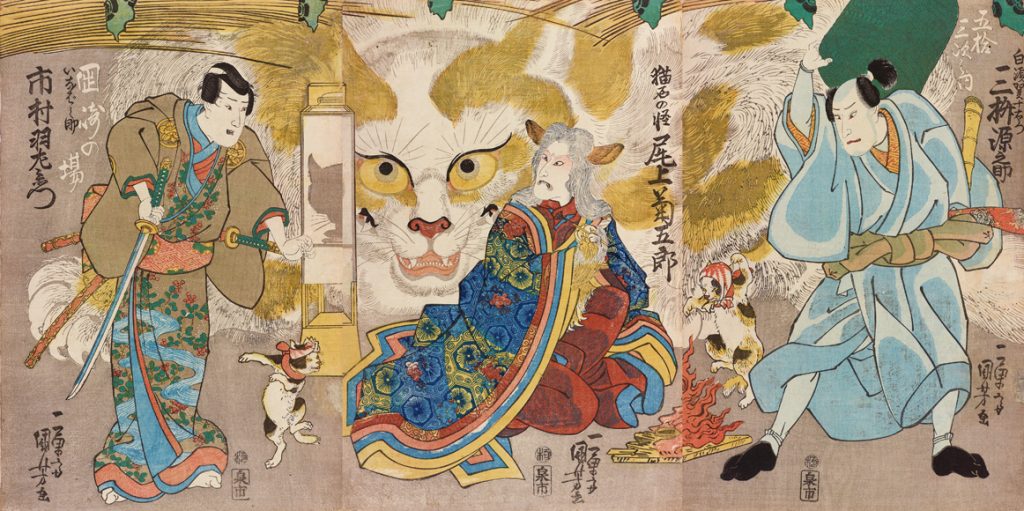 Cats in trend – multi-media art attempted by Kuniyoshi
In 1841, Kuniyoshi produced a round fan picture "Neko-no Hyakumenso" (the many faces of cats) depicting cats as actual kabuki actor's faces. When it became popular, a kabuki play that featured these fan pictures was performed. Around this time, Kuniyoshi also produced pictures of acrobatic performers personified as cats and illustrations for the novel "Oborozuki Neko No Soushi" (Story of the Hazy Moon Cat). This exhibition takes you back to the time when ukiyo-e of cats where in their highest popularity, by featuring many works produced in 1841 and 1842, when Kuniyoshi concentrated on producing personified pictures of cats.
Playing with Cats – World of Toy Pictures
"Omocha-e" (toy pictures) is ukiyo-e for children, largely produced from the end of the Edo period to the Meiji era. Most of them depict a world inhabited solely by cats, and we can tell that cats were also adored by children. Cats in the public bath, eating soba noodles and going out on a rickshaw ride – about 40 toy pictures will be on display in this exhibition. Why don't we play with them and enjoy their adorable world together?
Admission
| | |
| --- | --- |
| Adult | 1200 yen |
| University and High school students | 800 yen |
| Junior High School Students and below | Free |
Calendar
2023 / 04
3,10,17,24,26-28
| SUN | MON | TUE | WED | THU | FRI | SAT |
| --- | --- | --- | --- | --- | --- | --- |
2023 / 05
1,8,15,22,29-31
| SUN | MON | TUE | WED | THU | FRI | SAT |
| --- | --- | --- | --- | --- | --- | --- |