Utagawa Kuniyoshi
Utagawa Kuniyoshi (1797-1861) was an ukiyo-e artist who was active in the late Edo period. Kuniyoshi made his debut as an ukiyo-e artist in his late teens. After an unsuccessful period, he made a big breakthrough in his early thirties with the series "One Hundred and Eight Heroes from Tales of the Water Margin." Since then, he worked energetically on all kinds of genres of ukiyo-e including "musha-e (warrior pictures)" of heroes, "giga (caricatures)", landscapes, "bijin-ga (pictures of beautiful women)", "yakusha-e (portraits of kabuki actors)", and pictures for children. He also trained many disciples, and led the world of ukiyo-e.
The year 2021 marks the 160th anniversary of Utagawa Kuniyoshi's death. In this commemorative year, we will reintroduce and explore Kuniyoshi's life and his works.
1.Overcoming Adversity
Utagawa Kuniyoshi is known for his resilient work during the unstable ruling under the influence of the Tenpō Reforms. During the reforms, the Tokugawa Shogunate imposed strict controls on the entertainment of the common people. Ukiyo-e artists were prohibited from depicting popular genres such as portraits of famous actors and courtesans. Under such restrictions, one of the genres in which Kuniyoshi found his way was caricature. His joyous and humorous caricatures of anthropomorphized animals became very popular. Although some of his caricatures went out of print being accused as implicitly satirizing the Tokugawa shogunate and he was sometimes summoned to the magistrate for such daring, Kuniyoshi was never discouraged and continued to produce new and inventive works one after another.
With the spread of COVID-19, our activities have been restrained and entertainment is limited. Because we are facing such a challenging time period, Kuniyoshi's resilience towards adversity and the cheerful tone of his works appeal strongly to us.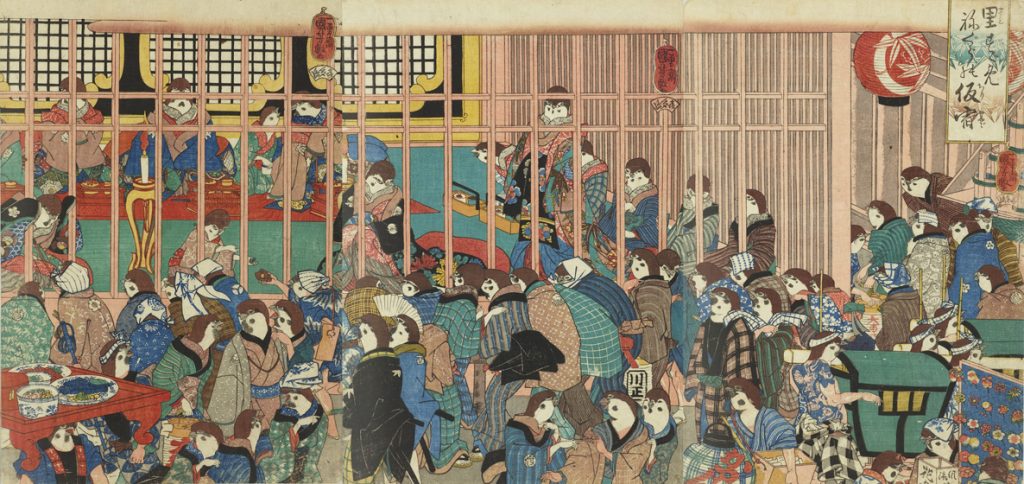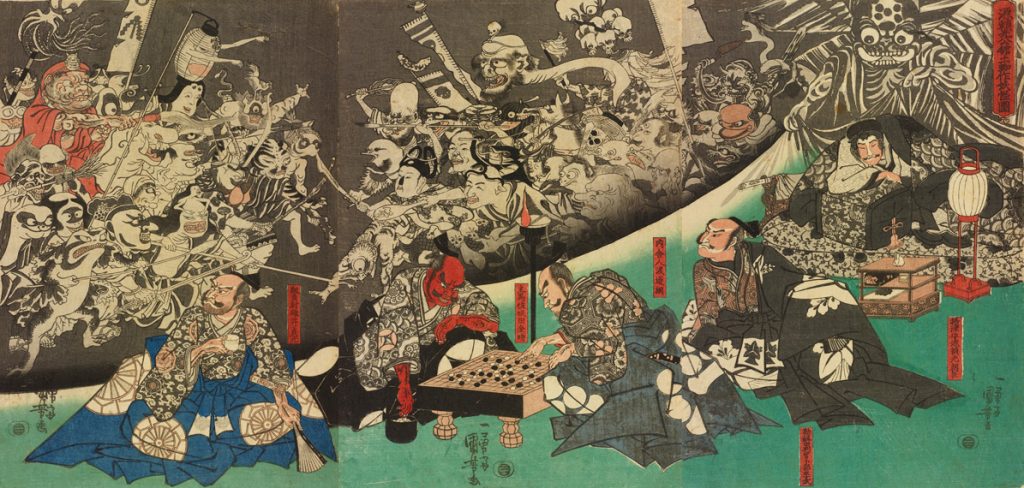 2. Astonishing Large-Scale Motifs
Utagawa Kuniyoshi became one of the most popular ukiyo-e artists with the huge success of his "One Hundred and Eight Heroes from Tales of the Water Margin" series. Although Kuniyoshi became the leading artist of the genre "musha-e (warrior pictures)", he was never satisfied and always tried to create new compositions and themes. Kuniyoshi's series of warrior paintings with skeletons, fierce sharks, and other gigantic motifs filling up three large screens are his essential works. The people of Edo must have been astonished by the new artistic frontiers he began to explore in his early 50s.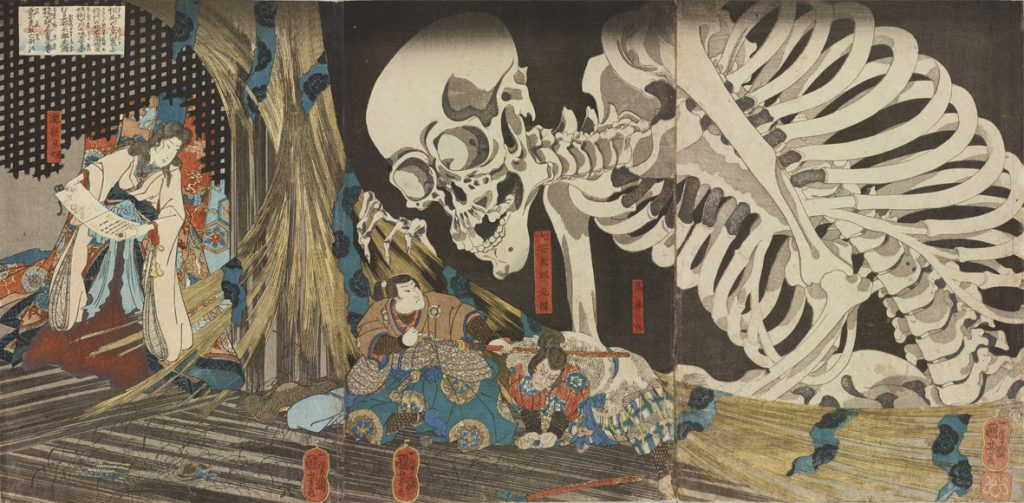 3.A large exhibition marking the 160th anniversary of his death
Kuniyoshi was not only skilled at caricatures and warrior pictures. He also created a wide range of fascinating works in various genres, including landscapes incorporating Western artistic expressions and "bijin-ga (pictures of beautiful women)" of cool and lively women. This exhibition commemorating the 160th anniversary of Kuniyoshi's death, presents a total of 160 works of various genres. The exhibition is divided into two sessions: "PART I: "Transform the Transient World into Amusement! – Caricatures and Social Conditions" from September 4 to 26, and "PART II: "Astonish the People of Edo! –Warriors and Landscapes" from October 1 to 24. The works exhibited will be changed entirely between the two sessions.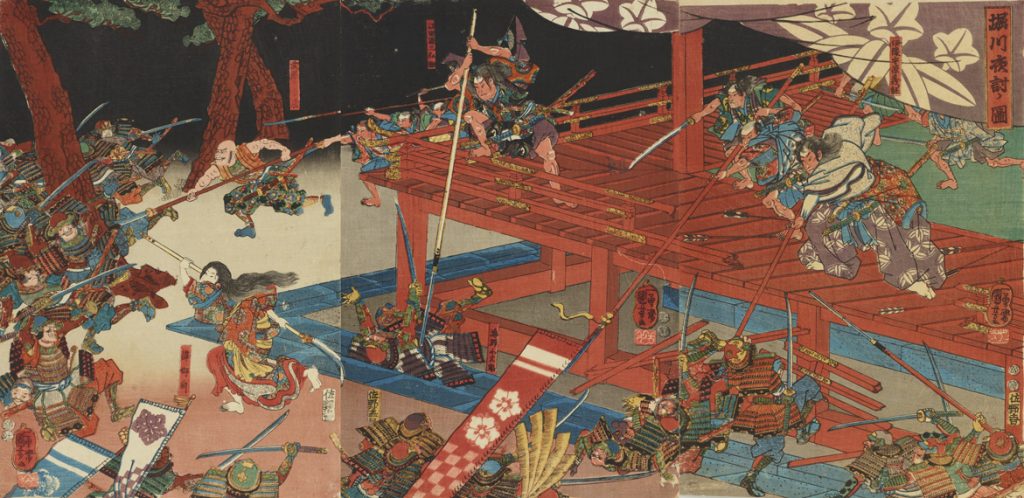 ---
Admission
開館日カレンダー
Weather in Ukiyo-e
Various weather phenomena are depicted in ukiyo-e: clear skies, heavy rain, gentle snowfall, and rainbows after rain. Ukiyo-e artists expressed the ever-changing weather with delicate color changes or with bold deformation.
Japan's diverse climate, which changes along with the seasons, has had a great influence on people's lives in both the past and present. During the Edo period, heavy rains caused frequent floods, and unseasonable weather conditions sometimes led to famine.
Even today, with the advancement of science, we cannot control the weather.
Although we prepare for daily changes in the weather by relying on the weather forecast, in recent years, unpredictable abnormal weather such as heavy rain and extreme heat often hit us, and people's concern for climate change is increasing.
In this exhibition, we focus on the weather depicted in ukiyo-e, and introduce mainly landscape prints created by such artists as Katsushika Hokusai, Utagawa Hiroshige, and Kobayashi Kiyochika. Through the unique expressions of these ukiyo-e artists, you will be able to experience not only the aesthetic sense of the Japanese people who love the changing sky, but also the activities of the people who were sometimes at the mercy of the wind and rain.
Capturing a Variety of Rain
From light rain to thunderstorms, there are a wide variety of ukiyo-e works on the theme of rain. Some of them remind us of the "guerrilla rainstorms" that we have heard so much about in recent years. For ukiyo-e artists, how they express the variety of rain, which is difficult to draw, is a highlight that shows their techniques, and the dramatic changes in everyday life caused by sudden rain might have been attractive as a subject of ukiyo-e.。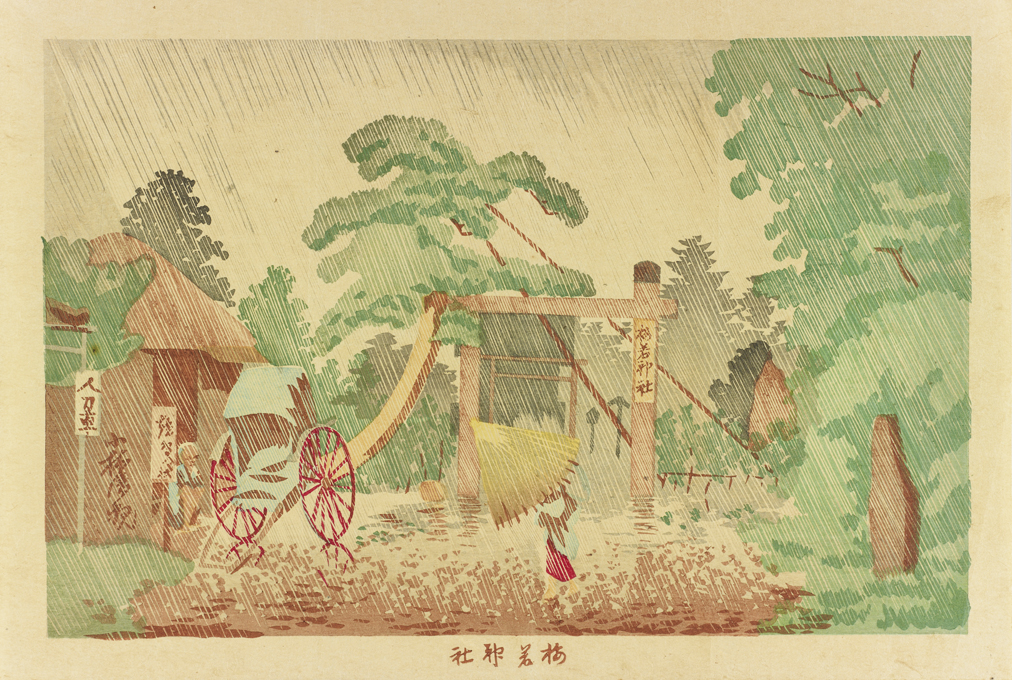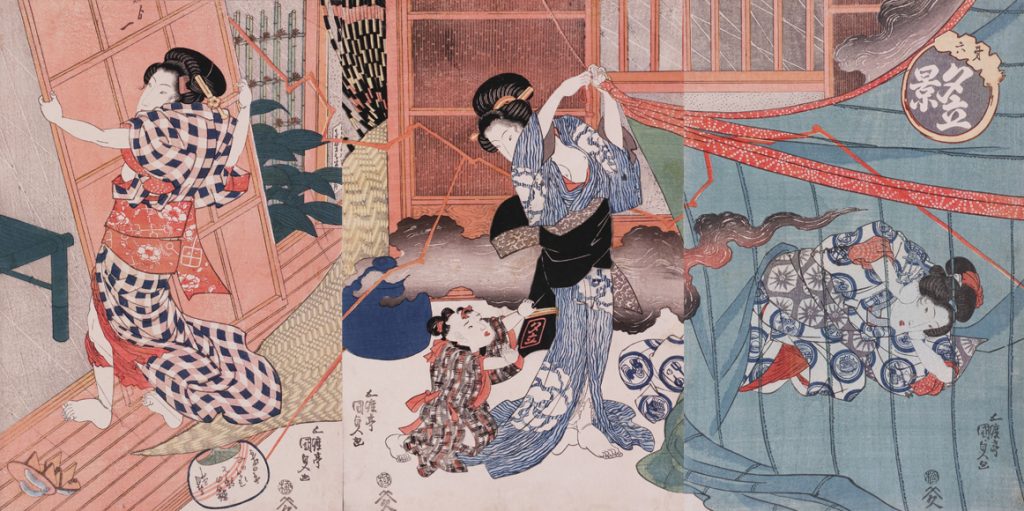 Snowy Landscapes
In the Edo period (1603-1868), the Sumida River, Mt. Atago and Kan'eiji Temple were known for their beautiful landscapes with snow, and many snow scenes in Edo were drawn in ukiyo-e. However, it seems a little strange to us because snow rarely accumulates in modern Tokyo. In fact, most of the Edo period is considered to have been a Little Ice Age, and colder than it is today. This might be one of the reasons why many ukiyo-e of snowy landscapes were created.
Various Shapes of Clouds and Colors of the Sky
Highlighted in this exhibition are expressions of the sky that are unique to ukiyo-e and differ from reality, such as 'spear-shaped' haze and blue and red gradation. We introduce works that show unique and original depictions of the sky, such as Katsushika Hokusai's Thunderstorm Beneath the Summit from Thirty-six Views of Mount Fuji, in which geometric patterns represent lightning, and clear weather and rain are expressed in the same illustration, as well as Utagawa''s Plum Park in Kameido from One Hundred Famous Views of Edo, whose bold color scheme features a red sky.
Abnormal Weather
In the Meiji era, ukiyo-e artists began to depict current disasters and incidents that had been prohibited to be drawn by the Edo Shogunate in the Edo period. Among them, many works that convey the flood damage to urban areas caused by heavy rain were drawn.
---
Admission
Calendar
Kaburaki Kiyokata and Hirezaki Eiho – Illustrations bringing color to modern literature
The Unknown Rivalry –Kaburaki Kiyokata and Hirezaki Eihō
With the rediscovery of "Tsukiji Akashi-chō" in 2019, Kaburaki Kiyokata (1878-1972) gathered attention. Although he is known as a painter of Japanese art, he was also active in the genre called kuchi-e (illustrations for magazines and novels) from 1903 to 1916. At the time, Hirezaki Eihō (1881-1968) was popular alongside Kiyokata. Kiyotaka and Eihō both succeeded Yoshitoshi Tsukioka, and they were friends who belonged to the same art association. We will introduce the masterpieces of kuchi-e prints of beautiful women by Kiyokata and Eihō from the Meiji Era.
The Unknown Woodblock Prints with Excellent Techniques
From the late 20s of Meiji Era to the early Taishō Era, kuchi-e prints made with woodblocks were used in the opening pages of the magazines and novels. Kuchi-e which brilliantly illustrated stories, did not simply inherit the mastery of ukiyo-e from the Edo period, but largely surpassed its techniques with delicate carving and painting. However, as they are rarely studied by current ukiyo-e researchers, they had been a forgotten genre. We have chosen 110 pieces from the collection by a kuchi-e collector, Asahi Tomoo to highlight the beauty of kuchi-e prints.
Unknown Illustrators –Keishū, Eisen, Toshikata and Hanko
Kuchi-e prints used in the opening pages of magazines and novels were produced by more than 100 artists since the late 20s of the Meiji period. Popular artists before Kiyokata and Eihō, were Takeuchi Keishū (1861-1943), Tomioka Eisen (1864-1905), Mizuno Toshikata (1866-1908) and Kajita Hanko (1870-1917). Among them, Mizuno Toshikata, the master of Kaburaki Kiyokata, is an essential artist to study in order to understand the artworks of Kiyokata. We will introduce these four illustrators along with Kiyokata and Eihō.
※This is the same exhibition as that held in March 2020 which was suspended to prevent the spread of coronavirus infection.
---
Admission
Calendar
Losers in Ukiyo-e
Minamoto no Yoshitsune, Akechi Mitsuhide, Saigō Takamori… Losers in History Gather Here
When there are battles or competitions, there will always be winners and losers. And the ones who attract our hearts and leave us impressed in stories such as novels and kabuki plays as well as among historical figures of Japan, could be the losers rather than the winners. These days, there are movements becoming active which try to find new points of view by reviewing history from the losers' perspectives. Furthermore, it seems that kabuki plays and novels depicting the fleeting nature and sorrow of warriors such as Minamoto no Yoshitsune and Akechi Mitsuhide, who lost battles and fell to ruin, attracted deep sympathy from the people in Edo. This exhibition will focus on the various losers drawn in ukiyo-e who attracted popularity in the Edo period.
Losers Who Attract the Hearts of the Japanese
There is a phrase known as "hougan biiki".
Minamotono Yoshitsune kept winning the battles between the Taira and Minamoto clans, but was expelled for being a nuisance and subverted by his brother Yoritomo. "Hougan biiki" means "sympathy for a tragic hero" like him, and describes the feeling of taking their side.
For a long time, Japanese people have been telling history and stories with empathy for those who lose and die in such battles. There are so many similar cases, such as of the Taira clan, Yoshitsune, Kusunoki Masashige, Akechi Mitsuhide, and Saigō Takamori. Moreover, as it is obvious from the case of Yoshitsune, we can say that only a fine line exists between winners and losers. Why don't we think over what it means to win and to lose while viewing various characters drawn in ukiyo-e?
Face-Off! What Happens in a One-on-One Battle?
People sometimes confront each other one-on-one to prove their power and justice. In history, novels, and kabuki plays, such battles and competitions are often the highlight of the story. This section introduces famous scenes of confrontations depicted in ukiyo-e, such as the duel between Benkei and Ushiwakamaru and the contest of strength between Soga Gorō and Asahina.
Villains in Kabuki Plays—People Who Were Destined to Los
Stories in which the hero defeats powerful enemies are called "kanzen chōaku", and are still popular today. In kabuki and novels of the Edo period, kanzen chōaku was one of the most popular plots. People in Edo cheered when villains with overwhelming power appeared and the hero defeated them. The villains can be said to be destined to lose.

---
Admission
Calendar