Introduction to Ukiyo-e
Dig deep into the "Great Wave" by Katsushika Hokusai
Katsushika Hokusai's Thirty-six Views of Mt. Fuji: The Great Wave off Kanagawa is the most famous ukiyo-e in the world. This work is filled with highlights for viewing ukiyo-e, such as Hokusai's observational skills in capturing the furious waves, the techniques of the carver and the printer, and the use of an imported blue pigment. In this exhibition, we explore the techniques of masterpieces by leading artists such as Hokusai, Hiroshige and Utamaro.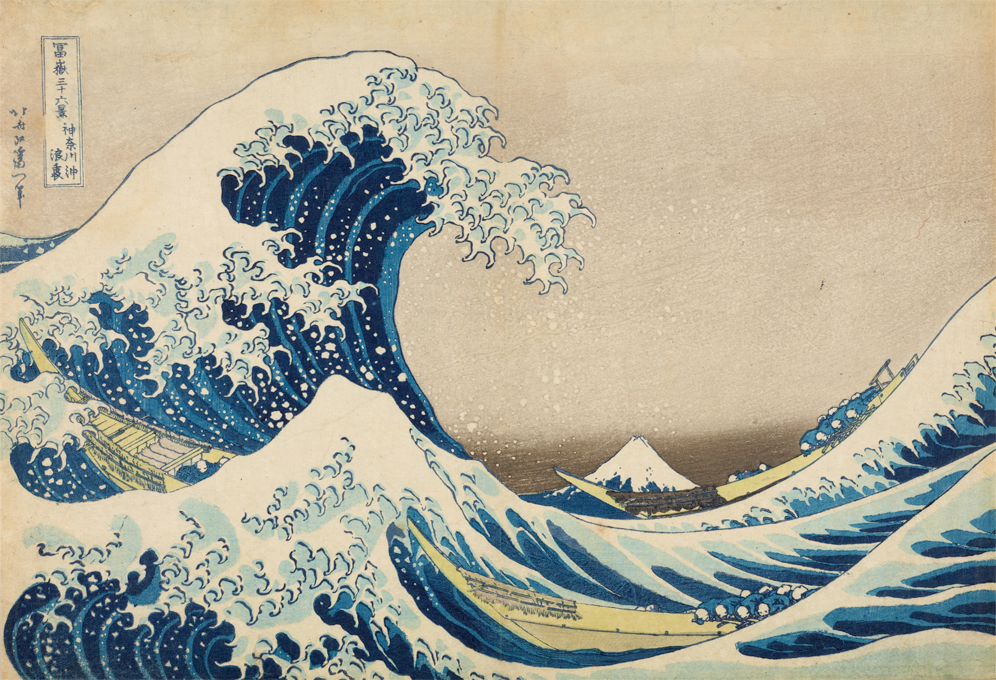 Do you have an eye for ukiyo-e? Discover the differences of printing techniques!
Since most of ukiyo-e are woodblock prints, there are many identical works in circulation. However, when we compare earlier and later prints, we find that there are various differences in color, shape, and other details in the same work. In this exhibition, we also look at the details of the printing process and technique.
Delve into eye-opening knowledge of ukiyo-e
A small margin in the corner, and mysterious symbols in prints. In these small places that we normally do not notice, there are hidden clues that reveal the background of ukiyo-e, from productions to its state of preservation. Let's examine some of the interesting knowledge about ukiyo-e that will prove eye-opening even for seasoned ukiyo-e lovers.
Admission
Calendar
Katsushika Oi 「Night Scene in the Yoshiwara」 -Charm of Hand Paintings
Katsushika Ōi (date of birth and death unknown), an ukiyo-e artist in the Edo period, was the daughter of Katsushika Hokusai. Although only about 10 of her works have been confirmed to exist in the world, they are impressive and different from her great father's works, continuing to fascinate many people. Among them, "Night Scene in the Yoshiwara" could be one of her best-known hand-drawn paintings, capturing the light and darkness of the Yoshiwara pleasure quarters. In this exhibition, we exhibit a number of original hand-drawn paintings from Ota Memorial Museum of Art's collection as well as "Night Scene in the Yoshiwara" for the first time in three and a half years. Ukiyo-e prints were produced with the cooperation of a publisher, painter, carver, and a printer, and printed in large numbers. However, ukiyo-e hand-drawn paintings are one-of-a-kind works drawn directly on paper or silk by the artist. Our collection of hand-drawn paintings covers the long history of ukiyo-e and its wide range of genres, from Hishikawa Moronobu to Kitagawa Utamaro, Katsushika Hokusai, and Kobayashi Kiyochika of the Meiji era. Along with Ōi's work, visitors can enjoy the world of hand-painted works by various artists.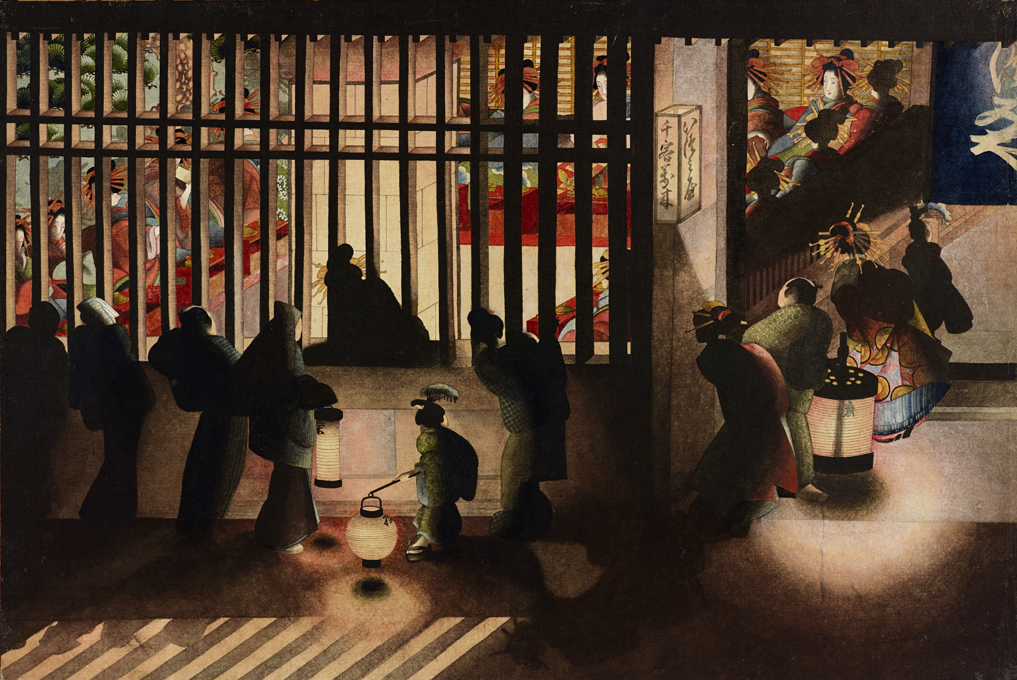 1 "Night Scene in the Yoshiwara" on display for the first time in three and a half years
"Night Scene in the Yoshiwara" will be on display for the first time in three and a half years, and is recognized as one of the best-known hand-drawn paintings among Katsushika Ōi's rare works. This is a masterpiece depicted using light and shadows, where she dramatically portrayed the night in Yoshiwara, the pleasure quarters of Edo. As a number of light sources are depicted in the painting, including the lanterns held by the customers and the lights inside the brothel, the figures of the people illuminated by the light emerge in the dark creating a dreamlike atmosphere. Please enjoy the brilliant brushwork by Ōi, including the beautiful colors and gradation.
2 Hokusai, Utamaro and Kiyochika – discovering the real brushwork of artists
In ukiyo-e, woodblock prints were produced in collaboration with artists, carvers, and printers, and it was possible to produce many prints. Therefore, ukiyo-e prints with the same titles are often stored in museums all around the world. On the other hand, hand-drawn paintings are valuable as they are one-of-a-kind originals that artists such as Hokusai, Utamaro and Kiyochika painted directly on paper or silk. We can see the real brushwork by artists in hand-drawn paintings, with the fine lines and beautiful color gradations. The beauty of the richly used pigments is also one of the highlights of this exhibition.
3 People, landscapes, and stories – discovering works on various themes
One of the most depicted motifs in hand-drawn paintings is the so-called bijin-ga painting portraying a standing woman. However, The Ota Memorial Museum of Art's collection of hand-drawn paintings includes many artists and genres, and you can find works on a wide range of themes, not just the bijin-ga paintings. This exhibition will be introducing the works divided into four themes, which are "people", "common life", "landscapes", and "stories". We will present the charm of hand-drawn paintings from various perspectives such as the changes in women's customs, famous places all over Japan, and stories familiar to Edo people.

Admission
Calendar
プレスの方へ
本展のプレスリリースのダウンロード、掲載や取材のお申込みはこちらから。
Beautiful Women and Kimono
Ukiyo-e are paintings that capture the trends of the time, and an important genre within ukiyo-e are "bijin-ga", which portray beautiful women in the latest fashions. The appearance of the kimono depicted in ukiyo-e represents the aesthetic sense back then, and also determines the impression created by the work. The Edo period, when ukiyo-e flourished, was an era when social stability and industrial development in various regions grew and fashion culture blossomed.
While various clothing, accessories, techniques, and designs were developed, ukiyo-e artists depicted these attractive items in their paintings, and as a result, excellent bijin-ga which captured the trends of the time were produced.
In this exhibition, we will introduce about 130 works from the early Edo period to the early Showa period. The changing fashions and styles of kimono over time and auspicious patterns and designs that had been beloved since ancient times as well as the history of bijin-ga will be presented. You will be able to feel the richness of Japanese culture from the portraits of women wearing patterns which each have their own history and story.
A Lot of Excellent Works of Bijin-ga (pictures of beautiful women)
This exhibition introduces ukiyo-e paintings and prints that depict beautiful women spanning approximately 250 years, and features a large number of outstanding works by leading artists of the time, such as Suzuki Harunobu, Kitagawa Utamaro and Tsukioka Yoshitoshi. Many beautiful and precious masterpieces are a must-see. Please do not miss them.
Wearing Patterns and Stories
Kimonos have many kinds of different patterns. Even if the motif appears simple, the patterns sometimes represent an auspicious meaning, sometimes are based on classic tales such as "The Tales of Genji" or "The Tales of Ise", and sometimes associated with popular kabuki actors. This exhibition also delves into the meanings of the patterns, and introduces how the women depicted in ukiyo-e enjoyed not only the beauty of the patterns, but also the stories behind them.
Men in Fashion
Men in the Edo period were as passionate about dressing as they are today. Ukiyo-e often depicted men's preferences for fashion items such as unique coordinates of a dark-colored kimono and a red sash called "Harakiri (belly-breaking) belt," and imported leather tobacco pouches with gold patterns. In this exhibition, you can enjoy highly individual men's fashions such as beautifully dressed boys, sophisticated men, and chivalrous men in wild yukatas.
Enjoy Dressing – Sophisticated, Gorgeous and Cute!
People in the Edo period wore distinct clothing depending on their status, age, and occupation. Ukiyo-e also depicts the different charms of each kind of fashion style: high-ranking courtesans wearing elaborate kimonos with gorgeous hair ornaments, towns girls coordinated in their kimono with floral patterns and bright colors, and geisha using stylish accessories such as hairpins and half collars. It may be fun to learn the techniques of how to dress from their styles
Admission
Calendar
Utagawa Hiroshige -Traveling Mountains and Seas
Exploring Breathtaking Scenery in Japan with Hiroshige
As a leading painter of landscapes, the ukiyo-e artist Utagawa Hiroshige (1797-1858) gained popularity among the general public at the end of the Edo period. As well as the famous landmarks in Edo, Hiroshige was also active in depicting natural scenes of mountains and the sea in various places. He had focused on famous places along the Tōkaidō Road which is far from Edo since his youth, but from around his 40s especially, it is known that he traveled to various places such as Kōshū and Bōsō; it is thought that since then his experience of capturing nature while travelling is reflected in his works.
Mountains and the sea are the key themes, and this exhibition will show a wide variety of works, from well-known masterpieces to the works rarely exhibited, including all of the 20 drawings in the series "Wrestling Match Between the Mountains and Sea " which Hiroshige produced in his later years, "Thirty-six Views of Mount Fuji" and "Famous Views of the Sixty-odd Provinces".
This exhibition will also introduce the process of producing these works as well as the famous places that Hiroshige actually visited, and the places he depicted based on the illustrations from existing geography books. We will also discover through these works the various forms of religious beliefs rooted in the mountains and the sea of each place, such as shrines built on the steep mountains and the large torii gates on the sea. This exhibition offers visitors the opportunity to learn more about Hiroshige's works while enjoying the breathtaking scenery depicted in his ukiyo-e paintings, just as if they were traveling.
1 All 20 works of " Wrestling Match Between the Mountains and Sea", one of the Hiroshige's masterpieces that depicts the beauty of Japan's mountains and seas, will be exhibited
In his later years, Utagawa Hiroshige produced a number of works featuring landscapes of various provinces in Japan, especially mountains and seas. Among them, the series " Wrestling Match Between the Mountains and Sea" is one of his best-known series and he completed publishing it just before his death from cholera in September 1858. This exhibition features all 20 works of this series into which Hiroshige poured his last energy, as well as "One Hundred Famous Views of Edo" and " Thirty-six Views of Mount Fuji", which he painted in his later years. This is also the first experience of presenting the entire series in one exhibition. In addition, " Famous Views of the Sixty-odd Provinces " and many other landscapes pictures by Hiroshige will be introduced.
2 Did Hiroshige see the actual scenery? – Thinking about the process of creation
Hiroshige traveled around various provinces during his lifetime. In his travels to Kōshū and Bōsō Province, he kept a diary and sketches, and his works after returning to Edo are believed to be based on his experiences during the travel. On the other hand, Hiroshige often referred to illustrations in existing geographical books such as Fuchigami Kyokkō's "Noted Landscapes" and Tani Bunchō's "The Book of Famous Mountains". In this exhibition, we will study Hiroshige's ingenuity to create beautiful landscape prints through his works and materials.
3 Introducing various beliefs rooted in great nature
In Hiroshige's landscape pictures, we can often find the precincts of shrines and temples. Great nature such as steep mountains and capes often became objects of worship since ancient times. This exhibition introduces various beliefs of the Edo period, including the Fuji and Oyama faiths, through Hiroshige's works.
Admission
Calendar
Woodblock Prints Exhibition of Paul Jacoulet
aul Jacoulet (1896-1960) was a French artist born in Paris. Since his father started to teach French in Japan, he moved to Japan at the age of 3 and remained there until his death at 64. At 38, in 1934, he published a distinctive series of woodblock prints depicting people in the South Seas Islands and Asia. During the early Showa era (1926-1989), a popular genre of collaborative woodblock prints called "shin-hanga" emerged, involving painters, carvers, and printers. Jacoulet's vividly colored woodblock prints, portraying individuals of all ages from various countries, stand out as unique examples within the new prints of that time. This exhibition showcases the complete range of Jacoulet's new prints.
本展の見どころ
First-Ever Exhibition of All 162 Prints by Jacoulet in Tokyo
This exhibition will showcase a comprehensive collection of 162 prints by Jacoulet, divided into two separate terms. It marks the first occasion for all 162 works to be presented together in Tokyo.
Vibrantly Colored Portrayals of People from the South Seas Islands and Asia
Jacoulet's colorful prints vividly depict individuals from Micronesia's Saipan and Yap islands, as well as various regions in Asia, including Japan, the Ainu, Korea, China, and Manchuria. His artworks showcase a harmonious blend of vibrant colors, such as red, light blue, yellow, and purple, and offers a refreshing surprise to those accustomed to the digital color palettes today.
Jacoulet's Prints Stand Out in the World of "Shin-hanga"
The term "shin-hanga" refers to woodblock prints created during the Taishō and Shōwa Eras through collaborative efforts of artists, carvers, and printers. While publishers typically played a leading role in ukiyo-e print production, Jacoulet took charge of directing the carvers and printers himself, pursuing his own unique artistic style. His works gained recognition after World War II, with positive reception from General MacArthur and other American military personnel stationed in Japan. Additionally, Jacoulet carved his own path in terms of distribution, setting himself apart from other shin-hanga artists.
Jacoulet's Place in the Lineage of Ukiyo-e during the Edo Period
Having grown up in Japan, Jacoulet was intimately familiar with traditional Japanese culture, including ukiyo-e, kabuki plays, and gidayū ballad dramas. From a young age, he collected and reproduced ukiyo-e prints, immersing himself in their artistry. During his teenage years, he studied Japanese painting under Ikeda Terukata and his wife Shōen, who were students of Tsukioka Yoshitoshi's original pupil. Inspired by the works of Kitagawa Utamaro, Jacoulet specialized in depicting beautiful women. It can be said that Jacoulet was a part of the lineage of ukiyo-e artists during the Edo period.
Admission
開館日カレンダー
Cats in Ukiyo-e
Cats All Over – Life in Edo with Cats
Among the various animals that appear in ukiyo-e, cats were the most popular subject. They were not only depicted as pets but also as monsters or personified, dancing and attending schools. Chronicles of a life of a female cat and amulets as mice repellent were produced as well. This exhibition will present various works of cats, including masterpieces by Utagawa Kuniyoshi, Utagawa Hiroshige and Tsukioka Yoshitoshi, as well as "Omocha-e" (toy paintings) for children. Please enjoy the charming cats in ukiyo-e; thay are adorable, humorous, and sometimes mysterious.
Best Cats Exhibition Ever? – Kuniyoshi's Masterpieces Gather Here
Utagawa Kuniyoshi depicted many charming cats in ukiyo-e. During the first term, all 5 works in the series "Cats forming characters" that are particularly popular among Kuniyoshi's works will be on display. The second term will present the valuable masterpieces "Sonomama Juguchi Myokaiko Gojusannbiki" (fifty-three cats personified as the post-towns between Tokyo and Kyoto) and "Tatoe-zukushi No Uchi" (personified cat idioms) together. Don't miss this rare opportunity to see Kuniyoshi's masterpieces gathered in this exhibition.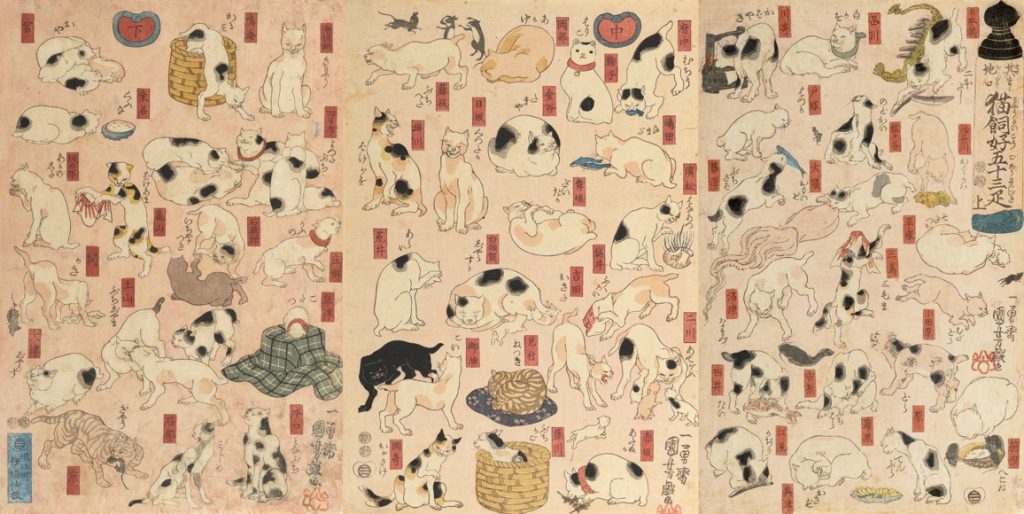 Enjoy the Cat Stories
Manga featuring cats are popular today, but even during the Edo period, stories, novels, and kabuki with cats were extremely popular. You will see pictures of monster cats, old cats that behold the secret of martial arts and stories including that of "Okoma" and "Otama," who lead chaotic lives as cats, avenging their mother's death and seizing their position to serve for the palace. Please enjoy the cat stories that were endeared by Edo people.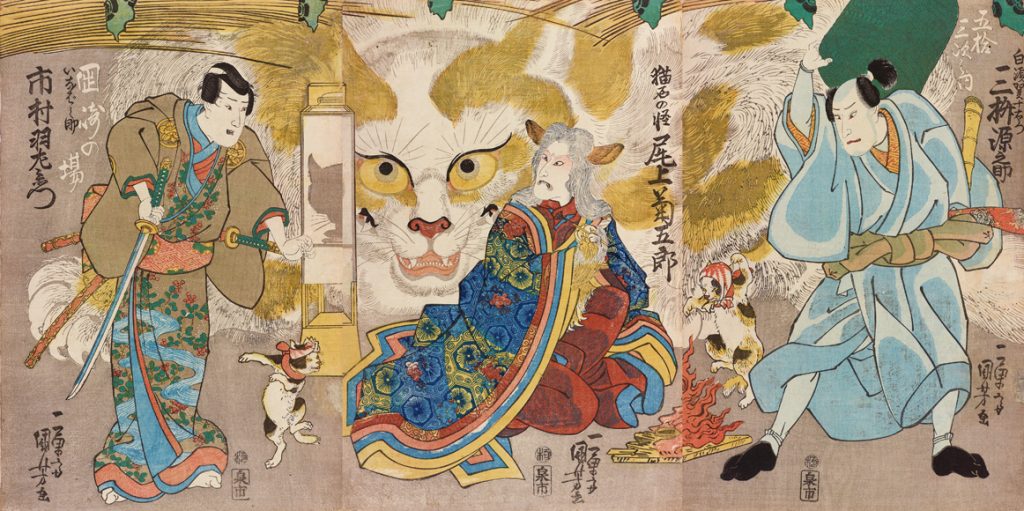 Cats in trend – multi-media art attempted by Kuniyoshi
In 1841, Kuniyoshi produced a round fan picture "Neko-no Hyakumenso" (the many faces of cats) depicting cats as actual kabuki actor's faces. When it became popular, a kabuki play that featured these fan pictures was performed. Around this time, Kuniyoshi also produced pictures of acrobatic performers personified as cats and illustrations for the novel "Oborozuki Neko No Soushi" (Story of the Hazy Moon Cat). This exhibition takes you back to the time when ukiyo-e of cats where in their highest popularity, by featuring many works produced in 1841 and 1842, when Kuniyoshi concentrated on producing personified pictures of cats.
Playing with Cats – World of Toy Pictures
"Omocha-e" (toy pictures) is ukiyo-e for children, largely produced from the end of the Edo period to the Meiji era. Most of them depict a world inhabited solely by cats, and we can tell that cats were also adored by children. Cats in the public bath, eating soba noodles and going out on a rickshaw ride – about 40 toy pictures will be on display in this exhibition. Why don't we play with them and enjoy their adorable world together?
Admission
Calendar
Hiroshige's Ojisan Encyclopedia
Smiling, Working and Traveling -Various Ojisan by Utagawa Hiroshige
Utagawa Hiroshige (1797-1858) is one of the most famous ukiyo-e artists who created many masterpieces of landscapes. When you look closely, you often find charming figures inhabiting these landscapes. These middle-aged men ("Ojisan" in Japanese) are the focus of this exhibition. They smile innocently, work hard, enjoy fine foods, and sometimes panic. The more attention you pay to Hiroshige's Ojisan, the more you realize that they have their own personalities and charms.
By experiencing Hiroshige's masterpieces paying close attention to these Ojisan, they will leave you a fresh impression. This exhibition introduces you to a new charm of Hiroshige's work through masterpieces such as "Fifty-three Stations of the Tōkaidō Road (Hoeidō Edition)" to those that are rarely exhibited.
※This exhibition is inspired by the concept of "Ojisan Encyclopedia" and "Ojisan Encyclopedia Returns" held at Hiroshige Museum of Art Ena, newly composed with the collections of Ota Memorial Museum of Art.
1 Discovering a new Charm of Hiroshige' work through Ojisan
In the works of Utagawa Hiroshige, various Ojisan (middle-aged men) with their own personality often appear. They are usually depicted as supporting characters of the landscape. However, if you look closely, you can see that their faces, expressions, and clothing are carefully articulated. Such detail allows us to understand their status and occupation, and sometimes even imagine the drama that each character is going through. As you pay attention to these Ojisan, you will enjoy the masterpieces you already know with more depth and color.
2 Ojisan everywhere! 150 Works from Masterpieces to Rarities by Hiroshige
The main characters in the 150 works on display during the period of this exhibition are all Ojisan. The exhibition introduces of Hiroshige's masterpieces such as "Fifty-three Stations of the Tōkaidō Road (Hoeidō Edition)" and "Sixty-nine Stations of Kisokaidō Road," as well as works that are rarely exhibited, all united under the theme of Ojisan!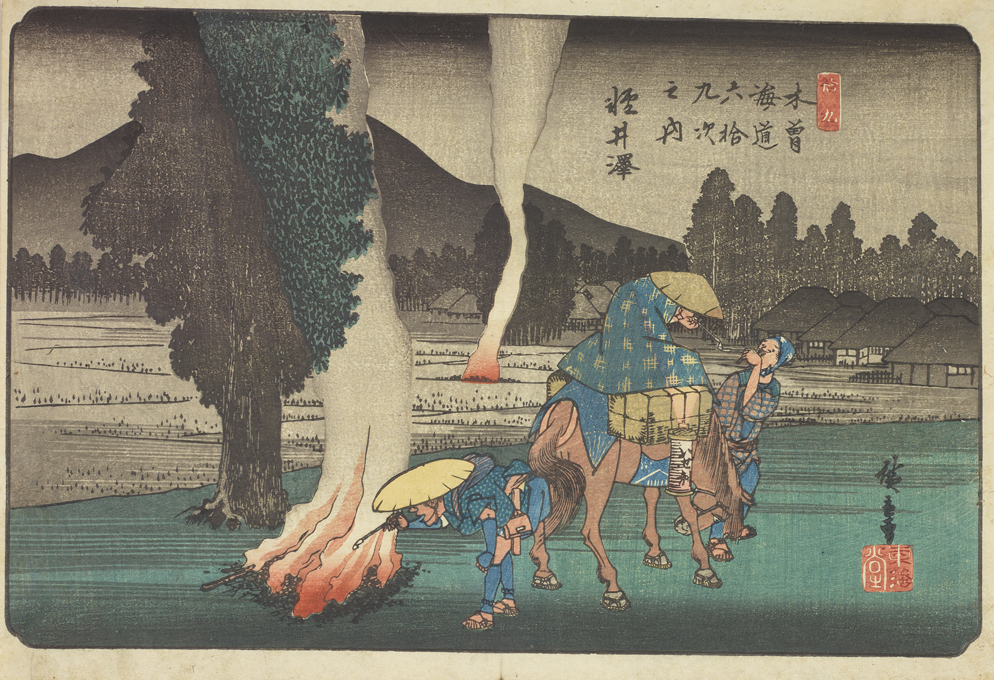 3 Hokusai, Kuniyoshi and Kiyochika -Ojisan Depicted by Popular Ukiyo-e Artists
Hiroshige was not the only artist who depicted various Ojisan. In this exhibition, we introduce Ojisan drawn by various ukiyo-e masters, such as Katsushika Hokusai, Keisai Eisen, Utagawa Kuniyoshi and Kobayashi Kiyochika. Please enjoy the differences in style and personality given to the Ojisan by each artist.
Admission
Calendar
China in Ukiyo-e
Discovering the Unexpected Relationship between Ukiyo-e and Chinese Culture
Ukiyo-e depicted a large number of Chinese people, including the heroes of "Three Kingdoms" and "Water Margin," hermits, and ancient Chinese women. In addition, some of the Japanese flower-and-bird paintings are accompanied by Chinese poems, which shows how familiar the people of the Edo period were with Chinese culture. On the other hand, works that replaced the hermits with women or parodied the exploits of the great masters were also popular.
During the Edo period, Japan was closed to the outside world for a long period of time, but classical Chinese literature and folklore were well-established in education, and people were curious about the latest Chinese culture. Ukiyo-e artists also worked on all kinds of themes from China, and even created many other works based on them.
This exhibition introduces ukiyo-e from the Edo and Meiji periods that show the influence of Chinese culture in three parts. In the first part, we will look at works from the 18th century, when samurai warriors were also involved in the production of ukiyo-e. The second part will focus on works in the 19th century, which reflect the tastes of citizens, and in the third part, works depicted in the form of parodies will be featured. Throughout the exhibition, visitors will be able to discover the unexpected connections between ukiyo-e and China.
"Three Kingdoms" and "Water Margin" Boom Began from the Edo Period.
Even today, the Chinese stories "Three Kingdoms" and "Water Margin" are popular in video games and manga, but it was actually in the Edo period that these stories were translated and adapted.
The stories were also depicted in ukiyo-e. Especially, Utagawa Kuniyoshi played an important role in expanding the world of these stories. He created the popular series "One Hundred and Eight Heroes from the Water Margin" with 74 prints, and the series "Popular History of the Three Kingdoms" series which depicts heroes on large paper.
A Great Arrangement in Ukiyo-e Style – Heroes Swapped Gender!?
Rearranging various subjects is one of the characteristics of ukiyo-e. For example, the figures of heroes were sometimes depicted as humorous caricatures, or sometimes in the figures of townswomen, so that people enjoy the gap between the hero and the character. These works of parody show how people of the time were familiar with Chinese themes.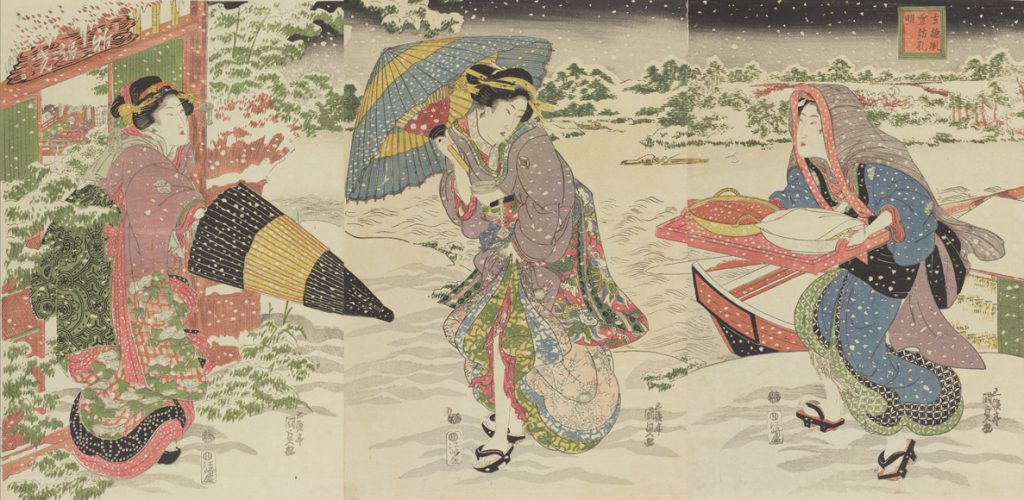 "China" Depicted by Hokusai, Hiroshige and Kuniyoshi
Many works by leading ukiyo-e artists of each era will also be introduced. These include Harunobu, who transferred Chinese subjects into Japanese scenes; Hokusai, who painted all kinds of subjects of Chinese origin; Kuniyoshi, who represented the heroes from "Water Margin" as characters popular with the Edo people; Hiroshige, who added Chinese poetry to his "kachō-ga (bird-and-flower pictures); and Yoshitoshi, who drew classical Chinese subjects in the Meiji era. We hope that you will enjoy the transition in the way Chinese culture was incorporated in each of works.
Admission
Calendar
Darkness and Light -Kiyochika, Yasuji and Ryuson
In 1876, Kobayashi Kiyochika (1847-1915) depicted an unprecedented view of Tokyo by incorporating Western techniques such as oil painting, lithography, and photography into ukiyo-e woodblock prints. Kiyochika's "Kōsenga" (light-ray paintings), which beautifully captured changes in light and shadow, such as gas lamps shining in the dark at night and the sky at sunset with brilliant red, became very popular. Ukiyo-e artists such as Inoue Yasuji (1864-89) and Ogura Ryūson (date of birth and death unknown) followed after Kiyochika. Although the popularity of ray painting lasted only five years, it developed new possibilities for woodblock prints, and it should be regarded as the forerunner of the genre of "shin-hanga" (new prints) in the Taisho and Showa eras that have been the focus of much attention in recent years. This exhibition introduces 200 works by Kobayashi Kiyochika and Inoue Yasuji, as well as Ogura Ryūson, whose works have rarely been introduced to the public. Please enjoy the colors of darkness and light which are only possible through the use of woodblock prints. All exhibits will be changed between the first and second exhibition terms.
Highlight of the exhibition
1 200 works that tell the whole story of the "Kōsenga" (light-ray paintings) of Kiyochika, Yasuji and Ryūson will be exhibited.※The exhibits will be changed between the first term and the second term.
2 A rare opportunity to focus on Inoue Yasuji, an ukiyo-e artist who died very young, and Ogura Ryūson, a mysterious artist.
3 Comparative display of rare types of works, such as "suri-chigai" (different print editions) which used the same wood blocks but changed colors substantially, and "nisu-biki" (varnishing), which coats the print with varnish.
Introduction of the Artists
Kobayashi Kiyochika(1847~1915)
Kobayashi Kiyochika is one of the representative ukiyo-e artists in the Meiji era. He was known to have learned photography and oil painting, and his unique style of painting expressively captured light and shadow is called "Kōsen-ga" (light-ray paintings), which became extremely popular. As a side note, Kiyochika quit producing Kōsen-ga after 1881, and developed a different style of picture, such as old-style landscapes, historical pictures and war pictures.
Inoue Yasuji(1864~89)
Inoue Yasuji was a pupil of Kobayashi Kiyochika. He produced large-sized Kōsen-ga pictures that faithfully followed the painting style of Kiyochika. Around 1884, he changed his art name to Inoue Tankei and started producing large-sized triptych landscape pictures, but he died young at the age of 26.
Ogura Ryūson(Years of birth and death unknown)
Although he produced Kōsenga pictures around 1880 to 1881 following Kiyochika, only 9 of his works have been found. He is an unidentified and mysterious artist whose background is completely unknown. Ryūson's representative work "View of Yushima" is characteristic for its mysterious atmosphere of two men quietly looking at the moon.
Admission
Calendar
Transportation in Ukiyo-e – Cars, Ships and Railways
Discover the Transportation in the Edo Period through Ukiyo-e
Transportation is an essential part of our daily lives. In the Edo period, there were various transport systems by manpower, horses, and boats. Edo was a city of water, surrounded by Edo Bay and Sumida River, with many waterways running horizontally and vertically. Boats were an essential means of transportation for the people of Edo and shipping business between Edo and other cities flourished. On land, highways such as the Tokaido Road were developed for business transportation and became popular among the common people as a route for traveling long-distance. The various use of transportation is vividly depicted by ukiyo-e artists such as Utagawa Hiroshige and Katsushika Hokusai.
This year also commemorates the 150th anniversary of the introduction of railroads. Ukiyo-e in the Meiji era (1868-1912) actively depicted steam locomotives and railroads, which were new encounters to the people. The railroad system along with horse-drawn carriages, rickshaws and other new forms of transportations were symbols of civilization.
While transportation logistics using the internet has developed in recent years due to COVID-19, this exhibition focuses on the various means of transportation in the Edo period, as a driving force of modernization.
The Reality of the Lives in Edo uncovered through Transportion
Let's take a look at Edo depicted by artists such as Utagawa Hiroshige and Katsushika Hokusai from the perspective of transport. On one hand, ukiyo-e depicts various figures who are "transporting" something of their own. We notice people serving food at restaurants, selling goods on the street, and carrying luggage on a trip. On the other hand, ukiyo-e also depicts a wide range of vehicles as means of transportation. Ferry boats for crossing rivers and ships used as taxis to visit pleasure quarters took advantage of the topography of Edo with many waterfront areas. People and horses carried luggage for travelers in relays between inns, and couriers delivered documents from Edo to Osaka in only a few days. In a time when there were no cars or trains, there was a more extensive transportation system.
By paying close attention to the various forms of transportation in ukiyo-e, we can understand how the people of Edo lived.
150th Anniversary of the Birth of the Railroads- Various Vehicles in Ukiyo-e are on Display
In October 1872, the railroad connecting Shimbashi and Yokohama opened. October 2022 marks the 150th anniversary. Since about two years before the actual inauguration of the railroad system, ukiyo-e artists started to actively depict steam locomotives and railroads with imagination. The large number of ukiyo-e published reveals the enthusiasm for the new infrastructure. This exhibition features not only the railroad system, but also the wide variety of transportation in ukiyo-e such as horse-drawn carriages, rickshaws, boats, balloons, and other vehicles.
Admission
Calendar